Russia's Twin Nostalgias
Vladimir Putin has a fondness for the Soviet era. So do many Russians—but often not for the same reasons.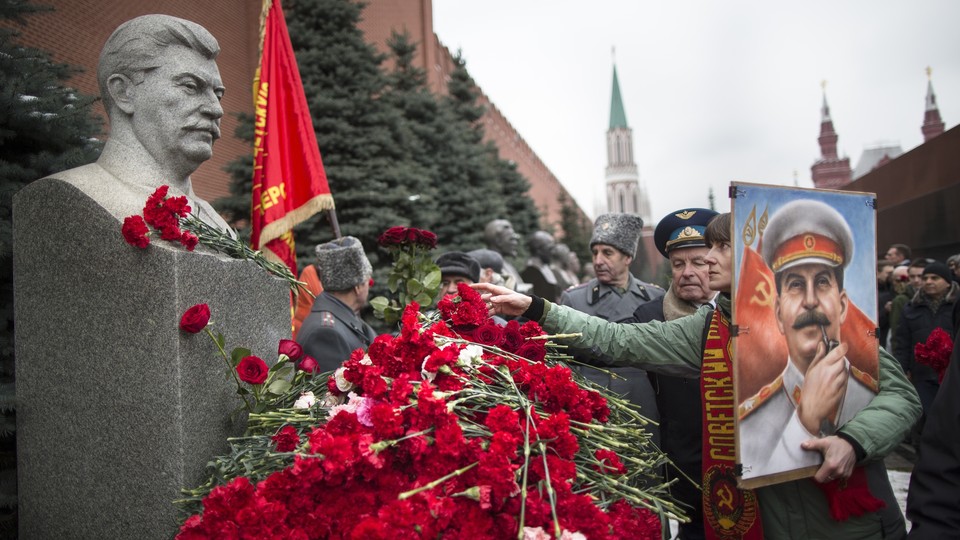 SOCHI, Russia—Gazing up at the bust of Joseph Stalin, the young boy listened silently as his mother squatted next to him, whispering the Soviet dictator's story into his ear. The pair studied the black-colored sculpture, among many of Stalin in this city's history museum (just one, apparently, is not enough). "He built this city," the mother told the child, who stared admiringly at Stalin's signature moustache. "He was like a czar."
To some extent, that is true. Though Russian intellectuals and poets had long found refuge in this Black Sea port, it was Stalin who ordered its development, turning it into a resort city. His vision was to create a Soviet Riviera, replete with grand botanical gardens and enormous, well-equipped hotels.
Yet if Stalin, in the words of that young boy's mother, built Sochi, Vladimir Putin is now refashioning it, transforming what was once an affordable holiday locale into not just his summer residence, but a paean to secrecy, espionage, and militarization. A recent museum exhibit extolled the exploits of KGB spies, once-public areas have been cordoned off from general view, and residents say their relaxed city is being upended. In this way, Putin's efforts here mirror those being undertaken across Russia, part of a growing array of moves to lionize the Soviet era, both in rhetoric and in practice. And, to be sure, many ordinary people here are nostalgic for elements of the Soviet era—just perhaps not in the same way as their leader.
Long before Stalin's rule, the Russian elite would relax here, valuing the distance from Moscow both geographically (it is about 1,000 miles away) and culturally (it lies a short distance from what is now Georgia, and across the water from Turkey). Fyodor Dostoyevsky's widow, Anna, moved to Sochi to escape violence in St. Petersburg surrounding the Bolshevik revolution, buying a piece of land on the outskirts of the city where she built a house and planted a garden, calling her little retreat "Joy." (Dostoyevskaya lost that home soon after she moved in, when a soldier attacked her as part of the Bolshevik campaign against property owners, saying the house now belonged to the working classes, and forcing her to flee once again. Along with the personal cost to her, she also lost a part of her husband's archive—handwritten copies of The Brothers Karamazov are still missing as a result.)
After coming to power, Stalin in 1926 ordered his commissars to plant botanical gardens here. Hoping to curry favor with the leader, each one—among them Kliment Voroshilov, Genrikh Yagoda, and Sergo Ordzhonikidze—also built and ornately decorated hotels in their name. These structures included enormous neoclassical columns, pompous arches, grandiose fountains, and statues of naked Greek gods next to busts of Soviet heroes. In less than a decade, a dozen such palaces emerged, each one next to the other, along Sochi's hills, offering healing mineral water, spas, and baths.
Upon Stalin's death (and Nikita Khrushchev's denouncement of the dictator's cult and political repression), Sochi's main avenue—Stalin Prospect, a 6-mile highway stretching along the Black Sea shore—was renamed Kurortny Prospekt, or "Resort Prospect."
After that, the city cultivated a reputation as a vacation destination for workers across the U.S.S.R.—thanks to state-provided packages that included stays at health resorts and various healing programs. Miners, engineers, or factory workers as far away as the northern reaches of Siberia knew that after a year of hard work, they would be able to take a month-long break here. Millions living in grim industrial cities dreamed of warm Sochi nights, where the tropical air added to the sense of excitement. Here, residents of closed and secretive towns could even see foreign tourists visiting from Eastern Europe, or African countries allied with Moscow, all together on open dance floors. For locals, Sochi was a beloved place, its quiet and romantic embankment populated by old people playing chess, the city's pace relaxing and peaceful.
My own family has a strong link to Sochi. During World War II, Stalin turned the city's sanatoriums into hospitals, its dozens of hotels treating more than 350,000 wounded soldiers in all. One of those resorts was Iskra, built in the 1930s and named after a newspaper co-founded by Vladimir Lenin, which was reserved for officers of the NKVD, a predecessor to the KGB. Among those evacuated there was my grandfather Anatoly, who was rushed to the facility from the front in Crimea. Surgeons amputated his leg, first above the knee and then all of it, as the gangrene kept creeping up. His future wife, Yelena, my grandmother, worked as a nurse at the hospital where he was treated. As he recovered, they spent long periods reading in a gazebo by a little fountain, in what had been Iskra's gardens, breathing in the sea air, enriched with the thick aroma of thousands of species of plants around them. After the war, Iskra was open for others to visit as well. My mother brought the love of her life, my father, to Sochi, where the same shady gazebo in Iskra's quiet botanical garden inspired his poetry. I, too, remember frequent visits as a child.
Yet Iskra today is reserved mostly for employees of the Russian interior ministry, and on a recent trip with my mother, we could not visit the gazebo or the fountain, barred from entry by newly built high walls surrounding the old resort.
This is Sochi in miniature: a city where more and more is off-limits to ordinary Russians, residents included. "Everywhere we go, we see high fences and locked gates keeping us away from our favorite places," Mariya Nipovinnyh, a retired doctor living in a Soviet-era apartment complex near Iskra, told me. It has stopped being an affordable paradise, and now, after hosting the Winter Olympics in 2014, is home to multiple international sporting events and conferences each year. Expensive apartment buildings pop out where gardens once blossomed, skyscrapers planted with luxurious apartments for Muscovites.
Part of this is because Putin has made Sochi his de facto summer residence. The Russian leader's arrival often means traffic jams, and in the two decades of his rule (including the four-year period when he, as prime minister, was effectively still in command), no public tours organized of his home here, Bocharov Ruchei. People instead take videos of the ridiculous green fence hiding the sprawling Black Sea resort from the public view.
But something more profound is changing, too. Putin's nostalgia for the Soviet era appears to extend not simply to the people involved, but to their practices as well. Take, for example, the Sochi city museum: Upstairs, a gallery recently displayed portraits of Soviet spies, part of an exhibit titled "The Golden Pages of the Intelligence Service's History," organized to mark the 95th anniversary of the founding of the country's intelligence services. Among them were pictures of "illegals," Russia's undercover spies working abroad. The collection had moved to the museum this year from a resort here called Pravda, a giant, specialized spa and hotel that caters specifically to Russia's domestic-intelligence agency. When it transferred to the museum, the institution's director, Elena Galischeva, told me, several current agents came to the opening, but she was not allowed to disclose their names—they were cloaked in a veil of secrecy.
More generally, a Soviet (and Stalin-era) revival is under way. This year, authorities in the Siberian town of Tyumen, in the heart of the Gulag region, banned a mass prayer for victims of Soviet repression. Monuments to Stalin also keep emerging in the heart of Moscow: To name just one, the ceiling of Kursk railway station is adorned with the phrase "Stalin raised us to be loyal to the people, and inspired us to labor and to heroic deeds," an old Soviet sign that was put back on display a decade into Putin's rule. And despite some pushback—thousands of people recently stood outside a former KGB prison on Lubyanka Square to read aloud the names of victims of the Soviet regime—a majority of Russians nevertheless have a favorable view of Stalin.
Putin himself, it seems, sometimes seeks to mimic the Soviet dictator. Though he still has a few years to go to beat Stalin's record of 29 years in power, Russia's current leader shares more than a few characteristics with him. Stalin wore a military uniform, divulged little about his private life, fashioned a cult of personality, did not allow criticism, and feared that traitors would penetrate his inner circle. Putin dresses up in camouflage on his birthday and sits down for picnics with his friend Sergey Shoigu, the minister of defense, yet his private life is closely guarded: The Kremlin announced that Putin celebrated his most recent birthday on the Yenisei River without any further information. Russians gossip, too, about Putin's purported romances, his wealth, and his two daughters, whose lives and careers Putin keeps secret.
Here in Sochi, it is apparent that Putin's memories of the Soviet era differ markedly from those of ordinary city dwellers. Putin has positive recollections of his time as a KGB officer, when the might of the state was awe-inspiring, its rulers held on par with the most powerful around the world. Sochi's people, though, remember a time when their gardens and public spaces were open and accessible, not simply in the physical sense, but in the financial one.
A few years ago, the authorities here closed one of Sochi's earliest spa hotels, Ordzhonikidze. It now stands abandoned, and when I visited, I could see its ceiling paintings rotting in the moist air, the building's columns falling apart. Parts of statues had fallen off and wild ivy sprawled across the floor. The resort's former gardener pointed out some trees in the resort's park that she said were unique to Russia, and noted how paths that used to cut through neatly trimmed beds of flowers were now cracking. As I took it in, a female security guard wearing a camouflage uniform ordered me to leave, saying the building was "under the control of the presidential administration."
I later spoke with a local artist, Oleg Korchagin, who fondly recalled an era I could barely remember, what he described as the "urban harmony" of the Sochi of his youth. "I miss the Sochi where I could walk freely, the Sochi of beautiful architecture," he told me. "Unfortunately now, local people move along fences surrounding secret, specialized, resorts.
"My nostalgia," he continued, "is different from the nostalgia of our authorities."