Two Democracies, Two Very Different Elections
Though some elements of British campaigns resemble those of American contests, the systems are fundamentally different.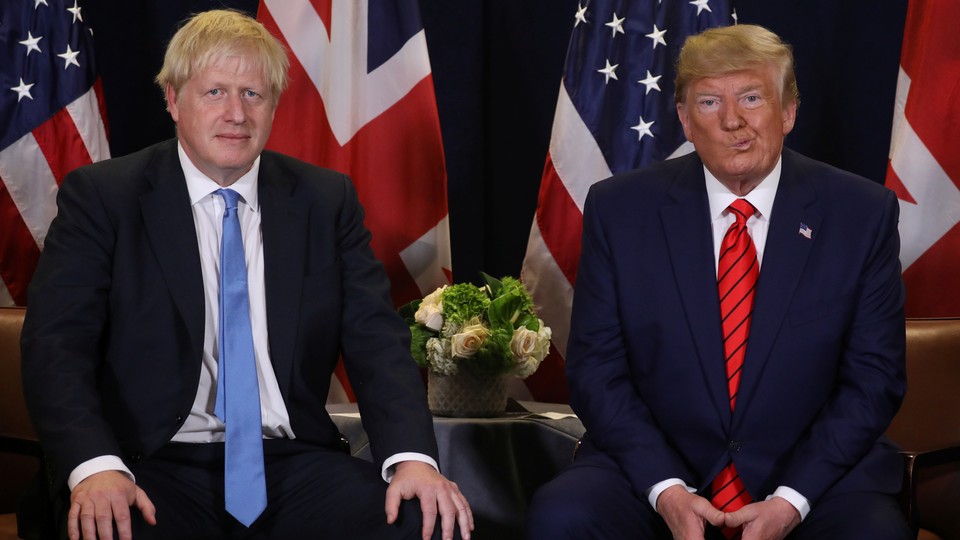 At times, it can feel as if British and American politics are on converging paths. After all, both the United States and the United Kingdom experienced seismic votes in 2016. The outcomes of both—the decision to leave the European Union in Britain and the election of Donald Trump in the U.S.—have been attributed, at least in part, to a growing polarization and division within their respective societies. Both countries are led by men who are seen as encapsulating these divisions.
And now, both are headed for elections.
But that is where the similarities stop. For while the two votes will revisit the issues that have embroiled both countries since 2016—in the U.S., Trump is up for reelection amid an inquiry into whether he should be impeached; in the U.K., the issue of Brexit remains at the fore—they also reveal fundamental differences between these two democracies.
This isn't to say parallels don't exist. In fact, a number of U.S.-style electoral practices have made their way across the pond in recent years—including, perhaps most notably, the televised debate. Though they have been a ubiquitous part of American presidential races since the late '50s, the format wasn't introduced in Britain until the 2010 general election. At the time, the inaugural three-way debate between the leaders of the Conservative, Labour, and Liberal Democrat parties was regarded by some as the "presidentialising of British politics." Televised debates have since become a more common part of the country's electoral system. This year's election campaign has already featured several of them.
Another feature of recent British elections that more closely resembles American-style politics has been the heightened emphasis on party leaders themselves. Britons don't elect their prime ministers directly. Rather, they cast a ballot for their local member of Parliament, which in turn influences which party can secure enough seats to form a government and, by extension, who becomes prime minister. More recently, though, the personalities of the prospective prime ministers appear to be looming larger in the public's mind than simply which party they belong to.
"Even though Britain is still formally a parliamentary system … it's become more presidential," Leslie Vinjamuri, the head of the U.S. and Americas Program at the London-based Chatham House think tank, told me. She said part of this can be attributed to the increased attention paid to party leaders by the media. In some cases the effort to brand parties after their leaders is done by the parties themselves.
And as certain elements of Britain's elections have gradually become more Americanized, actual Americans have gotten involved in running them. The country's 2015 general-election campaign featured two high-profile advisers from President Barack Obama's presidential campaigns: David Axelrod was hired by the Labour Party to deliver for the then–opposition leader Ed Miliband the kind of victory he had helped achieve for Obama in 2008 and 2012. Jim Messina, another alumnus of the Obama reelection campaign, joined the Conservatives to do the same.
"There was a huge push … to try and replicate what Obama did in terms of youth enthusiasm [and] online and on-the-ground grassroots and digital campaigning," Theo Bachrach, a former staffer for U.S. and U.K. election campaigns, told me. And it's not just Democrats whom Britons have been borrowing from. In preparation for his first televised debate with Jeremy Corbyn, Boris Johnson reportedly enlisted the help of the Republican election guru Brett O'Donnell, who has previously coached former President George W. Bush and the 2012 Republican nominee Mitt Romney.
"Where the U.S. goes, the rest of the world really does follow," Bachrach said. "It doesn't always work, though."
The reason for that is simple: The two countries, while sharing many of the same tactics and consultants, adhere to fundamentally different electoral rules. Take money, for example. In the U.S., Trump and his Democratic challenger, Hillary Clinton, collectively spent more than $1 billion. The total cost of the 2016 election, including campaign donations and congressional races, is estimated to be six times that amount. Though the 2020 race is still almost a year away, presidential hopefuls have already raised at least $624 million between them.
Britain's elections cost nowhere near this much, because there are limits on how much can be spent. If a party were to field candidates in every seat across the country, it would still be limited to spending £19.5 million ($25.1 million). During the last general election, in 2017, British parties and campaigners spent a collective £41.6 million ($53.5 million). That's less than 1 percent of what was spent in the U.S.'s 2016 elections.
This discrepancy with money feeds into other differences. Whereas bumper stickers, yard signs, and T-shirts supporting a candidate or party are all common features of any U.S. campaign, they are largely absent in Britain—a factor Bachrach said is largely to do with the sheer cost of it all. The strict limits on spending make it so that British candidates have to be careful with how they spend their money and, by extension, are less motivated to fundraise to the scale that American candidates do.
And while political advertising on television and radio is a common feature in U.S. elections, in Britain, political advertising on broadcast media is strictly prohibited. (Instead, parties are granted free airtime in election broadcasts to ensure that "due weight" is given to all involved.) "It keeps the cost of our politics relatively low," Justin Fisher, a political-science professor at Brunel University in London, told me. Presidential candidates for 2020 have already spent almost $41 million on television ads ahead of next year's election.
But perhaps the greatest difference between American and British elections is the length of the campaigns. In the time it takes to run a single U.S. presidential race from start to finish, Britain could hold more than a dozen general elections. (Americans can at least claim to have more control over how many elections they hold, because presidential contests run on a four-year cycle. For Britons, things are much less certain: Including its referendums on Brexit and Scottish independence, the U.K. has had five elections in six years.)
So regardless of the outcome of either election, Britons can at least say the end is near for them: This contest, which lasts about five weeks, ends on December 12. Americans have another 11 months—or approximately eight British elections—to go.