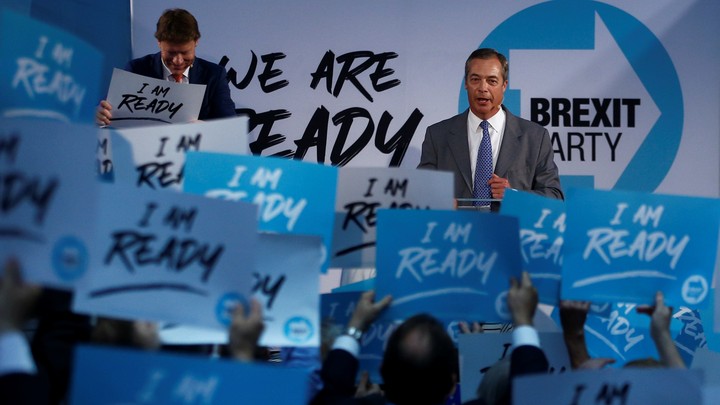 When Britons go to the polls today, Nigel Farage won't be on any of the ballots. Many of the prospective candidates for his nascent Brexit Party won't be featured, either. At the start of this election campaign, the arch–Brexit supporter announced that he and his party would stand aside to help Prime Minister Boris Johnson secure a governing majority—and, crucially to Farage, finally "get Brexit done."
Yet even if Johnson does get the majority he craves, defeating an array of parties that want to delay or reverse Brexit, and he takes Britain out of the European Union in the months to come, Farage is unlikely to receive any credit.
What the Brexit Party leader framed as a selfless and tactical move to ensure that Brexit takes place, others saw as an admission of his own failure. Farage has underdelivered on grand promises before: He failed to get his first political project, the UK Independence Party, into Britain's political mainstream; he failed to win a seat in the House of Commons—not once, but seven times—and he even failed to win a spot on the official pro-Brexit campaign during the 2016 referendum, despite being instrumental in bringing it about. By bowing out of this election early on, Farage seemed to be avoiding a sad, similar fate.
Farage's lack of electoral triumph doesn't mean he has failed politically, though. To the contrary, he has emerged as one of the most influential British politicians of the past 20 years, amplifying the issue of Britain's EU membership from the fringes to the heart of the debate, pressuring the government to hold a referendum it did not want to achieve a result no one thought possible, and forcing both of Britain's main parties to reshape their policies on immigration and the EU—all while never once holding a seat in Britain's Parliament.
Farage's success is a testament to the impact populist figures can have, even in their exclusion. Across Europe, far-right, populist parties have demonstrated their ability to restructure electoral politics within their respective countries simply by setting the terms of the public debate—often on one signature issue—and forcing traditional parties to engage. In doing so, they have revealed the true innovation of the new far right: Electoral victory in the conventional sense isn't a necessary condition of winning.
Nigel Farage has proved that better than anyone else.
---
Though Farage has long pitted himself against career politicians, his background isn't dissimilar to theirs. Born to an upper-middle-class family in the southeast county of Kent, Farage, like much of Britain's ruling class, attended an elite private school in South London. But upon graduation at the age of 18, he opted to skip university and begin a career in finance as a commodities trader.
At the time, Farage identified with the Conservative Party, having been inspired by Margaret Thatcher's leadership to join when he was 14. "I felt that I was always going to be a Conservative," he told the BBC years later. The feeling didn't last. In 1992, Conservative Prime Minister John Major signed Britain up to the Maastricht treaty, establishing the modern-day economic and political structures of the EU—a move that prompted Farage to quit in protest. A year later, he became a founding member of the right-wing, euroskeptic UK Independence Party. After three failed attempts to win seats at both the British and European levels, Farage had his moment in 1999, with the European Parliament elections. He has used his seat to rail against the institution, as well as the "political elites" he believes perpetuate Britain's place in it, ever since.
In its early years, UKIP was considered a "fringe" grouping, and even later on was dismissed by former Prime Minister David Cameron (then still leader of the opposition) as a party of "fruitcakes, loonies, and closet racists." Not until Farage was elected leader in 2006 did it begin to emerge as a political force, buoyed by Farage's high profile and the party's increased focus on immigration—an issue that had become more salient following the EU's 2004 expansion into Central and Eastern Europe and the resulting uptick in movement to Britain. In 2013, UKIP secured third place in the British local elections, ahead of the Liberal Democrats, who were then part of a governing coalition with Cameron's Conservatives. Later that year it did even better, winning the most votes, and the most seats, at European Parliament elections, marking the first time a British national contest hadn't been won by either Labour or the Conservatives in more than a century.
Still, for all of UKIP's momentum, the party failed to secure a foothold in the House of Commons. Though it was able to attract voters during local and European elections, which are largely regarded as second-tier contests, it could never pull them away from their traditional allegiances when it came to selecting a national government. To date, UKIP has only ever had two lawmakers in the British Parliament, both of whom defected from the Conservative Party. Since its lone member, Douglas Carswell, quit the party to sit as an independent in 2017, UKIP hasn't had any Westminster representation at all.
UKIP's failure to establish a presence within the British political establishment had to do in large part with Britain's "first past the post" or winner-take-all system, in which a party's performance is based not on the percentage of votes it receives overall, but how well it does in each individual constituency. While it rewards parties with concentrated support across the country, "it makes it all but impossible for small parties to actually break through and win many seats," Tim Bale, a politics professor at Queen Mary University London and the deputy director of the research institute UK in a Changing Europe, told me. As a result, "the only way to get what you want is either to join one of the [main] political parties or somehow force them into dancing to your tune." Knowingly or not, Farage chose the latter.
---
Though Farage failed to win a Westminster seat during the 2015 general election, prompting his second resignation as the leader of UKIP (his first, in 2009, was so he could focus on a separate, though also unsuccessful, bid to gain a Westminster seat), he had already made an impact that would have profound consequences for Britain and its future.
Read: How Britain came to accept a 'no-deal Brexit'
Take Britain's stance on immigration. UKIP staked a place for itself as the loudest voice on the right of the issue—one Farage framed as inherently intertwined with EU membership, identity, and national sovereignty. By putting immigration at the center of his campaigns, Farage was able to fault the strain on public services not on years of crippling spending cuts imposed by austerity, but on freedom of movement from the EU. Though Farage has often been accused of employing racist and xenophobic tropes—including unveiling an anti-immigrant poster depicting migrants and refugees crossing a border under the headline "BREAKING POINT" during the Brexit-referendum campaign—he has largely avoided being associated with more extreme nationalist groups, such as the British National Party and the English Defence League. "In some ways," Bale said, "one of his biggest achievements is making radical-right politics in this country respectable."
Over time, that single-minded focus has prompted both major parties to take a more hard-line approach on the issue. Labour dubbed it a mistake not to impose stricter control on immigration following the 2004 EU expansion, while the Conservatives introduced their "hostile environment" policy to curb illegal immigration—a crackdown that resulted in tens of thousands of people being wrongly targeted with deportation. The Conservatives have since vowed to reduce immigration further through the implementation of a points-based immigration system, which Farage advocated for in 2015.
But perhaps the most consequential impact Farage had was on Brexit itself. Although the mainstream parties had little appetite for a referendum on EU membership, the surge in support for UKIP prompted some Conservative lawmakers to call for an electoral pact with Farage to stymie the perceived threat. Though Cameron resisted early pressure to commit to a referendum, he ultimately acceded in 2013, pledging to give voters "a very simple in or out choice" if he won a majority at the next election, scheduled for 2015 (an outcome he apparently didn't expect, according to former European Council President Donald Tusk). The referendum was held the following year and then, well, we all know what happened.
Read: Brexit imperils the world's oldest political party
Though the Brexit vote was intended to neuter UKIP, it only partly succeeded. While the party was seemingly made redundant after the referendum, Farage never went away. Despite resigning as UKIP's leader for a third time after the vote, having declared his political ambition fulfilled, he resurfaced in 2018—this time at the helm of Leave Means Leave, a group established after the referendum to advocate for a hard break from the EU (which Farage said then–Prime Minister Theresa May's plan did not fulfill).
The following year, the Brexit Party was born and, with it, history seemed to repeat itself. Farage, on a single-issue platform, began fielding candidates for the European Parliament elections, turning the contest into a proxy referendum on Brexit. The strategy worked, and the Brexit Party emerged as Britain's largest party in Brussels. The victory was heralded as a "second coming" for Farage, and the Brexit Party leader pledged to set his sights on Westminster if Johnson—then the favorite to succeed May—failed to deliver Brexit by October 31.
Geoff Evans, a political scientist and professor of the sociology of politics at Oxford University, told me the looming electoral threat of Farage to the Conservatives influenced Johnson's accession to the premiership because he was considered the only Tory-leadership candidate who could be a "direct competitor for Brexit Party supporters." Unlike May, whose failure to deliver Brexit ended her premiership, Johnson was regarded as among Brexit's true believers. After all, he had played a central role in the official Vote Leave campaign during the 2016 referendum (Farage, meanwhile, was sidelined, forcing him to campaign with unofficial offshoots); he resigned in protest of May's proposed Brexit deal; and, unlike other Conservative-leadership contenders, he embraced the prospect of Britain crashing out of the EU without a withdrawal agreement to cushion its fall—the preferred outcome of Farage's Brexit Party.
Read: Boris Johnson meets his destiny
Though Farage can claim credit for these monumental policy shifts within the Conservative Party and the country more broadly, he didn't do it alone. Throughout his political career, he has enjoyed regular media attention—aided in large part by his propensity for combative and, in some cases, dangerous stunts. In addition to having his own radio show (through which he has interviewed, among others, President Donald Trump), Farage has made more than 30 appearances on Britain's flagship political-debate show, Question Time, making him one of the program's most frequent guests.
"He was a one-issue politician who seems to have been able to achieve his issue," Cas Mudde, an international-affairs professor at the University of Georgia and the author of The Far Right Today, told me in an email. But "he could not have been successful without … the British media."
---
Farage's legacy won't be lost on anyone who has watched British politics unravel these past three years. Had it not been for him, the 2016 referendum on Britain's EU membership would likely never have taken place. Without the referendum, it's unlikely Brexit would have happened at all. Even those who vehemently disagree with him have paid tribute to the effect he has had on British politics. "There is absolutely no doubt he is the most successful politician of my generation," Ken Clarke, a former Conservative lawmaker who backed remaining in the EU, told the House of Commons in 2017.
And yet, some of his closest allies have cast doubt on whether he will be remembered as the man who helped take Britain out of the EU—or the one who frustrated its departure. At the start of the election, Arron Banks, a friend and financial supporter of Farage's, urged voters to back the Conservatives over the Brexit Party, noting that only the former could "save Brexit." Four now-former Brexit Party lawmakers in the European Parliament followed suit last week, declaring it "unlikely that the Brexit Party will win any seats." (Farage, through a spokesman, declined to be interviewed for this story.)
Though Farage's success hasn't been defined by his performance at the ballot box, the outcome of this election could change that perception. If Johnson is able to secure a majority, it will likely result in a Brexit deal that Farage considers flawed—but one that, by standing down Brexit Party candidates, he may have helped achieve. If Johnson fails, however, then it's possible Brexit may not happen at all—an outcome for which Farage could also be blamed.
But to view Farage's success solely through an electoral lens would be to underestimate the ways in which he has already won. For better or worse, Farage has achieved the most successful insurgency in British political history. He has succeeded in elevating the issue of Britain's EU membership from a fringe issue to a national debate. He has succeeded in compelling Britain's main parties to engage on his terms and, in some cases, adopt his positions entirely. And though he'll likely never succeed in winning a seat in Britain's Parliament, he can lay claim to having changed it forever.
We want to hear what you think about this article. Submit a letter to the editor or write to letters@theatlantic.com.