Britain's Political Center Has Caved In
Defectors from both of Britain's major political parties suffered huge losses in recent elections, leaving Parliament almost devoid of moderate lawmakers.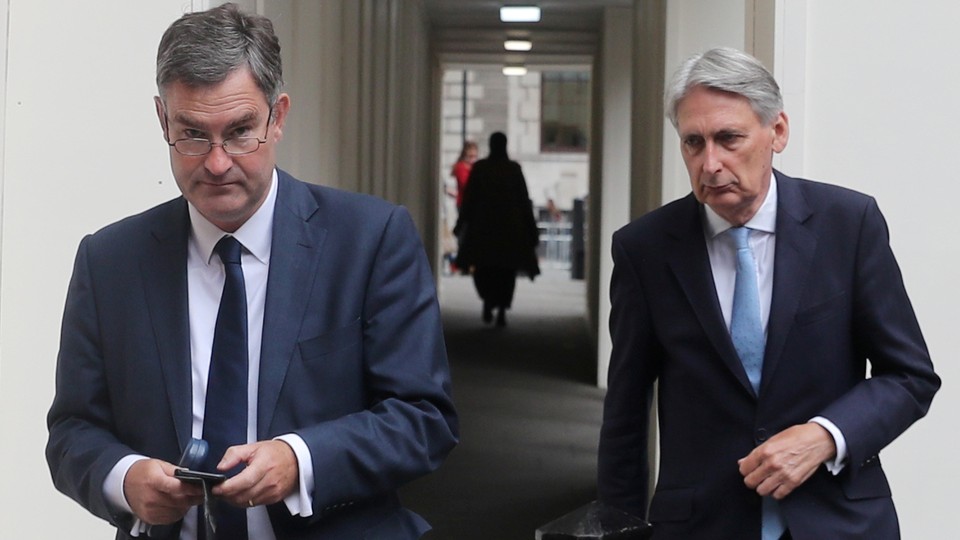 Britain's next Parliament will look a lot different than the one that preceded it.
It will boast a sizable Conservative majority, ensuring the party's dominance not just for the next five years, but for the foreseeable future. It will look more diverse, with one in every 10 lawmakers of an ethnic-minority background, and more female members of Parliament than ever before. It will also be increasingly polarized: between Scottish nationalists, who will use their electoral gains to press for a second independence referendum, and the government in London, which is opposed to such plans; and within the opposition Labour Party, where the battle to reshape its future following a crushing defeat has already begun.
But there is another crucial way in which this Parliament will look different from the last: the moderates. Or, more specifically, the lack of them.
By "moderates" I don't mean a unified, ideologically aligned bloc, nor some romanticized contingent of pragmatists. No, I mean lawmakers who span the British political, as well as the Brexit, spectrum, providing a vital voice for swing voters amid an increasingly divided political landscape. Within Parliament, they have served as an internal check on their respective parties, bringing with them contrarian viewpoints and, perhaps most crucially, offering opportunities for compromise.
Though never a cohesive grouping within the House of Commons, moderate parliamentarians nonetheless played a significant role in this election, and undoubtedly suffered the worst. Of those who ran as independents—by choice or, in the case of some Conservative lawmakers who were purged from the party for opposing a no-deal Brexit, by force—none were able to hang on to their seats. Of those who defected from the Labour and Conservative parties to join the avowedly anti-Brexit Liberal Democrats, all were defeated.
The absence of these moderate parliamentarians is more than just an indicator of this deeply polarizing and partisan bent in British politics today—that much was already abundantly clear. At its core, it raises questions about the future of Britain's center ground and whether the country's political system, which has long relied on single-party governance, can maintain it.
Despite this era of hyper-partisanship in British politics, moderate politicians still staked out a role for themselves in the House of Commons. While some proved instrumental in blocking Prime Minister Boris Johnson's bid to take Britain out of the EU without a withdrawal agreement, others fought to ensure that lawmakers had sufficient time to scrutinize and amend any Brexit deal that was put before them.
To be clear, this election was never about centrists. Rather, it was about the two traditional parties—the Conservatives and Labour—and their shifts toward their respective ends of the British political spectrum. While the Conservatives moved to the left on economic issues, such as rolling back austerity measures, they moved to the right on Brexit, seeking to make a sharp break between Britain and the European Union. Meanwhile, the Labour Party moved to the left with a radical economic agenda, all while attempting to straddle the middle on Brexit by advocating for a second referendum that would give voters the final say. As a result, those who traditionally inhabit the middle ground, or who otherwise differed with their party's position on Brexit, were effectively left with two options: put up or shut up. Many did the former, either switching parties or opting to run as independents.
The odds were always going to be against the latter group in particular—unlike many of their rivals, they lacked the structural and financial backing of their former parties. David Gauke, the former Conservative minister who was among the 21 expelled lawmakers, banked on his name recognition (he has represented his constituency for more than a decade), high-profile endorsements, and clever social-media campaigns to get him over the line (in the end, none of that worked). Others relied on the support of tactical-voting campaigns, which urged voters to cast their ballots in favor of a candidate they wouldn't ordinarily support in order to block another party from winning.
The performance of the more centrist candidates in this election doesn't bode well for one particular moderate politician hoping to transcend the country's partisan divide: Rory Stewart. The former Conservative minister and London mayoral hopeful previously told me that he sees the potential for a new centrist movement in Britain, along the lines of what President Emmanuel Macron achieved in France. Such a movement, Stewart said, would fill the "huge, gaping hole" in British politics left by the falling number of moderate parliamentarians.
When I asked Stewart after the election result if he still believes that such a movement is viable, he said yes—though not at the national level. "My instinct is that the way you actually fight extremism is from the city level upward," he said, adding that local politics "lends itself to being non-ideological, to being judged much more on performance."
Irrespective of the election results, this new Parliament was always bound to be polarized. Neither of the main parties can claim to be the broad ideological churches that they once were. Under Boris Johnson, the Conservatives have been refashioned in his own image—that is, a party that is decisively pro-Brexit (and, specifically, pro-Johnson's Brexit deal). Under Jeremy Corbyn, Labour had undergone a marked leftward shift, in which its membership is defined not simply through loyalty to the party's radical anti-austerity agenda, but to Corbyn himself (though the Labour leader's announcement that he will not lead the party into the next election makes it unclear how long that will be the case). The lawmakers elected to these parties have ostensibly met these barriers to entry, ensuring that this next Parliament will be partisan by design.
Brexit, too, has played a role in reinforcing this polarization. While voters largely rewarded the parties with the most coherent positions on Brexit—such as the Conservatives, who pledged to deliver on the Brexit referendum by the end of January—Labour, which attempted to appeal to voters on both sides of the Brexit divide, struggled.
"On Brexit, the center cannot hold," John Curtice, a British pollster and a professor of politics at the University of Strathclyde in Glasgow, told me. "That is the very final, clear lesson of this election."