China Turns to a Failed Plan to Quell Hong Kong's Protests
The city's leaders believe a revamped education system will make its people more loyal to Beijing and less likely to protest.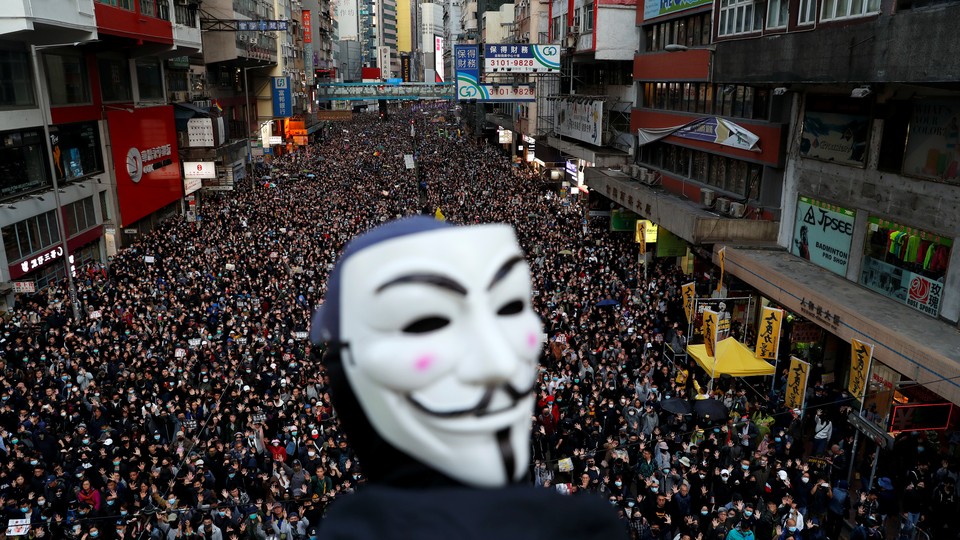 HONG KONG—After months of protests, an embarrassing rebuke at the ballot box, a pair of new laws in the United States targeting Hong Kong, and a worsening economic outlook, the territory's leader, Carrie Lam, promised to do some soul-searching. It seemed an appropriate response: Her city looked to have changed, gripped by a suddenly politically engaged populace determined to face down the authorities.
And in recent days, it appears Lam has indeed emerged with a solution for how to quell unrest here: Faced with demands for greater freedoms, an end to police brutality, and full universal suffrage, she has determined that what Hong Kong's people really need is more Chinese-style patriotic education instead.
In remarks that illustrated the vast disconnect that remains between Hong Kong's people and its leaders, Lam said that efforts needed to be made to "enhance education" among students of Hong Kong's governance and to "enhance a sense of identity," particularly among young generations and civil servants.
Protests, meanwhile, continue, with hundreds of thousands turning out today to make their way through downtown Hong Kong. Marchers, at times packed so densely that the walk slowed to a shuffle, took the same route they had almost exactly six months earlier, when, on June 9, some 1 million people showed up to demand the withdrawal of proposed legislation that would have allowed extraditions to mainland China. (Lam finally withdrew the bill in September, but by then anger at her and the government had spiraled.)
This time, T-shirts appropriate in summer were swapped for sweatshirts and puffy jackets, baseball caps for beanies, but the frustration at the government remained unchanged. "They are not responsive to us at all; we are very disappointed. Many, many of us cannot sleep, we have tears in our eyes," one protester, Lum Li, told me as she stood near an enormous banner depicting a collage of protest moments from the past few months, a print of a painting made by her and her husband, Lum Long. "The government lies to us everyday. The police tell lies everyday," Long interjected.
With pro-democracy protesters and the government at a deadlock, Lam, as well as officials in Beijing and business tycoons, have all pointed the finger at Hong Kong's lack of national education as a major cause behind the ongoing demonstrations. The standoff, they believe, can be remedied by more patriotic teachings in schools, which would foster less rebellious future generations.
Yet this solution is one that has been offered up before, seven years ago, and ended in failure. Protests in 2012 forced officials to shelve the plan then, and helped give rise to a generation of young Hong Kong activists, many of whom are involved in the current demonstrations.
Today's protesters would actually brand themselves as patriots, willing to give up everything—their future, their jobs, their freedoms, their families, and even their life—in a fight for a better Hong Kong. The problem is that they are not the kind of patriots that Beijing—or Lam—wants. The past six months in Hong Kong have seen more than 900 protests, at least a third of the city's 7 million people take to the streets, more than 10,000 rounds of tear gas and several rounds of live ammunition fired at them, and the death of one young protester. For many, everything has changed, from their trust in the city's government and institutions to their relationship with the police, their neighborhoods, and even the local subway operator. And yet the government seems set on returning to a remedy that appears ready-made for failure.
"Xi Jinping thinks what went wrong was the education system of Hong Kong," Willy Lam, an adjunct professor at the Chinese University of Hong Kong's Centre for China Studies, says of the Chinese leader's reaction to the protests. "This is a heavy-handed attempt to make up for lost time. They think that from now on they must double down on this patriotic education."
It is a strategy Beijing has used on the mainland, where measures to boost nationalism through the country's classrooms have sharply ramped up since Xi came to power in 2012. Yet the efforts are markedly more complicated in Hong Kong, which, thanks to its autonomous powers, has long had its own, independent education system, as well as a different language.
Indeed, China's most recent attempt at promoting patriotic education in Hong Kong offers a cautionary tale. In 2012, under Carrie Lam's predecessor, C. Y. Leung, officials here tried to introduce "moral and national education" courses in local schools, an effort that was met with demonstrations from students, teachers, and parents who likened the courses, which included nationalist Chinese history and highlights of the Communist Party's successes, to political indoctrination. The plan was soon dropped, but has had a long legacy: The protests that year gave rise to a group of then-student leaders, notably Joshua Wong, who would play leading roles in the Umbrella Movement two years later and who continue to frustrate Beijing and the Hong Kong government today.
Yet that has not led to the plan being abandoned entirely. Last month, during a four-day meeting in Beijing, Shen Chunyao, the director of the Hong Kong, Macau, and Basic Law Commission, which advises Beijing on Hong Kong's mini-constitution, said efforts should be taken to "educate Hong Kong and Macau society, especially public officials and teenagers, about the constitution … and strengthen the national consciousness and patriotism of Hong Kong and Macau compatriots through the education of history and Chinese culture." And Willy Lam, the professor, points to an uptick in high-school students on government-funded exchange trips to mainland China as a way in which officials in Hong Kong are already working to promote ties. While there might be "a lot of resistance on the part of parents and students," he says, "they cannot stop the Education Bureau."
If the authorities want to succeed with a patriotic-education plan this time, the government will need a "softer approach," Bernard Chan, a member of China's rubber-stamp parliament and Hong Kong's Executive Council, the government's top policy-making body, told me. "It's a must, it's a must. The question now is execution. You can't force it onto somebody; it is, how do you deliver those messages, in what form or shape? That is a challenge," he said. "How do you excite these people to want to study?" Chan, a former pro-establishment lawmaker who said that some of the blame also lay with teachers, believes a rote method that includes memorization of facts and documents would likely fail, but one focused instead on the long term that draws on arts, culture, and sports would be more likely to succeed.
"How many people in Hong Kong actually even understand how the nation is run?" Chan asked, sitting in his office in the city's central business district. "It's not a matter of whether you agree or disagree. You don't have to like the Communist Party, you don't have to agree, but at least you should know how it is done."
Today's march was organized by the Civil Human Rights Front, the group responsible for the two largest marches of the movement thus far, and followed weeks of fierce clashes between police and protesters, who occupied university campuses late last month. At Hong Kong Polytechnic University, police laid siege to the campus for 12 days, arresting more than 1,000 people and seizing thousands of Molotov cocktails.
If serious divisions do exist between the factions of peaceful and more radical protesters, they weren't on display today, when inside Victoria Park, the starting point of the march, families toting children, elderly residents, and black-clad younger protesters intermixed. Dozens of people filled out Christmas cards reading "Free HK Revolution Now" that would be sent to arrested protesters who remain in jail. Festive decorations sat between masks and bottles of water on a supply table manned by volunteers.
Riot police took up positions on pedestrian bridges along the route and a helicopter hovered overhead, but the march remained largely peaceful into the night. Protesters did leave a trail of graffiti and stickers as they worked their way to the end point. Spray paint covered the base of the historic Bank of China building; a small sign reading heaven will destroy the CCP stood against the ornate doors. The Civil Human Rights Front said that 800,000 people took part in the march.
The teenage high-school students Jenny and Yoyo, who declined to provide their surnames, told me that they had been taking part in demonstrations since June. They provided a glimpse of the type of attitude toward the authorities that some officials seem keen to stamp out. "The government doesn't listen to our voice," Jenny said. "Instead they try to use the police to control us. We have to take a stand here."
Jeffrey Ngo, the chief researcher at the pro-democracy group Demosisto, which has helped organize high-school-student protesters in recent months, says that attempts to move forward with national education plans again would be a "wasted effort." "The Chinese government has always thought that more brainwashing will work in terms of controlling Hong Kong," he says. "Hong Kongers can see for themselves, feel for themselves, the true nature of the Chinese government."