A Tiny Island Exposes Europe's Failures
The investigation into the murder of Malta's most famous journalist has done more than plunge the country into crisis.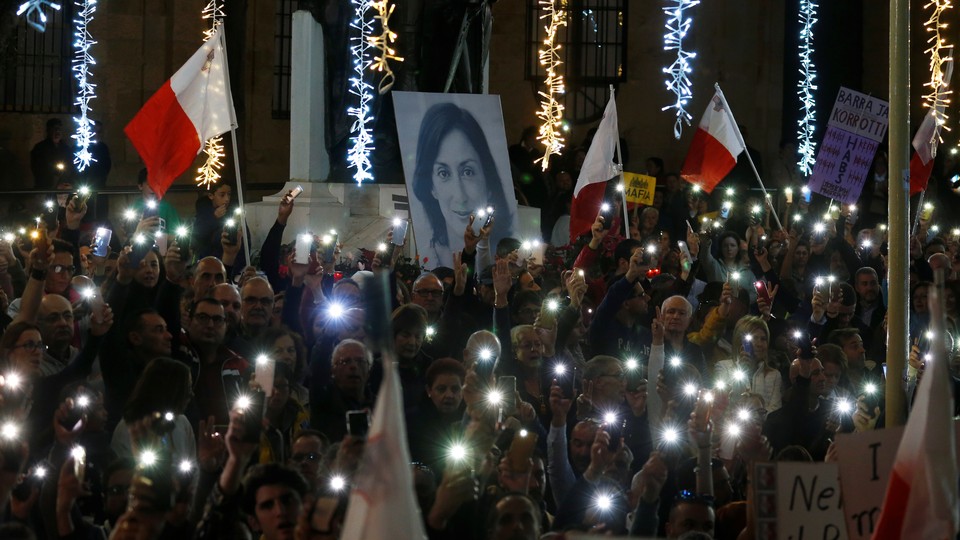 Updated at 4:15 a.m. EST on Friday, December 6, 2019.
On a tiny island in the Mediterranean Sea, on the fringes of the European Union, something incredible is unfolding. A political crisis and a social uprising, spurred by investigative journalism, are revealing the failures of Europe.
The case is complex: Malta's best-known journalist, Daphne Caruana Galizia, was assassinated by a car bomb in October 2017. The murder has not yet been solved. A businessman charged last weekend with complicity in her death has reportedly told police that the prime minister's chief of staff was involved in ordering the hit.
Yet the bottom line is simple: If the Maltese government doesn't step aside to allow independent investigations to proceed, Europe—as a set of institutions, values, and protections—will have failed.
Europe is being weakened from every direction—by Brexit, by the Polish government's watering-down of the judiciary, by the Hungarian government's incursions into freedom of the press, by the crisis triggered by the thousands of asylum seekers stranded in Greece. But what is happening in Malta is the most glaring example of the failures of rule of law and separation of powers in Western Europe.
Let's back up. Before she died, Caruana Galizia's scoops on her blog, Running Commentary, alleged corruption at the highest levels of the Maltese government—kickbacks, dirty banking, offshore accounts in Panama opened by two  close aides to the prime minister, sketchy use of the country's program that sells Maltese passports to wealthy foreigners. (The last sentences she published were: "There are crooks everywhere you look now. The situation is desperate.") After her murder, police quickly arrested three local men with criminal pasts, but then investigations slowed to "a glacial pace," as a damning report by the Council of Europe, the Continent's human-rights watchdog, put it this year. The report also described Malta as a country where the prime minister has too much sway over the appointment of judges and the chief of police.
The three men were charged this summer with carrying out the murder, but little information emerged about who might have ordered the hit. Until this month, when an alleged middleman came forward with intriguing information. In exchange for immunity in a separate case, he said that one of Malta's richest men, Yorgen Fenech, whose company had won a public contract to build a power station, had funded the journalist's assassination; before her death, Caruana Galizia had reported alleged corruption in the deal. The tip-off led to Fenech's being charged on Saturday. (He pled not guilty.)
Reuters identified Fenech as the owner of a Dubai-based company that had been established to make payments to two offshore accounts set up by Prime Minister Joseph Muscat's chief of staff, Keith Schembri, and Konrad Mizzi, Malta's current tourism minister—accounts whose existence Caruana Galizia had first detailed when she combed through the findings of the Panama Papers reporting in 2016. Fenech declined to confirm to Reuters whether he owned the company. Schembri and Mizzi have acknowledged that they owned the offshore accounts, but deny all wrongdoing. It's unclear whether Schembri and Mizzi's accounts received money from the Dubai-based firm.
Fenech has, according to press reports, said that he would testify against a top government official in exchange for immunity—he reportedly told police that Schembri ordered Caruana Galizia's assassination. Demonstrators, thousands of whom have taken to the streets to protest the inaction over Caruana Galizia's killing, say Muscat must leave office immediately to clear a path for a full investigation. Since last week, police have questioned Schembri, Mizzi, and Chris Cardona, Malta's economy minister, in connection with the killing. All have been released and deny any wrongdoing. Cardona actually stepped down, but then was reinstated, a decision that Paul Caruana Galizia, the journalist's youngest son, said was "insane and unforgivable."
It is bad enough that a journalist was murdered in broad daylight in an EU country. That members of the current Maltese cabinet are implicated in the investigation and are still in power is a blight not only on Malta but on all of Europe. Malta is not just a Mediterranean backwater; it's a back door—into Europe's banking system, into the visa-free travel accorded by its European passports, into the protections of European rule of law and the values of human rights and the free press that the EU was created to uphold. It is hard to imagine the government of any other EU country staying intact under similar circumstances.
Since her death, Caruana Galizia's family has pushed for a thorough investigation and been among the voices calling on the prime minister to resign. "Over two years ago we gave the name of the prime minister's right-hand man and a dense diagram of his corrupt web to criminal investigators," Andrew Caruana Galizia, another of the journalist's sons, wrote on Twitter on Monday. "Today, journalists are writing openly about his role in my mother's assassination and the threats he continues to make to cover it up."
Muscat has said he would step down next month, once a new leader of his Labour Party has been chosen. Pieter Omtzigt, the special rapporteur on Malta who conducted the investigation that led to the Council of Europe's report, welcomed that decision. Omtzigt, who is a member of the Dutch Parliament, wrote last month that it marked "belated recognition of [Muscat's] political responsibilities and a necessary step to allow investigations into the murder and other serious offences to proceed free of the stench of political interference."*
But next month is not soon enough for Muscat's critics. "His continued tenure as prime minister is intolerable to anyone who cares about justice. His role in the investigation into our wife and mother's assassination is unlawful," Caruana Galizia's family wrote in a statement Sunday. "Until he resigns, we will use all legal remedies to ensure Muscat has no further involvement in the investigation and criminal proceedings, other than as a possible suspect."
More public demonstrations are planned for the coming days. Malta is a small country. The implications are big.
---
* This article previously misstated Pieter Omtzigt's title. He is a member of the Dutch Parliament, not the European Parliament.