'If Someone Speaks the Truth, He Will Be Killed'
Chechens abroad feel the long reach of their brutal regime.
BERLIN—One morning last April, immigration officers approached Minkail Malizaev's residence in the German town of Lüdenscheid with troubling news. After four years in Germany, he and his family were being sent back to where they had come from: back to Russia. Back to Chechnya.
Before long, they were whisked to a nearby airport, set to board an upcoming flight. Malizaev was not in good health, though—the dissident was still recovering from back surgery, a consequence of injuries resulting from his torture in Chechnya years earlier. German officials determined that he was not in a good enough condition to travel, so he could stay. His wife and three children, however, could not, and were shipped off.
Things would soon get worse. When he returned home from the airport, Malizaev received a phone call. "Hello, Minkail," the man on the other end of the line said in Chechen. "It seems you are making a lot of problems for yourself these days." He then conveyed a message—Malizaev's problems could go away, as long as he did one thing: "Apologize to Ramzan."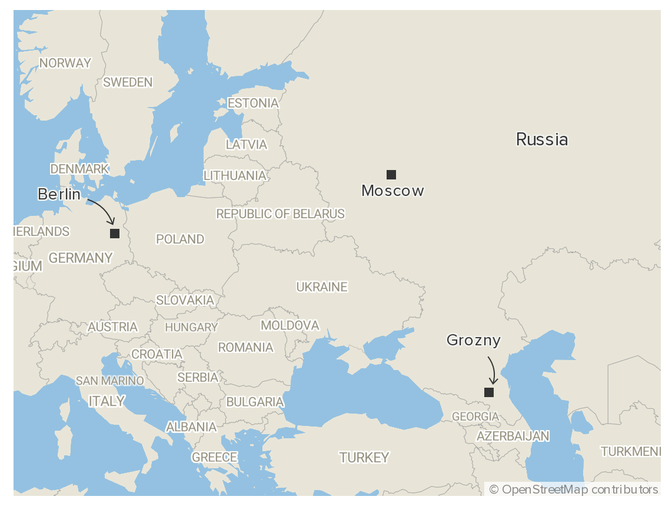 Ramzan Kadyrov, the Kremlin-backed leader of the highly autonomous Russian republic of Chechnya for the past decade and a half, has become infamous both inside Russia and beyond for his brutality and intolerance of even the slightest dissent. Arbitrary arrests, torture, and executions are a feature of daily life in Kadyrov's Chechnya; anyone with a family member accused of participating in an insurgent movement against his rule faces being expelled and having their house burned down by security forces. Posting so much as a critical comment about the government on social media requires at least a coerced public apology on state TV, though punishment can be much worse. Public dissent is simply impossible.
Disbelief was still evident in Aslan Artsuev's voice as he relayed Malizaev's story to me and played part of the telephone conversation. Artsuev, a Chechen opposition activist with a background as a lawyer, has, over the years, become a confidant of Malizaev's as well as one of his legal advisers, as the dissident has tried (thus far unsuccessfully) to secure refugee status in Germany. Artsuev is no stranger to the suffering inflicted on opponents of the Chechen regime, yet even by those standards, Malizaev's experience was extreme.
Malizaev—fearing for his family's life, as well as his own—eventually acquiesced to the demand, recording an audio statement that was briefly posted to YouTube, apologizing to Kadyrov for bringing shame on the Chechen people. But, as Artsuev recounted, "it wasn't enough." Malizaev was soon asked to make a video in which he would have to use even more groveling language, a demand he rejected. Days later, Artsuev said, two men appeared at Malizaev's house and began physically beating him. The dissident managed to call Artsuev, and the lawyer quickly hopped into his car and began driving the hundreds of miles from his home in Hamburg to Lüdenscheid. By the time he arrived, Malizaev was in the hospital.
(Aspects of Artsuev's account were first reported last spring by Kavkaz.Realii, part of Radio Free Europe/Radio Liberty. Two other Chechen activists in Germany, who asked not to be identified for fear of retribution, supported Artsuev's telling. I contacted Malizaev, but after the killing of a fellow Chechen exile in Berlin in August, he went into hiding and has since declined to comment. Germany's Federal Office for Migration and Refugees did not respond to requests for comment regarding the deportation of Malizaev's family.)
Malizaev's experience was not the first time an anti-Kadyrov Chechen living in Europe faced threats and violence. Nor was it the last.
Among the most recent, and the most daring, was the August 23 assassination of a Chechen dissident who went by the alias Zelimkhan Khangoshvili, who was shot dead in broad daylight in central Berlin. Germany has expelled two Russian diplomats over the killing, arguing that evidence shows it was carried out on behalf of either Moscow or Kadyrov's government in Grozny. Moscow has denied any involvement in the killing; Vladimir Putin later claimed, without providing evidence or further details, that Khangoshvili had organized a bombing of the Moscow metro in years prior.
Though the murder itself was shocking, that Kadyrov may have been responsible is not surprising: The Chechen leader has made abundantly clear what will happen to those who criticize him, at home or abroad, including in Europe. In one video dispatch, he warns Chechen immigrants to the continent, "When you are kicked out of Europe, you will have nowhere else to go! And then you will answer to me for every word." In another, he states simply, "No law on Earth will stop me."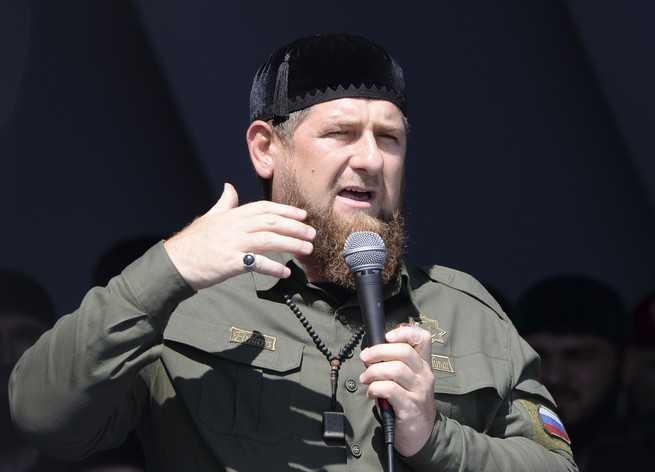 His remarks exacerbate what can often be a suffocating situation for Chechens abroad. According to NGO officials and analysts I spoke with, some 50,000 Chechens live in Germany alone, and as they wait for asylum applications to be processed, they are barred from working and subject to deportation for what rights groups say are often arbitrary reasons. Advocates for the Chechen community in Germany say these immigrants are frequently painted in a negative light—"that we are all criminals, terrorists," says Zelimkhan Dokudaev, a Chechen who runs a cultural center that helps North Caucasian immigrants adapt to Germany.
They face a similar quagmire elsewhere: Mansur Sadulaev, the director of Vayfond, a Sweden-based NGO that assists Chechens with their asylum cases across Europe, described their struggle as a Sisyphean one, caught between disinterested European governments and the will of the Russian state.
Though neither Russia nor Kadyrov has any direct impact on Chechens' asylum applications, Moscow (and Grozny) can wield its strength through other means. One tactic it often resorts to is the use—critics say abuse—of Interpol red notices. These are typically meant to help law-enforcement agencies around the world work together to catch and extradite suspected criminals who have fled the authorities in one country, hoping to find a haven elsewhere.
Yet Russia has long utilized the system to pursue political opponents. Although full statistics are not available, of the 7,000 current public red notices, more than 2,500 were filed by Russia, many of which are for individuals of Chechen or North Caucasian origin. Sadulaev told me that while these red notices can be challenged in European courts, it is an uphill battle for people with few resources at their disposal. One case that his organization eventually won took "years of effort … and was very expensive."
Some face the threat of collective punishment, with Chechen authorities warning dissidents abroad that their family at home is at risk. And for a select few, such as Malizaev, there is the potential for a call or visit from enforcers—members of what is known in Russian as the Kadyrovtsy. For example, Timur Dugazayev, Grozny's official representative in Germany, openly threatens immigrants with forcible returns to Chechnya.
The regime exerts pressure in other ways short of all-out violence or deportation. Take the experience of Movsar Eskarkhanov, a Chechen in Germany who became the first openly gay Chechen refugee to publicly speak out about persecution of the LGBTQ community back there, with Time writing a long feature on his experience. Eskarkhanov's comments came amid widespread outrage over the detention and torture of sexual minorities in Chechnya, allegations Grozny denied.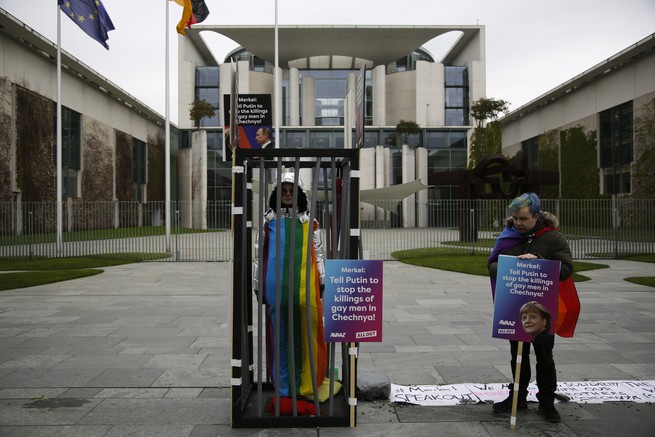 Eskarkhanov's next interview, however, came with Beslan Dadaev, a Germany-based correspondent for the Chechen state broadcaster ChGTRK. In the interview, a visibly uncomfortable Eskarkhanov tells Dadaev that his words in the Time story were fabricated. "The Western journalists gave me drugs," he says, "forced me to disgrace the Chechen leader." It was his "mental illness" that spurred him to say "even one bad word" about Kadyrov. A month later, Eskarkhanov told another news outlet that the ChGTRK interview had been coerced. (Eskharkhanov could not be reached for comment.)
This was not the first time Dadaev was alleged to have pressured Chechens abroad on behalf of Kadyrov's government. According to Artsuev, the man who called Malizaev and told him to make the audio and video recordings was Dadaev. Neither Dadaev nor his employer responded to requests for comment.
For many Chechens in Germany, their patience is running out. Two I spoke with in Berlin voiced disdain for the German authorities, accusing them of standing pat while their community is targeted. The pair, who asked to be identified only by their first names, Ramzan and Vakha, said Berlin had taken no action even as they were pressured—physically, verbally, psychologically—by people they said were acting on behalf of the Chechen government.
"The Russians and Kadyrovtsy have their own headquarters here, right here in Germany," Ramzan told me. "Dogs here have more rights than us. You kill a dog, you face punishment. You kill a Chechen? Go on, no problem."
Khangoshvili's assassination in particular is fast becoming a symbolic case. The dissident was seen as a heroic figure by Chechens here, with many repeating stories of Khangoshvili having fought for Chechnya against invading Russian forces before turning against Kadyrov. His plight, too, highlights the feeling Chechens in Germany have of being hunted—even after fleeing Chechnya, Khangoshvili survived two assassination attempts in Georgia before being killed in Berlin. In taking action and publicly connecting the Russian state to the killing, Berlin went further than it was willing to in other incidents, but few in the Chechen community—Vakha and Ramzan among them—feel any safer. The pair were among several people I spoke with who speculated that a lack of response by the German authorities would drive Chechens to take matters into their own hands, either by allying more closely with extremists for protection or by carrying out vigilante justice.
Sitting in a small café in southeastern Berlin, Vakha spoke alternately with deep reverence for Khangoshvili and deep fear of the Chechen regime. "He defended his homeland and 15 years later he still paid the price," he said. "Killing [Khangoshvili] was a very simple message: 'Shut your mouth and don't say a thing.' If someone speaks the truth, he will be killed immediately."