Ask Your (Male) Colleagues What They Earn
Samira Ahmed's case against her employer, the BBC, illustrates the value of transparency in closing the gender pay gap.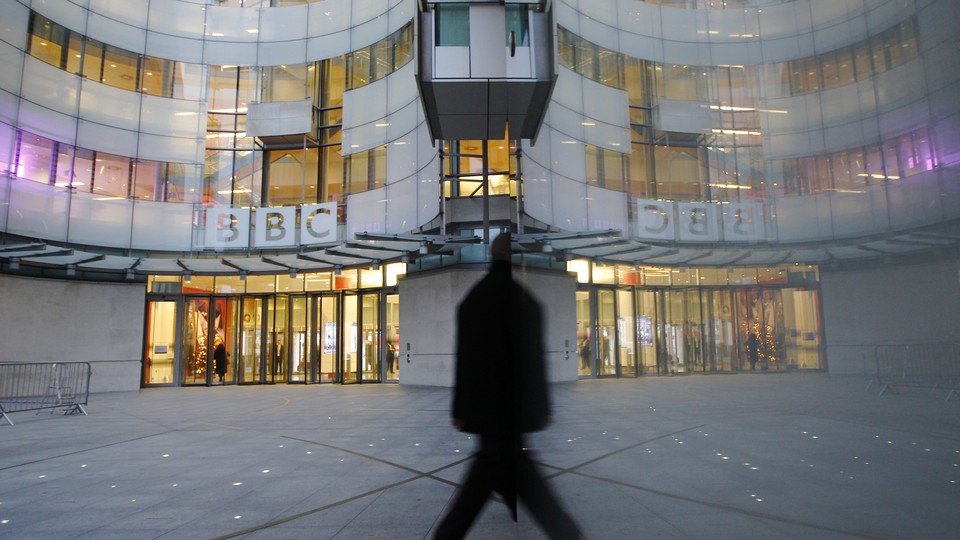 On a cold November morning, a group of women—and a few men—gathered in front of Holborn tube station, in Central London. At 9 a.m. sharp, two of them linked arms with Samira Ahmed and walked the television presenter down the street to the building where her pay-discrimination case would be heard. It was a gesture of both support and defiance: Over the seven days of hearings, Ahmed took on a British giant.
Ahmed, who has worked for the BBC since 1990, alleges that the British state-funded broadcaster systematically underpaid her because she is a woman. She has already won two pay claims relating to her other work on BBC radio. The bald facts of her latest case are arresting. For presenting a 15-minute show on the BBC News channel, Ahmed was paid £440 ($565). A male presenter, Jeremy Vine, presented a similar 15-minute show on BBC One. He was paid £3,000 ($3,855).
A judgment in the case is expected in December or January. If Ahmed wins, other claims against the BBC are likely to follow—during the hearing, an unredacted document accidentally revealed the names of 120 female BBC employees who have already made pay complaints. And whatever the outcome, the publicity has demonstrated how indefensible a company's pay rates can appear when exposed. If a reckoning follows across other industries, it will be expensive, because pay discrimination can stretch back for years, even decades. Ahmed alone is asking for nearly £700,000 ($898,464). When Glasgow Council settled a long-running dispute with female workers last January, the bill was more than £500 million ($704 million).
The idea to walk alongside Ahmed every morning was hatched in the nearby flat of Catherine Mayer, a journalist and co-founder of the Women's Equality Party. (She sued a former employer, Time magazine, for age and sex discrimination in the U.S.) It was a potent symbol of female solidarity, particularly because Ahmed is one of very few high-profile British-Asian women at the broadcaster. One of those who walked in with Ahmed was the BBC presenter Naga Munchetty, who was recently censured by the BBC for saying that Donald Trump's "go back" comments were "embedded in racism." (Her white, male co-host was not criticized, despite initiating the on-air conversation.) A public outcry forced the BBC to overturn the ruling. Still, the perception remains that the BBC is an institution built by white men in their own image, and treats its white male presenters better than women and minorities.
The fight for equal pay in Britain has been a long and arduous one. By law, British women have been entitled to be paid the same as men for almost half a century—the relevant legislation was passed in 1970. But pay rates still often depend on nebulous criteria such as "experience" or "potential," or what employees were paid in their last job. If a woman falls behind, either by failing to negotiate a pay raise when promoted or poached, or by temporarily leaving the workforce to care for children, her lifetime earnings may never recover. Entire sectors dominated by women, such as care work, have historically attracted low wages. Sometimes, you can even see the inequality develop in real time: When women move into an industry, the pay drops.
For all these reasons, truly equal pay has proved elusive: A mean gap of 13.1 percent in full-time earnings still exists between British men and women. The Fawcett Society, which campaigns for legal reforms to bolster gender equality, celebrates an "equal pay day" every year. In 2019, it is November 14, "the point in the calendar when women start to work for free."
Ahmed's experience has demonstrated the power of transparency in challenging unequal pay. Her case was possible because the BBC promised, as part of its funding agreement with the government in 2017, to be much more open about its presenters' salaries: It now publishes lists of its highest-paid stars. She was also helped behind the scenes by talking with Vine, her "male comparator." Without being able to demonstrate the stark difference between her pay and his, the case would have been weaker.
The BBC's defense relied on the fact that Vine was an entertainment presenter who approached his program "in a light-hearted way." By contrast, it claimed Ahmed was a news journalist working for a "niche" channel. Vine was a "concert pianist in a concert hall"; she was more like "someone playing piano to a ballet class of 10 children." It was a belittling way to describe both Ahmed, an accomplished broadcaster, and her program, which was created in response to criticism of the BBC's reporting in the run-up to the Iraq War. Notably, the corporation did not rely on viewing figures to argue that Vine deserved a higher salary: Because Ahmed's Newswatch was repeated on BBC One, the flagship channel, it attracted more viewers overall.
Arguments about pay are so fraught because they are, at heart, arguments about value. Our salaries are a measure of our worth, a crude way of keeping score. Greater transparency forces companies to explain and defend the criteria they are using to decide this value. "Why and how have we arrived at the conclusion that he's worth six times her?" is how Sam Smethers, chief executive of the Fawcett Society, put it to me.
Ahmed's crowd of supporters were sure that the criteria used were unfair. "All the pushback has been about her 'likability' and her profile," Mayer told me. ("Likability" is considered by many feminists to be a deeply gendered quality; successful women are often, by definition, considered dislikable.) During the hearing, Ahmed said, "It seems to me that men are more likely to be seen as stars, or at least stars that should be paid very highly. I don't think it is clear what criteria the BBC use to decide whether someone is a star."
This final point is crucial. The last high-profile pay claim against the BBC was brought in 2018 by the former China editor Carrie Gracie, who was paid less than the men in equivalent job roles. She later said that she wanted to challenge the secrecy surrounding the issue, because employers try to "keep it isolated in one woman's silo and then preferably she will sign some kind of confidentiality clause about it." As with the use of nondisclosure agreements to settle sexual-harassment claims, each individual woman has a strong incentive to avoid a lengthy, public battle. But the overall effect is that the size and scope of the problem is never revealed.
Because addressing the issue properly would be so disruptive, many women who challenge their employers experience something very close to gaslighting, Smethers said—a disorienting denial that a problem exists at all. Yet it clearly does: Under the Equality Act of 2010, companies in England, Wales, and Scotland with more than 250 employees must publish their average gender pay gaps every year. (The legislation was not enacted in Northern Ireland.) These figures revealed that there is no sector of the economy where women earn the same as men; since reporting started, the gap has hardly narrowed. Fifty years after women gained the right to equal pay, they are still not getting it.
Smethers believes that merely revealing the overall picture is inadequate: Women need specific information on their male peers, rather than headline figures across the company. They might suspect they are being underpaid, but have no way to prove it. "You're stuck with a right [to equal pay] you can't enforce," she said. The Fawcett Society is calling for greater pay transparency at the individual level, backed by penalties for employers who do not cooperate. Under its plan, every employee would have the right to demand pay data from a "male comparator" within 20 days, using a similar mechanism to a Freedom of Information Act request.
As you might expect, not all responses to the BBC women's equal-pay demands have been sympathetic. Carrie Gracie's fellow presenter, John Humphrys, was caught on mic joking about her case—and how much salary he might have to give up. However, many men are supportive. Outside Holborn station, the BBC producer Simon Guerrier, who has worked with Ahmed, was there to walk alongside her. Why had he turned up? "Because I think it's right," he told me. "It's shocking it's even a question."
Smethers suggested that men can go further: Currently, the burden of challenging unequal pay falls on those affected, when their confidence has already been dented by discovering that their employer does not value them as highly as their colleagues. They are the ones who have to make themselves unpopular by challenging the system. In the future, though, men could take on some of that burden by revealing their salaries to their co-workers, even if it annoys their bosses. "All you've got to do is say: This is what I'm earning," Smethers said. "Share your pay information with your colleagues. It's a simple act of solidarity."