Broadway's Dirty Secret
Ivo Van Hove's success shows how much American commercial theater relies on European state funding.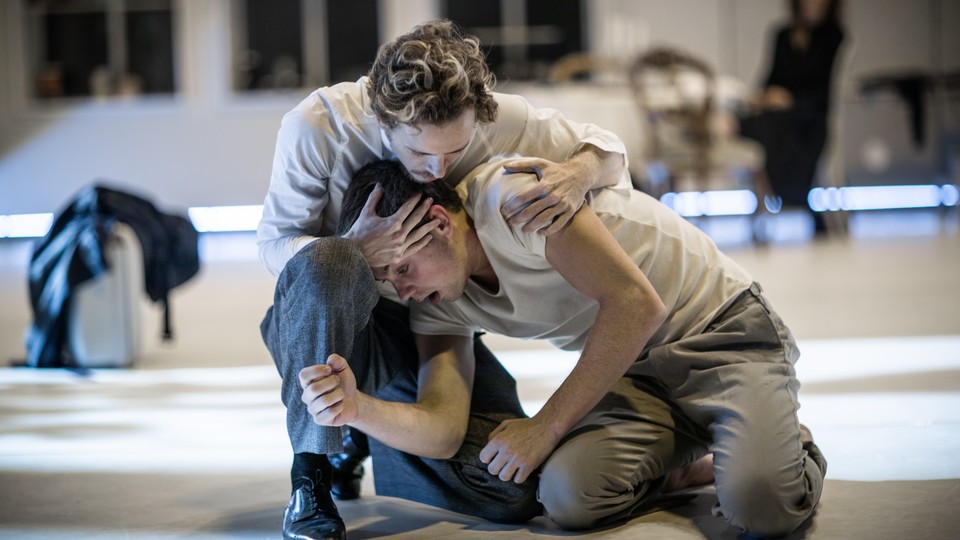 Ivo Van Hove is arguably the most sought-after theater director in the world. In February, his version of West Side Story—with new choreography—will open on Broadway. His adaptation of the film Network was nominated for five Tony Awards last year (winning one). Before that, he directed Gillian Anderson and Lily James in All About Eve, Ben Whishaw and Saoirse Ronan in The Crucible, and Mark Strong in A View From the Bridge.
To profit-seeking producers, he offers the perfect marriage of artistic credibility and box-office appeal. His work is avant-garde enough to feel fresh, but not so experimental that it will horrify mainstream audiences. More than that, though, his success exposes Broadway's dirty secret: Its money-making machine depends on artists and productions nurtured by European government subsidies.
Since 2001, Van Hove has been the artistic director of International Theater Amsterdam (ITA), for which he stages two new productions a year, as well as commissioning other artists there and directing freelance projects internationally. In October, I watched his most recent production at ITA, an adaptation of Jean-Paul Sartre's unproduced script for a film about Sigmund Freud's early adulthood. Freud bore many of Van Hove's hallmarks. The set design, by his professional and romantic partner, Jan Versweyveld, used found objects rather than velvet curtains or painted-canvas backdrops. Video projections conjured up the Vienna of Freud's childhood. Just as notably, Freud drew its actors from two ensembles—actors who are contracted to a single theater and work across all its productions, encouraging them to develop deep working relationships with one another, and with directors, over many years.
The trust that exists between Van Hove and his regular collaborators allows him to create boundary-pushing productions, confronting self-harm (A Little Life), pedophilia (The Damned), and anti-Semitism (Freud). The first of these three shows, which I watched in April, was so graphic that a man fainted at the performance I saw. As a director, the 60-year-old Van Hove always asks himself, "How can this be done on this stage in the most extreme way?" His productions flirt with misogyny and are often deliberately tasteless: A 2005 production of The Taming of the Shrew conveyed the overwhelming anger of Katherina—the shrew of the title—by having her urinate on a table. Katherina's sparring partner, Petruchio, then licked it up.
Van Hove can push the limits like this because of the safety net of state subsidies. To run one 750-seat and one 500-seat auditorium, ITA receives 17.5 million euros ($19.5 million) a year in state funding—69 percent of its income. Van Hove's productions tour the world at theater festivals, but the support of the Dutch government is vital. Subsidies free artists from the constraints of commercial theater, which relies on long runs and star names to recoup its funders' initial outlay. (The cost of staging a single play on Broadway, for example, runs into the millions.) Subsidized theaters can run workshops and rehearsed readings, or stage short runs to test the public appetite for a show. Think of their productions as racing yachts, compared with Broadway's impressive but slow-moving cruise ships.
So when Van Hove is hired in the United States, Broadway producers are buying an artistic sensibility and a talent for provocation honed in state-funded theatrical laboratories across Europe, plus expertise that is the product of working relationships stretching back decades. (The director has worked with Versweyveld since 1981, and the ITA ensemble's leading actor, Hans Kesting, has been there since 1987.) While the U.S. does offer some state funding to arts organizations, the amount varies hugely by region—and Broadway venues are purely commercial creatures.
Van Hove has directed productions at the 200-seat New York Theatre Workshop since 1996, but his big break in the U.S. came only five years ago, three decades into his career, with Arthur Miller's A View From the Bridge, the direct product of European state subsidies. It started at the Young Vic, in London, which receives funding from the British government, before transferring to the West End and then New York's Lyceum Theatre. The production was raw and stripped-down: Versweyveld's set was a clean rectangle with a roof, the actors were barefoot, and props were kept to a minimum. It took a classic of the American canon, threw out any attempt at naturalism, and emphasized its debt to Greek tragedy. Critics found it revelatory—Vogue called it "not your parents' Arthur Miller"—which must have amused theater makers in mainland Europe, who are used to seeing the classics treated with irreverence. After all, to stage Shakespeare, Van Hove's Dutch ensemble has always used a translation. That leaves no room for English-speaking critics' endless hang-ups about "faithfulness" to the original text.
With A View From the Bridge, American audiences were getting a taste of the European (state-funded) avant-garde. Van Hove is the perfect bridge between the two because he is multilingual and multicultural. (A native Flemish speaker from Belgium, he is now based in Dutch-speaking Amsterdam and works with actors in England, France, and Germany in their own languages.) He brings work steeped in the European tradition to U.S. audiences without demanding that they read foreign-language subtitles.
Working in English is, obviously, a huge advantage to anyone who wants to succeed in American commercial theater. London is a great source of future American transfers, such as the musical Matilda, developed with the Royal Shakespeare Company; Jez Butterworth's The Ferryman, from the Royal Court Theatre; and Marianne Elliott's version of Angels in America, which started at the National Theatre. All of those organizations receive funding from the British government. Sam Mendes's production of The Lehman Trilogy, which opens on Broadway in March, is the product of three sets of European state subsidies. It began as a play on Italian public radio, was developed by state-supported theaters in France and Italy, and was translated into English by the National Theatre's then–deputy artistic director Ben Power.
There is nothing wrong with the concept of public money, in the form of subsidies, being transformed into private profits, in the form of West End or Broadway box-office returns. Most theater makers I have met are proud of the internationalism of their profession. But the practice should be acknowledged, because it challenges mainstream opinions about the sluggishness of the state compared with the dynamism of the free market. As the economist Tyler Cowen noted in a report for the U.S. National Endowment for the Arts in 2004, there is a tendency to "paint a picture of one subsidized cultural sector and another entrepreneurial cultural sector." But that is a false dichotomy: Whether any particular Van Hove blockbuster starts in a commercial or subsidized theater is irrelevant. The fact is that he would not exist as an artist without decades of nurturing by the ecosystem of European state support.
"In reality, popular culture often draws upon nonprofit culture for its 'research and development' efforts (and to some extent vice versa)," Cowen wrote in his report. In the world of theater, one of the earliest and most famous examples is Les Misérables, whose English version was originally developed by the state-funded Royal Shakespeare Company. It is the longest-running musical in the West End and one of the most financially successful.
"There is nobody in this country who got rich on their own," the Democratic presidential candidate Elizabeth Warren has said. "You moved your goods to market on the roads the rest of us paid for. You hired workers the rest of us paid to educate. You were safe in your factory because of police forces and fire forces that the rest of us paid for." The same principle applies in theater. The box-office receipts of commercial theater are not solely attributable to private entrepreneurs and fierce capitalist competition. As Van Hove's career shows, the private sector feeds off of the state-funded one. In that way, the future of Broadway depends on the Dutch government, and its 17.5 million euros a year.