The Date Hong Kong Protesters Can't Escape
The year 2047 is a deadline that has come to symbolize the end of the territory's way of life.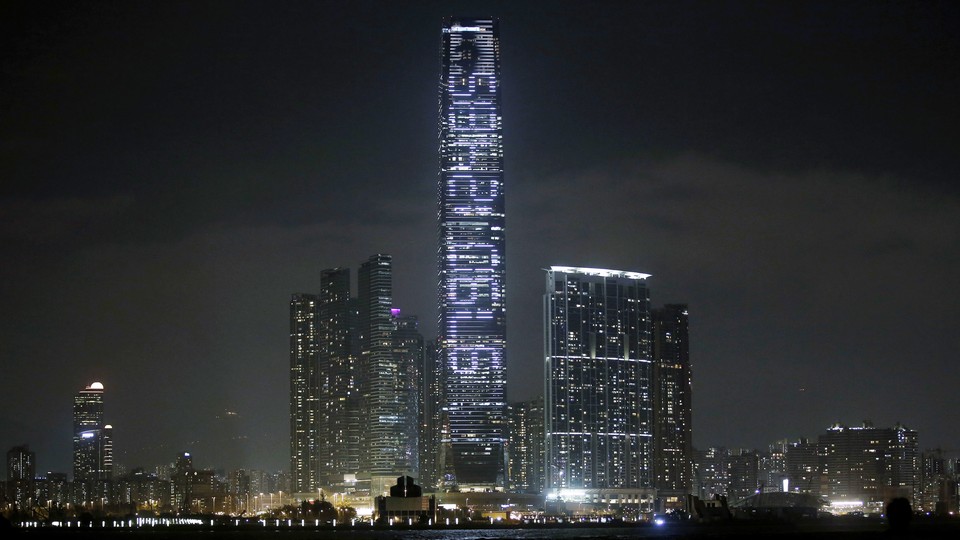 HONG KONG—It was after one of the many pro-democracy protests here this year that the filmmaker Jevons Au, having been engulfed in tear gas, beaten with a police truncheon, and run for safety, began thinking, If Hong Kong is like this before 2047, what will it be like after 2047?
It is a question—and a date—that has hung over this city and its demonstrations these past several months. When Britain handed Hong Kong back to China in 1997, the two countries agreed on a 50-year transition period in which its liberties would be maintained. But as those freedoms have come under increasing threat from Beijing, including in the form of an extradition law that has triggered the worst political crisis in Hong Kong since the handover, 2047 has become more than just a distant deadline. It has come to symbolize the end of Hong Kong's way of life and fundamental identity, the specter of its subsumption into mainland China.
Reflected in art, film, political discourse, and the way people see their lives, the idea of 2047, the prospect of a nightmarish final curtain, is an important factor in the persistence and intensity of the city's current unrest, now in its sixth month. Hong Kong has long prided itself on being home to a well-trained police force, an independent judiciary, and a relatively free society, but responses to the current protests have upended that sense of security. A lack of accountability over police aggression, attacks on protesters and bystanders by police and triad gangs, as well as mass arrests, have fed into the notion that freedoms are being eroded at an alarming rate, that 2047, and life controlled by the Chinese Communist Party, are already happening. The death of a student who fell near a police clearance operation has sparked an escalation in violence in recent days: On Monday, a protester was shot in the stomach by an officer who fired a live round, and a man was set on fire after arguing with demonstrators. There is the sense of a last stand.
Five years ago, when demonstrators occupied roads in the heart of Hong Kong to demand (ultimately in vain) democratic reforms, the urgency of the moment was already coming into greater focus. After the movement failed to win any concessions, new political parties emerged, calling for more radical measures such as self-determination or even Hong Kong's full independence from China, and faith in the city's political system fell precipitously.
One young protester I spoke to, who asked not to be identified because she feared retribution, told me how those 2014 protests, the Umbrella Movement, awakened her to the political complexities at play. Born in the year of the handover, she spoke of how the 2047 deadline had determined the way she saw her own future. "In very few situations do you have to plan for the next 50 years when you're 20," she told me. "It's not because of some career advancement; it's because you literally don't know whether your home is going to exist in 2047."
She is not alone in that view: When members of the public were invited to put questions to Hong Kong's chief executive, Carrie Lam, at an event in September, a young man pointed out that she would be 90 years old in 2047, but he would be only 55. The expiration date might not matter to her at that age, he said, but it would still matter to him. "After 2047, do we have a future?" he asked.
Au himself has spent a great deal of time and energy considering what the future might look like for the city's residents. Dialect, a short film that he directed, was one of five works by different directors featured in Ten Years, a 2015 movie that depicted Hong Kongers' worst fears as the clock ticks toward the end of the guarantee on the territory's semiautonomous status. In Dialect, a taxi driver struggles to make a living because of new rules that stipulate he must speak Mandarin, the official language of mainland China, rather than Hong Kong's dominant language, Cantonese.
Set in 2025, Ten Years resonated with Hong Kongers; at the showing I attended when it was first released, a young primary-school teacher sitting next to me was in tears. Envisioning events such as the imprisoning of activists and the quashing of an independence movement, the film has already proved prescient. Somewhat unsurprisingly, it was banned on the mainland, where it was declared a "thought virus" by the state-controlled Global Times newspaper and struggled to get a proper run in Hong Kong cinemas, despite sold-out shows. Au still sees the film as relevant now. "The taxi driver is the Hong Kong people if we lose this battle," he said.
Fears for Hong Kong's future were not always so prevalent. The origins of the 2047 deadline date back to the 19th-century Opium Wars, when China ceded parts of Hong Kong to Britain in perpetuity and leased one area, the northern New Territories, for 99 years, a period that ended in 1997. As that date drew near, the two nations opened talks to decide Hong Kong's fate, eventually signing the Sino-British Joint Declaration in 1984. That treaty laid out the terms of the handover, stipulating that Hong Kong would fall under the direct authority of Beijing, but also awarding it a high degree of autonomy, a "one country, two systems" formula. Its capitalist system and liberties unseen on the mainland, including an independent judiciary and freedom of speech, assembly, and the press, would be protected for a half century.
Deng Xiaoping, the Chinese Communist Party's most powerful leader when the 1984 agreement was signed, proposed the 50 years as a "bridge" that would foster stability and reflect commitment to Hong Kong's special status, says John Wong, professor emeritus of modern history at the University of Sydney. It also set a line in the sand that made clear Beijing's ultimate sovereignty. The agreement gave no specifics about what exactly would happen after 2047, but liberalization of the Chinese economy under Deng had cultivated a view internationally that its political system would surely follow. Life in Hong Kong then was superior to that on the mainland in almost every respect, Wong told me, and so "there was a great deal of hope that Hong Kong would democratize China."
Those expectations were ultimately undone by the massacre of pro-democracy protesters in Beijing's Tiananmen Square in 1989. And while Hong Kong's transition to Chinese sovereignty initially appeared to go smoothly, unsuccessful attempts by the government to pass an anti-sedition law and impose a patriotic curriculum on schools, both of which triggered huge protests, foreshadowed future unrest.
Over time, some of the city's artists have focused on the theme of the countdown to 2047. In his 2004 film, 2046, the legendary Hong Kong filmmaker Wong Kar-wai tells the story of a novelist who writes of a train that time-travels to the year of the title, where people go to recapture lost memories. Although Wong insisted that he did not want to make a political movie, he nevertheless posed this question in an interview with The Guardian: "The Chinese government promised Hong Kong 50 years without change; 2046 would be the last year of this promise. Will there be change?"
More recent works of art have also sought to tackle the subject. Oxygen, a short film by Yip Yuen-ching that won a youth-film award in Hong Kong in 2016, portrays the city 50 years after the handover as a wasteland where surveillance devices are implanted in people's necks and the internet and media are fully controlled. That same year, the artist Sampson Wong was part of a group behind an installation called Countdown Machine, one of the starkest visualizations of the deadline: It projected onto the facade of Hong Kong's tallest skyscraper a countdown in seconds to July 1, 2047, when the 50-year guarantee on Hong Kong's status expires. "Fate and time is so central to the discussion of Hong Kong," Wong told me. Part of an exhibition by the city's arts development council, the installation was removed by organizers once its political message became clear to them.
While some believe that the time to discuss 2047 has passed, the theater director Wu Hoi-fai sees the deadline as important shorthand for relations with mainland China and the issue of Hong Kong's identity. "We are almost halfway there. It's high time for us to really think about it before it's too late," he says. In September of this year, he staged a work titled The First and Second Half of 2047, drawing on real-life predictions of young and old Hong Kong residents for what would happen then. He has also commissioned eight playwrights to pen their visions of 2047 for a new production scheduled in 2020. Wu says that while the predictions given for his September production were almost universally bleak, he took heart from the fact that the different generations were more united in their aspirations for Hong Kong than he thought they would be.
With China a global superpower under the hard-line leadership of President Xi Jinping, the significance of 2047 in the minds of Hong Kongers has no doubt changed, says the University of Sydney's Wong. "The deadline has become real—it has been made real by circumstances unforeseen in 1984," he said. The current protests were sparked by a now withdrawn bill that would have allowed Hong Kongers to be extradited to China for trial, but they have grown into a much broader movement reflecting outrage at incursions on the city's liberties and a renewed demand for real democracy. Au, the Ten Years director, told me of his fears that, as time went on, artists would find it harder to speak out on the issue as Beijing exerts greater control over Hong Kong, and the space for freedom of expression here shrinks. (Already, protest marches are routinely declared illegal, demonstrators have been ordered not to hide their identities with face masks, and journalists report a worsening climate for the press.)
For Wong, the artist behind Countdown Machine and a regular participant in Hong Kong's protests, that still doesn't mean he will stop. "What we do now will determine our ending," he told me. "The ending could be the worst ending. But still we'll have a footnote in history that we did something."