Hong Kong's Protesters Break Their Core Principle
For months, demonstrators in the city have told one another to "be like water," but a recent siege contradicted that advice. What happened?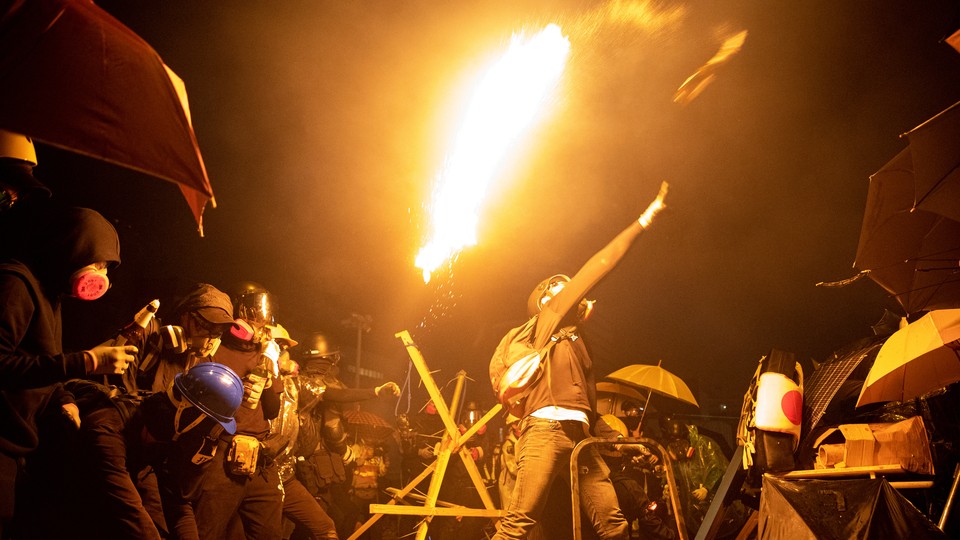 In a darkened classroom at Hong Kong Polytechnic University, a half-dozen people peeked through the blinds to watch the sight of true desperation: People dressed in black raced up a highway ramp in a frantic chase for freedom.
"Like ants," remarked one young man who watched with me as we sat in the room. He asked that he be identified only by his last name, Tsang, for fear of arrest. Some others had escaped via ropes dropped from a highway overpass to motorcycles humming below; still more people tried to scramble through sewer pipes. But to run in the open, where most anyone, including photojournalists and police, could see you?
Then again, escape routes were few. For months, pro-democracy demonstrators have marched and rallied across this city to win greater freedoms and end police abuse. Now a few hundred people were hunkered on an urban university campus, armed with bricks and Molotov cocktails, isolated and encircled by police.
The protesters' seizing of the campus, in the heart of the city, appeared to breach principles that guided the past six months of demonstrations here in Hong Kong. Over a little more than a week, the occupation turned into one of the movement's lowest moments.
One of the chief failings of the 2014 Umbrella Revolution, which sought comprehensive universal suffrage, was its static nature; the government was able to dissolve the sit-in through attrition. A strength of today's iteration has been speed and persistence. Most protests have been staged on the streets, the actions fast and fluid. Those who man the front lines are strong and quick, backed by a throng of more peaceful protesters.
To gnaw away at that strength, the government has taken ever tougher steps to thwart large gatherings. Officials routinely deny permits for marches, and last month they imposed a ban on wearing face masks, intended to scare off demonstrators who sought anonymity. (This latest decision was overruled by a Hong Kong judge this week.) Police have used more violent means on the streets—rubber bullets, water cannons, mass detentions, and live fire—as justice officials press riot charges.
That climate set the stage for this latest standoff. When a college student died of heart failure after a fall in a parking garage during a police clearance, protesters called for a mass strike. Universities have, throughout this campaign, been a source of demonstrators and a haven for those voicing their opposition to the Hong Kong government. Protests have routinely erupted on campuses.
The Chinese University of Hong Kong—where a nasty fight between protesters and police recently erupted, ending in a solid victory for the demonstrators—lies in a suburban setting ringed by forests. PolyU is a compact urban institute, encircled by a highway, a bus-and-rail transit station, and major roads. A short distance away, the Cross-Harbour Tunnel, the underwater thoroughfare, links Hong Kong Island to the city terrain that borders mainland China.
When protesters first barricaded themselves inside PolyU more than a week ago, police were able to quickly isolate them by choking off road and transport access. After some demonstrators trashed parts of the campus, the zealous hunkered down. They fortified the entrances with bricks, chairs, and boards. A huge team made hundreds of Molotov cocktails that some people tested in the drained 50-meter pool. The standoff had begun.
Within a week, the brick grounds of PolyU became a sty of discarded beer bottles, takeout containers, and blocked toilets. The air was thick with kerosene and rotting food. A young woman hopped around with a bandaged foot using two umbrellas as crutches. A crowd insisted on frisking people, badly, when it feared undercover police were there. By this past weekend, with only cold noodles left, the cafeteria fed other needs. One young man used a dining table to tape liquefied-petroleum-gas cans to Molotovs as others watched a live feed of police closing in. Sunday devolved into a brutal battle at night, in which protesters matched hours of tear gas and rubber bullets with Molotovs that ignited massive fires. The front line managed to keep police from the campus, but officers blocked most exits the next day.
On Monday night, Tsang, the graduate, ushered me into a sixth-floor bunker in a sleek PolyU building with hard lines and stark-white spaces. Some students hoped to preserve the cleanliness of this one place on campus by taping a sign to the door: Dont Destroy this building!
Unlike most protesters, he looked tidy, in an untucked collared shirt on his gangly frame. We had first met in June, on a night when many young people were rounded up, their bags searched and IDs taken. Tsang stood out—he was calm then and now, and talked about the necessity of the long game when dealing with the Chinese government.
When I saw him last week, he was completely cloaked in battle gear, all black with dark swim goggles. At the time, he told me that he was staying put until everyone was out. He knew the stark, compact campus well, with its connected buildings. Most of the several hundred people there were not PolyU people, he said, and as an alum, he could offer an insider's help.
But as the days wore on, protesters on campus wanted out. After several escape plans ended in arrests, Tsang reconsidered his commitment. His team weighed its options. Leaving through a barricaded entrance had worked for some, until the riot police posted a detail nearby. Molotovs thrown on a bridge to a nearby subway station had rendered it unstable. One protester said he might slither through the sewer tunnels, although most such attempts ended in capture. Many had simply given up. To them, a riot charge—and a possible 10-year prison sentence—was better than weathering this siege. For hours on Monday, young people stepped off campus, hands in the air. Tsang's squad decided to leave and run north along the rail tracks. There was no other way.
Tsang told me that as they sprinted up a gravel path, under a highway bridge, riot police opened fire. Whether it was rubber bullets or live rounds, he could not tell, but the police missed. The squad scrambled on hands and knees through a water tunnel and kept running for 45 minutes. At a footbridge, they crossed over a highway and entered a public housing estate. The residents had been bottled up for days because of the extensive police cordon, and they were angry. Somehow, volunteer drivers, coordinated through the messaging app Telegram, threaded through the traffic. Those who made it this far needed rides. At 2 a.m., I received a message. "Just got home." Tsang was safe.
Of course, smart protesters had left earlier, or never set foot on campus. PolyU now holds just a few hard-core holdouts and some well-meaning, unlucky naifs who didn't know the geography and didn't have the guile or foresight to negotiate, bargain, lie, or sneak their way out. One protester I met on campus told me, choking back tears, that the occupation of PolyU had been one of the movement's major mistakes.
He has a point. Hong Kong's protests have lasted so long because they have adhered to certain principles: Don't argue and split the movement. Be flexible; be fleet. In occupying PolyU, demonstrators violated one of their core mantras, now a cliché once uttered by Bruce Lee: Be like water. At PolyU, the protesters held a static place, easy to isolate, allowing the police plenty of time to squeeze them.
This is not necessarily fatal. Signs of the movement's endurance are still apparent. The protests continue to draw networks of peaceful people: scouts who share details about police movements, drivers who ferry protesters home, rich people who send money for gear to front-liners, first-aiders who treat the wounded, social workers who guide crowds during retreats.
The support apparatus was apparent at PolyU. I left the campus through its front steps, which were slick with kerosene and pepper spray. Wearing the journalist's unofficial garb of a neon vest, with my credentials visible, I left. Once off the campus, I walked through an immense landscape of protester barricades. Block after block was stopped up with bricks and burning trash. Outside a nearby police station, protesters had torched a bus that had apparently ferried police.
PolyU was a bitter defeat. But it was not the movement's demise.