Hong Kong Doesn't Have a Pro-China 'Silent Majority'
Voters overwhelmingly chose pro-democracy candidates in local elections, putting an end to the notion that a large chunk of the population was against months of protests.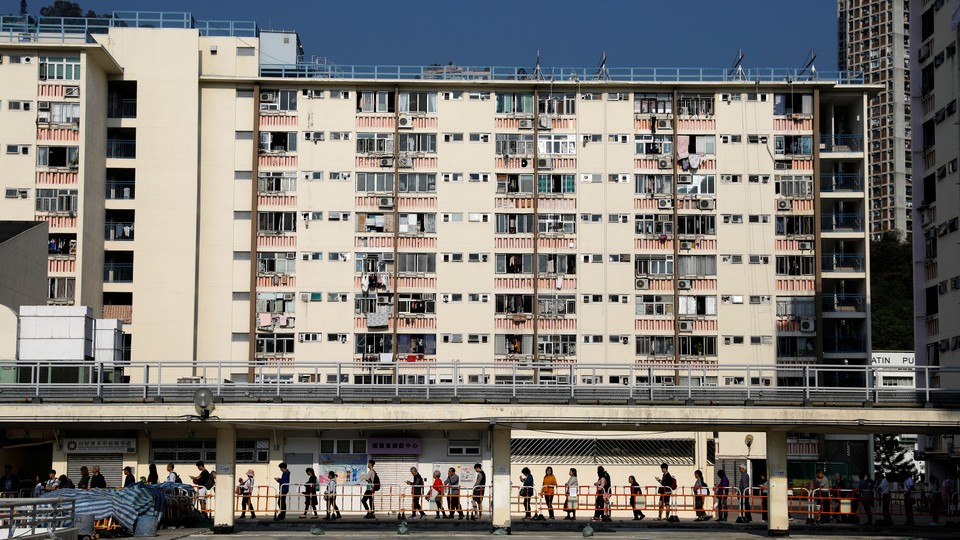 HONG KONG—For months, members of Hong Kong's pro-Beijing establishment have spoken of a "silent majority" here. The argument, parroted by government-friendly pundits and talking heads, offered a convenient counter-narrative to months of demonstrations and violent clashes that have ripped through the city: A large portion of the population, the fable went, had grown tired of the protests but remained quiet for fear of being attacked for their unpopular views. On voting day, they would emerge, cast their ballots, and restore an order of normalcy.
That story line, flimsy from the start, has now collapsed entirely.
Voters in Hong Kong's district-council elections, the city's only fully democratic contest, delivered a humiliating rebuke of the government. In a record voter turnout, pro-democracy candidates captured more than 80 percent of the 452 seats in contention and gained control of 17 of Hong Kong's 18 district councils, all of which were previously pro-establishment following the 2015 election.
"The silent majority is more of a metaphor than a real group of people," Samson Yuen, an assistant politics professor at Lingnan University, told me. "The voting results tell us it doesn't exist."
While councillors do not make laws and instead fulfill neighborhood duties—overseeing community issues such as trash removal, the upkeep of parks, and in some areas, the nuisance of foraging wild boars—they do have some citywide powers. Five seats are reserved on Hong Kong's 70-person legislature for district-council members and, crucially, district councillors make up about a tenth of the 1,200-member election committee that chooses Hong Kong's chief executive. The enormous gains secured by the pro-democracy camp would not only allow it to be a "significant stakeholder" in the 2022 chief executive's election; they also give the group power over local budgetary decisions and allocations of funding, as well as access to resources, such as offices and assistants that could help build the grass roots of the movement, Yuen said.
But just as important as the tangible gains made by those demanding political reform here was the symbolism of Sunday's vote. After months of restrictions placed on protesters—from police declining to approve marches to an attempted ban on the use of face masks by demonstrators—both the pro-Beijing and pro-democracy camps saw the election as an opportunity to cement their dueling narratives of the past six months. The protests turned what would normally be "very low key, second-order, even third-order elections," into a "de facto referendum," Kenneth Chan, an associate professor at Hong Kong Baptist University and a former pro-democracy lawmaker, told me in advance of the election.
Even before the polls opened at 7:30 a.m. on Sunday for the 15-hour contest, lines of voters began snaking through housing estates and down sidewalks, a sight normally unseen in Hong Kong. The protests, though largely on hold for the weekend, were an inescapable presence and permeated every part of election day. In the Wan Chai neighborhood, hundreds of voters stood opposite the Hong Kong Police headquarters, where water barricades still lined the street and graffiti decrying the police had been haphazardly painted over after the building was targeted by protesters on multiple occasions. A worker near the line of waiting voters mixed concrete on the sidewalk, patching up holes left behind by bricks ripped up by protesters to hurl at police.
"Today we are trying to do the best we can for Hong Kong right now. Every little step matters," said Kitty Mak, 26, who hustled to get in line after a friend warned her of growing wait times. "It is a protest vote against an authoritarian government; we cannot tolerate this government's policies anymore." Behind her, another voter, who asked to be identified only by his surname, Lam, said the protests had jolted people into greater political engagement. "A few years ago, people thought if they earn enough money, it's fine, or, Politics doesn't affect me," he said. "Politics are now a part of every facet of our lives."
The contest they were voting in—and the result—was emblematic of races taking place across Hong Kong: Kenny Lee, a 12-year incumbent from Hong Kong's largest pro-Beijing party, faced a challenge from Pakkin Leung, a 39-year-old journalist who gained a measure of fame in August when he filmed shocking footage of police storming a subway station, beating and pepper-spraying commuters and protesters. The moment stunned and angered many and helped turn the ire of protesters toward the police and their tactics.
Around the corner from the polling station, I asked members of Leung's campaign team whether I could speak with him about the race and inquired about when he might cast his ballot. They laughed and said they didn't think he would be voting. Leung, they explained, was still inside Hong Kong Polytechnic University. Police laid siege to the campus more than a week earlier, after protesters fortified themselves inside, tossing petrol bombs and shooting arrows at the officers on the streets below. A few demonstrators still remained inside, and Leung had stayed behind to document the situation. They weren't sure, they said, when he would be coming out.
Nearly every race seemed to have a candidate like Leung, directly tied in some way or shaped by the experiences of the past six months. Elsewhere in Wan Chai—which on Sunday, devoid of clouds of tear gas, returned to a bustling shopping center—Cathy Yau, an 11-year veteran of the Hong Kong police who quit in July to protest its handling of the demonstrations, made a stand against another incumbent. Jimmy Sham, the former leader of the Civil Human Rights Front, which organized the largest demonstrations of the anti-extradition-bill movement—bringing a million, then 2 million people to the street—made his final pitch to voters with the help of a crutch: He was left bloodied on the streets of the Mong Kok neighborhood last month after being beaten by a group of men with hammers, the second time he had been targeted by attackers since protests began. Richard Chan, who attempted in August to mediate between protesters and police outside Hong Kong's airport, made his first foray into politics. Hailed as the "airport uncle" for his actions, he was later pepper-sprayed and his face pressed to the ground by riot police, who arrested him for taking part in an election rally. Leung, Yau, Sham, and Chan all won their respective races.
The losers included a lengthy list of pro-Beijing heavyweights. The most notable and celebrated loss was that of Junius Ho, a bombastic lawmaker whose support for Beijing has made him loathed in pro-democracy circles. Protesters have accused Ho of having cozy ties to organized-crime figures, including those who carried out a violent attack on protesters and journalists at a train station in July.* Ho was stabbed this month during a campaign rally, but the attack garnered him no sympathy: Revelers popped champagne, cheered, and left mocking offerings for Ho as election officials announced he'd lost his seat, though he remains a member of the city's legislature.
Carrie Lam, Hong Kong's leader who has disappeared from public view for days at a time in recent months and who protesters have demanded resign, took no blame for the defeat. In a statement, she instead said that there were "various analyses and interpretations" of the voting results, and "quite a few are of the view that the results reflect people's dissatisfaction with the current situation and the deep-seated problems in society."
Celebrations in the pro-democracy camp did not last long, though. The siege at PolyU was still ongoing by Monday afternoon; several newly elected district councillors were planning to descend on the campus in an effort to end the stalemate, and Leung—now an elected representative—was still inside.
---
Anna Kam contributed additional reporting.
* This article originally misstated the month in which the attack at the train station occurred. It was July, not June.