Britain's Meh Election
An enormous amount is at stake, yet few people appear to be enthusiastic about the upcoming vote.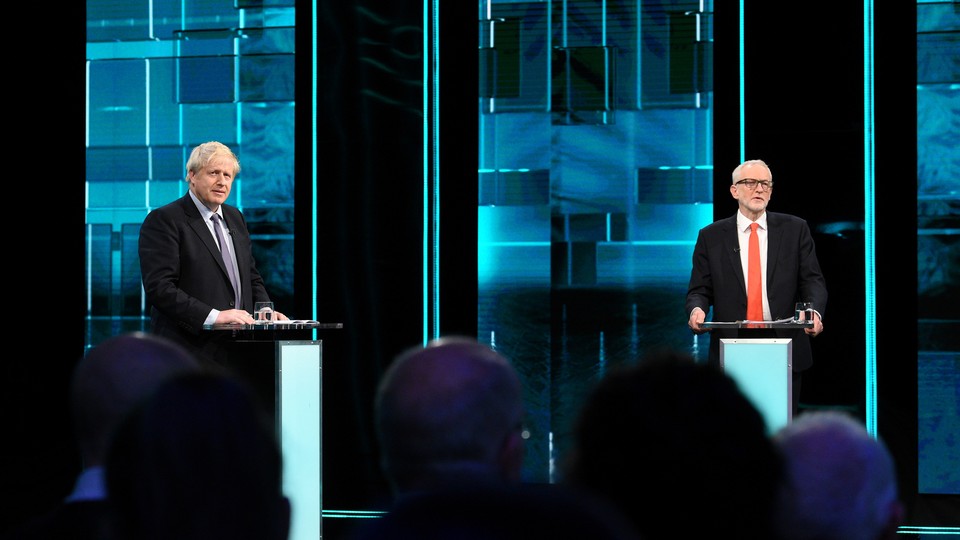 It is the most important vote of our lives, the host of the first live TV debate of Britain's general campaign said last night. And for once, it wasn't pure hyperbole.
There is little doubt that Britain is facing a seismic choice over its future in the December 12 poll—not just whether and how to leave the European Union, but also on the even more fundamental question of what type of country it wishes to be. Does it want Prime Minister Boris Johnson's somewhat hazy but largely centrist vision of mid-Atlantic capitalism, or the opposition Labour Party leader Jeremy Corbyn's socialism? On the line is almost everything that has been a hallmark of Britain's political consensus in the post–Margaret Thatcher era: from Britain's relationship with Europe to Scotland's future in the United Kingdom, the role of government in the economy, and even the "special relationship" with the United States.
And yet, to all of this the country appears to be shrugging its shoulders with an almost comically British cynicism. We're only two weeks into the campaign and lots could and will change, but so far this is the meh election, the If I really must election—the Oh for God's sake election. It is a contest between two unpopular men offering visions for the future that the public already seems to have agreed are dishonest. (One questioner at the debate received his own round of applause by asking how voters could trust either of them.)
Johnson says he will "get Brexit done." If he wins a parliamentary majority, it's true that Britain will leave the EU. But to create what kind of economic model, we do not know. The pitch is essentially this: Enough with the toe-dipping uncertainty of whether to take the plunge. What we'll do once we're in the water is not so important, because we're getting too chilly standing here in the cold waiting. Corbyn, meanwhile, is suggesting another referendum to decide whether to jump, or whether it might be best to go back to the warmth of the changing rooms and put our clothes on. Of course, he has not said which of these choices he himself supports (and declined to do so when pressed during the debate).
All elections are different, but looking back it's hard to think of a recent one quite as different as this. As an adult, either watching or covering British general elections, only two have ushered in a decisively different change of philosophy: Tony Blair's first victory, in 1997, when he led Labour on a platform of heavy investment in public services without changing the fundamentals of the economy, and David Cameron's in 2010, when the Conservatives imposed sweeping spending cuts to tackle a widening budget deficit after the financial crisis. Blair's was carried through with broad popular enthusiasm, winning multiple landslide victories, while Cameron's was supported only grudgingly, and required him to form an electoral pact with the smaller Liberal Democrats to govern at all. Other than those two, the other elections of my adult life were essentially battles over tweaks to the consensus—whether to increase spending a little slower than Labour before 2010, or to reduce spending a little less drastically than the Tories thereafter.
The most recent election, in 2017, between Theresa May and Corbyn held out the prospect of being game-changing but fell short. At first, a groundswell of support for May looked like it might hand her a Blair-style majority to enact Brexit and change the country. Over the course of the campaign, however, Corbyn turned the tables in one of the most remarkable results in modern British political history. In the end, faced with two leaders offering ambiguous answers on the most fundamental question of the day—Brexit—the country returned an ambiguous answer of its own: a hung Parliament in which no one had a majority to govern. For the past two and a half years, Britain has been limping on from that indecisive blow, unable to decide whether to jump.
Today, for the first time in my adult life, both parties are offering enormous change: Johnson, with his proposal for a "hard" Brexit, ripping the U.K. from its place in the European single market and customs union within a year; Corbyn, in return, with a plan for the sweeping socialization of Britain's economy, the imposition of a four-day workweek, and a complete reimagining of Britain's role in the world.
What is remarkable, so far at least, is that faced with these two radical—and radically different—policy platforms, the country has remained so seemingly phlegmatic. While Johnson has a clear lead in the early opinion polls (as May did in 2017), there has yet to be any obvious counter-swell of support. Labour is ticking up in some surveys and may yet confound its critics, but whereas May's popularity started high and then plummeted in the campaign, the public already has an ambivalent view of Johnson and an awful view of Corbyn.
There has yet to be a real saturation in coverage or even any significant instances of anger among the electorate. Figures published this week showed that almost a third of under 25s have not registered to vote, and that a quarter of 25-to-34-year-olds haven't, either. Voter registration is, in fact, down in almost every age group compared with European Parliament elections in 2014 and has remained largely static compared with 2015.
Johnson has suffered some heckling when out campaigning, yes, and there has been lots of election coverage in the broadcast and print media. The overriding reaction has been one of cynicism if anything, though. This was on display in last night's debate between Johnson and Corbyn, when the audience responded to pledges and promises from both men not with outrage but mocking laughter: to Corbyn's notion of a cost-free four-day working week and to Johnson's claim that getting Brexit done will solve everything.
Right now, it feels more like 2015, when Cameron plodded toward a surprising majority after a lackluster campaign, than a rerun of 2017, when the country was set alight in a seven-week festival that saw Corbyn come from nowhere to deny the Conservatives a majority. In 2015, the lethargy was so overwhelming that Cameron was forced to address it, insisting he felt "bloody lively" and really did care about winning.
There are factors affecting this, including the timing of this vote. Britain is holding its first December election since 1923, and that has practical implications: The sun is rising later and setting earlier, and it is harder to campaign vigorously outside in the cold. Corbyn, for example, has been holding rallies in drab indoor halls rather than in sunny outdoor stadiums and riverfronts like 2017, when the vote was held in June. And there is also the political exhaustion brought on by Brexit. In one sense, Johnson's whole campaign is built around this notion, in his pledge—repeated over and over again in the TV debate, even after it began to elicit groans of complaint—that he would "get Brexit done."
For the past few weeks, as Johnson and Corbyn have taken their campaigns to the country, voters have appeared more interested in Prince Andrew and the Jeffrey Epstein scandal or even the comings and goings of Premier League soccer managers. Maybe, after three years of Brexit debates and still no firm decision, they just want to talk about anything else. My friends and family have gone from being worked up about Brexit to uninterested in the daily wranglings of the campaign. Does the country feel the same way? Last night's TV debate was watched by 6 million people, a substantial number. Yet the reality show that followed it, I'm a Celebrity … Get Me Out of Here, has consistently been hitting viewership figures of 10 million.
One could expand this notable British lethargy back a decade or more. Given the size of its financial sector, Britain suffered more than most in the 2007–08 global economic crash. Its banks were nationalized by the state, sending public borrowing through the roof. The country then voted in a Conservative government, which sought to reduce this by spending less on public services. The middle classes saw their children's university fees (which are heavily regulated by the government) triple, hospital waiting times grow, and their wages stagnate. In response, there was barely any serious mass demonstration. And in 2015, the Conservatives increased the number of seats they held in Parliament.
We all know what then happened the following year. Was the Brexit vote Britain's way of protesting? Whatever the answer, Britain now appears back to passive cynicism. The anthropologist Kate Fox, in her book Watching the English, suggested that the underlying rule in all English conversation is "the proscription of 'earnestness.'" Much better to mock. It's what this country does best, perhaps.