'Nobody Is Coming to Help Us'
The Rohingya have heard grandiose talk of worldwide relief and justice, but seen little to no action. Now the group's options are narrowing.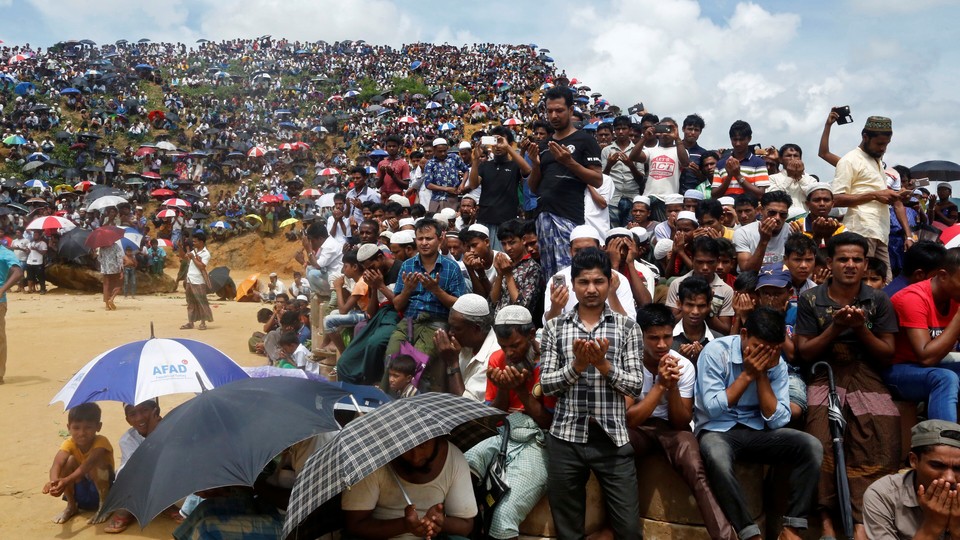 COX'S BAZAR, Bangladesh—Mohib Ullah does not come across as an international advocate, the face of a community at risk. The 44-year-old botanist is mild-mannered, giving off the air of a kindly schoolteacher. When he speaks to you, he gives you his undivided attention, smiling, his eyes gazing straight into yours.
Yet it was Ullah who helped document the genocide carried out by the Burmese army against his people, the Rohingya. It was Ullah who addressed the United Nations Human Rights Council in Geneva in March to ask for help. It was Ullah who stood in the Oval Office, asking Donald Trump how the administration planned to help his community.
And on the second anniversary of the genocide, it fell upon Ullah to tell his fellow Rohingya that they were fast running out of options. Standing on a stage wearing a blue-and-white striped shirt and a lungi, a type of sarong worn by men on the Indian subcontinent, he spoke into a microphone, telling the assembled spectators that they had two choices: to resign themselves to life here—by some measures the world's densest refugee camp—and rely on global compassion that was eroding, or demand that their rights be upheld in Myanmar (by a government whose army has sought to slaughter them) and then return home.
These are now the only real possibilities on offer for the Rohingya, a community that is, by and large, on its own, with dwindling numbers of supporters on the international stage, and grandiose talk of worldwide relief and international law and justice accompanied by little to no action. Ullah knows it—help is not on the way. "In big meetings, no one speaks the reality," he told me, referencing his visits to Washington, D.C., and Geneva. "Truth is, nobody is coming to help us."
In the reams that have been written about the plight of the Rohingya, chronic and utter disenfranchisement is the most consistent thread. The origins of their bottom-tier status are colonial, but were codified in 1982 when the Burmese government passed a law that restricted their movement and access to education, and allowed for arbitrary confiscation of property. Wave after wave of extreme violence against them culminated in August 2017 with a crackdown that forcibly displaced nearly a million people. At least 9,000 members of their community died in just the first month of the onslaught, according to Médecins Sans Frontières, an NGO that has produced the most authoritative estimate of fatalities to date. The atrocities continue to this day, deepening the humanitarian catastrophe in the province of Rakhine. (Myanmar has repeatedly denied carrying out any ethnic cleansing or genocide.)
Now stranded here in Bangladesh, the refugees have repeatedly demanded that Myanmar guarantee their freedom of movement and offer them a pathway to citizenship before any potential return. They also want UN peacekeeping forces deployed in Rakhine, their home province, as well as justice for those who carried out the massacre. Time and again, Ullah and his brethren have repeated these demands, yet last year, when the Myanmar government signed a memorandum of understanding with two UN agencies as a first step toward the Rohingya's repatriation, they were not consulted. So when 3,450 Rohingya families were offered voluntary return to Rakhine, not a single one took up the offer.
With repatriation stalled, Bangladesh is now exploring relocation. The country has thus far been patient and welcoming, but its willingness to host such a large refugee population is wearing thin. Dhaka now plans to relocate about 100,000 Rohingya to a remote island at the mouth of the Meghna river in the Bay of Bengal. Known as Bhasan Char, or "Floating Island" in Bengali, the islet is made up of accumulated silt and is hard to reach—aid workers worry that anyone moved there would be vulnerable to floods, cyclones, and traffickers. Human Rights Watch has urged the government to ditch the relocation plans, while Yanghee Lee, the UN's special rapporteur on Myanmar, said after a visit to the site that she had several concerns, "chief among them being whether the island is truly habitable."
Staying here in the camps carries its own risks. Children have had no access to formal education, creating what UNICEF has called a "lost generation," while human traffickers prey on young girls and boys. Then there are the acts of God—the storm surge during the monsoon often triggers landslides, and the mud, water, and sewage from makeshift toilets in the camps combine to form a deadly cocktail of infectious and waterborne diseases. The Rohingya even have to deal with displaced elephants that rampage through parts of the camps, which occupy land that was, until recently, a corridor for the animals. Yet somehow, when faced with repatriation to Rakhine or relocation to Bhasan Char, the squalid camps appear the safest option.
These limited and problematic options mask a grim truth, however: The situation is likely to get worse.
For one thing, donor support is in doubt. Bangladesh, itself a poor nation, is struggling to cope with the economic and environmental impact of hosting so many refugees. The UN requested $920.5 million in February, but has received only a third of that sum from donors. At the same time, the conditions in the camps are worsening. Bangladesh directed local telecom operators at the beginning of September to shut down networks in the camps, a decision that it said was made for "security reasons" following a series of violent crimes in the camps in recent weeks. Last week, the government took the clampdown a step further, announcing that refugees were now expected to stop using Bangladeshi cellphone SIM cards or face potential fines and jail time. Rohingya families rely on internet connectivity to stay in touch with loved ones still in Rakhine, to get remittances from the diaspora, and to relay news to the international community. One camp resident I spoke with, who asked not to be identified to avoid retribution, said the decision to restrict internet access smacked of collective punishment. (To compound this belief, two Bangladeshi officials who gave permission for a special prayer meeting to be held to mark two years since the beginning of the 2017 crackdown were transferred to new posts, a move that was interpreted as retribution for allowing a mass gathering of Rohingya.)
The Bangladeshi government has pushed for other restrictions, too. On September 7, a parliamentary committee on defense recommended that a barbed-wire fence be built around the camps, restricting the free movement that refugees are afforded under international law. The decision has essentially created an open-air prison. And aid workers I spoke with, who asked not to be named, told me that Bangladeshi officials have begun putting together a list of 200 names from each of the 34 camps in the area for relocation to Bhasan Char.
The UN High Commissioner for Refugees said it was aware of reports that relocation lists were being compiled and was "seeking clarification" from Dhaka, which has previously said any such moves would be voluntary. The agency did not, however, directly respond to my questions about the communications blockade, saying only that the Bangladesh government had "overall responsibility for ensuring the security and safety of Rohingya" in the camps. Bangladesh's refugee-relief and repatriation commissioner, the country's top official responsible for the Rohingya issue, did not respond to multiple requests for comment on this story.
This relative unwillingness to criticize either the Myanmar or Bangladesh government—seen by UN agencies as necessary to preserve relationships with the two countries so that they continue to allow them to carry out relief work—has rankled Rohingya leaders such as Ullah, who argue that the language of international politics and humanitarianism is instead being used to mask inaction.
Whereas Myanmar's official response has been an Orwellian distortion of reality and a blanket denial of the genocide—Aung San Suu Kyi, the country's de facto leader and a Nobel Peace Prize winner, has appealed for people not to use the words Rohingya and Bengali, saying they are emotive terms—the UN has stopped short of declaring the massacre a genocide. Though individual officials and reports have used the word in relation to the Rohingya massacre, an official UN Security Council designation of genocide is critical to activating the 1948 Genocide Convention, allowing perpetrators to be punished and peacekeeping forces to be deployed. China and Russia, veto-wielding members of the body, are likely to block any action against Myanmar, however. Well-intentioned international laws have come into contact with geopolitics and have been found wanting. "The Security Council has discussed Myanmar for years, even decades," Christopher Sidoti, an international human-rights lawyer and former Australian human-rights commissioner, told me, "but it has not passed a single resolution … It alone has the power."
Two years ago, when foreigners rushed in with aid, the Rohingya expected their plight to improve. They thought they would get a seat at the negotiating tables where their fates are being sealed, so that the human rights enshrined in international law might be extended to them.
Instead, Ullah and his fellow Rohingya here are reduced to holding out hope that their children will receive a better education, to at least offer the prospect that their community's lot will improve in the future. Ullah, who himself was not able to find consistent work as a teacher in Myanmar because of his background, has been studying social movements elsewhere in the world, following protests in Hong Kong and reading about the lives of Martin Luther King Jr., Nelson Mandela, and Mahatma Gandhi. Gandhi's nonviolence movement is enlightening, he told me, "but he wasn't facing a genocide, was he?" Then, as if acknowledging the future that the Rohingya must face, he said, "Mandela and King had to live with the same people they were oppressed by. I find that instructive."