Restoring the Sex and Rage to Jane Austen
A new wave of adaptations is uncovering a hidden side of the novelist.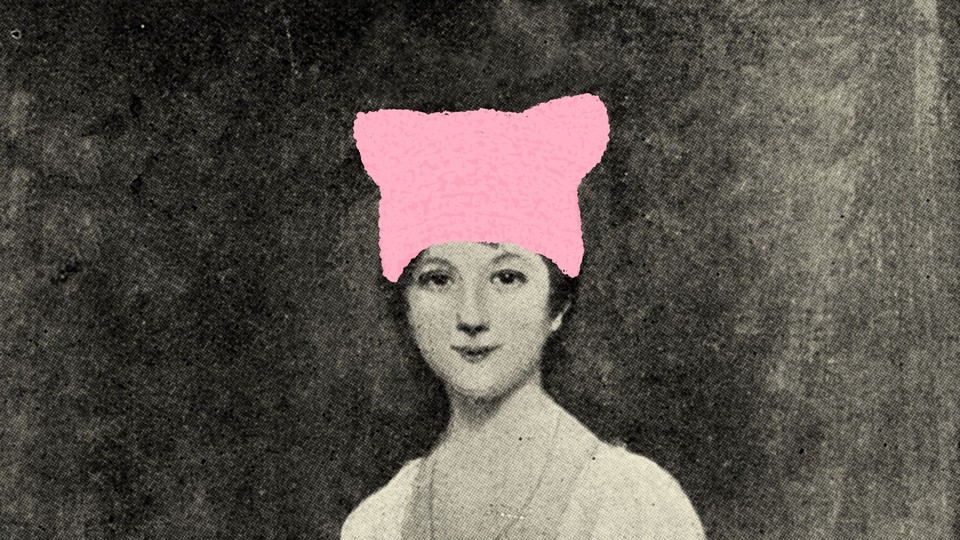 Updated at 5:45 a.m. on October 10, 2019.
Demand for Jane Austen far exceeds supply. When the novelist died in 1817 at the age of 41, she left only six full-length novels, plus three unpublished works and a collection of juvenilia. Yet in the two centuries since, Austen has become, as the British writer Alexander McCall Smith once put it, "a movement, a mood, a lifestyle, an attitude, and perhaps most tellingly of all, a fridge magnet."
She got her first screen adaptation in 1940, with Laurence Olivier playing Fitzwilliam Darcy and the Bennet sisters dressed in American-antebellum corsets and huge frilly skirts. This Pride and Prejudice set the template for what an Austen adaptation was supposed to look and sound like: primly romantic, with both clothes and characters firmly buttoned up.
The 1990s were a boom time for that approach. Think Gwyneth Paltrow's Emma peeking out from under a bonnet, or Kate Winslet daintily suffering a chill in Sense and Sensibility. The BBC's 1995 adaptation of Pride and Prejudice stuck closely to its source material, and ended with a single, chaste postnuptial kiss between Elizabeth Bennet and Darcy.* The 2005 version, with Keira Knightley, veered into nauseating rom-com tweeness: A special ending for the U.S. market features the couple on the steps of Pemberley, joking about how keen Elizabeth is to be called "Mrs. Darcy." The next fashion was to transplant Austen's stories to new locations: Bollywood for 2004's Bride and Prejudice, Pakistan for 2017's Austenistan.
Today's adapters, though, are tired of seeing the writer dismissed as a narrow chronicler of middle-class domestic gentility, and are turning to her unpublished fragments to make the case for another Jane Austen—sharp, satirical, and proto-feminist.
Both Sanditon—which is being broadcast on Britain's ITV and on PBS in the U.S.—and The Watsons, Laura Wade's new play, take unfinished texts and canter off with the characters. Along with Austen's abandoned novel Lady Susan, these pieces are spikier, more difficult, and more resistant to the bonnets-and-breeches treatment than her published works are. (Lady Susan, which was turned into 2016's Love & Friendship, starring Kate Beckinsale, focuses on a widow trying to secure husbands for herself and her daughter. It is quietly radical: Imagine how different Pride and Prejudice would be told from the perspective of Mrs. Bennet.)
These new adaptations make a simple case: Costume dramas are not about wallowing in nostalgia, and Austen was not writing straightforward romances. Sanditon, for example, has an "acerbic, screwball tone," according to its director, Olly Blackburn—in it, Austen was trying something new. "It's like [Bob] Dylan going electric," he told me.
At first glance, the plot of The Watsons, which is showing at the Menier Chocolate Factory in London, is classic Austen—a young woman who has fallen on hard times tries to find a husband. As soon as Wade was commissioned to adapt the fragment for the stage, though, she realized that she had to take liberties with the material. The playwright was enough of an Austen fan, she told me, "to not want to do yet another Pride and Prejudice or whatever."
In her play, the characters are self-aware—and notice a strange figure, named Laura, creeping around the period setting. Laura is a stand-in for the playwright herself, unable to resist seeing what an Austen story looks like from the inside. Realizing that they are actually in a play, the characters rebel against the confines of the narrative—two begin a lesbian relationship and set sail for India, and the heroine, Emma, rejects all the options available to a genteel but poor young woman in the early 19th century.
The play is funny, surreal, and full of affectionate iconoclasm. Wade sees Austen as a "brilliantly witty friend," and was fascinated by why she abandoned The Watsons. Perhaps, Wade speculated, its premise was too close to Austen's own life: The heroine's father is dying, as was Austen's when she wrote it. And after Austen discarded The Watsons, there was a gap of several years before she wrote her final three novels. (During this period, she also received a marriage proposal, which she turned down, but her reasoning is unknown, as her sister Cassandra burned her letters.)
Or maybe, Wade suggested, Austen abandoned The Watsons because she couldn't work out which of the male characters would be a suitable match for her protagonist. "Maybe she couldn't finish your story in the way she wanted," the playwright-character Laura tells Emma. "She might have wanted to … make you some kind of amazing, bold, revolutionary feminist, but she thought her readers weren't ready, or she was scared of it." Wade said that the end of her script, which lets Emma explore the world without getting married, "felt like the more feminist thing that Jane Austen might have done if she were alive in a world where there were those possibilities."
That attempt to give Emma's story a satisfying ending reflects one of the biggest arguments between Austen and her (largely female) fan base. Because of her focus on female characters, her sharp eye on the marriage market, and her scalding put-downs, feminists want to claim her as one of their own. But her quiet, respectable life, spent writing at a tiny desk in her family home, also shows her appreciation for convention. Austen was a superb satirist, but painting her as a revolutionary is hard.
The pressure to sand the sharp edges of her plots into "You go girl" fairy tales is also wrong. These are not books about "empowered" women, even though many of the female characters are eloquent, clever, and resourceful. Most of the "happy" endings crumble under scrutiny. Only Elizabeth Bennet really gets it all, as Darcy is a magical combination of hot, rich, morally upright, not boring, not drunk—and not two decades her senior. Austen's other heroines often profess to be happy, but cracks are visible in their facade. Will Marianne Dashwood really learn to love Colonel Brandon, a much older man who "still sought the constitutional safeguard of a flannel waistcoat"? Or is she, like Charlotte Lucas in Pride and Prejudice, pragmatically settling for a home and family because spinsterhood is so unappealing? Kathryn Sutherland, an English professor at Oxford University who consulted on The Watsons, told me that the characters' obvious emotional intelligence can make their onscreen representation unsatisfying because it "doesn't map easily onto the kind of slick romance we want from Jane Austen."
For anyone still convinced that Austen's work is just arch put-downs in drawing rooms, Sutherland recommends reading Austen's juvenilia, written when the author was between the ages of 11 and 17. "They're completely anarchic," Sutherland said. "They're about teenage girls behaving badly. They get drunk, steal each other's boyfriends, steal money, have fights. They're vindictive." The influence of Mary Wollstonecraft, the first modern feminist, is obvious. "There is a lot of gender reversal in them."
In the 1980s, the socialist journalist Paul Foot made the case in Red Shelley to rehabilitate the romantic poet Percy Bysshe Shelley as a savage polemicist who mocked King George IV as "Swellfoot the Tyrant." Many writers and critics now argue that Austen and other "classic" British writers need similar treatment.
ITV's version of Sanditon demonstrates this. Too often, rehashings of the canon are used to kindle nostalgia for a time when everyone in Britain was white, waited for marriage to have sex, and knew their place. Except none of these things was ever true. Sanditon plays up Austen's particular interest in sex and money. Blackburn, the director, is passionate about historical accuracy (he sent me a 151-page book of contemporary portraits, fashion plates, and street scenes used to develop the series), but resists the idea that period dramas should be cozy. When viewers talk about traditional adaptations, he told me, "they're talking about the 1980s, heritage cinema, Merchant Ivory, which is a reflection of [both] Thatcherism and Victorian values."
In the first episode, the heiress Miss Lambe arrives at a ball—and to the surprise of her fellow partygoers (and, presumably, most of the television audience), she is black. This is not a politically correct invention of 21st-century adapters; in Austen's fragment, Miss Lambe is an heiress from the West Indies. "I'm interested in how period dramas reveal our presumptions about the past, rather than what we know," says Hannah Greig, a senior lecturer at the University of York who acted as a historical consultant for the series. It is legitimate, she told me, to make stories "relatable" to modern audiences by emphasizing gay or nonwhite figures without sacrificing historical accuracy. "The past is full of people like us. It's really powerful."
Because Austen wrote so little of Sanditon before she died, the television series is a kind of high-class fan fiction. It was written by Andrew Davies, the 83-year-old behind the BBC's 1997 Pride and Prejudice. Its first episode not only uses up the entirety of Austen's text, but features several men running naked into the sea, and a hand job glimpsed through the woods outside a country house. (Greig was relaxed about this, noting that there is contemporary evidence, for example, of naked sea bathing. "People had sex in lots of interesting ways in the past," she said.)
Blackburn was attracted to Sanditon because it captures the spirit of the Regency period—the uneasy hiatus in the early 19th century when the heir to the throne governed on behalf of his mentally incapacitated father, King George III. "It feels like the beginning of a different kind of Austen novel," Greig said. The town of Sanditon is a new settlement—a seaside resort—that has attracted investors and developers. "Streets were appearing every day; the town you know was changing under your feet," Greig said. Even more than usual in an Austen novel, appearances could be deceptive. Who is really a gentleman, and who just looks or sounds like one?
Viewers in the 21st century want—demand—to see a version of the past that stresses its similarities with the present day, Blackburn said. They want to see Austen rescued from tweeness and coziness. Today's comparison for the turmoil in Sanditon, then, would be to Brexit, "with huge economic change dislocating people," he added. In the new settlement described by Austen, "there is huge economic unease, particularly among the upper class, about industrial change."
For Blackburn, every adaptation is inevitably a reflection of its adapters, and the time in which it is made. "You can't take the observer out of the equation," he said. At the same time, though: "Sex, pain, rage, envy … These things are timeless."
---
* This article originally misstated the year in which the BBC's adaptation of Pride and Prejudice aired. It was 1995, not 1997.