London's Mayoralty: Britain's Last Political Refuge?
Rory Stewart is the latest British lawmaker to quit his political party—and Westminster.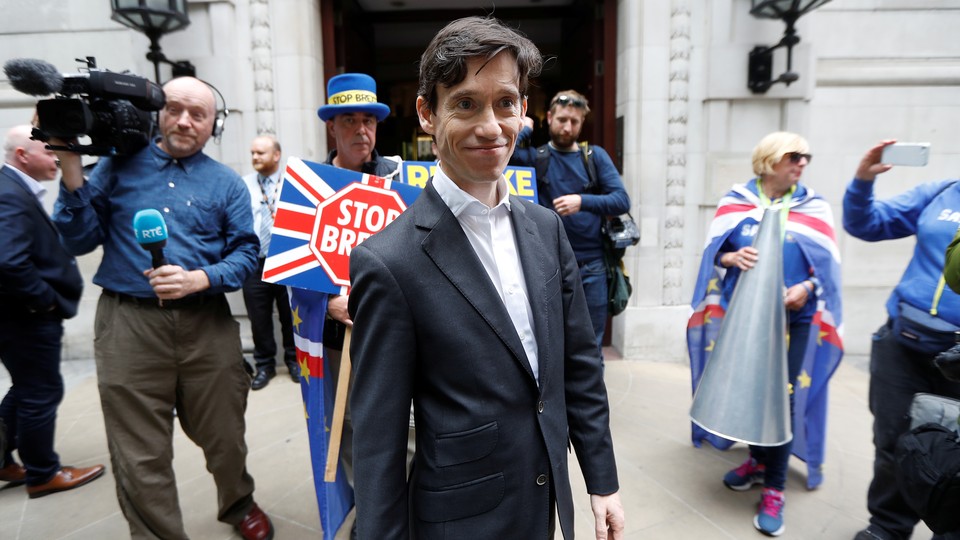 Britain's highest political office might be on Downing Street, but its safest can be found across town at London City Hall.
The position of mayor of London, like that of prime minister, is one of the most nationally and internationally visible positions in British politics—albeit with a fraction of the responsibility. It's a job that wields plenty of soft power, though, and past holders of the office have used it to promote development, tackle climate change, and effectively become a cheerleader for one of the world's biggest and most cosmopolitan capitals.
In recent years, though, the post has taken on an additional perk: It has allowed those who hold it to distance themselves from the omnishambles of British politics in the age of Brexit—and their parties that have been consumed by the approaching split.
It's no wonder, then, that Rory Stewart, the erstwhile Conservative lawmaker and prime-ministerial hopeful, revealed today that he would be entering next year's race to be mayor of London as an independent. In a video announcing his bid, Stewart said he hopes that by "leaving that Gothic shouting chamber of Westminster," he can challenge the "extremism" taking over the country's politics, as well as the threats facing the city, such as Brexit and technological change.
It's a lofty goal for a prospective London mayor—not least because the office doesn't actually afford that much power. Unlike its equivalents in cities such as New York, Paris, and Madrid, the London mayor's authority is limited to things such as policing, transport, and housing (and even these are somewhat curtailed by other bodies). Most other powers—such as taxation, public maintenance, and other social services—fall to the national government and local London councils.
"It's a very, very underpowered institution and a very underpowered role in terms of its hard powers, at least by international standards," Ben Rogers, the director of the Centre for London think tank, told me.
What London mayors lack in authority, however, they make up for in their immense soft power. In the nearly two decades since the role was created, London has had three mayors, all of whom have amassed high profiles. Ken Livingstone, the inaugural holder of the office, oversaw nearly a decade of large-scale development in the city. Sadiq Khan, the city's first Muslim mayor and the current holder of the office, is perhaps best known around the world for his long-standing feud with President Donald Trump. Boris Johnson, the city's only Conservative mayor thus far, who famously led London through the 2012 Olympics, is now prime minister.
"To be mayor of London gives you enormous political visibility in what is a small, centralized country," Tony Travers, a politics professor at the London School of Economics, told me, noting that unlike most other British politicians, all three mayors have been known simply by their first name.
Even domestically, London mayors have been able to stand out in British politics, as well as their parties. Johnson, for example, clashed with fellow Conservatives over his support for loosening immigration restrictions. Khan has been a vocal opponent of Brexit and advocates for holding a second referendum—positions that have often put him at odds with the Labour Party leadership.
"[Khan] has been free to take a different line on Brexit in a way he wouldn't have been if he'd been a member of the shadow cabinet," Rogers said, noting that while most parties are concerned with the nation as a whole, London mayors "have a different electoral base."
In London, that base is liberal, multicultural, and predominantly anti-Brexit. Though a supporter of remaining in the European Union during the 2016 referendum, Stewart has since come out in favor of leaving the bloc with a deal—a position that ultimately resulted in Johnson expelling him and 20 other Conservative lawmakers from the party.
Still, Stewart sees an opportunity in the city. In a letter setting out his candidacy, the former Tory urged voters to "break free from the suffocating embrace of our dying party politics," just as he had broken away from his own.
Khan, the Labour incumbent, is the favorite to win next year's contest: A May opinion poll put him 20 points ahead of his Conservative opponent, Shaun Bailey. Still, Stewart could emerge as an unexpected insurgent, just as he did during the Conservative-leadership race earlier this year. Though Stewart was unsuccessful then, his willingness to cut across traditional party lines could endear him to parts of London's electorate.
"In that sense," Travers said, "you could see how somebody like Rory Stewart, who is clearly a centrist, can be seen as standing free of the mainstream in politics."