Meet the Spiritual Leader of the Hong Kong Protests
Edward Leung has barely spoken about the demonstrations from his jail cell, but he has emerged as an unlikely oracle in the eyes of demonstrators.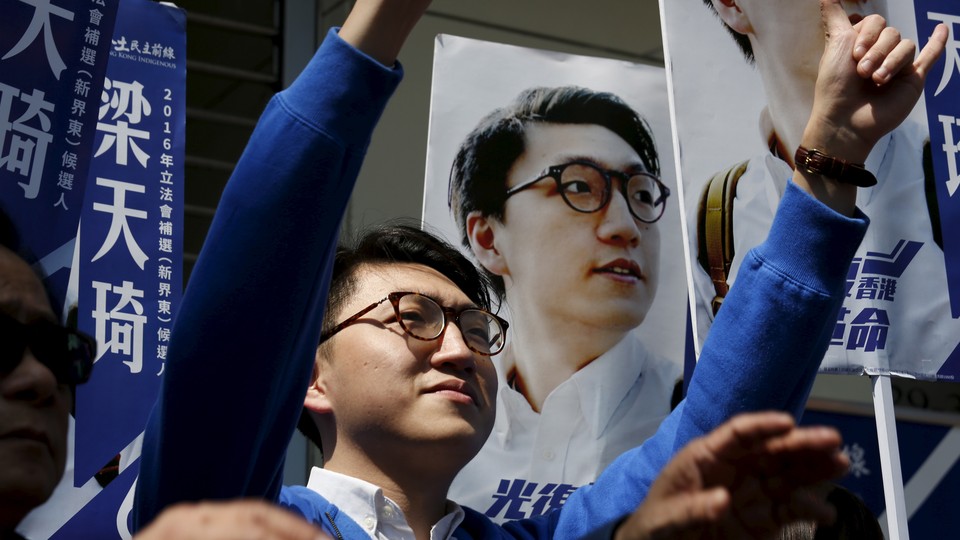 HONG KONG—When reports of a possible law banning face masks at protests first surfaced this month, chat groups and online messaging boards popular with demonstrators lit up in fury over what seemed to be yet another (ultimately unsuccessful) attempt to quell unrest here.
Attention quickly turned to a snippet of a by-election debate from 2016, specifically to the words of a young man standing with other hopefuls on a U-shaped stage, his bright-blue hoodie and khakis a marked sartorial departure from the formal attire of his older rivals. In the debate, Edward Leung, his right hand gripping a microphone and his left jabbing the air with an outstretched index finger, unleashed a tirade that three years later looks uncannily prescient.
"Ukraine passed the anti-mask law a few years ago. Do you know what happened to Ukraine after that?" Leung asked. "It resulted in a revolution. If you want to play this game, by all means, do it. I am all for that." The two candidates receiving the brunt of Leung's verbal lashing looked bowled over. "If you want to restrict our freedom of assembly, go do it. Let's see what Hong Kongers, what all of us, will do to you."
When Carrie Lam, Hong Kong's leader, confirmed the rumors of the mask ban, days of spontaneous peaceful rallies, as well as some violent demonstrations, ensued across the city. Dozens were left injured after clashes between protesters and police, including a 14-year-old boy shot by an undercover officer, who was as a result left bloodied by demonstrators and attacked with petrol bombs.
The developments have only served to reinforce the idea, particularly among younger, frontline protesters, that Leung is the spiritual guide of this otherwise leaderless movement. It is a status he has won despite—or perhaps because of—his incarceration: Leung, who has offered little commentary on these protests, which are now in their fifth month, is serving a six-year sentence for his part in demonstrations that turned violent in 2016.
It is Leung's 2016 election slogan, "Liberate Hong Kong, revolution of our times," that rings out today, one of the several chants that are now mantras for those who have taken to the streets. The phrase (or similar translations of it) is printed on flags and banners and spray-painted on walls. Detained protesters have looked into TV cameras and mouthed the words as they are taken away by the police. A video game that pits protesters against police uses the slogan as a title. Leung's supporters, some of whom speak about him in hagiographic terms, say he foresaw the direction that Hong Kong would take as Beijing sought to wield greater influence here. This month, hundreds gathered outside a Hong Kong court for Leung's appeal hearing, waiting for hours to catch a glimpse of him and briefly blocking the van transporting him back to prison.
Cast even by traditional pro-democracy champions here as radical just a few years ago, Leung's prognostications about the rapid erosion of Hong Kong's rights look to have been correct. The more confrontational, sometimes violent, means that Leung and Hong Kong Indigenous, the pro-independence political party of which he was a member, advocated in countering encroachment from mainland China are consequently gaining mainstream approval. As protesters have ramped up tactics, vandalizing businesses owned by mainland Chinese and tossing petrol bombs at police seen as loyal to Beijing, people are generally accepting of the violence, leveling blame at the authorities for the escalation. Leung's willingness to risk arrest was once seen as extreme. Now many hard-core demonstrators no longer fear police tear gas, nor does the threat of arrest deter them—more than 2,700 protesters have been arrested since June—while the most fervent openly speak of the possibility of dying in the streets. "Edward Leung and Hong Kong Indigenous planted a seed in Hong Kong politics, and now it has started to grow," Ray Wong, who founded the party in 2015, told me. "It really took some time for those Hong Kongers, for those peaceful protesters, to understand why we took this approach."
Leung is an unlikely oracle, having described himself in much less flattering terms than his supporters do today, often saying he was a loser, a nobody. The 28-year-old studied philosophy at Hong Kong University, where he was an intensely competitive lacrosse player and served as a residency-hall leader. In Lost in the Fumes, a 2017 documentary about Leung, he spoke about feeling lost at the time, having failed to graduate or get a job, at times locking himself away in his room. Then, in September 2014, he joined the Umbrella Movement protests, finding camaraderie and direction among his fellow protesters. "It seemed suddenly my life was meaningful," Leung said in the film.
Wong, 26, also participated in those protests, but over the course of the 79-day occupation grew disillusioned. When the protests ended, he founded Hong Kong Indigenous, a party championing "self-defense, more radical means of protest, and … our unique identity as Hong Kongers," he told me. It fell into the "localist" movement, a group of political parties and activist groups holding a spectrum of ideas on Hong Kong's autonomy. The beliefs of some of these groups have at times veered into the xenophobic, with members demeaning mainland visitors as locusts invading Hong Kong.
In the past, Leung has described his idea of localism as rooted in the safeguarding of a Hong Kong identity distinct from that of mainland China, to "preserve our own narrative on the past, present, and future of Hong Kong." This idea, of keeping Hong Kong from becoming just another Chinese city, protecting it from Beijing's control, has come to drive the current protests. Polling from the Chinese University of Hong Kong in October showed that the number of people identifying as localists has more than doubled since March. Yet it is the most radical of Leung's beliefs, one that still remains fringe, for which he is most notorious: advocating for independence. "It might be very unrealistic; it might be nearly impossible," he said, "but in terms of politics, in terms of rational calculation, independence is the only way to leave this authoritarian regime," a reference to the Chinese government.
When Wong met Leung after the Umbrella Movement ended, Leung was again struggling, even contemplating suicide. Then, in July 2015, Leung took the stage at an annual protest and delivered a speech that, Wong recalled, "impressed all of our members." Hong Kong Indigenous, which had focused on street-level activism that included haranguing mainland tourists and sometimes violent protests targeting small-scale day traders from China, made the decision to formally enter mainstream politics by contesting elections.
The party's positions, as well as its youthful and at times boisterous members, put it at odds not just with pro-Beijing politicians. It also clashed with the traditional pro-democracy camp, who it felt was overly willing to compromise and did not take sufficient action. The feelings of dislike and distrust went both ways.
"I thought he was arrogant, full of himself," the pro-democracy lawmaker Claudia Mo said of her first impressions of Leung. Her feelings, she told me, softened over time, and she has visited Leung in prison on multiple occasions, most recently in September. This summer, after protesters stormed the building housing Hong Kong's legislative assembly, lawmakers were given a tour to see the damage. Inside, Mo said, was a spray-painted message calling for Leung's release. "I knew then he had become an icon," she said.
Leung's fame rose precipitously during Chinese New Year in February 2016. In the cramped, hectic Mong Kok neighborhood, officials tried to crack down on unlicensed street sellers who for decades have hawked food like fish balls and egg waffles. The threat to a deeply rooted Hong Kong tradition was exactly the sort of cultural erosion Leung had warned of. Hong Kong Indigenous rallied around the sellers, putting the call out online for their supporters to take to the streets to protect them. During the ensuing standoff with police, Leung commanded the crowd through a megaphone. As the night wore on, protesters and police continued to jostle, before erupting into clashes. Warning shots were fired, and though the violence looks subdued compared with recent protests, it was at the time some of the worst unrest in post-colonial Hong Kong.
Leung was arrested along with dozens of others. While he gained a new level of celebrity, he later described the days as "like hell." He was charged with multiple counts of rioting and assaulting a police officer. Less than three weeks later, voters cast their ballots in the New Territories East by-election, during which Leung had unleashed the debate tirade. He finished third, but captured more than 15 percent of the vote, a remarkably strong showing for a political newcomer. Alvin Yeung, a pro-democracy lawmaker who won the election, told me that while he disagreed with Leung's politics, he found him to be strong competition, and nodded to his prescience. "People dig out what he said three years ago—against a brutal government, against the anti-mask law—and people think, Hey, he foresaw everything,'" Yeung said.
Leung was later barred from contesting subsequent elections that year—officials cited his support for Hong Kong's independence as their reasoning. By then, Leung had disavowed that position, but it was too late. He was among a rash of invalidated nominees, and threw his support behind another young localist candidate who was later himself expelled from the legislature. Leung then left Hong Kong for the United States in 2017 to study at Harvard University.
Leung's only public comments on the current set of protests came in July, when a letter addressing the movement was posted on social media. He wrote that he tried to keep up with the news from prison, but that the reports left him "filled with sorrow and pain." He urged protesters to avoid being driven by rage: "I earnestly call on you not to be dominated by hatred—one should always stay vigilant and keep thinking when in peril," he wrote.
Wong, for his part, has watched the protests play out from afar. This summer, a friend recorded a crowd shouting Leung's slogan and sent it to him. "The first time I heard it, I cried immediately. I didn't expect that this slogan would be chanted again," he told me. "Before [Leung] was sent to prison, he had quite a lot of doubts as to whether he did something wrong or good for society.
"I think now when he sees people chanting this slogan and people kind of worshipping him," Wong continued, "he would feel better."