The Far Right Is Taking On Cultural Institutions
Theaters, museums, and other venues in Germany are facing pressure from the AfD, raising questions about the extent of artistic freedoms.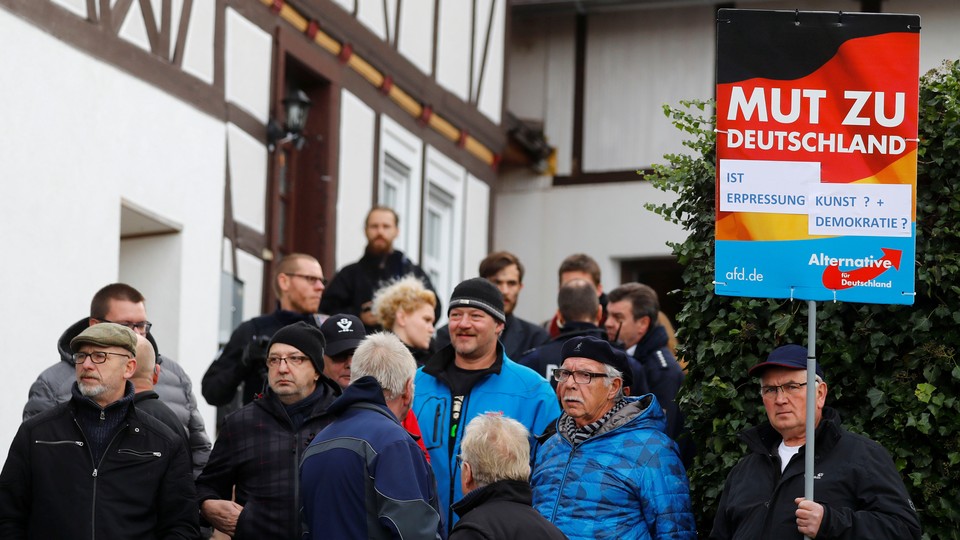 BERLIN—Protests against public artworks in Dresden and Kassel. A ban on political discussions at the city theater in Freiberg. And a criminal investigation against a performance art collective.
Germany's far right is fighting a culture war—and at the forefront is the country's largest opposition party, the Alternative for Germany (AfD). Founded only six years ago, the group has transitioned from a platform of opposing the euro to far-right nationalism. Fierce anti-immigrant rhetoric has helped the group gain sizable sway in regional parliaments, with significant victories in three regional elections this fall.
Yet beyond its focus on immigration, the issue for which it is best known, the AfD has another important target—culture. At both the federal and the regional level, the party devotes significant attention to cultural matters: Its main manifesto includes more pages on culture, language, and identity than on employment, national security and justice, and foreign policy. In Dresden, the AfD municipal program extends to suggested background music for a specific tram line.
"Culture is integral to the AfD's strategy and ideology," Julian Göpffarth, a researcher on the far right at the London School of Economics, told me. "The party is using its powers to curb cultural productions and spaces that 'undermine national pride,' and to impose instead a dominant German culture that celebrates, rather than critically engages with, German identity."
It's an agenda that raises profound questions about the extent of artistic freedom here, but also around the world, as the far-right rises in prominence and seeks to exert its newfound strength. Such parties have won seats across much of Europe—the AfD itself won over 20 percent of the vote in elections in the German state of Thuringia over the weekend—and have sought to pressure a wide variety of cultural institutions that they see as intrinsically left-wing, from theaters and museums to publishing houses and historical monuments.
Germany's postwar constitution guarantees freedom of the arts and expression, but the AfD and its critics contest what that looks like. Marc Jongen, the AfD's spokesperson on cultural affairs, has often argued publicly that German culture is limited by left-leaning bias, with "enormous uniformity" in the implementation of theater programs and exhibitions. (Jongen did not respond to my requests for comment.) The AfD's critics counter that it is the party that is the real threat to artistic freedom and pluralism—but should they respond by ostracizing the party and its supporters, or attempt what one center-right politician has called "moderation through engagement"?
The AfD's surveillance of the cultural landscape is meticulous and extends across the country's most prominent artistic organizations, down to minor details of otherwise little-known projects. In Paderborn, the AfD filed a defamation claim against the city theater over an illustration in a season flyer that compared the AfD's electoral ascent to that of the Nazi Party. In Aachen, an AfD politician threatened the theater director Reza Jafari with legal action unless he removed a section from his latest play that drew parallels between right-wing populism and fanatical Islam. In Berlin, the party has filed successive legal complaints against a small exhibition on far-right extremism that included brief references to the AfD on two display panels. In the historic university city of Freiberg, political events were banned at the central theater after an AfD councillor decried a scheduled book reading and discussion about right-wing populism as "left-green ideology." And an AfD member of the Bundestag's cultural-affairs committee demanded a cut in subsidies to a theater in Berlin after its artistic director criticized the party. Two days earlier, the venue had been evacuated following an anonymous bomb threat.
Critical artistic voices have also been subject to surveillance. In April, the performance-art collective Zentrum für Politische Schönheit (Center for Political Beauty) discovered that it had been under a 16-month criminal investigation following its construction of a Holocaust memorial outside the home of Björn Höcke, a leading AfD politician. The proceedings, launched by an AfD-supporting prosecutor, placed the group in the same category as organizations such as the Islamic State, allowing for surveillance of its telecommunications and written correspondence, as well as the deployment of informants and undercover agents to monitor their movements.
"The AfD wants to make criticism impossible," says Kilian Behrens, who co-curated the Berlin exhibition on far-right extremism. "It is a very grueling and dangerous situation."
The AfD has also focused on arts and culture that deal with multiculturalism—specifically, any programming that includes refugees, or that features practitioners from, or references to, Muslim heritage. In Dresden, the AfD joined protests against a public art installation by the Syrian German artist Manaf Halbouni, and one AfD politician branded the work a "monument to the Sharia state." In Kassel, a public sculpture titled Monument for Strangers and Refugees was relocated from the main city square following virulent opposition from an AfD councillor, who described the work as entstellende Kunst ("disfiguring art")—a conspicuously similar description to the Nazi term entarterte Kunst ("degenerate art").
Alongside other echoes of Nazi vocabulary, the AfD has voiced disdain for Germany's culture of Holocaust remembrance, too. The AfD co-leader Alexander Gauland has called the Nazi era a "speck of bird shit in over 1,000 years of successful German history." Höcke has referred to the Holocaust memorial in Berlin as "a monument of shame" and has decried the "laughable policy of coming to terms with the past." In Dresden, the AfD has proposed a "central commemorative event" and "worthy memorial" to mark the "senseless" Allied bombing of the city in 1945. Likewise, Jongen has called for German museums to be "protected from the guilt discourse of post-colonialists." In Saxony-Anhalt, the party specifies that "museums, orchestras, and theaters have a duty to promote a positive relationship with their homeland."
Now that its members have been elected to the German parliament, the AfD is also using its parliamentary right to request information on cultural institutions, and to an overbearing degree, critics say. AfD politicians repeatedly submit demands via the Kleine Anfrage ("minor request") structure—a system designed for democratic transparency—to create what recipients regard as burdensome administration and to intimidate specific organizations or individuals. In June, an AfD politician requested a list of the original nationalities of all artists in state-run opera, orchestra, and ballet companies in Stuttgart. In Berlin, the party has requested information on several projects at the Maxim Gorki Theater, renowned for its multicultural program, as well as on the participation of its artistic director, Shermin Langhoff, in a public rally against racism and discrimination. Separately, the party also tried to inspect Langhoff's employment contract. Langhoff later received death threats against her and several artists she works with.
Other AfD "minor requests" have focused on the cultural division between former East and West Germany. Though it mainly champions a homogeneous and resplendent notion of German nationhood, the party has also shown itself willing to nourish splinter cultural identities for electoral gain. In one case, an AfD councillor demanded information on the number of Communist-era paintings on display at the Albertinum Museum in Dresden, in what was East Germany, and on the appointment of the museum's director, Hilke Wagner, who grew up in West Germany. In such moves, Eva Sturm, a cultural manager who grew up in East Germany, sees a deliberate goading of East German insecurities and resentments that surround German reunification. "Most of these AfD guys don't even come from former East Germany, but they latch on to this experience and sense of injury and promise an assertion of authority," says Sturm.
All this pressure leaves cultural organizations with a difficult choice: resist or engage? Neither is a straightforward option, though. An art exhibition in Leipzig was besieged by controversy over the summer for including—and then excluding—an AfD-supporting painter. The local culture minister Eva-Maria Stange, from the center-left Social Democratic Party, concluded that it was "not acceptable to stigmatize people because of their political stance. The AfD is a democratically elected party. I can fully understand that people don't share its views, and reject it for good reason, but we live in a democracy, and that compels us to confront different positions."
But with the AfD already investigated for infringing the German constitution, many cultural figures support exclusionary measures against the party. Cesy Leonard of the Zentrum für Politische Schönheit, the group investigated for placing a Holocaust memorial outside an AfD politician's home, is unequivocal in her stance. "Our artwork deals from its core with this idea: How could Hitler happen?" she told me. "And if you look in the history books, it's written there in black and white—of all the mistakes that were made, it was giving him and his party power, bit by bit by bit."