China's Path Forward Is Getting Bumpy
The Khorgos Gateway was once touted as one of the most ambitious projects in the Belt and Road Initiative, but it has come to represent the limits of Beijing's global push.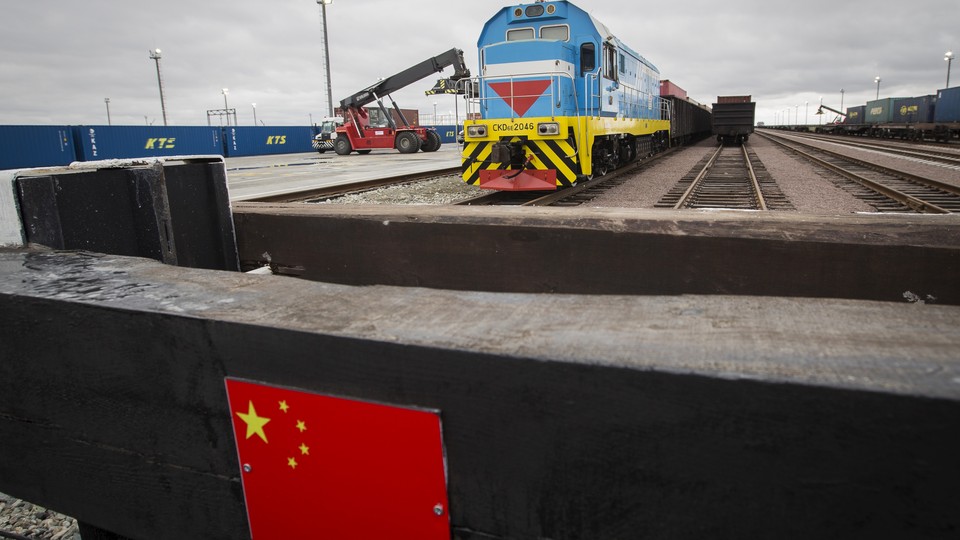 KHORGOS, Kazakhstan—To better understand the future of China's role in Central Asia, and the world, you need to come here, the middle of nowhere.
Straddling the Kazakh-Chinese border, a collection of cranes, railways, and buildings rises out of a barren stretch of desert surrounded by towering mountains to form the backbone of the Khorgos Gateway, one of the most ambitious projects in China's Belt and Road Initiative, or BRI, Beijing's sprawling infrastructure project.
Beijing hopes the "dry port" here—where Chinese freight will be reloaded onto Kazakh trains to make the 5,000-plus-mile journey to Europe—will expand land-based trade across Eurasia. Beyond the logistics hub, the Kazakh project also consists of a special economic zone to attract investors to build factories and warehouses, and a free-trade border zone that aims to increase commerce with China. On the Kazakh side of the border, a purpose-built village, Nurkent, houses the area's workers, with ambitious plans to grow it in the coming decades to complement its sister city in China, also called Khorgos, which already features shopping malls, hotels, and a population of more than 100,000.
Only in operation since 2015, the facilities are still taking shape in Kazakhstan, whose government is trying to maximize its geographic location to benefit from China's flagship foreign-policy effort. Yet along the way, Khorgos has become emblematic of the immense promise and problems associated with the Belt and Road Initiative.
Since BRI was launched, in 2013, China has sunk hundreds of billions of dollars into ports, railways, and energy projects across Asia, Africa, and Europe. The goal is to not only expand infrastructure, including in many developing countries, but also win over local populations and governments by funneling investment, jobs, and economic growth in their direction. The path forward has been bumpy, though. Questions regarding the commercial value of certain projects and concerns over the initiative being a backdoor for more sinister geopolitical ambitions have undercut Beijing's official rhetoric of "win-win" cooperation and illustrated the uncertainty surrounding its plans.
As Beijing marks the 70th anniversary of the founding of the People's Republic of China, questions over the implementation of BRI are among several facing the country regarding the limits of its power—from protests in Hong Kong to the escalating trade war with the United States.
"There is a reason that lots of these gaps in global infrastructure that China is trying to fill exist in the first place," Andrew Cainey, a China expert and an associate fellow at Chatham House, a London-based think tank, told me. "It's because they are not so commercially appealing."
This tension—between the expectations surrounding BRI and the challenges of fulfilling them—is on display here in Khorgos.
The project has posted impressive overall growth numbers, and Kazakh officials are keen to talk up plans to develop the area. The dry port processed 44 percent more cargo, as measured by so-called 20-foot-equivalent units, in 2018 compared with the previous year, according to data provided by the authorities here. Kazakh officials were also keen to point to the area's potential for growth. A 2017 study commissioned by the International Union of Railways estimated that trade volume between China and Europe via rail would increase sharply over the next decade, with Kazakhstan becoming the key crossroads. Similarly, officials mentioned new investments from Chinese companies to build facilities and factories in the special economic zone on the Kazakh side as a sign of the area's growth.
"Khorgos is about turning Kazakhstan into Central Asia's transit hub," Nurlan Toganbayev, the director of the commercial department at the Khorgos Gateway, told me. "We know this is no easy task, but we're growing, and we take great pride in that."
Yet even these touted successes point to future problems for the project. Rail transport is still only a small percentage of global trade; sea and air routes, which are cheaper and faster, respectively, form the bulk of goods moved between China and Europe. The land route has also been criticized for waste and fraud. Many of the cargo containers returning by rail from Europe to China through Kazakhstan are empty, officials admit, due to a trade imbalance, but the problem may run even deeper. The Chinese government provides significant subsidies to encourage use of the rail links, and a recent report by the Chinese Business Journal found that many exporters transported empty containers from China to Europe just to receive those subsidies. China Railway, the government operator of the rail line, admitted to the state-run Global Times that the problem existed, but said that it has been eradicated. Not only does the episode illustrate the commercial limits of large-scale shipping by train, but it calls into question the viability of the Khorgos project.
According to Nargis Kassenova, a Central Asia expert at Harvard who focuses on China's role in the region, this might prevent Khorgos from delivering as advertised. "Khorgos is not a game changer and might never become one, despite genuine efforts by both the Chinese and Kazakh sides," she told me.
These concerns may be part of a broader pattern. At the second annual Belt and Road Forum, in April, the Chinese leader Xi Jinping signaled that his government would move to tighten oversight of the opaque network of infrastructure projects that makes up BRI and discussed taking on more high-quality and sustainable deals, saying that Beijing had "zero tolerance" for corruption. This came on the heels of several instances that have sullied the initiative's brand. The $62 billion China-Pakistan Economic Corridor has been scaled back amid Pakistan's increasing debt problems, while a major port deal in Myanmar was slimmed down from roughly $7 billion to $1.3 billion. A port in Sri Lanka garnered global headlines after the government couldn't repay its loans and granted a state-owned Chinese company a 99-year lease on the port as a form of debt relief. Elsewhere, projects have been tarnished by corruption: The new Malaysian government renegotiated a major rail project at a significantly reduced cost and canceled $3 billion worth of plans to build new pipelines following a graft scandal. The Maldives is seeking debt forgiveness following corruption allegations connected to Belt and Road projects green-lit by its previous government.
These scandals come as a slowing Chinese economy could lead to a more cautious approach to investment in the future. According to Cainey, from Chatham House, Beijing is still fine-tuning BRI and trying to learn from a spree of large-scale projects in countries with poor governance and weak rule of law.
"The Chinese have taken the same approach they took at home, where they have lots of experience managing the risks of large infrastructure projects," he told me, "but as they are now seeing, things work differently overseas."
China has become the largest investor in Central Asia, and its patronage has been embraced by local governments, especially in Kazakhstan, where Xi announced BRI in 2013. But China's expansion also stirred fears among everyday citizens of vassalage to Beijing. Concerns over China's intentions are not new, but they have increased as its economic footprint has deepened. These worries have grown in recent years, as China has built a sprawling surveillance state and internment-camp system to target its Muslim population: mostly Uighurs, but also ethnic Kazakhs, Kyrgyzs, and other groups in its western Xinjiang region, which shares a 1,100-mile border with Kazakhstan. It's unclear how many people are in some sort of detention, but the U.S. State Department estimates that 800,000 to 2 million people have been detained since 2017.
In Zharkent, a Kazakh city of about 33,000 people that sits 22 miles from the Khorgos Gateway, this reality is on display. The city was the site of the high-profile trial of Sayragul Sauytbay, an ethnic Kazakh Chinese national who worked in the camps and then fled to Kazakhstan because she feared internment herself. Sauytbay became a local celebrity for her firsthand testimony about China's camps when she was tried for crossing the border illegally through the Khorgos free-trade zone. (She was granted asylum in Sweden in June.) The internment camps also overlapped with the broader Khorgos project in December 2017, when Askar Azatbek, a former Xinjiang official who became a Kazakh citizen, was allegedly taken from the Kazakh side of the free-trade zone to China, where he has since been detained.
"China is trying to win hearts and minds," Philippe Le Corre, a nonresident senior fellow at the Carnegie Endowment for International Peace who studies China's global rise in Europe and Eurasia, told me, "but it's an almost impossible task when you look at what's happening to the Muslims of China."
Markets and bazaars in Zharkent are full of Chinese goods, and rumors of Chinese encroachment are prolific in trading stalls and teahouses. But criticizing China publicly is still a sensitive topic in authoritarian Kazakhstan, and during a recent visit, many people were wary of speaking on the record. Alexander, a resident of Zharkent who gave only his first name, told me that he makes his living shuttling Chinese goods, and that there has been a change of attitude in recent years when locals interact with Chinese merchants and officials. "They look down on us now," he said. Another man, Bolat, told me he feels that grand projects like Khorgos bring "no benefit to the local community."
Still, despite limited goodwill for China and various difficulties with its marquee Belt and Road projects, developments like Khorgos hold too much symbolic political value for China and Kazakhstan to be allowed to fail. Beijing has fueled its global infrastructure push with subsidies and investments, but as China enters a new phase shaped by tighter budgets and oversight, Khorgos and other BRI projects may need to adapt.
"There are lots of local people that would like for Khorgos to be a success story," Le Corre said. "But given everything else going on at the moment, it's becoming more difficult for China to sell this new Silk Road."
Aigerim Toleukhanova contributed to this article.