The Quotidian Uncertainty of Britain's Monumental Shift
The state of flux European Union nationals living in Britain find themselves in speaks to wider unresolved questions surrounding Brexit.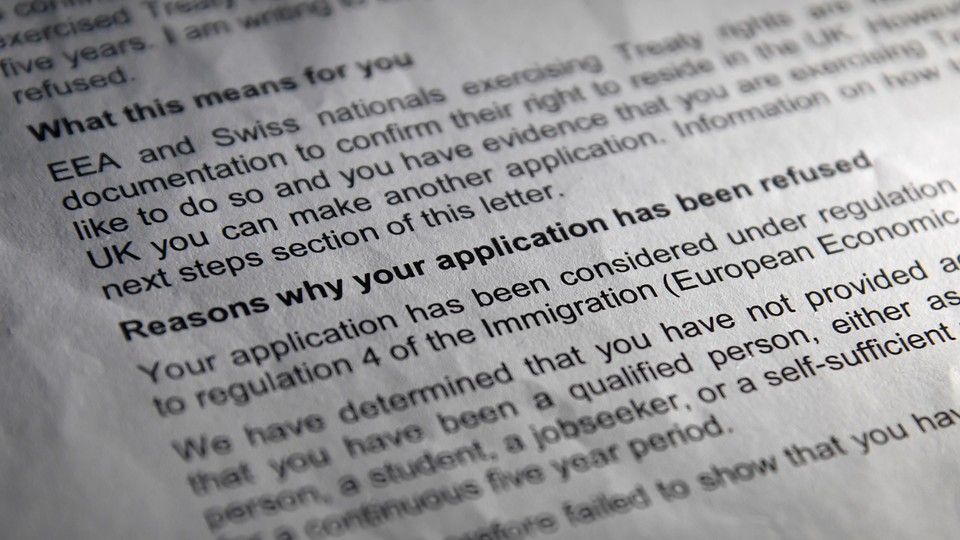 The Polish chef who was erroneously denied the right to indefinitely remain in Britain. The Italian partner of a British army veteran whose local member of Parliament had to intervene to secure hers. The Hungarian man who mistakenly accepted a temporary status.
At first blush, these cases demonstrate some of the complications that have emerged as a result of Britain's ambitious plan to absorb millions of European Union nationals into its immigration system as it leaves the bloc (a move currently set for January 31). But they are also illustrative of the almost quotidian uncertainty that has plagued EU citizens living in the country since the 2016 Brexit referendum, which has thrown into doubt Britain's future—and their place in it. The scale of this task has largely been sidelined by the litany of other bureaucratic challenges facing the British government as it prepares for its looming Brexit deadline, from bracing for potential supply-chain disruptions (including food and medicine shortages) to maintaining the status quo on the island of Ireland.
Thanks to Britain's membership in the EU, about 3.5 million non-British Europeans live and work in the country without a visa (the EU's combined labor market means nationals of its member states can travel and live across the bloc without restriction). Yet with Britain due to leave, their immigration status will change, and they will have to apply for a new immigration designation. Launched this year, the British government's EU Settlement Scheme has been billed as a "free and easy" way for EU nationals to secure the bulk of their rights to live and work as they do now. At least 2 million people have already applied, and more than a million more are expected to do so by 2021.
In theory, the process is relatively simple. Any EU national who has lived in the U.K. continuously for at least five years is eligible to receive an indefinite right to stay in the country, otherwise known as "settled status." Those who have lived in the country for less time are eligible for "pre-settled status," which requires them to reapply once they have racked up enough time to be considered for permanent residency. Of the 1.5 million people who have secured one of those two designations as of last month, 61 percent were granted settled status; 38 percent were given pre-settled status. (Just two applications were denied on suitability grounds, which the Home Office, the government department overseeing the program, said can be due to issues of serious or persistent criminality.) "We are looking for reasons to grant status," a Home Office spokesperson told me in an email, "not reasons to refuse."
What looks to be simple in theory, however, hasn't necessarily proved so in practice. For some EU nationals, the process of applying for settled status hasn't taken the estimated 20 minutes, but weeks and, in some cases, months. Some have faced complications with the mobile application required to apply (the biometric software is available only on Android devices and, as of this month, newer iPhone models) or challenges with providing enough evidence to prove their time spent in the country (if it can't be shown through tax records, applicants must supply other documents, such as utility bills and bank statements). In some cases, EU nationals have even been granted the wrong status altogether.
When Damian Wawrzyniak applied for settled status in August, he assumed getting it would be simple. After all, the Polish national had lived in Britain for 15 years—three times the requisite period. He was continuously employed as a chef, best known for his stints cooking for the royal family and the London 2012 Olympics. He said he has paid thousands of pounds in taxes.
But when Wawrzyniak received a letter from the Home Office about his application a day after submitting it, he was informed that he would be granted temporary status to remain in the country until 2024, at which point he would be required to reapply. Wawrzyniak took to Twitter to express his dismay at the "ridiculous" verdict. The tweet was shared by tens of thousands of people and even caught the attention of some British lawmakers, prompting a response from Home Secretary Priti Patel.
"On the same day, I had … [an official] from the Home Office call me and he said, 'Your settled status will be done straight away,'" Wawrzyniak told me, noting that he received permanent residency three days later. He attributed his success in large part to his online platform—one he has since used to organize informational meetings to help others apply for settled status. "If an ordinary person wrote a message saying what I did, nobody would even look at it," he said. "The Home Office is not responding to anyone."
Technically speaking, the British government is responding—though perhaps not always on Twitter: It has invested in a number of resources, including a help line and support centers. Still, it's unclear whether these steps have proved enough to shoulder the burden of what is ultimately the largest immigration exercise the country has ever faced. According to the Home Office's own figures, the government is processing up to 20,000 applications a day. Even if 95 percent of those applicants faced no issues with their application, that would still leave 1,000 people seeking advice from the government each day.
And that's assuming all the applications are relatively straightforward—something that was not the case for Angie Giles. An Italian national married to a British soldier, Giles lived alternately in Britain and Germany, where her husband was stationed, for more than a decade before returning to the U.K. permanently in 2016. Her sporadic time in the country wasn't supposed to pose an issue for her settled-status application: EU nationals who accompany family members in the military overseas can count that time toward their continuous residence in Britain.
"But once I got to the end of [the application], it said I would qualify for pre-settled status," said Giles, who began the process in January, during the scheme's test phase. She was then prompted to submit further documentation to verify her time in the country—including tax returns and utility bills—as far back as 2003. But her employment history was not continuous, and the utility bills were not in her name. "I thought, This is getting really ridiculous now," she told me. "I cannot prove something that happened 15 years ago."
Giles contested the decision by requesting an administrative review—an option that costs £80 ($104), though the fee is subject to a refund if it's proved that the Home Office made an error. She also appealed to her local member of Parliament, Rishi Sunak, who currently serves as the government's chief secretary to the Treasury. Soon after, Giles received a phone call from the Home Office informing her that her case had been resolved and that she had been granted settled status. In all, the process took nearly half a year.
"I knew that my MP must have ruffled some feathers," she said, before adding that though she is happy she received her status, she doesn't feel any more settled. "You don't feel any safer, if you know what I mean."
Sunak told me in a statement that though complications like these "do crop up from time to time," the government is committed to ensuring that service personnel and their families are not discriminated against. "I have found that government departments have always been very responsive when dealing with the individual cases I have brought to their attention," he said.
Not everyone is able to seek recourse from their MP or the Home Office. Adam Horvath, a Hungarian national who has lived in Britain for eight years, told me he ran into issues with his application in June when he was offered pre-settled status and unintentionally accepted it. "After I realized my mistake, I gave [the Home Office] a call right away," Horvath said, at which point he was informed that his status could not be changed manually. His only option was to wait 70 days, at which time, he was told, his inactive application would be deleted automatically. Then he could start again.
To be safe, Horvath waited three months. But when he logged back on to the system, his existing application—and the pre-settled-status designation—was still there. "So I called again," he said, and was advised that the system had changed and that he would be better off withdrawing the application and starting again. A week later, he said, he received a phone call advising him that withdrawals can take several weeks or even months, and that officials would instead attach a note to his existing application explaining the situation and asking that the caseworker reviewing it consider him for settled status. In the interim, Horvath was asked to submit further documentation to prove his years spent in the country.
"So I did that," he said. "About four or five days after that, I was granted pre-settled status, despite putting all the evidence that proves I've been in this country for eight years."
Horvath's story isn't uncommon. Many applicants, including Horvath, have gaps in their employment history, which makes it difficult for the government to register how long they've lived in the country, and some EU nationals have mistakenly accepted an incorrect status—with limited recourse to amend the error.
Some advocates for EU nationals are concerned that perhaps there are more applicants erroneously being granted pre-settled status who are eligible for a permanent status instead. Those worries are compounded by the fact that no one really knows how many EU nationals are in the country (the 3.5 million figure is only an estimate). As a result, "it's very unclear what success will look like," Maike Bohn, a co-founder of the3million, an advocacy group for EU citizens in the U.K., told reporters in London this month. "The big worry and the elephant in the room is that hundreds of thousands of people will not apply and be successful by the deadline."
The deadline by which EU nationals have to apply for their new status largely depends on the outcome of Brexit itself. Should Britain leave the bloc with a withdrawal agreement, EU nationals will have until June 2021 to apply; if the country exits without a deal, that deadline moves up to the end of December 2020. EU nationals have been warned that those who fail to secure a status by then could be subject to removal from the country—an outcome that Luke Piper, an immigration lawyer and legal adviser for the3million, said could pose a "monumental risk" for the most vulnerable among them, including the elderly, those with limited English, and children. (Home Office Minister Brandon Lewis has said that the government will "allow time for those with reasonable grounds for missing the deadline.")
When I asked Horvath whether he has contacted the Home Office since, he said he has not. Between a full-time master's program in mechanical engineering and a part-time job, he hasn't had the time. But he isn't discouraged either. "When you have a big project where you try to register 3 million people, it is inevitable that people will fall through the cracks," he said, "so I think I'm one of those people."