The Deadly End of American Policy in Syria
Over the course of the long civil war, Syrians who cast their lot with America have often met with grim fates. Those who remain are suddenly scrambling to escape.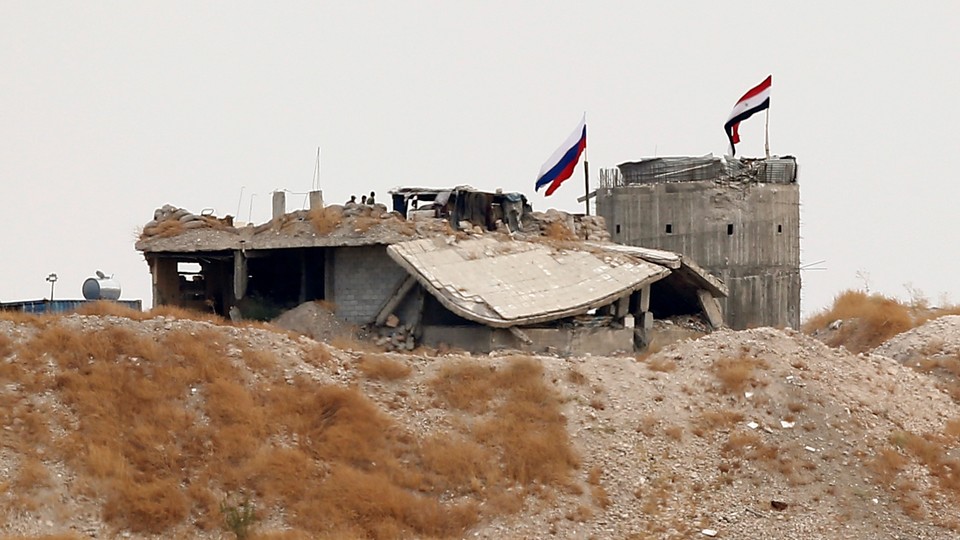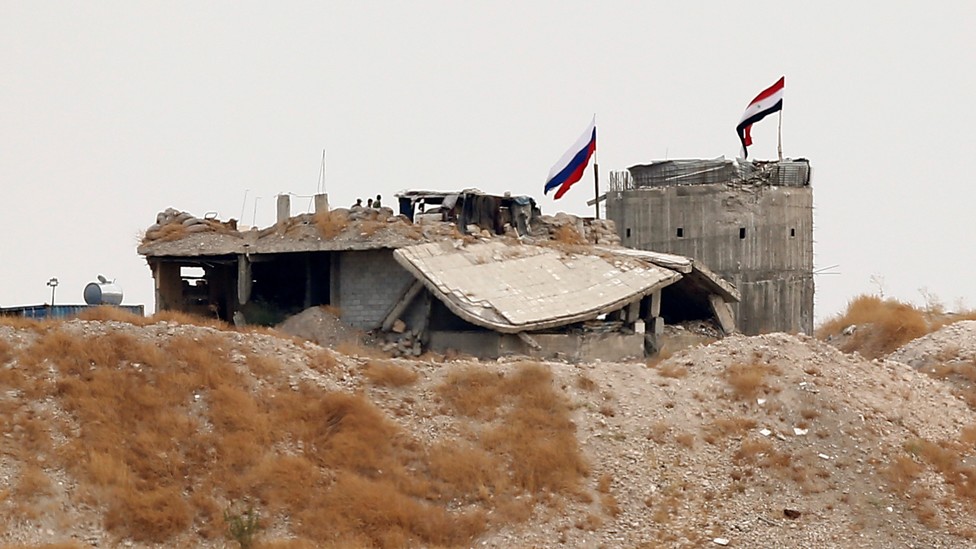 In Syria, aligning with the United States has often proved costly. Throughout eight years of civil war, Syrians who tied their fortunes to the changing whims of American policy have been systematically arrested, killed, and driven from the country.
First it was protesters chanting for democracy—many took encouragement from Barack Obama's statement in the summer of 2011 that the country's dictator, Bashar al-Assad, should step down. But the U.S. government looked on as protesters were killed or disappeared into the regime's teeming prisons. Then, in the summer of 2012, a fledgling insurgency rose to international attention when fighters seized large swaths of Aleppo, Syria's commercial capital and most populous city. Rebel leaders saw promise in meetings with CIA officers to discuss potential U.S. backing. As the war worsened, the CIA did end up working with some rebel factions, but its support was always piecemeal—because while the Obama White House officially backed the opposition, channeling support to rebel territory, the administration was also wary of seeing it win. Meanwhile, Syrian jets pounded opposition-held areas with air strikes.
It was a pattern that would be repeated throughout the conflict. Time after time, whether by Assad or ISIS and other extremists who eventually overtook the rebellion, America largely looked on as its allies were decimated. This continued into Donald Trump's presidency: After he canceled the CIA program in 2017, two of its surviving rebel commanders told me they'd learned the news from the media.
U.S. allies on the nonviolent side of the conflict have suffered a similar fate. Aid workers, activists, journalists, local administrators, medical workers, proponents of human rights and civil society—all these and more received various forms of U.S. training and backing over the years, and all were targeted regularly. ISIS killed U.S.-backed activists in Syria and even across the border in Turkey as Assad and Russia bombed hospitals run by international nonprofits. Support from the United States, it turned out, was not a blanket of security; these Syrians were not afforded special protection as global citizens of the modern Rome. Instead, they had targets on their backs. No one embodied this better than the activist Raed Fares, who was open about the support he received. Fares traveled regularly to Washington to meet with U.S. officials and lawmakers, but even as the threats against him mounted, he always returned to Syria. He was there in the fall of 2018 as Assad's forces closed in on his native province of Idlib, well aware by then that his was a lost cause. "I want to die here," he told me then. He was killed by an assassin's bullet not long after.
Now, with Trump having suddenly decided this month to pull American forces out of northern Syria, unleashing a Turkish invasion and chaotic days of violence and displacement, the U.S.-allied Syrians who remain in the country are having to choose whether to press ahead with their own unlikely causes or escape.
Kurdish-controlled Syria had been the last bastion for those who cast their lot with the American cause. It was run by a U.S.-backed and Kurdish-led militia called the Syrian Democratic Forces, which had cleared the large swath of northeastern Syria from ISIS, and its security was guaranteed by the presence of some 1,000 U.S. troops. As the SDF sought to stabilize the region and set up a form of self-governance, Western aid groups and their local staffs worked on everything from providing humanitarian assistance and rebuilding infrastructure to clearing unexploded roadside bombs and ordnance from air strikes. But Turkey sees the SDF as an enemy, and Trump ordered the U.S. withdrawal so his Turkish counterpart could invade.
I spoke with one Syrian aid worker who has been coordinating humanitarian projects funded by the U.S. State Department. He was torn between wanting to continue his work while at the same wondering whether he should flee to safety. The hasty U.S. departure has forced the SDF to seek a deal with Assad to ward off further Turkish incursions. Regime troops have already returned to some SDF areas and could soon return to more, putting anyone with U.S. ties at risk. This month, Syria's foreign minister accused anyone who had worked with the SDF of committing crimes against the country, vowing, "There won't be any foothold for U.S. agents on Syrian territory." The aid worker, who asked to remain anonymous to protect his safety, said he believed regime forces would come for him and other NGO staff. Still, he told me, his conscience would not allow him to leave—he was responsible for managing humanitarian aid, and there were those who needed help. "But in the end," he said, "there might not be another option."
Shortly after we spoke, Russia and Turkey announced that they would perform joint patrols in the region along the Syrian border that had been the focus of the Turkish incursion. The rest of the territory that has been under SDF control remains in limbo as U.S. troops carry out Trump's withdrawal order. After the announcement, James Jeffrey, the U.S. special representative to Syria, had testy exchanges with Congress in which he insisted that America still retained the ability to influence the outcome in these areas. And Trump has made confusing statements suggesting that some U.S. troops may remain in SDF territory to protect oil facilities. But the most likely scenario in most of those areas—according to Faysal Itani of the Atlantic Council, Nicholas Heras of the Center for a New American Security, and Hassan Hassan of the Center for Global Policy, among other analysts—is that they return to regime control. All said that if this happens, it will likely target U.S.-linked Syrians immediately.
Officials at the NGOs that have been carrying out U.S.-funded work in SDF areas told me they worried about exactly this outcome, and that some Syrian staff had already begun to flee the country. Sasha Ghosh-Siminoff, the director of People Demand Change, a U.S.-funded NGO working in Syria, told me that he has been frantically trying to find escape routes for staff members. While in the past, U.S.-backed Syrians often escaped to Turkey, anyone who has worked in the SDF region might be at risk there too. The best option is to flee to the Kurdish region of Iraq, but Ghosh-Siminoff told me the route is dangerous, with new checkpoints popping up and an unclear picture of which armed groups are now in control of various roads. The unplanned nature in which Trump made his decision made it impossible to draw up extraction plans in advance, he added. "The problem is that no one knows which roads are controlled by whom and how many checkpoints there are and who they will encounter on the road," he said. "We will bribe, cheat, and steal our way out. Leaving our local staff behind can't be an option."
An official with the U.S.-based aid group Blumont, which does extensive work on U.S. government contracts in Syria, estimated that there are more than 5,000 aid workers in northeastern Syria. "Staff are absolutely feeling very afraid and very much in danger," this person told me, speaking on the condition of anonymity because of security concerns. Another official working with an international NGO, who spoke on the condition of anonymity for similar reasons, said its staff had burned any documents with their colleagues' personal information to avoid having it fall into regime hands, fearing they will be targeted for retribution.
The Blumont official added that a refugee camp in Iraqi Kurdistan is hosting thousands of new arrivals from SDF territory. Among the new residents, she said, were aid workers from various international organizations: "These are staff who have been working for [internally displaced people] for years, and now they're in a camp themselves."