Ukraine Fears Becoming a Partisan American Political Issue
Foreign policy in the United States was historically seen as having a bipartisan consensus on many of the most significant issues.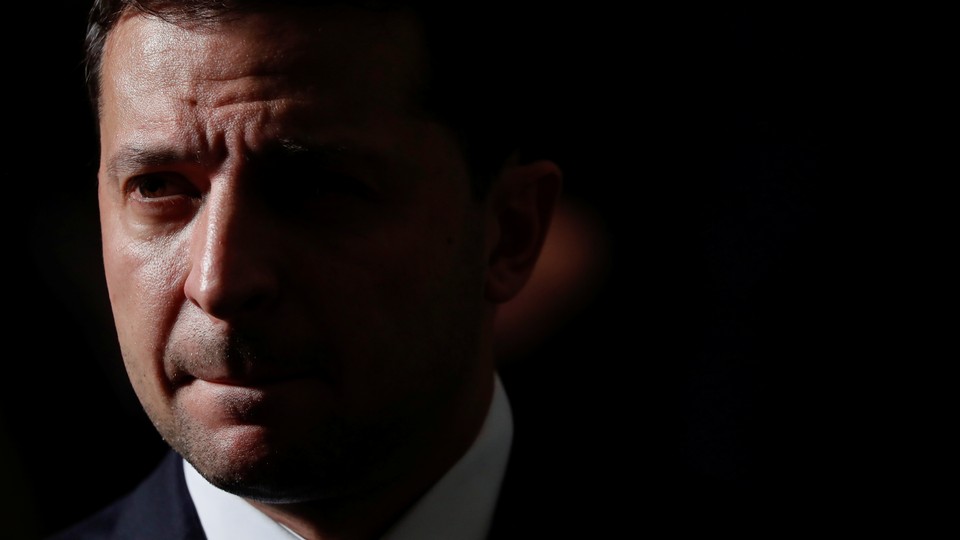 When Donald Trump became president in 2017, Ukrainian leaders were much calmer about the change than their counterparts in many other parts of the world. With a war raging in the east of the country, Ukrainians were less concerned with the values of the new president than with ensuring that American aid to their country continued to flow. Trump was erratic, but there was a Republican majority in Congress; the common wisdom was that Republicans were hawks on Russia, meaning they would support Ukraine. Aid, then, would stay the same or perhaps even increase; it simply wasn't a partisan issue.
In the short term, they were right. Despite an embarrassing meeting between Trump and Russian President Vladimir Putin in Helsinki, support from the United States for Ukraine increased. Most important to Ukraine was the purchase of 210 Javelin anti-tank missiles and 37 launchers, a package that cost $47 million. The Obama administration had refused to provide lethal aid for fear of escalating the eastern conflict, but the Trump administration had no such concerns.
Fast-forward to today: Trump has already withheld U.S. military aid to Ukraine once, and a summary of a call between the president and Ukrainian President Volodymyr Zelensky suggests he did so to put pressure on Ukraine to open an investigation connected to the business dealings of U.S. presidential candidate Joe Biden's son Hunter. Even just the announcement of such an investigation would be politically useful for Trump. But while that hold ended in mid-September, it has already hurt Ukraine. "Trump's decision to suspend … military aid weakened our position in negotiations with Putin," former Ukrainian Foreign Minister Pavlo Klimkin, who left office in August, told The Atlantic in reference to talks among Russia, Ukraine, France, and Germany, a system of deliberations called the Normandy format.
There is, however, an even worse potential consequence for Ukraine: becoming a partisan political issue in Washington. And Zelensky is acutely aware of that possibility. "I'm sorry, but I don't want to be involved" in American electoral politics, the Ukrainian leader told reporters on the sidelines of the United Nations General Assembly, in New York, this week.
Ukraine is the most explosive example of a country that has found itself thrust into Washington's rolling political soap opera, but it is not alone. Though foreign policy in the United States was historically seen as having a bipartisan consensus on many of the most significant issues, that has fractured in past decades, with American policy on several international areas shifting depending on the party in power, a change that appears to be accelerating in the Trump era. Under Benjamin Netanyahu's leadership, Israel has become a far more partisan foreign-policy issue in the United States, with the Israeli leader largely allying himself with Republican representatives during Barack Obama's presidency, and with Trump in recent years. Even the United Kingdom, perhaps the United States' closest major ally under both Democratic and Republican administrations, now finds itself caught in the American partisan divide.
As Britain has grappled with the political chaos unleashed by the 2016 referendum in which it voted to leave the European Union, the debate over the country's future relationship with the bloc has largely hinged on a single issue—a legal mechanism known as the backstop. The mechanism, part of a negotiated withdrawal agreement between London and Brussels, would allow for the continued free flow of goods across the land border between Northern Ireland, which is part of the U.K., and the Republic of Ireland, which will remain an EU member state, after Britain leaves the EU. But while the EU and Ireland believe the backstop is necessary to ensure peace in Northern Ireland, which for decades was the site of widespread sectarian violence, the clause has prompted anger among pro-Brexit politicians who contend it would bind Britain to the EU after its withdrawal. Those Brexit supporters have argued that if no alternative is found, the country should leave the EU without a deal, a scenario critics (and the British government) say would be enormously disruptive.
In Washington, that debate is playing out along partisan lines. In April, House Speaker Nancy Pelosi visited the U.K. and Ireland with a message warning that Britain should not expect a future free-trade deal with the U.S. if its exit from the EU undermined the peace settlement in Northern Ireland. Just five months later, however, Vice President Mike Pence arrived in Ireland with a starkly different message, urging Dublin to "negotiate in good faith" with the U.K. and respect British sovereignty. Pence's remarks came after 45 senators—all Republican—signed a letter pledging to work toward a free-trade deal with the U.K., "whatever course Britain takes."
Amanda Sloat, a senior fellow at the Brookings Institution, says the special relationship between the U.S. and U.K. has long been "an article of bipartisan faith," but warns that Brexit is now testing this. "Britain's Brexit debates, particularly the prospect of a bilateral trade agreement and its effect on Northern Ireland, have contributed to a partisan divide in Washington," she says.
The sudden rift over any prospective trade deal, and the relationship more broadly, with the U.K. after Brexit has complicated the role of British diplomats seeking to protect the relationship with the U.S.—a job made even harder by the resignation of Kim Darroch, the British ambassador to Washington, after cables in which he was critical of the Trump administration were leaked in July.
The British, Ukrainian, and Israeli experiences are symptomatic of a wider dilemma for governments regarding their dealings with the United States throughout the Trump presidency: To what extent should the president and his agenda be embraced for immediate diplomatic benefit, at the risk of alienating Democrats, who may soon replace him in the White House or control Congress?
Following the appointment of Boris Johnson as prime minister, the relationship between London and Washington has steadied. Ukraine has had no such luck.
When the story of a whistle-blower in the U.S. first broke, it received little attention in Ukraine. Though the country looks to the U.S. for support, the political workings of Washington are a far-away mystery to most Ukrainians. Even the trial of the Trump-campaign chairman Paul Manafort, who long operated in Ukraine working for former Ukrainian President Viktor Yanukovych, received comparatively little coverage because of the large number of high-level officials from the Yanukovych government who have fled to Russia to avoid justice. But that view of the scandal over the Trump-Zelensky phone call changed after the announcement of an impeachment investigation.
Now Ukraine looks as if it will be at the center of the 2020 presidential election, and this will not be an issue Zelensky can just walk away from, despite his best efforts so far. Throughout their conversation, Trump repeatedly pressed Zelensky to investigate "corruption" in Ukraine, a problem he had previously shown little interest in, and an apparent euphemism for investigating Biden's son.
The situation creates a difficult balancing act for Ukraine, with Trump pushing for an investigation of the younger Biden, and Democrats likely to request cooperation over the July phone call, which now forms the basis of their impeachment investigation. Even if Zelensky's team wants to do something to appease Trump, it cannot risk alienating Democrats in case they win the presidential election. Seeming to favor either side risks turning Ukraine into a partisan issue in which it is seen to be an ally of one side or the other.
"This is an issue driving a wedge in solidarity" over Ukraine, Klimkin said. "My advice is, tackle politically what should be tackled politically, and tackle legally what should be tackled legally." In effect, that could mean acquiescing to Trump's request for an investigation into Biden's son, but not interfering in the result. But that strategy carries hefty risks—an investigation, even without a conclusion, could influence next year's U.S. presidential election.
There are implications beyond the U.S.-Ukraine relationship, too. Derek Chollet, the executive vice president at the German Marshall Fund of the United States and a former U.S. assistant secretary of defense for international-security affairs, told The Atlantic that Trump's behavior has not only put Zelensky in a bind; it has hampered the Ukrainian leader's ability to deal with Russia. "Part of the outrage is that there has been such bipartisan support for particularly the military assistance that we are giving Ukraine," Chollet said. "One of the reasons it has received such bipartisan support is to assist them in trying to ward off attempts by Russia to prosecute a war against them. So by withholding the assistance or at least using it as a tool to try to influence Ukraine for his own domestic politics, he's also making Russia happy."
During a press conference with Zelensky, Trump's tone was positive when it came to discussing Ukraine, but that did little to assuage concerns in the country that his attitude could change quickly if he felt he wasn't getting what he wanted. "Given how emotional Trump is," the Ukrainian journalist Ivan Verstyuk wrote on Twitter, "Ukraine might become a hostage of his hostility towards a country that brought him problems."
---
Mike Giglio contributed reporting.