Robert Mugabe's Journey From Freedom Fighter to Oppressor
The Zimbabwean-liberation leader showed how, despite leading a struggle against colonial rule, he was ill-equipped for the challenges of government.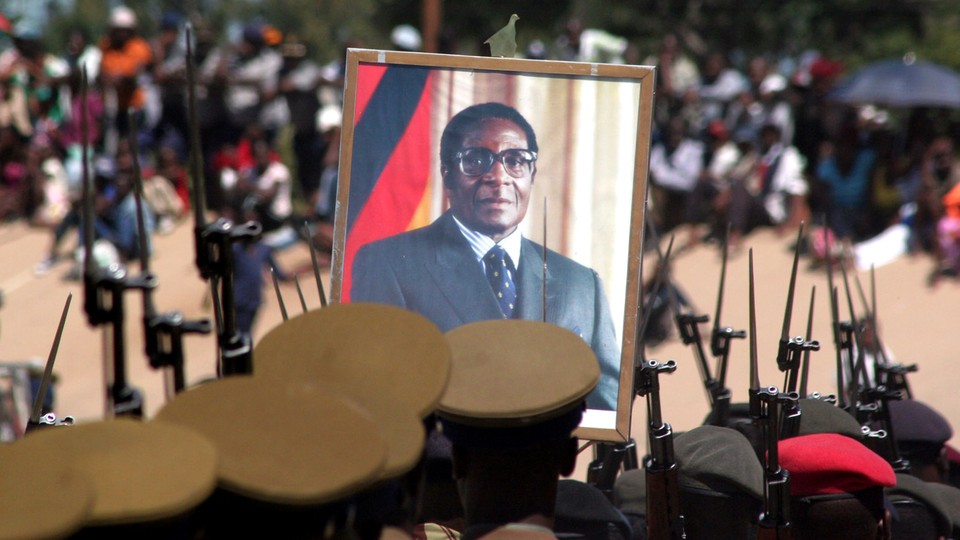 During a trip to Harare a few years ago, I met with local officials and businesspeople, chatting with them in their offices, in hotel lobbies, and in cafés. In each place, a large framed photograph of Robert Mugabe—regal, bespectacled, sporting his trademark faux-Hitlerian mini-moustache—beamed down on me. Such portraits are common across Africa, showing respect for the leader while implicitly intimidating the public in an Orwellian Big Brother is watching you sort of way.
On a more recent trip, well after Mugabe's deposal as Zimbabwe's president, I noticed that while some of these places had replaced his portrait with that of his successor, Emmerson Mnangagwa, many had left Mugabe's picture up, either on its own or alongside Mnangagwa's.
Why was Mugabe's image—of a leader who had clearly outstayed his welcome—still up on a wall? When does the sheen of being an anti-colonial hero finally fade? And when does a freedom fighter's record for governing a modern country take over?
Mugabe—who died today, at age 95—ruled Zimbabwe for 37 years. Beginning with its negotiated independence from Britain in 1980 through to his ignominious ouster in a non-coup coup in November 2017, he was the only leader his country had ever known. Yet though he was something of a pariah when he was removed, his leadership began in a markedly different fashion.
This hero of the liberation struggle against white minority rule in what was then known as Rhodesia, Mugabe spent more than a decade in prison for his efforts. He was once lauded for his reconciliatory rhetoric, for his stewardship of a vibrant economy that was dubbed the breadbasket of southern Africa, and for promoting excellent education and health-care policies that were the envy of the continent.
The shine soon began to dull, though. For one thing, Mugabe was ruthless against his rivals. From 1983 to '87, the Gukurahundi massacres against the Ndebele ethnic group left as many as 20,000 people dead, attacks that took place when Mnangagwa, who has the ominous nickname "The Crocodile," was a security minister. And over the decades, the Zimbabwe African National Union–Patriotic Front (ZANU–PF), the movement he founded, was itself subject to repeated purges when various factions threatened Mugabe's rule.
Then there were his disastrous land reforms. In the late 1990s, trade unions gave birth to a new political force, the Movement for Democratic Change (MDC), and the new party soon mobilized to hand Mugabe a stinging defeat in a referendum on a new constitution. That year, under pressure from so-called war veterans—liberation fighters who had demanded land compensation in the aftermath of independence—Mugabe incited a wave of violent invasions of white-owned commercial farms.
The move alienated the West, though, and led to the collapse of Zimbabwe's once-rich agricultural sector. Millions fled the country. Sanctions were imposed. The economy nose-dived and inflation reached ludicrous levels last seen in Weimar Germany, during the Great Depression, and in the breakup of Yugoslavia; at its peak, in November 2008, inflation in Zimbabwe was estimated at 79.6 billion percent. The following year, Zimbabwe stopped printing its own money, and began using currencies from other countries.
By all accounts, ZANU–PF should have lost power in several elections beginning in the 2000s. But the party, and its leader, clung to power. In 2008, the MDC leader Morgan Tsvangirai won more votes than Mugabe in the first round of a presidential election, but was deemed not to have gained an outright majority, forcing a runoff. The level of violence and intimidation was so dire that Tsvangirai pulled out of the second round entirely. South Africa, the regional behemoth, managed to cobble together a government of national unity between ZANU–PF and the MDC, a coalition that governed the country until 2013. For a moment, Mugabe looked vulnerable, yet in elections that year—themselves tainted by allegations of irregularities—ZANU–PF trounced the opposition, and Mugabe stayed on.
Well into his 90s, Mugabe had rejected all attempts at succession planning. He had mastered Machiavellian maneuvers to balance warring factions within ZANU–PF, favoring one side and then the other, doling out patronage and overseeing the increased militarization of state institutions. He would not name a successor. Most observers were sure he would, eventually, die in office.
It was only when he fired then–Vice President Mnangagwa in November 2017, and Mugabe's wife, Grace, looked to be positioning herself to take power, that tanks rolled onto the dusty, potholed streets of Harare. The state television station was commandeered by men in camouflage gear, and the Mugabes were placed under house arrest. It looked and smelled like a coup, but the military and ZANU–PF went to great pains not to call it one. They claimed they were neutralizing criminals surrounding the president. Mugabe was eventually forced to resign when it became clear his party was ready to impeach him in Parliament. Mnangagwa—back from a short exile in neighboring Mozambique—was sworn in as president.
And just like that, Mugabe, who had loomed so large for so long, faded quickly into oblivion. One of his final acts of defiance came on the eve of the July 2018 elections, when he called for Zimbabweans not to vote for ZANU–PF and Mnangagwa, complaining about the way they had treated him. This utterance may have had the opposite effect he intended, though, serving as a kiss of death for the MDC and its youthful leader, Nelson Chamisa.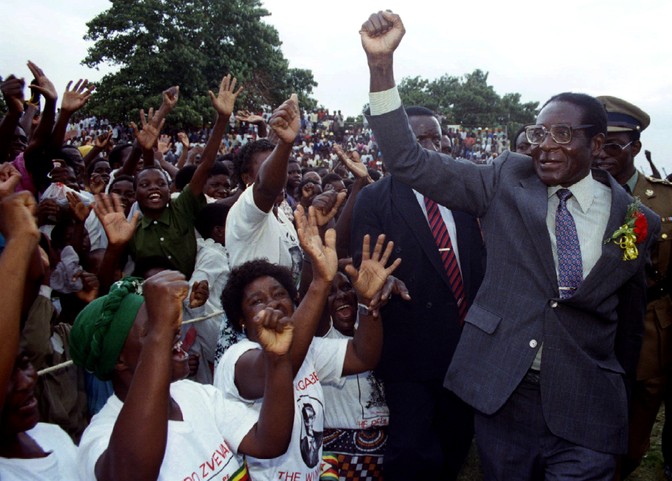 Why did Mugabe, like many other liberation leaders, stay on so long? A combination of factors were at play: fear of prosecution for crime and corruption, the enormous personal wealth and pomp he stood to lose, and the simple fact that he was able to manipulate the power of incumbency to hold on to office. Yet there were other issues, too. ZANU–PF was, for a long time, well past its sell-by date, yet its opponents were weak and divided, split apart by their own tensions.
Mugabe is not alone in this. Many other African leaders fought liberation wars to throw off the yoke of white colonial rule, but then struggled to develop their countries and stayed in power too long. There are some pretty faded presidential portraits around the continent.
Angola's President José Eduardo dos Santos was in power from 1979 until 2017, when he finally stood aside. Zambia's Kenneth Kaunda ruled for nearly three decades until the introduction of multiparty politics swept him from power. Colonel Muammar Qaddafi ruled Libya from 1969 until he was murdered during the Arab Spring in 2011. Sudan's Omar al-Bashir held sway for almost 30 years until popular protests ousted him this year. Cameroon's Paul Biya has been in power since 1982. Equatorial Guinea's Teodoro Obiang Nguema Mbasogo has racked up 40 years. Six of the world's 10 longest-serving leaders today are African. Many of their states are among the poorest and most poorly governed in the world.
Even more democratic countries, such as Kenya, South Africa, and Zimbabwe, illustrate the factors that complicate the rise of viable alternative parties to challenge liberation movements: Messages such as upholding constitutionalism, economic proficiency, and democratic practices do not resonate as much as fighting for a country's freedom. Yet these remain elusive building blocks in Africa, a continent hobbled by strongmen and one-party politics long after decolonization.
The legitimacy gleaned by leaders in anti-colonial struggles eventually fades. In the case of Zimbabwe, the rights of citizens were abrogated, economic growth was slow, and inequalities were perpetuated. National institutions were captured to serve the interests of the elites and not the people. Mugabe, and many of his fellow freedom fighters, may have been adept at battling colonial forces, yet certainly he was unable to adjust to a world where transparency, honesty, and accountability were demanded of him.
Mugabe managed to hang on, capitalizing on the fact that Zimbabweans lacked other options. Eventually though, enough was enough—no one stays in power forever, one way or another. His portrait is being replaced.