The Anger of Hong Kong's Youth
Students are once again at the heart of the city's protests. They're not going anywhere.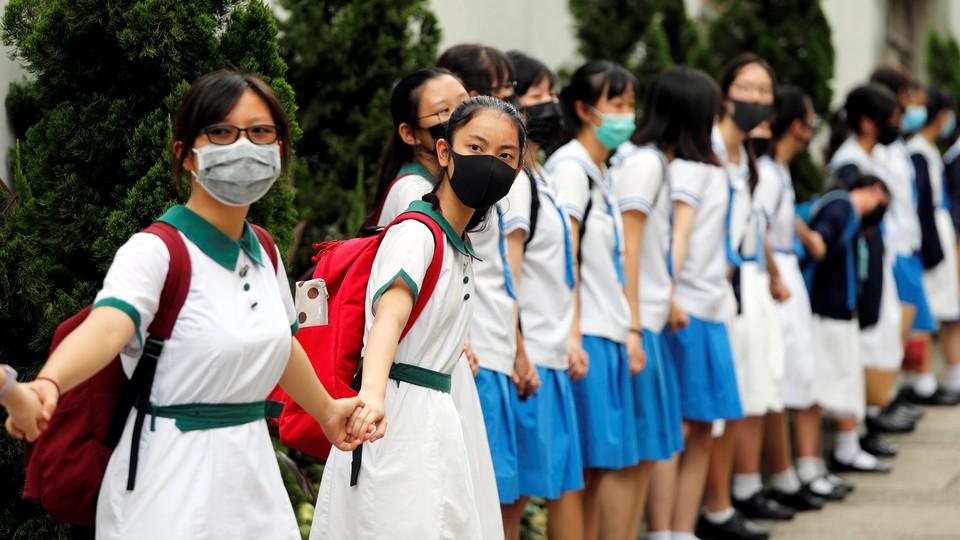 HONG KONG—Amid the rainbow of stickers plastered on Joey Siu's laptop, there are a few bold proclamations of her feelings on current events. Hong Kong is not China, one sticker reads. Another references the ancient Code of Hammurabi, An eye for an eye, a tooth for a tooth. HK police murder civilians.
Siu is the acting external vice president of the student union at the City University of Hong Kong, and were it not for the political crisis here, her role would be, even by her own admission, mundane—perhaps coordinating on-campus blood drives or tangling with the administration over plans to change the university's logo.
Over the summer, however, students have been central to the demonstrations that have gripped Hong Kong. The tumult has once again put campuses near the forefront of this city's protest movement—a position they have filled multiple times in decades past—and provided momentum for activism in secondary schools and universities, emboldening a new crop of student leaders such as Siu who may well follow in the footsteps of their predecessors and shape higher-level politics, too.
Hong Kong's crisis began as an outpouring of anger and frustration triggered by a bill allowing extraditions to mainland China, which operates a separate and opaque judicial system. Carrie Lam, Hong Kong's chief executive, withdrew the bill earlier this month, meeting one, and arguably the easiest, of five demands laid down by protesters, which also include implementing universal suffrage. She and the Chinese leadership in Beijing appeared to have been betting that by addressing the initial cause of the protests, and doing so at a time when students return to school and are in theory unable to take part in some rallies, they would be able to drain the momentum from the demonstrations, which have taken place every weekend. A summer holiday of civil disobedience would, they believed, fizzle to an end.
Yet this has been just the latest in a series of misreadings of public sentiment. "It's a fantasy," Alvin Yeung, a pro-democracy lawmaker, told me this week on the 100th day of demonstrations. Government officials who believe that "are extremely out of touch," he added. The protests have dramatically expanded in scope and ferocity since they began in the spring, with frequent clashes between demonstrators and police. More than 1,400 people have been arrested since June. Lam's decision, which also included beefing up the city's police oversight board, was met with hostility. The slogan "five demands, not one less" lit up the messaging apps and forums where rallies are organized. Demonstrations have continued unabated since Lam's concessions with even more planned as October 1, the 70th anniversary of the founding of the People's Republic of China, draws near.
"Students are very angry," Siu told me, as we sat in a coffee shop earlier this month. "Everybody in Hong Kong is very angry." We met a day before a mass rally to mark the start of a two-week class boycott across universities in Hong Kong. She spoke with sustained intensity for nearly an hour, her phone untouched, a notable achievement as a protest at Hong Kong's airport was growing and updates on demonstrations ping across messaging apps almost constantly. Dressed entirely in black, the uniform of this summer's protests, the 20-year-old had pinned a violet-colored ribbon to her T-shirt in a show of solidarity with a female protester who alleged that she was put through a humiliating strip search by police after being arrested at a demonstration. Police, the focus of much of the protesters' ire in recent weeks, have denied any wrongdoing in the incident and have rejected accusations of inappropriate use of force.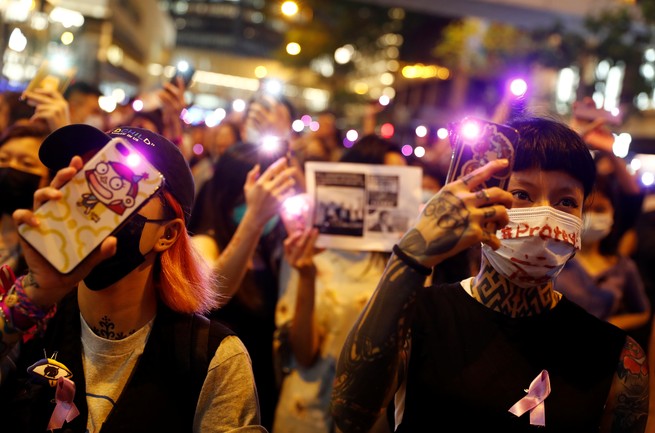 Siu first took part in Hong Kong's protests in 2014, when the Umbrella Movement called for comprehensive universal suffrage here. She watched as the government refused to budge, then set about exacting a measure of revenge—relentlessly pursuing protest leaders through the courts and disqualifying those who stood in elections. Her beliefs, she explained, shifted in the years that followed from more moderate positions to advocating for Hong Kong's independence from China. As her political views evolved, so did her thoughts on protest methods. "I realized that peaceful demonstrations and protests might not be the way out," she said.
Whereas the Umbrella Movement was characterized by a largely peaceful occupation of thoroughfares in Hong Kong, these latest rallies have been more aggressive, on the part of both police and protesters, including students. Siu and the City University students' union help connect arrested students with lawyers, and the night before our meeting had been particularly busy. Scores of people were arrested when police stormed a subway station before charging into a train car, beating commuters and protesters seemingly at random. Among those grabbed by police was the president of another university's student union.
Student unions have been a part of Hong Kong's political activism for nearly as long as the territory has had universities. The University of Hong Kong was founded in 1911, and its student union was established a year later. There are now 22 universities and colleges here, with just over 324,000 students enrolled. Since their inception, these unions, and students more broadly, have often taken a leading role in activism, though their enthusiasm has ebbed and flowed with the intensity of Hong Kong's political issues.
Following deadly riots in 1966 and 1967, many in Hong Kong believed that demonstrations could "potentially threaten the stability of the colony," leaving an opening for students, Stephan Ortmann, a professor at City University's Department of Asian and International Studies, wrote in a 2012 piece examining the history of student activism in Hong Kong. "The willingness of the students to stage demonstrations in subsequent years, therefore, positioned them as vanguards of protest," Ortmann wrote. In the early 1970s, however, many were pushing for Hong Kong's reunification with China, he noted.
The 1989 Tiananmen Square protests, in which students played a major role, brought about another burst of activism, with student leaders from Hong Kong traveling to the mainland in a show of solidarity. After the June 4 massacre, though, there was "disenfranchisement and even anger" among many Hong Kong students toward Beijing, Ortmann wrote. "While they had been enthusiastic about China's transformation before 1989, the students now became worried about the future of democracy both in China and in Hong Kong." (Though the Tiananmen crackdown is marked annually with a candlelight vigil here, university student unions have boycotted the event in recent years, a decision hinged on a desire to focus on Hong Kong's issues and a diminishing sense of Chinese identity linking younger people to the mainland.)
Students again played a role in 2003 rallies that eventually forced the then–chief executive to step down. More than a decade later, during the Umbrella Movement protests, representatives from the Hong Kong Federation of Students led discussions with the government in a futile attempt to end the protests. The memory of this meeting continues to taint current students' trust in the authorities and is mentioned frequently by Siu and others as one reason for rejecting a similar offer presented by Lam this summer.
The federation struggled after the Umbrella Movement protests, though. "After what many saw as the failure of the 2014 protests, there was no clear social cause that galvanized students, who mostly returned to campus," Ortmann told me. Annual marches attracted fewer and fewer people, he added, until this year.
Siu filled a vacant spot in the student union shortly before the tumult of the anti-extradition-bill movement spilled into Hong Kong's streets. Her parents were unaware of her position until they saw her on TV during a press conference in June, prompting an angry text message. "'Oh my God, my daughter is getting involved as a student leader,'" Siu said, pantomiming their concern. The scolding didn't work.
A day after we spoke, Siu stood on a stage at the Chinese University of Hong Kong. A typhoon rolled across Hong Kong that morning, drenching the campus, and lingering gusts of wind whipped up black banners hanging from academic buildings demanding freedom for Hong Kong. Throngs of students made their way up slippery streets toward the rally. Many stopped briefly to take photos of a temporary addition to the campus, a statue of a female protester in goggles, a gas mask, and hard hat charging forward, her right hand clutching an umbrella, her left raising a black flag emblazoned with a revolutionary slogan.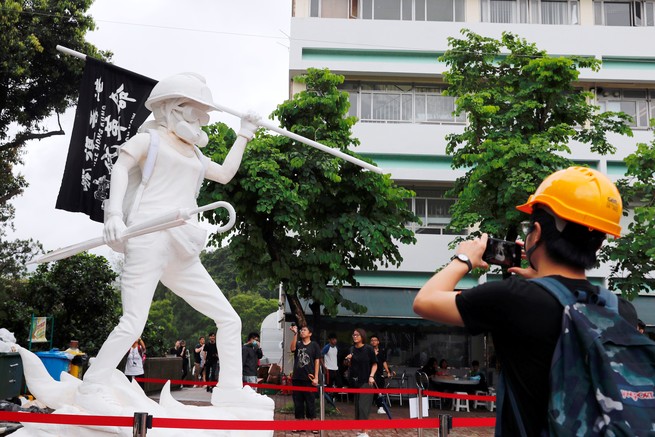 Video boards were erected so people at the back of the crowd could see what was happening onstage. Some students watched a live-stream on their mobile phones, sharing headphones. The audio system struggled to project her words, but Siu punctuated the speech with a popular rallying cry: "Liberate Hong Kong, revolution of our times." Some 30,000 students chanted the phrase back in response, their voices echoing through the hills around the campus.
Students acknowledge that they are in a fortuitous position to protest. They are largely unencumbered by other obligations such as jobs or family responsibilities. Students, and youth more broadly, also have their own "political aura," says Wong Ching Fung, who served as the president of the Chinese University's student union from 2015 to 2016. "When they speak about something, citizens and society think they are more pure, more true."
One of the only hitches in the hours-long rally was when a student from mainland China stormed the stage; the student was quickly removed. Relations between students from the mainland and Hong Kong have been tense this summer, with rival camps engaging in heated arguments and ripping down each other's posters. One particularly telling scene came at City University, where a mainland student was caught toppling a pro-democracy statue before being subdued by campus security.
As the event drew to a close, Jacky So, the current president of the Chinese University student union, answered questions from a mob of reporters. So ditched plans for an internship and part-time summer job when protests began to gather momentum. The class boycott is not an education boycott, he explained. There are public lectures and other instructional events on campus for students to attend—"We won't stop learning," he told me. Secondary school students have held their own demonstrations, making human chains around their schools in acts of disobedience that have at times been tinged with teenage awkwardness.
Nearby, Keith Fong, the president of Hong Kong Baptist University's student union, sat with other union members hurriedly eating from styrofoam takeout containers. Fong, a first-year student in European studies, was arrested this summer for purchasing a laser pointer. The green and purple lights have become a favored tool of protesters, who shine them at police officers to great annoyance.
When he was elected president in March, Fong was demoralized by a lack of enthusiasm from his peers, something he attributes to a lull in activism after 2014. "I was so upset. I thought my schoolmates lacked values and didn't pay attention," he told me. Now students have rediscovered a "spirit of sacrifice," he said. He joked that had he known how busy he would have been when he was elected this spring, he would have turned down the position heading the union. (Fong was arrested again a few hours after we spoke, after police found him in possession of a wallet he found at the rally and was returning to its owner. He was eventually released, and his story is not unusual: Davin Kenneth Wong, who was the acting president of the Hong Kong University students' union for this year, has said that he had fled the city, fearing for his safety and that of his family, after he was beaten last month by a man with rattan sticks. In his resignation letter from the union, Wong noted that his predecessor was recently arrested, underlining the increased threat faced by student political leaders here. They have been "detained, followed, beaten and threatened," Sunny Cheung, a member of the Hong Kong University students' union, told a congressional commission this week.)
At the rally, I met another student from Hong Kong Baptist University, who asked that he be identified only by his last name, So. So came to the event with his friends, who perched themselves on a building staircase to get a better view, and spoke with pessimism and macabre humor about the protests. "Even a pig will squeal and yell before it is killed," he said.
When I asked him if he thought that demonstrations would quiet down with school in session, he laughed. "Of course not," he replied. Pointing out toward the crowd, he told me the government "said this would all end a few months ago."