Hong Kong's Protesters Are Outfoxing Beijing Worldwide
The city's protest movement has unofficial representatives, crowdfunded advertising, viral videos, and much else that has caught China off guard.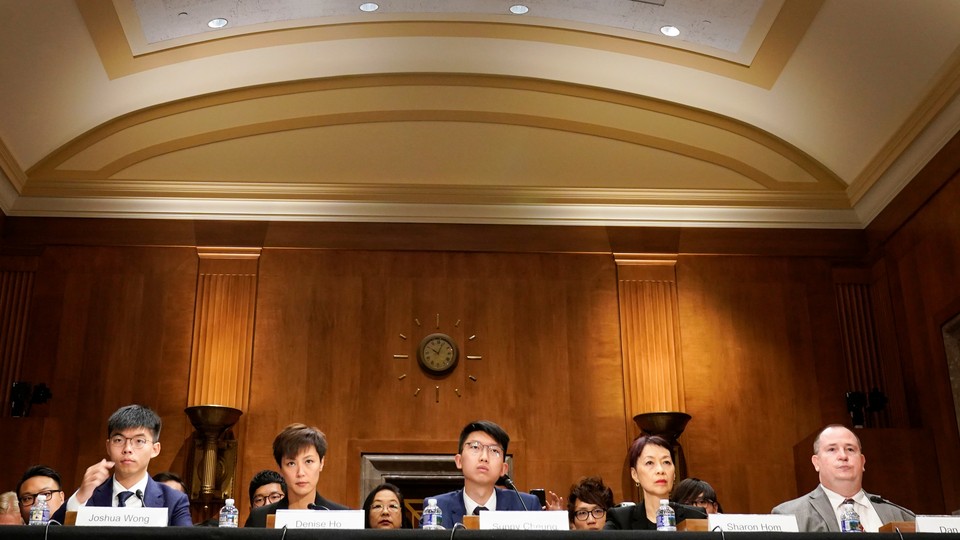 TAIPEI—Months of protests in Hong Kong have pitted residents of all ages and backgrounds against their police force, local government, and the Chinese Communist Party, and there is no question of who is less powerful.
Yet in a parallel battle over international public opinion, it is Beijing and its minions that are outgunned. This weekend that mismatch was once again highlighted by the thousands of people in cities across Australia, Asia, Europe and North America coming out in support of Hong Kong, but also in a much broader sense, against the CCP. Here in Taipei alone, thousands of Taiwanese and Hong Kongers marched through the streets on a rainy Sunday, told by Denise Ho, one of the most visible faces among Hong Kong's unofficial diplomatic corps, that her home and theirs shared the same fight against Beijing.
These latest worldwide, pro–Hong Kong rallies are the most recent iteration of what supporters of repressed groups in Xinjiang and Tibet, as well as those who back Taiwan's sovereignty, have all struggled to do: Mobilize large communities internationally to denounce the Chinese Communist Party.
The relative success of Hong Kong's protest movement is all the more significant because it's occurring alongside Beijing expanding its propaganda efforts globally, as state-owned outlets trumpet China's vision of the world in multiple languages. This global campaign is the biggest challenge to China's rulers by the territory since 1989, when, still a British colony, its residents took part in demonstrations in solidarity with protesters in Tiananmen Square, while also providing financial and material support.
From Oslo to Osaka, Congress to the United Nations, Taiwan to Twitter, Hong Kongers have taken their DIY approach to protest to a global audience. Celebrity supporters testify in high-profile settings; highly targeted, crowdfunded media campaigns aim to keep the issue in the spotlight; and viral videos, catchy slogans, and even a movement anthem and flag help magnify the message on social media.
On September 17, a panel of witnesses including Ho and pro-democracy campaigner Joshua Wong testified before the Congressional-Executive Commission on China in Washington, the latest in a string of public appearances for the two activists around the globe. Ho has been especially active, shuttling back and forth between Hong Kong and elsewhere to promote her message of resisting Beijing to receptive crowds, especially in Taiwan.
Earlier this month in Taipei, Ho spoke and performed at the Asia installment of the Oslo Freedom Forum. Only days before, she had been in Melbourne, where she appeared in public with the Chinese dissident artist Badiucao, designer of the unofficial Hong Kong protest movement flag. In Taipei, Ho took the stage to a screaming crowd of hundreds of admirers, their phones raised to record her appeal to democratic Taiwan, whose way of life is also under threat from China. Describing the struggle of Hong Kongers, who cannot rely on their own government to counter China's narrative, Ho struck a pragmatic tone. "When the system fails us," she said to the attentive crowd, "we take things into our own hands."
Wong, who rose to international fame as one of the leaders of the pro-democracy, Occupy-style Umbrella Movement of 2014, has also been busy on the diplomatic front. Prior to his congressional testimony, he stopped in Germany, urging its government to cease exporting crowd-control weapons to Hong Kong and to put human rights in Hong Kong on the agenda in Berlin's trade talks with Beijing. (China's government rebuked Germany after its foreign minister, Heiko Maas, met with Wong on September 10.)
Wong's German visit came after he and fellow activists visited Taiwan, where he implored the ruling party to pass an asylum law that would make it easier for Hong Kongers to seek refuge here, territory the CCP claims despite having never controlled it.
Although neither Wong nor Ho has been appointed by the current protest movement to represent it abroad—a remarkable feat of the demonstrations is that they have been largely leaderless—the general consensus in Hong Kong seems to be that they are well-known names and faces who offer the advantage of signal-boosting.
While in Taipei mid-month, Ho told me she thought of herself as a mediator or spokesperson for the movement at large. "I'm not seeing myself as a leader of any sort," she said. "I am, on the other hand, one of the participants of this movement: I have been on the streets with these people. I have been teargassed." She added that, as a "recognizable face," she saw herself "as a conduit that can bring stories of these people to the world."
In July, Ho scored one of the first public-relations victories abroad for Hong Kong's protesters when, speaking at the United Nations in Geneva, she described growing police brutality against Hong Kongers and called on the UN to remove China from its Human Rights Council. During her remarks, she was interrupted twice by China's representative to the body on procedural grounds. More recently, while in Washington, Ho and Wong were joined by other activists and congressional leaders for the launch of the Hong Kong Democracy Council, a D.C.-based lobbying group for the movement.
Ho and Wong are far from the only diplomats working on behalf of the movement. In June, a crowdfunding drive raised hundreds of thousands of dollars from more than 20,000 donors, paying for full-page ads in more than 10 major international newspapers, urging the G20 summit in Osaka to raise Hong Kong's plight. How much impact the campaign had is unclear, but Japanese Prime Minister Shinzo Abe did bring up Hong Kong's protests with the Chinese leader Xi Jinping when the two met on the sidelines of the summit. Another crowdfunded ad campaign is under way, this time targeting papers on October 1 to mark the 70th anniversary of the founding of the People's Republic of China, a particularly sensitive date for the CCP. The campaign is not the only bit of rain to fall on the party's parade—Hong Kong's government announced on September 18 that it had canceled the fireworks show planned for the anniversary.
Unlike Xinjiang or Tibet, both of which the Communists forcibly took control of in the 1950s, Hong Kong was handed over peacefully by the British in 1997, following 150 years of colonial rule. At the heart of the agreement between London and Beijing was an arrangement whereby Hong Kong would maintain its separate political and economic system and enjoy "a high degree of autonomy," with Beijing handling national security and diplomacy.
This "one country, two systems" arrangement has allowed Hong Kong to have a free internet, for example, whereas Beijing heavily restricts the web within China and even went so far as to either partially or completely shut down the internet in Xinjiang—the size of western Europe—for 10 months.
Today, many Hong Kongers worry that their internet access may go the way of China's, adding a sense of urgency to their attempts to use it to organize themselves and to reach the outside world in order to spread their message and counter Beijing's narrative. Twitter, in particular, has become an important virtual battleground for foreign hearts and minds.
The Chinese authorities appear to agree. On September 3, the Australian Strategic Policy Institute published an investigation into the methods used in a disinformation campaign aimed at Hong Kong that Twitter has attributed to Beijing, a first. "Efforts by the Chinese government to leverage Twitter to redirect and recast political developments in Hong Kong—both in terms of covert information operations and through its state media—highlight just how powerful Twitter is as a tool of statecraft," Danielle Cave, deputy director of the ASPI's International Cyber Policy Centre, told me.
Hong Kong's protesters have also recognized the global influence of Twitter in the information domain and are themselves trying to use Twitter diplomacy to share breaking developments and to connect with journalists, Cave noted. This includes providing images and videos of events on the ground, often in real time, and generating new hashtags, including ones that highlight violent incidents and police brutality. (The protesters' tool of choice for coordinating rallies has thus far been the encrypted messaging app Telegram, but that can't match Twitter's global reach or public-broadcasting capabilities, nor does it have the ear of global stakeholders that the protesters seek to engage.)
Hong Kongers have, so far, proved a nimble David to China's clumsy Goliath. But the CCP does occasionally score points. Donald Trump, for example, parroted the Chinese government's line on the Hong Kong protests when he called them "riots" in early August, a characterization that many viewed as a win for Beijing.
In other incidents, however, the tendency of Chinese nationalism to backfire on the foreign stage has hampered the Communist cause. Among these incidents are violent Chinese-student reactions to pro–Hong Kong demonstrations at Australian universities, with the Chinese embassy expressing support for the students' actions on social media afterward. Debate in Australia regarding the ability of China to control public speech there has since intensified. Elsewhere, Montreal's Pride parade excluded Hong Kong participants after receiving threats from "pro-Communists." At the parade, many onlookers were aghast when, during the moment of silence for those who have died from HIV/AIDS, Chinese participants sang their national anthem.
"The most basic weakness of the external communications of the Chinese party-state is the fact that foreign audiences, and their values and interests, are never truly considered," David Bandurski, co-director of the China Media Project, told me. "Sure, the messages are directed at foreigners, but the language is still the internal and insular language of the party-state."
In this sense, Bandurski said, these propaganda efforts are not really external at all.
"Try as it might to raise the volume on China's singular, restrained voice, the party-state is still talking to itself, or shouting at its own wall," Bandurski said. "The louder that voice becomes, the more uncompromising and aggressive it sounds."