From Asia's Finest to Hong Kong's Most Hated
The city's police force was once widely respected for its restraint and trusted by the local population. No more.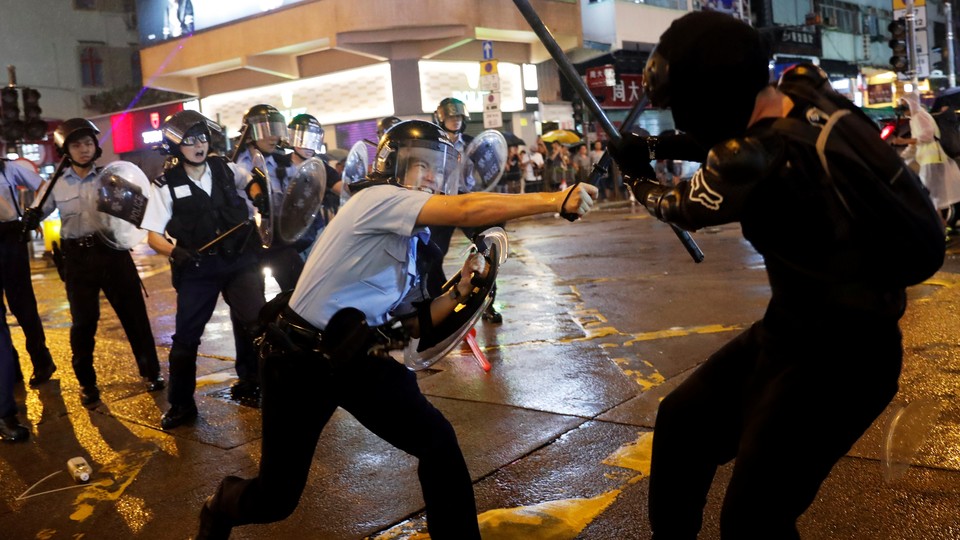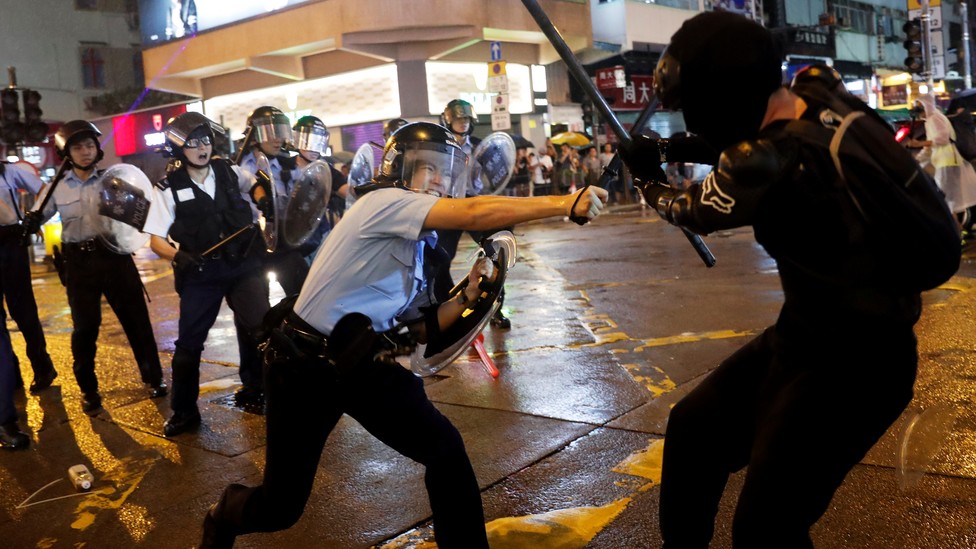 HONG KONG—Moments after a gasoline bomb arced over a police-station wall, officers began shooting rounds of rubber bullets at protesters here. One struck a young woman in the eye, leaving her with a bloody orb. Elsewhere, police stormed a subway station, blocked its exits, and launched tear gas inside as demonstrators fled onto trains. At another metro stop, officers in gas masks fired at close range toward the backs of young people, appearing to hit at least one.
This was Hong Kong on just one day during this relentless and stunning summer of dissent. The latest salvo was a renewed attack on pro-democracy leaders, including Joshua Wong and Agnes Chow, both among several people arrested the day before violent weekend clashes entangled demonstrators and the authorities. The fight for democratic rights has become distracted by the actions of the government's most potent and toxic symbol of dysfunction: its police.
"Some of us are quite tired. I'm tired," Harry, a 20-year-old undergraduate, told me. Sitting on a subway platform after yet another standoff with police, he offered a wistful smile. "They keep arresting us. But they are the ones who are against the law."
It is hard to say who Hong Kongers despise more right now: their chief executive or their police force. The former, Carrie Lam, has spent months pushing for legislation that would allow the city to hand over criminal suspects to other jurisdictions, including to mainland China, where the legal system sways to the Communist Party's beat. Yet because Lam has denied the public any say in the bill's language, and hid when residents' anger blew, it is the police who serve as the government's voice, the front line of defense.
Hong Kongers go to the streets to vote. Residents have no right to choose their chief executive, and so blocking a road and amassing a crowd is the clearest way to register displeasure. Since record-breaking crowds began marching against the extradition bill in early June, Lam suspended the proposal yet did not withdraw it completely, and left it to the police to step into the void. Officers have handled crowds in ways both brutish and violent, with tactics that critics say have tipped toward vindictiveness. Riot officers have pummeled and dragged bystanders, and fired tear gas and projectiles on opposition lawmakers, first-aid workers, and journalists, at times turning residential neighborhoods into smoke-filled war zones. On some occasions, they were not merely defenders, but perpetrators, as well.
---
The neighborhood of Yuen Long seemed quiet as Calvin So left the fusion restaurant where he worked shortly before 10 p.m. on July 21 and started his short walk home. Clustered nearby were a group of 20-odd men wearing white T-shirts. As So approached, he asked what was going on. "What are you saying?" one said, and in a flash, So felt a sting on his arm. Then again. He bolted, but the gang overtook him. The lashes from rattan sticks came with blazing ferocity, across his neck, his shoulders, his back, before the group left him and the young man could stagger to his feet and run to a shop to call the police.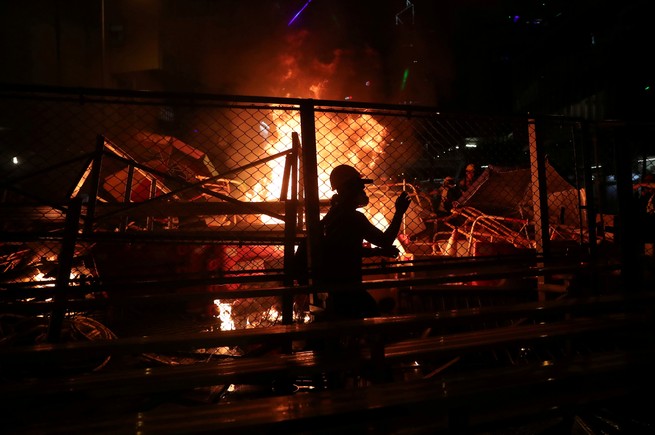 The group was part of a mob that converged on Yuen Long Station, one of the sparkling concourses in Hong Kong's large subway system, the MTR. About 100 men in white tees, clutching sticks and metal rods, jumped the turnstiles. One socked a female journalist as she filmed; another shoved a pregnant woman to the ground; several of them flogged passengers cowering on the stairs, and then they all converged on the train platform. On board was Lam Cheuk-ting, a legislator who, at nearly 6 foot 3, towers over most residents. In a split second, one man in white lunged for him, cracking Lam's hand and slicing his mouth, sending blood spurting.
In the concourse, Kaylee Lee, a nurse, begged the station's customer service to call police. The clerk insisted they had. Lee turned to find a middle-aged woman coated in blood. Lee piled tissues on the woman's scalp and guided her into the women's bathroom. A physician joined them and a triage center was born between the sinks and stalls.
It would take 39 minutes before a contingent of officers streamed into the station, a delay that officials blamed on pro-democracy protesters tangling with riot police elsewhere in the city. When the officers arrived, the men in white were gone, and 45 people were left battered and bloodied. Video captured by Hong Kong's public broadcaster, RTHK, showed officers standing next to six men in white T-shirts clutching sticks, yet they were not under arrest. (The city's corruption agency has opened an investigation into the police response that night.)
Police charged no one in the Yuen Long attack until recently, and even now, just four men face criminal trials. Compare that with an all-night street clash with protesters a week later: After riot police fired round after round of tear gas, officers snatched fleeing protesters and bystanders seemingly at random. A bank teller, a nurse, an airline pilot—each was among 45 people charged with rioting.
Yuen Long gave protesters and residents the sense that the role of the police has shifted. Officers who once protected all citizens guard the government now. As Steve Tsang, the director of the China Institute at London's School of Oriental and African Studies, noted, it took a long while for the public to trust the Hong Kong police, and just a few moments for that respect to be incinerated.
"I think a lot of Hong Kong people won't believe in police anymore," Lee, the nurse who was present at the attack, told me. This, she said, was the consequence of the government's inaction.
---
Hong Kong has fought hard over many decades to establish one of the most honest governments in the world.
As with Frank Serpico and the New York City Police Department in the 1960s, Hong Kong's corruption was rooted in prewar poverty; its eradication was possible with postwar professionalism. Tasked with a new ordinance to investigate bribery, Hong Kong police targeted one of their chief superintendents, Peter Godber, once considered a talented officer who helped calm the city in the wake of riots in 1966 and 1967. He had also socked away hundreds of thousands of dollars in overseas bank accounts and fled to Britain. One of the first tasks of the newly created Independent Commission Against Corruption in 1974 was to extradite Godber. He was convicted of conspiracy and accepting bribes and sentenced to four years in prison.
Trust between people and the authorities began to build from that moment.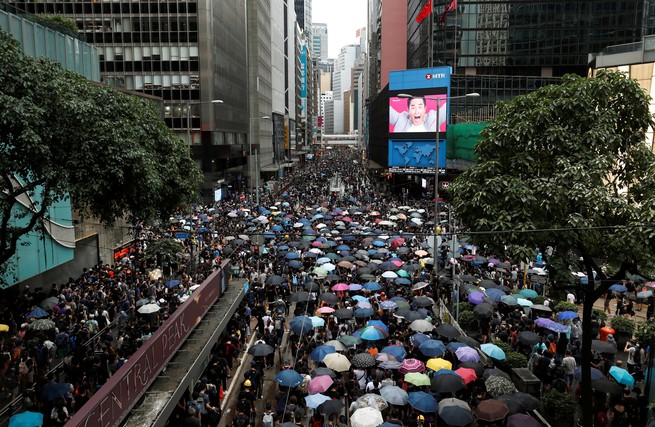 Given the regularity of protests here, local police became expert in crowd management. Rioting in the 1950s and 1960s convinced officials they needed to maintain order by acting with restraint, marginalizing agitators with propaganda, and seeking tips from the public. The police adopted a somewhat tolerant approach to crowds, according to the work of Lawrence Ho, a sociology professor at Education University of Hong Kong who focused his doctoral dissertation on riot policing. The idea was that restraint would encourage peaceful rallies. Surround and contain the protests was the ethos, not suppress them.
The police then adapted and refined their strategies further. Anti-riot teams were ordered to keep heavy arms inconspicuous, to not provoke protesters, and to not take forceful actions against the crowd. They would deploy only if the situation spiraled out of their control. Tactical units were drilled in different degrees of escalation. Police approached protesters in soft hats and with bare hands as commanders talked with the crowd and tried to defuse tensions.
With that style, Hong Kong police became known for managing large demonstrations, such as rallies to decry the Tiananmen Square crackdown in 1989 and a 2003 march to oppose a bill defining treason and sedition. The territory's policing was so respected that Hong Kong officers trained British forces in crowd control.
The professionalism and respect the force won helps explain why, in 2014, many Hong Kongers were stunned and outraged when police shot 87 rounds of tear gas to drive pro-democracy protesters from a central artery called Harcourt Road. Police had violated a moral compact with their fellow citizens. The tens of thousands of people who had picketed exploded into hundreds of thousands, many who occupied the highway for 79 days, as they chanted for democratic rights but also decried "black cops."
The difference, Tsang, the professor, said, was that Hong Kong police now receive training from mainland Chinese agencies. During the 2014 Umbrella movement, participants and journalists witnessed troubling episodes. In a separate strike hub, thugs arrived and punched random protesters before the attackers were led away and freed by police. In a park one night in October, riot police hit protesters with batons as plainclothes officers pummeled and kicked the activist Ken Tsang, leaving his face unrecognizable. The seven officers were convicted of his assault, but incredibly, Tsang, too, was found guilty of assaulting police and resisting arrest, and served a brief prison term.
By the time young people gathered on a road in Mong Kok in February 2016 to usher in the Lunar New Year, officers seemed to have shelved the notion of crowd management. Riot police used their long shields to push the crowd as a commander engaged in a loudspeaker shouting match with Ray Wong, the founder of a political party that promoted Hong Kong's independence from China. The night descended into a brawl as participants hurled bricks, trashed vehicles, and set fires.
---
The incident in Yuen Long last month exposed how much trust has frayed here. What might be brushed off as unfortunate or incompetent elsewhere is viewed in Hong Kong these days to be cruelly indifferent and perhaps corrupt. The attack immediately raised suspicions that law enforcement was protecting village residents and organized crime syndicates, known as triads, two groups that are deeply loyal to the government. The police have not helped themselves, either by issuing ludicrous statements in their officers' defense.
The police's actions are intimately tied with the political crisis. Many civil and professional groups have denounced the extradition bill, fearful that China could fabricate or dredge up past misdeeds to ensnare most anyone. Still, when protesters encircled Hong Kong's legislative assembly on June 12, many expected tear gas, not that canisters would be fired at journalists or whizz near a lawmaker who demanded that police stop. Picketers did not anticipate being chased from a rally while choking on chemical clouds. Participants did not imagine that rubber bullets would be fired, ripping holes near eyes and inside mouths, nor were they prepared for police who pummeled participants with batons. Days later, Lam suspended the bill, yet 2 million people still marched, this time not just against the legislation, but also against the police and Lam's continued tenure.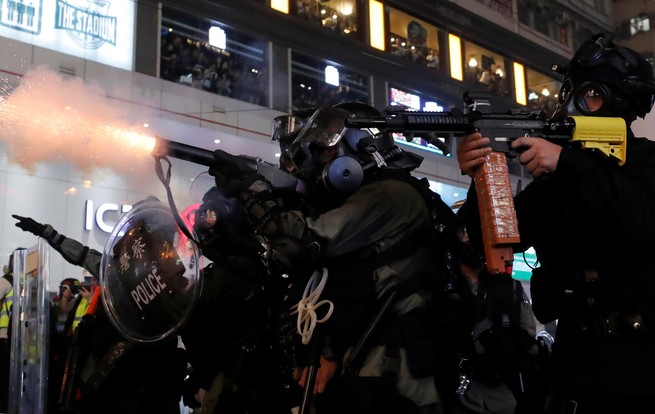 It's rare now to see officers in their regular blue uniforms. They are dressed for a riot hours before young people converge on the streets. Police flags, alerting people that force will be used, were once raised repeatedly and for lengthy stretches, yet today it's possible to never hear a warning or see a flag before tear-gas shells sail overhead. Tear gas itself is no longer a dispersal tool, but a weapon. The United Nations human-rights office has accused the Hong Kong police of defying international standards and creating "a considerable risk of death or serious injury"; the agency joined international calls for Hong Kong to set up an independent investigation into the anti-government protests.
In recent months, Hong Kong has changed in ways great and small. In five years of living here, I never saw much graffiti and certainly no one jump a turnstile before the white shirts did. Each weekend now, protesters cover government buildings and highway areas with their slogan, "Revolution in our time," as young people routinely leap over the station gates. Protests were once uniformly peaceful; now Molotov cocktails and bonfires are part of the arsenal. As I covered one night of protests on August 11, a young man near me, aware that police were attacking protesters inside MTR stations, looked up at one of the ubiquitous CCTV cameras filming the platform, lifted his hiking pole, and smashed the lens. Dozens of people on the platform applauded.
Rage is routine, too. It was the motivator that spurred young people to hurl Molotovs at police yesterday, as officers launched a fusillade of tear gas and blue-dyed liquid streaming from a water cannon. Rage was the drug that spurred other protesters to torch barricades as rubber bullets flew toward them along a busy shopping strip.
Fury, however, entangles those far from the front line, as well. Yesterday, police pointing thin batons stormed into a subway station in the city's Kowloon district. The few people waiting on the largely deserted platform froze as officers sprinted past and tackled a few people. One reporter caught an officer digging his baton into someone prone on the floor.
The police lined up by a train car halted in the station. From this point on, Pakkin Leung, a democracy activist, records the work not of an enforcement agency, but an enemy combatant. The doors open and officers point their batons and yell. A deafening siren blares. Officers move down the car, whipping people covering their heads and crouching beneath opened umbrellas that provide little safety.
Outside the car, an officer levels a long pepper spray gun at people inside. Leung's camera catches the spurt as the stinging liquid streams inside. Four people huddle on the floor, eyes clamped shut, clutching one another. One man rocks with the woman he holds, and howls over and over. The foursome are not dressed in the black of protesters. They look to be friends, perhaps out for dinner on a Saturday night, caught in the twisted politics of a broken city.
The savage pointlessness of the event comes seconds later. As Leung's video ends, the officers walk away from the riders, who are left screaming at full pitch.