Inside the Far-Right Fake-News Nexus
Spain was gripped by news of a gang rape carried out by North African migrants. How much of it was true?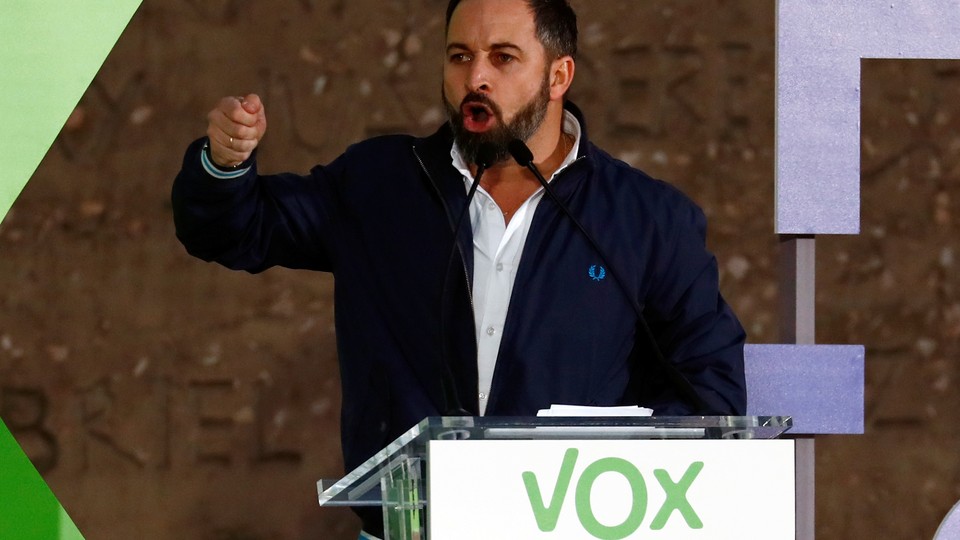 BARCELONA—This past summer, Spanish social media ran wild with a story about how a 14-year-old girl in the Catalan city of Manresa was brutally gang-raped by six North African teens while a seventh looked on.
Though the alleged assault dated back to October 2016, the story had slipped under the radar at the time and was gaining steam now that the accused were finally having their day in court. A collage containing pictures of smiling teens and Arabic text, titled "The Manresa rapists," made the rounds on Facebook. Seizing on the news, leaders of the far right called North African children an out-of-control scourge threatening the safety of Spanish women.
Yet while an attack had indeed taken place, most of those inflammatory details were untrue. As a number of progressive outlets and fact-checking agencies were quick to point out, none of the accused were from North Africa—three were Spanish, another three Cuban, and the last was Argentine. None of them was a minor. And that Facebook collage? They were images of young people who'd died at sea while attempting to get to the Canary Islands from Morocco.
Sex crimes, especially gang rapes, have become something of a staple of Spanish news coverage on the heels of a high-profile trial known as the "Wolf Pack case," in which a woman from Madrid accused five men from Andalusia, who collectively called themselves the Wolf Pack, of gang-raping her at Pamplona's Running of the Bulls festival in July 2016. The shoddy handling of the case in the courts—the men were initially acquitted of rape and found guilty of a lesser crime of "sexual abuse" in a provincial court before the Supreme Court convicted them of rape this past June—launched Spain's #MeToo movement. The campaign in turn vaulted sexual violence into a top political priority, the subject of televised debates among candidates in general elections this past April. The Socialist Party, which won those polls, has made feminism, including anti-sexual-violence measures, a central pillar of its politics, and enjoys nearly unanimous support in this endeavor, save for one outlier: the far-right party Vox, which campaigned on an anti-feminist platform. One of its chief messages was that anti-gender-violence legislation encouraged women to falsely accuse men and that in this day and age, men were the real victims.
Vox's stance on the Manresa case—calling out the apparent hypocrisy of the left for not pushing for harsher restrictions against North African immigrants, after promoting feminist legislation in the wake of the Wolf Pack case—would thus have appeared to be a radical about-face. But it wasn't. This latest case, which is still making its way through the courts, and a series of others illustrate how Spain's far right is harnessing and fomenting misinformation during a genuine moment of attempted reform to further its agenda. But while far-right parties across Europe—from the Alternative for Germany (AfD) to Italy's League and France's National Rally—all tout anti-immigration platforms and have justified them as necessary to protect local women, such rhetoric is new in Spain. Anti-immigration sentiment here was, until recently, comparatively low for western Europe, but that is at risk of changing.
Though Vox has a marginal presence in Catalonia, where it has just one elected representative, and nationally (it has less than 4 percent of seats in Parliament), it's whipping up anti-immigration sentiment across social media, criminalizing migrants—especially youth migrants—by co-opting progressives' zero-tolerance rhetoric for sexual assault.
"Ultraconservative sectors, groups with a certain affinity for Vox, and the far right are weaponizing the arguments being made by social movements, whether feminism or LGBT or human rights, to delegitimize them," Violeta Assiego, a human-rights lawyer, told me.
After reports emerged that the public prosecution in the Manresa case was charging the accused with "sexual abuse" and not rape, Vox took it upon itself to champion the victim's rights. Ignacio Garriga, Vox's lone lawmaker in Catalonia, tweeted a video of a man standing alone before the Barcelona courthouse where the trial was unfolding, holding up a sign that read IT'S NOT ABUSE, IT'S RAPE—the same slogan women had rallied behind during the Pamplona Wolf Pack protests. (This month, the public prosecution elevated the charges to rape.) Garriga denounced what he said was the "hypocrisy of the so-called feminist movement" for not voicing greater outrage, saying he was against "all those who fall silent when a rape is perpetrated by illegal immigrants, in this case, MENA's," the Spanish acronym by which migrant children are known, which rights groups avoid using because they believe it dehumanizes them.
Most youth immigrants are boys from Morocco ages 14 to 17 who've come to Spain to finish school and find work. Once they reach Spanish soil, they're automatically considered wards of the state, since child services here extend to both citizens and migrants. But that's contingent on proving their age—that they're younger than 18—which can be difficult for older teens. Once that's done, they're registered with the police, fingerprinted, and ID'd, then transferred to residential centers (though this can take weeks or months). There are approximately 2,500 youth migrants in these shelters in Catalonia, though some evade local authorities and strike out on their own.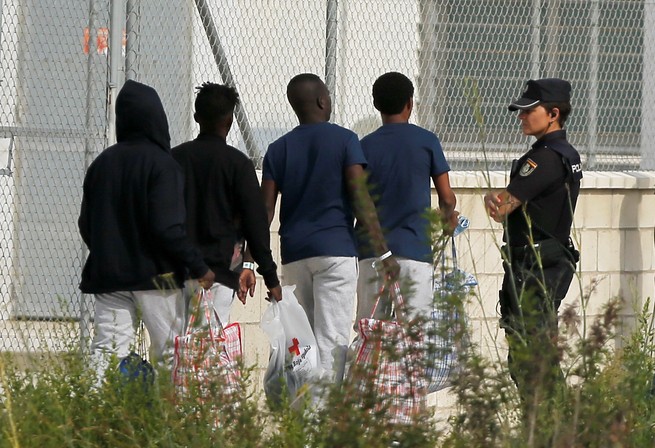 On a hot July morning, I visited a group of eight teenagers living in such a center, a nondescript apartment building in a suburb of Barcelona.
They slouched on a couch watching a soccer game and spoke haltingly in Spanish—most had been learning it for a year or less—in addition to Catalan. Rashid, 17, admitted he was a Real Madrid fan and buried his face in his hands when the center's moderators, fans of the rival local team FC Barcelona, booed. He was spending his summer going to the pool and the beach, he told me, laughing slightly in the way teens everywhere seem to, when you're not quite sure whether they're laughing with you or at you for sounding like a narc. He said he wanted to be a mechanic.
Anas, 16, was the boys' residential chef (during the school year, a woman came by to cook their meals, but she had taken the summer off). He makes a mean tagine, the moderators said, and had been getting into photography, snapping pictures around town. When I asked how he felt wandering around the neighborhood, he replied, "Well, it depends. It depends on the person. There are good and bad people everywhere."
His answer echoes those I heard from the others, as well as from one of the center's moderators. It's a diplomatic way of saying they're keenly aware of the social stigma and are often subject to slurs and looks of varying degrees of hostility.
This summer, the Manresa fake news was just one in a whole series of stories in the press and across social media that linked youth migrants to violence, from a right-wing online outlet running a headline claiming "North African Menas Rape Several Girls in Pamplona" to El Pais covering an alleged assault in Manresa by noting that the assailants were reportedly "of North African origin" and "danced to Arab music." Many mainstream publications frequently identify men accused of sexual crimes by their nationality when they're not Spanish, or simply as "Maghrebi" (of North African origin). Vox has seized the opportunity to spread disinformation. A typical tweet from the party head Santiago Abascal on the heels of news of an assault reads, "Two MENAS (foreign minors brought in by mafias and maintained by our taxes) have raped a girl. In three months they'll be in the streets again. The progressive dictatorship's silence is brutal, especially when we know that 69% of group assaults are committed by foreigners." That number is false: There are no official statistics in Spain identifying sexual-violence perpetrators by nationality (Abascal's percentage is a figure taken out of context from a study published by El Mundo).
This attention has resulted in violent reprisals. At least two centers for youth migrants have been attacked since the spring. The most brutal of these saw what police described as "an organized attack" on a center in the Barcelona suburb of El Masnou days after a young woman accused a youth migrant of assault. Vox congratulated the attackers in a tweet. During an associated protest, people chanted, "Ni una mas" ("Not one more [victim]"), a popular anti-assault slogan.
According to Maldita.es, a well-known fact-checking agency here similar to Snopes, one in three fake-news stories floated its way is migration related (another third touches on feminism, and the rest is a miscellaneous hodgepodge). Fake news about youth migrants specifically is a new phenomenon, they tell me. Frequently, the stories aren't even from Spain. A video recently circulated showing that a supposed gang assault involving youth migrants was actually footage of an attack in Missouri from 2014.
"Racist tropes around Maghrebi immigrants have been around for a long time, but they're on the rise now," Carlos Delclós, a sociologist and associate researcher at the Barcelona Centre for International Affairs, told me.
Delclós, whose research focuses on the "securitization of migration," or the practice of depicting immigrants as a threat to domestic safety, chalks this up to a period of relative economic growth, declining unemployment, and a center-left government here. "Historically, concerns about immigration in Spain only rise when everything else is doing better," he said. Indeed, according to a 2013 report from the Migration Policy Institute, anti-immigration sentiment in Spain steadily rose during the early 2000s—a period that coincided with the end of the housing boom and the onset of mass migration to Spain—but then declined around 2007, after the crisis hit. The report suggests that Spain's relative tolerance of migration was "peculiar" compared with the rest of Europe. But this exceptionalism appears to be on its way out.
Vox is seizing on the fact that crime rates do appear to have risen in Spain, especially in Barcelona. Local police point to a 30 percent increase in violent theft, but have said they consider these numbers neither "alarming nor exceptional." And while migrants, including youth migrants, are responsible for some of these crimes, a Catalan police report issued last year concluded that only 18 percent of youth migrants had committed some type of crime since their arrival in Spain. Referring to this particular report, Ester Cabanes, Catalonia's director general of childhood services, told me recently, "Even if it doesn't look like it because the press doesn't say so, we think that more than 80 percent [of youth migrants] succeed in building a future for themselves."
The role of anti-immigration sentiment is apparent when considering the differing responses among the far right to the case that triggered Spain's #MeToo push. In interviews about the Pamplona Wolf Pack I conducted in March, Vox sympathizers often told me that the men in that case—five Spaniards, two of them members of the armed forces—were unfairly targeted for their inherent Spanishness. They were essentially framed as martyrs of the homeland while the real threats, men from abroad, ran free, shielded from justice by progressives' political correctness.
Beyond tweets, Vox, which isn't part of the current government, is nevertheless proposing legislation to more easily expel youth migrants. Its suggested policies include closing down all NGOs that work with "migration mafias," preventing boats that transport migrants from docking in Spain, and repatriating all undocumented immigrants. The country holds new elections on November 10, and Vox's moves are shaping the narrative.
"The rise of Vox and what we're seeing in the media lately," Delclós told me, "are shifting the debate in a very ugly direction."