'Our Government Doesn't Want to Spoil Relations with China'
The arrest of a Kazakh activist who advocated for Muslims ensnared in Beijing's camps is part of a wider effort by China to shape the narrative on its internment system.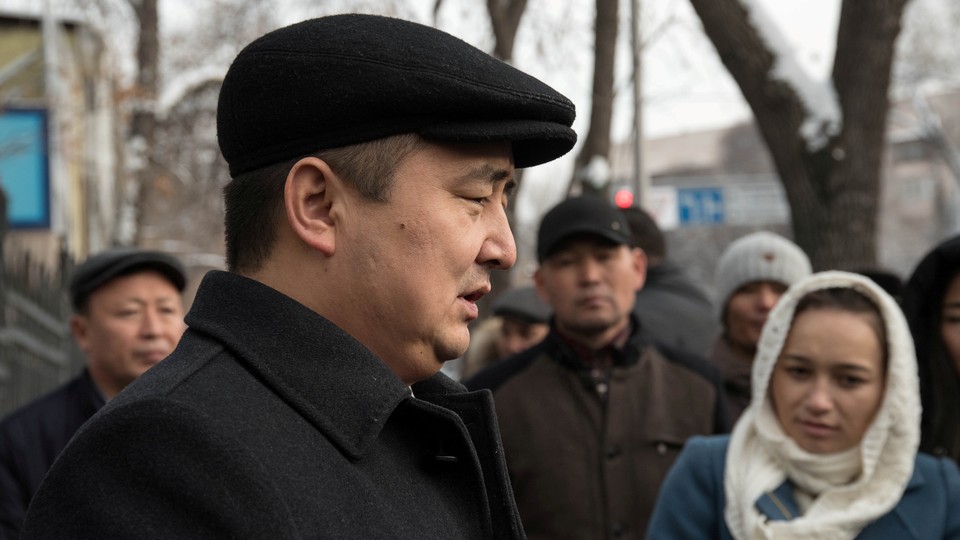 ALMATY, Kazakhstan—In early March, Serikzhan Bilash, a Kazakh activist documenting and advocating for Muslims caught up in an immense internment-camp system in China, was taken from his hotel room by security services and arrested. Late on August 16, after being under house arrest for five months, he was unexpectedly freed.
Kazakhstan, the Central Asian country of 18 million that shares a 1,100-mile border with China, has become an unlikely window into Beijing's crackdown on Muslim minorities. In recent years, the Chinese government has built the world's most advanced surveillance state in Xinjiang, the western region bordering Central Asia. Bolstered by public video surveillance, regular scans of digital devices, and coded ID cards used to track the movements of their holder, the Chinese Communist Party has erected a massive internment program targeting the Muslim population, especially Uighurs, but also Kazakhs, Kyrgyz, and other Muslim minorities. According to the U.S. State Department, 800,000 to 2 million people, or roughly 15 percent of Xinjiang's Muslim population, have been incarcerated in the sprawling camp network.
Atajurt Eriktileri, Bilash's organization, grew from a small office in downtown Almaty, Kazakhstan's largest city, into a front-line force in raising awareness about the mass detentions and camp system. Bilash and other members of Atajurt posted regular video testimonies from people whose relatives had gone missing in Xinjiang, as well as from recently released camp detainees, cataloging their abuse and indoctrination and bringing international attention to the issue in the process. But Atajurt's success and Bilash's reputation as a critic of China's policies put him in the crosshairs of the Kazakh authorities. Like others vying for favor with Beijing, the Kazakh government has used its location to position itself as a strategic notch in the billion-dollar Belt and Road infrastructure program. Bilash was arrested on charges of interethnic incitement for critical remarks he had made about China's policies in Xinjiang. The case, his supporters say, is an example of China exerting influence beyond its borders, pushing the Kazakh government to muzzle its own citizens.
After his release, Bilash told his supporters gathered outside a courthouse in Almaty that his freedom was a "victory for the people," as he had dodged a seven-year sentence. But the details of his release point toward a quiet victory for Beijing. To secure his freedom, Bilash signed a plea bargain with the Kazakh authorities and accepted guilt over charges that several international rights groups characterized as politically motivated. Moreover, in signing the plea bargain, he agreed to stop his work. "I had to end my activism against China. It was that or seven years in jail. I had no choice," he said after his release, according to Agence France-Presse.
The episode is part of a wider effort by Beijing to shape the narrative regarding its treatment of Muslims that extends far beyond Kazakhstan. China's government initially denied the Xinjiang camps' existence, then went on a diplomatic and public-relations campaign to counter the growing outcry against what it calls "vocational-education centers," and then defended them as necessary to combat Islamic extremism. From targeted social-media ads to Potemkin reporting trips organized for international journalists to Beijing flexing its diplomatic muscle, the Communist Party has gone to great lengths to quell criticism around the world. In late July, the Chinese government said that the camps were succeeding in eliminating radicalism and separatism, and that most detainees had been released. Recent reporting shows that the camps continue to operate.
"Our government doesn't want to spoil relations with China," Aiman Umarova, Bilash's former attorney and a prominent human-rights lawyer in Kazakhstan, told me before his release. "Chinese investment is important, and any information or activism that can damage that is extremely sensitive to the Kazakh government." Umarova refused to sign Bilash's plea bargain, insisting that her client was innocent, and told me that it was set up without her involvement. "This was a deal signed under pressure intended to silence a critic of China's camps," she said following Bilash's release. (Bilash did not respond to my multiple requests for comment.)
Other attempts to stymie criticism of the camps have been deployed across the Muslim world. Turkish President Recep Tayyip Erdoğan has welcomed Uighurs to Turkey for many years, and has been critical of China's heavy-handed policies in Xinjiang. More recently, Erdoğan has tempered his remarks as he's shifted toward attracting Chinese investment and building up bilateral ties. Similarly, Pakistan—which remains heavily dependent on Chinese money and, like Kazakhstan, plays a large role in the Belt and Road Initiative—has been notably silent about Xinjiang, and Pakistani Prime Minister Imran Khan denied knowing about the camps in an interview.
Still, many Western nations have not shied away from their criticism. Secretary of State Mike Pompeo called China's policies "the stain of the century" in July, and that same month, 22 countries, including Australia, Britain, Canada, France, Germany, and Japan, signed a letter to the United Nations raising serious concerns about Beijing's internment of its Muslim minorities. In response, a second letter emerged a few days later, signed by 37 countries endorsing Beijing's policies in Xinjiang.
"It's certainly a sign of China's new global position, and it shows the diplomatic effects of [Belt and Road], which is no doubt a goal of the project," James Millward, a China expert and professor at Georgetown University, told me. "Yet it's hard to call this a success. Xinjiang has hurt China's soft power, and they've largely been caught off guard by the international attention its received."
The camps in Xinjiang have not helped China's reputation in Kazakhstan. Nearly 1.5 million ethnic Kazakh Chinese nationals live in Xinjiang, making them the second-largest Muslim group in the region, after Uighurs. Since the collapse of the Soviet Union in 1991, 200,000 ethnic Kazakhs from China have moved to Kazakhstan and become Kazakh citizens, including Bilash; tens of thousands of other ethnic Kazakh Chinese nationals live in Kazakhstan as permanent residents, according to estimates. Stuck between popular anger and deepening ties with Beijing, the Kazakh government has tried to strike a balance. The country's tightly controlled media have given limited coverage to the issue, and when they have, it has largely echoed Beijing's state propaganda. Meanwhile, Kazakh authorities have engaged in behind-the-scenes diplomacy with China, and managed to secure the release of some Kazakh citizens and ethnic Kazakhs from the camps.
In getting Bilash to sign a plea deal, the Kazakh authorities have sucked the air out of the activism around the internment camps. Several former camp detainees I spoke with following Bilash's arrest in March said the move sent a chill among the community of camp survivors and their families. With Bilash no longer active, former detainees and those with family members still missing in the camps will be far less willing to share their stories, they said, especially given Beijing's tactic of threatening and targeting the families of activists who still live in China.
Gene Bunin, a Russian American writer and translator who runs the Xinjiang Victims Database, a project documenting the testimonies of detainees and their families, told me that Bilash's deal is a blow to those in the Central Asian country working on the issue. He continues to work with activists in Kazakhstan, and has gathered and published more than 5,000 detailed testimonies in his online database, which he said is a "grassroots weapon" that "China reacts to," noting how public testimonies have led to interned family members being allowed to contact their relatives or being released from the camps and placed into another form of detention, such as house arrest.
But he said that with Bilash no longer active, much of the momentum within the activist community has been slowed. Atajurt, the organization headed by Bilash that once drew global attention to Xinjiang, has been operating at a limited capacity and could shut down without its leader.
"What kept them going was hope that he could be freed and things would continue as before," Bunin said. "I hope I'm wrong."