Benjamin Netanyahu Is No Longer Israel's Indispensable Leader
The Israeli leader has long marketed himself as an essential diplomatic asset. That pitch is wearing thin.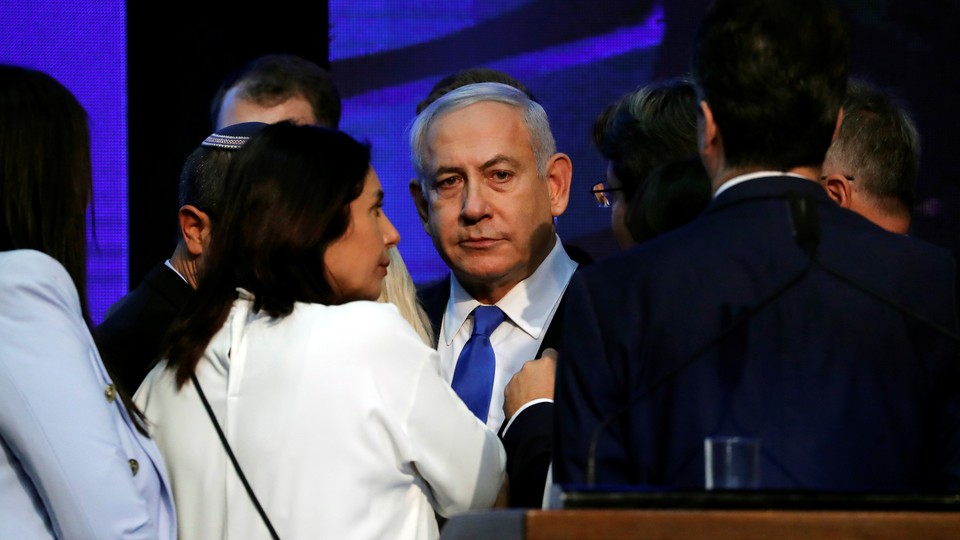 TEL AVIV—The Likud-party headquarters is an ugly, 16-floor office block in the unfashionable end of this city's downtown. Its relative distance from taller towers means it's visible from afar, though, and during election season, the sides of the building are covered by billboards exhorting the public to vote Likud.
A few weeks before Israel's latest election—the second this year, which once again resulted in political deadlock—the posters went up, this time featuring photographs of Benjamin Netanyahu, Likud's longtime leader and Israel's prime minister for the past decade, standing beside different world leaders: Vladimir Putin, Narendra Modi, and Donald Trump. Netanyahu is in a different league, the ads read.
The inference was clear; Netanyahu was a diplomatic asset and replacing him was unthinkable. This, in essence, has been Netanyahu's strategy since he began his public career 37 years ago, honed through a careful reading of both American and Israeli politics, or rather, the interaction between them.
Yet Netanyahu will not be representing Israel at the United Nations General Assembly this week, nor will he be meeting with Trump, seeking to play up his role as Israel's essential leader. In fact, that strategy—pushing his indispensability and his relationship with Trump, in particular—is a principal reason he just lost the most important election of his life.
---
Netanyahu's political career didn't actually start in Israel. It began in the United States, where he spent six years as an Israeli diplomat, first as No. 2 at the embassy in Washington, then as Israel's ambassador to the United Nations. Unusually for a diplomat, Netanyahu, then in his 30s, was covered extensively by both the Israeli and American media. The younger brother of a dead hero, Netanyahu courted not just the Israeli-press contingents in Washington and New York, but American journalists, too.
His high profile opened doors for him in the Reagan administration, and when Ronald Reagan ordered an air strike against Libya in April 1986, Netanyahu—who had argued that Western nations should target countries harboring terrorists, and who was touted as an expert on counterterrorism—was viewed as a visionary. An excerpt from a volume he edited on terrorism appeared in Time magazine, with his name on the cover.
The folks at home were impressed. Each of the ambassador's visits to Israel involved a procession of adoring interviews. One Israeli tabloid predicted that within a decade, Netanyahu would be Likud's candidate for prime minister.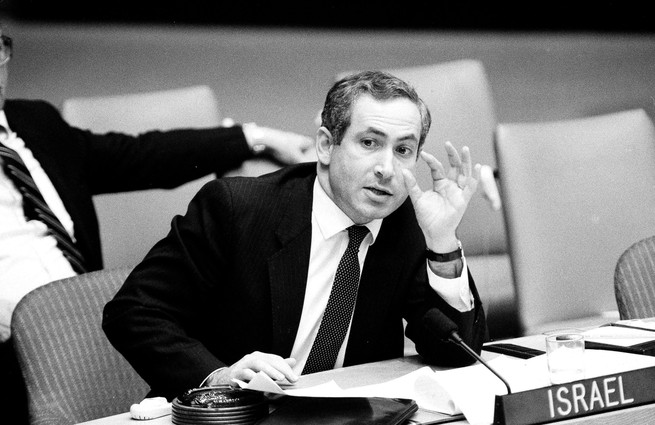 But it wasn't through his diplomatic triumphs that Netanyahu came to understand the role the U.S. plays in Israeli politics. It was through his first big failure: his relationship with Bill Clinton.
In April 1988, Netanyahu resigned from the foreign service to compete for a spot on Likud's election slate. Already a national celebrity, he was a shoo-in and served as deputy foreign minister in the Likud government formed after those polls. Within five years, he was Likud's leader. By 1996, he was Israel's youngest-ever prime minister.
In every campaign—for the Likud slate, for the party leadership, and for prime minister—his success as a diplomat, his forceful UN speeches and media interviews, and his close relationships with American and other global leaders were main selling points. For Israelis who had long felt that they were getting a raw deal on the world stage, it was compelling stuff.
But once off the campaign trail and in office, Netanyahu's grandstanding was less effective.
In July 1996, as he was preparing for his first visit to the U.S. as prime minister, he shunned diplomatic protocol and forbade the embassy in Washington from holding any preparatory meetings with American counterparts. It was unnecessary, he argued—he and Clinton would deal leader to leader.
The meeting was a failure. Clinton later fumed to his aides, "Who the fuck does he think he is? Who's the fucking superpower here?" (It didn't help that Clinton had admired Netanyahu's predecessors, Yitzhak Rabin and Shimon Peres, and had backed them in their attempts to make peace with the Palestinian leadership. Clinton was determined to cajole Netanyahu into continuing their work, despite Netanyahu's fierce opposition.)
Clinton, who had made frequent visits to Israel and engaged with the locals, was highly admired by Israelis. His frequent and open displeasure with Netanyahu damaged the prime minister's domestic standing. Netanyahu kept flying to Washington, in the belief that he could personally mend the relations. He never succeeded, and in May 1999, lost an election.
Netanyahu learned a valuable lesson: How Israelis felt about the American president determined how they viewed their own leader.
He scraped back into office in 2009, but the American president, Barack Obama, held a radically different set of values from Netanyahu's, and the two men were diametrically opposed on policy. Netanyahu wanted the U.S. to ramp up economic pressure and military threats on Iran, and to put the Palestinian issue on the back burner. Obama sought to engage with the Iranian leadership while pressuring Israel to make concessions to the Palestinians.
Luckily for Netanyahu, though, the Israeli electorate felt similarly uncomfortable with Obama. He had visited Israel twice before being elected president, and had professed an admiration for "our strongest ally in the region and its only established democracy." But he had also made it clear that being pro-Israel didn't necessarily mean "you adopt an unwavering pro-Likud approach," and his expressions of disappointment at settlement-building had many Israelis feeling distrust and antipathy.
Instead of engaging with Israelis as Clinton had, Obama left Israel off the itinerary on his first visits to the region. The Israeli leader figured that if he couldn't boast of his personal intimacy with an American leader, the next best thing would be to spin diplomatic confrontations as enmity to Israel, or even anti-Semitism. Instead of showing himself getting along with the leader of the world's only superpower and Israel's strategic ally, Netanyahu weaponized his personal confrontation with Obama.
Obama hates us; luckily we still have our friends in Congress to rely on, was the standard message of Netanyahu's advisers in those years. In the Netanyahu-supporting sections of the Israeli media, the president was often described as "Hussein Obama" and as an anti-Semite, despite the fact that American military aid to Israel continued to increase during his time in office.
Netanyahu's domestic rivals accused him of "ruining" the strategic relationship, but the prime minister went on to win two more elections during Obama's presidency, presenting himself as the only man who could stand up to the president. In the 2013 campaign, one of his campaign videos was titled "When Netanyahu Speaks, the World Listens," with clips of speeches to the UN General Assembly and to a Joint Session of Congress.
In one instance in March 2015, two weeks before an election in which he was trailing in the polls, he flew to Washington to once again address Congress at the invitation of House Speaker John Boehner, to speak against Obama's key foreign-policy achievement, the Iran nuclear deal. It was an unheard-of breach of protocol—no foreign leader had ever appeared in Congress to oppose the president's policies. Yet Netanyahu wasn't there to convince any American officials—he was speaking to voters back home. He went on to win the election by a handy margin.
---
From the moment Trump was elected, Netanyahu was quick to present him as an old friend. This was an exaggeration: The two had been introduced in Manhattan during Netanyahu's ambassador days and had remained in touch. Yet in Trump, Netanyahu was dealing with a kindred spirit—someone who, like the Israeli leader, personalized diplomacy; inserted himself into international relations; took credit for any breakthrough, real or imagined; shunned professional diplomats.
The U.S. ambassador to Israel is David Friedman, Trump's bankruptcy lawyer, his most intimate confidant and the man who probably knows the president's financial affairs best. On the other side, Israel's ambassador to Washington, Ron Dermer, is Netanyahu's closest adviser. The Dermer-Friedman nexus bypasses the State Department and Israeli Foreign Ministry; it's peak personal diplomacy. Netanyahu has met with Trump eight times since he became president, more than with any leader outside the G7; when those meetings are added to ones in the past, Netanyahu is easily the world leader Trump knows best.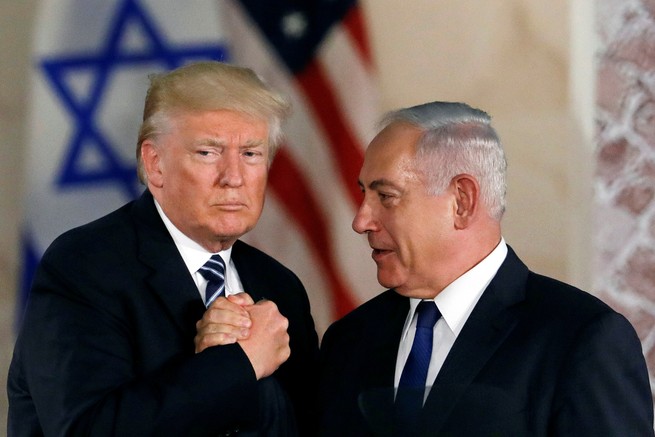 Early on, this relationship paid off for Netanyahu: Israel was on the itinerary for Trump's first foreign trip after his election; the administration also ended U.S. support for a Palestinian state, and it moved the U.S. embassy to Jerusalem and withdrew from the Iran deal. Then, just two weeks before this year's first Israeli election, Netanyahu arrived in Washington to receive Trump's ceremonial recognition of the contested Golan Heights as part of Israel. The timing was deliberate. When Netanyahu's alliance of right-wing and religious parties seemed to win the election soon after, Trump was quick to call to offer congratulations.
But as Netanyahu struggled to piece together a coalition government and then had to call a second election, Trump's warmth fizzled. Netanyahu tried to rekindle the romance, naming a settlement on the Golan Trump Heights in honor of the president's birthday. The show of sycophancy elicited an appreciative tweet. Trump tweeted again a few weeks later, congratulating Netanyahu on breaking David Ben-Gurion's record as Israel's longest-serving prime minister, but that was it.
In recent months, Dermer has frantically tried to secure another election gesture for Netanyahu, yet the president has instead expressed interest in engaging with Tehran and meeting with Iranian President Hassan Rouhani, a step even Obama didn't take.
Trump finally came through days before the election with a phone call, a tweet, and a vague promise to discuss a mutual-defense pact, but it was too late. On election day, Netanyahu went online, in a desperate last-hour video, and fell back on his diplomatic exploits. "All the battles I fought against a president of the United States, and my other battles in Congress and at the United Nations, I did it for you," he begged in a hoarse voice. "And now I'm asking you for something small: to go to the polling station. It's only a five-minute walk."
Later that night, he refused to concede defeat and instead called to form "a strong Zionist government, invoking "my friend, President [Donald] Trump," whose "plan of the century will be presented soon." Netanyahu, having lost an election, was still arguing he was Israel's indispensable statesman.
Trump did not call this time, and Netanyahu's office announced he would not be attending the UN General Assembly. Hours later, Trump told reporters in Los Angeles, "Look, our relationship is with Israel. We'll see what happens."
Of all people, Trump had dumped Netanyahu's brand of personal politics. No more gestures would be coming.
Many factors led to Israelis voting against Netanyahu last week. But when the story of his final days of leadership is written, it will be remembered that Netanyahu built his political strategy around whoever was in the Oval Office, and when Netanyahu needed the president's support most, he was abandoned.