Austria's Election Shows That the Far Right's Floor Is Rising
The Freedom Party was caught up in not one but two major preelection scandals, and suffered at the polls. But its core supporters stuck with it.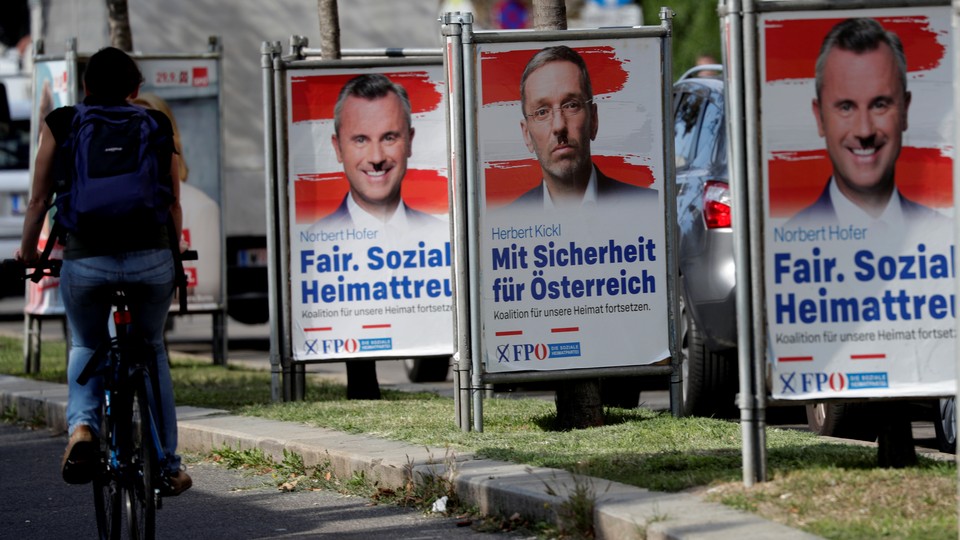 RADENTHEIN, Austria—At the end of a picturesque hiking trail just outside this town in the Austrian Alps lies a small wooden trough with a faucet spouting fresh water. Surrounded by lush green plants, a yellow sign nearby explains that the water comes from the towering Nock Mountains above, noting that local communities have for centuries benefited from the "special" water that flows here.
Filling my bottle from that faucet and taking a sip, clear and cold and pure, it was easy to see why Austria's water is a point of national pride. Which helps explain why there was such an outcry when a video leaked this year of Heinz-Christian Strache, the country's former vice chancellor and leader of the populist far-right Freedom Party (FPÖ), offering to, among other things, sell that water ("white gold," he called it) to Russia.
It's been a wild ride lately for the FPÖ, and for Austria: Less than five months ago, the party was the junior partner in a coalition led by Sebastian Kurz of the center-right People's Party (ÖVP), and it had control over policy in key areas such as migration and security. It was the most high-profile example of a government between the center right and the far right in Europe—that is, until the video emerged of Strache, in a secret meeting on the Spanish island of Ibiza, offering up state contracts in exchange for election help from a woman he believed was the niece of a Russian oligarch. The video's release triggered both Strache's resignation and the government's collapse, sending Austria back to the polls. Despite "Ibizagate," polls throughout the summer showed the FPÖ holding on to most of its core electorate.
But in the campaign's final days, the party was hit with a second round of accusations: Austrian media reported that Strache had used party funds for a lavish expense account, thousands of euros a month to subsidize his rent and pay for personal costs. This second scandal, it seems, proved too much for some supporters. The party won just more than 16 percent of the vote in yesterday's election, significantly lower than expected and nearly 10 points below its result in 2017. A renewed coalition with the ÖVP—which, rather than being harmed by Ibiza, made significant gains—is theoretically still possible, but has become much less likely; FPÖ leaders all suggested that they planned to go into opposition and rebuild.
To be clear, this is what—at least under normal political circumstances—is supposed to happen to a political party entangled in not one but two major corruption scandals. But yesterday's results also showed that, come what may, the FPÖ effectively has a relatively high electoral floor: a voter base of about 15 percent of the population that, no matter the scale of its scandals, stands by it. That number may be lower than the party had hoped, but it would still be the envy of its populist far-right counterparts in many corners of Europe—and is higher than the last time the FPÖ found itself in the midst of a government collapse.
Post-Ibiza Austria is a study in the extent to which populist politicians can hold on to their base in the face of scandal—something the United States, after two and a half years of President Donald Trump in the White House, knows quite well. A combination of the FPÖ's quick damage control, its ability to consistently portray itself as a victim, and its voters' skepticism of mainstream media and fierce, long-standing loyalty to the party have helped it hold on to its core base of die-hard supporters.
"To be honest, the results were pretty bad," Mario Misch, an FPÖ supporter from Vienna, told me at the party's election-night event as he nursed a beer. "But still, we didn't lose—we actually won, because the party still had voters, and those voters stand by their decision."
Misch said he never considered changing his vote or staying home: "There's no other party that has policies like the FPÖ," he said, "and the FPÖ's policies are actually how I want to live my life."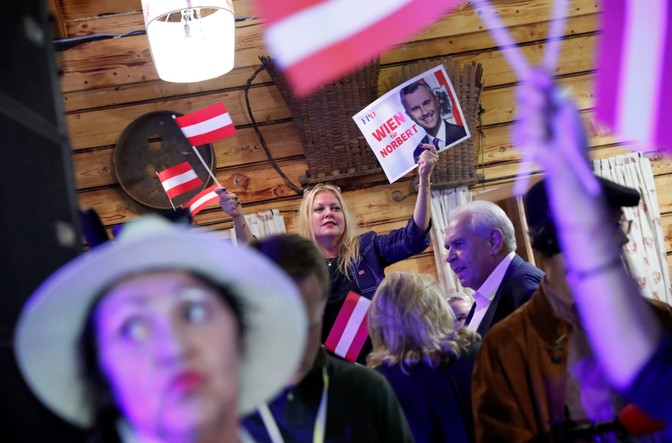 Though yesterday's results were a clear disappointment for the FPÖ, the party's recent history shows that things could have been far worse. Back in 2002, when the party's far-right wing staged an internecine takeover, bitter infighting helped drop the FPÖ's support to just 10 percent, compared with 27 percent in 1999.
This time, however, the party managed to keep intra-party spats to a minimum—or at least from public view. Strache resigned less than 24 hours after the video surfaced, making way for Norbert Hofer to quickly and smoothly take over as party leader; to placate Strache, it gave his wife a top spot on its candidate list. And once Strache was out, the party split key campaigning functions between Hofer and the ex–interior minister Herbert Kickl, each appealing to a different part of the party: Hofer plays the moderate, friendly, reasonable politician who is prepared to get down to the business of governing, while Kickl—who grew up in Radenthein, the Alpine town I visited—is the attack dog who dishes up red meat to the party's most stalwart (and furthest-right) supporter base.
That party unity may be harder to keep up in the wake of the second wave of Strache headlines and yesterday's disappointing result. Given how damaging the latest scandal seems to be, FPÖ leaders haven't ruled out the possibility of shutting Strache out of the party entirely—a move that, since Strache still has a strong following, could launch a new intra-party civil war.
"When it's about money, FPÖ voters are sensitive," Markus Keschmann, a political consultant who has helped design campaign strategy for Kurz's ÖVP, told me just after initial results came in. "Clearly the content of the Ibiza video wasn't easy to understand, wasn't tangible enough. But when someone spends 40,000 euros a month on his lifestyle, then people understand that that's a lot of money."
Perhaps most important to maintaining its core voter base, though, is the party's long-standing rhetoric about the media and traditional political parties—which in effect had already primed its supporters to discount news reports and stand by the party in the face of something like Ibiza or the news about Strache's expenses. Starting with Jörg Haider, the charismatic party leader who in the 1980s transformed it into the populist, anti-immigration force it is today, the FPÖ has always portrayed itself as the true voice of the people that's constantly under attack from the establishment. Haider made that point explicitly in his campaigns: "Sie sind gegen ihn, weil er für Euch ist," went one slogan—"They're against him, because he's for you." (Kickl, who was Haider's speechwriter, used that same slogan this summer shortly after Ibiza.)
To party supporters who've bought into that rhetoric, then, the Ibiza video or the latest allegations against Strache aren't a sign that something is wrong with their own party leaders—it's proof that they are indeed being targeted, that they should ignore what the corrupt media are saying and hold their party closer than ever. Strache himself referenced that concept in his resignation speech, saying he had been the victim of a "political assassination"; in subsequent posts on social media, where he has a strong following and where the FPÖ most often communicates to its voters, he has focused on speculation about who was behind the video in the first place, referring to various international intelligence services or vague, shady networks.
"Instead of talking about the content of this Ibiza video … it was redefined as a drunken episode which could happen to anybody," says Ruth Wodak, a professor of linguistics at Lancaster University and the University of Vienna who focuses on far-right rhetoric. In FPÖ voters' minds, Strache "is the victim of this drunken episode, this man who for 15 years built up this party, who was so successful—he only made one 'mistake,' so it's really not that terrible."
Those tactics were again on display in the final week of the campaign amid headlines about Strache's profligate spending. In a video message released days before the vote, Hofer called the release of such information shortly before an election "an attack on the whole democracy" of Austria from a "criminal network" intent on harming his party. Then, just after the results were announced, Harald Vilimsky, an FPÖ member of the European Parliament, told the Austrian broadcaster ORF that "an onslaught" was to blame for the party's poor performance.
Speaking with FPÖ supporters throughout the campaign and at its election-night party in Vienna, I heard a range of explanations for why the pair of scandals had no bearing on their vote or their views toward the party. Some echoed the party's leaders, saying that they were an attempt to bring down the party because it was too influential, or that Strache's actions in Ibiza were a mistake that should be forgiven; others said the media overplayed their hand, noting that Strache resigned and the new party leaders weren't present in Ibiza or involved in Strache's excessive spending.
"There was a bit of alcohol … and he said some stupid things," Renate Wögerer, a single mother in Linz who's voted for the FPÖ since Haider's time, told me earlier this month of the Ibiza scandal. "Everyone does that, whether they're a politician, or a hairdresser, or a teacher—everyone. For me that was no reason to pile on Strache … I don't like that at all."
She, like many I spoke with, added that Strache and his fellow FPÖ politician Johann Gudenus, who was also present in Ibiza, took responsibility for their actions by quickly stepping down: "They made a mistake, they owned up to it, they resigned, and for me it's sorted out."
Other FPÖ supporters defended Strache with conspiracy theories: One woman told me that she believed German Chancellor Angela Merkel and the European Union had produced the Ibiza video because the FPÖ was gaining too much influence. There was also the argument that all politicians are corrupt—Strache just happened to be the one who got caught. If all politicians indeed do such things, those FPÖ voters say, wouldn't we rather stick with our guy, the one who talks like us and thinks like us?
On election night, among the die-hard party supporters gathered at a traditional-style Austrian restaurant in Vienna's Prater amusement park, I heard similar arguments. "We stand by HC Strache no matter what," Karin Lindner, an older woman sporting a blue FPÖ T-shirt and blue streaks in her blonde hair, told me as she and her friends swayed to the music and waved small paper Austrian flags. "He'll come back; he'll definitely come back."