Where Veterans Aren't Thanked for Their Service
Because of Germany's tortured 20th-century history, its struggle to forge policies to support its veterans is in many ways unique.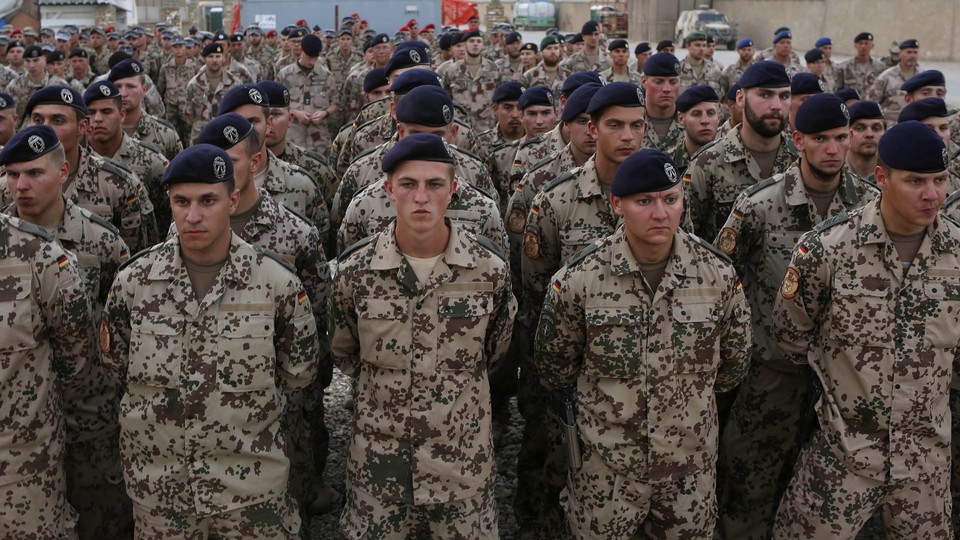 BERLIN—Just three weeks after the German military sent him to Afghanistan, Alex found himself in the middle of a deadly 10-hour standoff with Taliban fighters near the northern city of Kunduz.
He recalls an enemy fighter firing a rocket-propelled grenade straight at him, only for it to whiz past his head, missing him by just a few feet. As the battle intensified, he began thinking about which of his own weapons he would use to kill himself if the Taliban broke through German defenses and tried to take him prisoner.
Alex, who asked that his last name not be used, survived what would soon become known across Germany as the Good Friday battle, one of the fiercest fights for German troops in Afghanistan. The Taliban ambush days before Easter in 2010 took the lives of three German soldiers and badly injured several more, prompting the country's defense minister to break a political taboo and use the word war to describe the Afghan conflict for the first time.
Now 35, his arms and chest adorned with tattoos that attest to his life as a soldier, Alex is still haunted by the memories of his deployment. Yet one of the most painful aspects of being home, he says, is the reception he gets here in Germany. When he walks the streets in clothes that identify him as a veteran, he is often subjected to insults, taunts, or even laughter. He feels forgotten and unappreciated by the country that sent him off to fight.
"A lot of Germans think of us as murderers. They hate us," he told me at a gathering of German combat veterans in Potsdam. "And those that don't hate us couldn't care less about us."
Alex is one of roughly 400,000 veterans here who were sent abroad by the German military, or Bundeswehr, in recent decades to serve in places as diverse as Afghanistan, Kosovo, and Mali. And he is not alone in feeling frustrated and angry.
To be sure, other countries have disaffected veterans: In a survey of American veterans published in 2015, just 22 percent said they believed that the federal government treated them well. But because of Germany's tortured 20th-century history—two humiliating world wars, followed by more than four decades of Cold War division—and the deeply entrenched pacifism that resulted, the country's struggle to forge policies to support its veterans is in many ways unique. Today, nearly 75 years after the end of World War II and the devastation left by the Nazis, Germany remains deeply ambivalent about its military.
There is no Veterans Day here to honor soldiers like Alex, and veterans aren't celebrated at sporting events or other public occasions as they are in the United States and other European countries. The memorials erected in recent years to remember Germans who died in foreign wars are not prominently displayed, like those for American soldiers on the Mall in Washington, but rather hidden on a barren side street near the defense ministry and behind fences on a military base south of the capital. Few politicians speak openly about Germany's combat veterans, and the Bundeswehr does not recognize those who fought abroad as a distinct group. Even the term veteran remains tainted by associations with the Nazis.
This is not just a linguistic or administrative problem for Germany. Under pressure from the United States, Berlin has promised to invest more in its underfunded military, boost the size of its shrunken army, and assume a larger international-security role, commensurate with its economic might. But with polls showing trust in the Bundeswehr at an all-time low, those efforts are unlikely to succeed unless measures are also taken to change how German society views the military. A central part of that challenge is reassessing how the country treats its growing cohort of combat veterans.
"If Germany is serious about taking on a bigger international role, it has to realize that treating its veterans well is an essential part of this," Christian Weber, a digital-security consultant who served in Mali for the Bundeswehr and wrote his doctoral thesis on German policy toward veterans, told me. "Politicians can't send soldiers to fight abroad and then ignore them when they come home. From a moral point of view, this is highly problematic."
In the decades following World War II, West Germany did not send any soldiers to foreign conflict zones. That changed only after reunification, when Germany deployed troops to the Balkans in the 1990s. But the big shift came with the war in Afghanistan, where thousands of German troops were stationed from 2002 to 2014 in support of the NATO-led mission (Germany currently has about 1,200 troops there). For years, politicians in Berlin painted the mission as a peacekeeping and training operation. Then German soldiers began dying by the dozens. Many more returned home traumatized by their experience.
Today Germany has approximately 3,200 troops abroad, down from a recent peak of roughly 10,000. But as the focus of Germany's foreign military efforts gradually shifts from Afghanistan to other theaters like Mali, the number of German soldiers with experience in foreign conflict zones continues to rise. Despite the upward trend, the government's response to this group's needs has been slow and piecemeal.
"The debate about how to show appreciation for our veterans has gone on for far too long," Patrick Sensburg, a member of Parliament in Chancellor Angela Merkel's party, told me.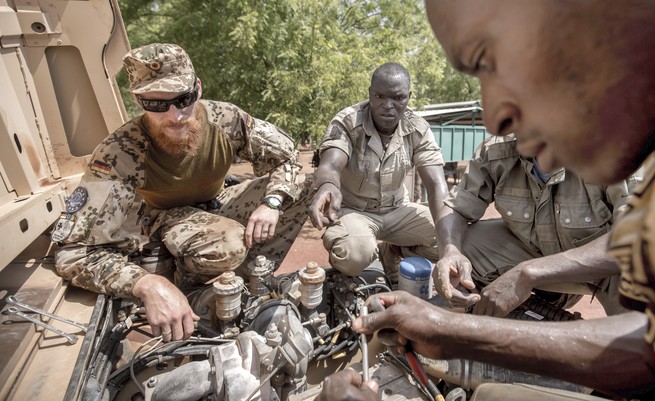 In 2011, Germany's Wehrbeauftragter, a member of Parliament who acts as a liaison between the legislature and the Bundeswehr, issued a scathing report on how Germany was treating soldiers returning from combat zones. That same year, Defense Minister Thomas de Maizière, who declined to comment for this story, vowed to make better policies for returning troops a central focus of his agenda.
He floated the idea of a Veterans Day and ordered 10,000 badges made for soldiers who had served abroad. But the backlash was fierce: Members of the center-left Social Democrats, in opposition at the time though now a member of Merkel's governing coalition, dismissed the idea of a day honoring German combat veterans as a "dusty relic from the time before 1945," while the far-left Linke party warned of a "militarization of German society."
In the years that followed, steps were taken to provide better treatment for soldiers like Alex who had PTSD. The defense ministry now has a PTSD point person and teams of psychologists have also been added. New legislation was introduced to help veterans reenter the workforce and shore up their pensions. "The Bundeswehr has made huge efforts in recent years to improve care for [soldiers] that were damaged while serving abroad," a defense-ministry spokeswoman told me.
Despite these steps, veterans groups are unhappy. They say that support for returning soldiers who are no longer active members of the Bundeswehr, a group that numbers in the hundreds of thousands, is sorely lacking. Bernhard Drescher, the head of a leading association for combat veterans, describes this group as Germany's "invisible veterans." Strict German data-privacy laws prevent the Bundeswehr from keeping track of soldiers who have returned to civilian life. The military, for instance, has no way to track the social status or suicide rates for this group. Many have been left to fend for themselves, Drescher says.
"We want an overall concept for veterans, including a central database to monitor those that are no longer active soldiers," Drescher told me. "In the United States, they know how many veterans kill themselves each day and how many are living in poverty. In Germany, no one knows."
De Maizière's plan to introduce a Veterans Day came to nothing. Instead, politicians became bogged down in a years-long debate about the precise definition of a "veteran." Germany's 1990 reunification agreement specified that members of the East German Volksarmee could not be counted as veterans. But what about Cold War–era soldiers from West Germany who had guarded against the Soviet threat but never saw combat?
In November, with de Maizière's veterans badges gathering dust in the defense ministry, his successor, Ursula von der Leyen—recently named president of the European Commission—decided that it was finally time to act: From then on, she declared, all current and former members of the Bundeswehr could call themselves veterans, whether they had served abroad or not. In one fell swoop, more than 10 million Germans became veterans. At a ceremony in June, von der Leyen handed out the first of de Maizière's badges.
"It's absurd," Drescher said of the broad new definition. "By making everyone a veteran, they have alienated the soldiers that are most deserving of recognition, the ones that risked their lives."
A Bundeswehr study from this year highlighted the extent of the frustration among German combat veterans. Titled "Life After Afghanistan," it asked soldiers who were stationed in the country from March to October 2010 a wide range of questions about their experience, before, during, and after their deployment. Just 10 percent said they were satisfied with the support they received from Germany's political class. And only 8 percent felt appreciated by the broader German population. In the United States, by contrast, polls suggest that more than half of all veterans feel appreciated by the public.
"It's up to the politicians to change this," Alex, the Afghanistan veteran, said. He described his life since returning to Germany as a living hell. For years, he suffered from debilitating nightmares, struggling to sleep for more than a couple of hours at a time. He has lost his sense of smell and taste, and says he came close to committing suicide twice.
Alex was one of about 50 German veterans who gathered in front of the Reichstag Parliament building in Berlin on a recent sweltering summer afternoon to raise awareness about their situation. Some wore T-shirts that read: We had your back! Do you have ours?. The only lawmaker to join the silent protest was a politician from the far-right Alternative for Germany (AfD). Many of the veterans in attendance kept their distance, aware that associating with the AfD would undermine their credibility with the German public and mainstream political parties.
From a high of roughly 585,000 in the mid-'80s, when the Berlin Wall was still standing and the Soviet threat was still real, the Bundeswehr now numbers about 181,000. The government aims to increase that to 203,000 by 2025, but it is struggling. The Bundeswehr has stepped up recruiting of minors to bolster its numbers, and a defense-ministry document from last year even floated the idea of luring citizens of other European Union countries into the German army. (Some critics pin the blame for this situation on Germany's decision, eight years ago, to end military conscription, believing that it would lead to a more professional army. But the effect has also been to accelerate the decline in troop numbers and widen the gap between German society and the military.)
Weber, the former soldier who has studied policy toward veterans, said that the Netherlands provides a model for Germany to follow. In 2012 and 2014, the Dutch Parliament passed laws that addressed many of the problems German veterans complain about. It defined veterans as soldiers with experience in foreign conflict zones; set up a special institute to coordinate all veteran-related initiatives; and took a series of steps to boost appreciation for returning soldiers, including the creation of U.S.-style veteran cards offering special discounts and school visits that allow veterans to tell students about their experiences. A Veterans Day has existed in the Netherlands since 2005.
"We understand that Germany, because of its history, is not like other countries," Drescher, the head of the combat-veterans association, told me as he surveyed a group of veterans sharing tales and hugs over barbecue and beer on a lake in Potsdam. "But there are some very simple things that the politicians can and must do to show their appreciation for these people."