Denmark Learns What It's Like to Be at the Center of Trump's Attention
The U.S. president canceled his visit to the kingdom over his failed attempt to buy Greenland. Danes are reacting with bewilderment, anger, and humor.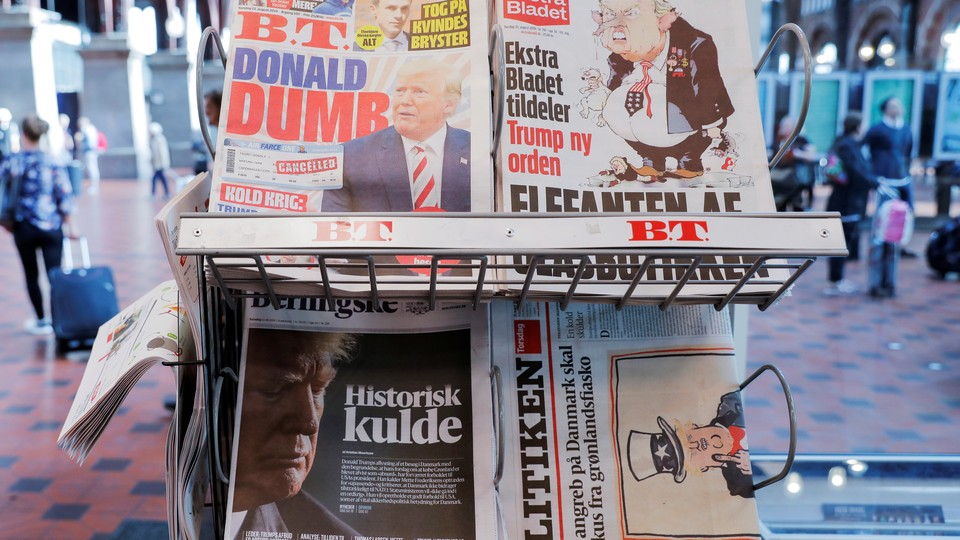 COPENHAGEN—At first there was disbelief, then anger, and then, following a script now familiar to a growing number of nations, Denmark turned, in its attempt to explain the inexplicable, to speculation. After waking yesterday morning to the news that the president of the United States had canceled a state visit that he himself had requested, Danes found themselves moving through the stages of Donald Trump grief.
Trump tweeted early yesterday here, just two weeks before he was to come to Denmark, that the trip was off. "Based on Prime Minister Mette Frederiksen's comments, that she would have no interest in discussing the purchase of Greenland, I will be postponing our meeting," he wrote. (His tweet was sent just hours after Carla Sands, the U.S. ambassador to Denmark, tweeted: "Denmark is ready for the POTUS.")
The reaction in Denmark to Trump's remarks mirrors that of other allies that have received the American president's attention: bewilderment, anger, humor, and some expectation that things will blow over. What's different about the Greenland incident, however, is not only that the president's words were accompanied by an action that represents a grave (and expensive) breach of diplomatic protocol, but that, even more significantly, it points to potential land mines ahead for a long-favored ally as it attempts to navigate U.S. ambitions in the Arctic, where China and Russia are also grappling for control.
Trump's interest in purchasing Greenland, an autonomous territory with its own government, generated disbelief here. Frederiksen herself, during a visit to Greenland on Sunday, called the proposal "absurd." But news of the postponement shocked many in a country that has already devoted significant energy and expense to the September 2 visit. "It is unheard of here," Anders Agner Pedersen, the editor in chief of Kongressen.com, a Danish online magazine that covers American politics, told me. "Traditionally, Denmark stands side by side with the U.S. When you accept an invitation from a close ally to a state visit, you show up."
Denmark's Queen Margrethe II, who issued the invitation at the White House's request, and who was the official hostess for the visit, was her characteristically discreet self; the palace noted only that she was "surprised" by the cancellation. But the journalist Trine Villemann, the author of several books on the Danish royal family, told me: "That's Amalienborg [the Danish palace] speak for 'We are extremely pissed off.' It's a breach of every diplomatic-etiquette book out there. And the fact that it was announced overnight on Twitter? I'm not even sure the Danish queen knows what Twitter is. Although she does now."
If the queen masked her displeasure, others were more expressive. The radio host Jarl Cordua wrote an opinion piece for the Berlingske newspaper titled "We Must Not Be Trampled Upon by a Dubious Real-Estate Agent With Frayed Morals." A headline in the tabloid Ekstra Bladet referred to Trump as a "crazy uncle." A cartoon from the center-left newspaper Politiken depicted him mooning the queen. It was captioned "Trump diplomacy."
In a country where even a few minutes' lateness is seen as a breach of etiquette, politicians from across the political spectrum angrily condemned the cancellation as insulting to the queen and offensive to Denmark itself. Pia Kjærsgaard, a member of Parliament for the far-right Danish People's Party, lambasted what she called "a complete lack of respect and education." Pernille Skipper, of the leftist Red-Green Alliance, also accused Trump of lacking respect, adding: "He lives on another planet." Rasmus Nordqvist, of the progressive party the Alternative, wrote that Trump's "latest show underlines what is so dangerous about that man. No respect, insight, or understanding of international cooperation." Three of Denmark's former prime ministers also criticized the president's behavior.
Of course, there was no shortage of humor either. A popular internet meme depicted the queen comforting a Trump-faced baby as he sourly pouted, "I want a polar bear." At least one company seized on the commercial opportunity: The Danish account for the astringent aperitif Fernet-Branca tweeted, "You've just found a country you'd like to buy. Only it's not for sale," with a photo of its bottle and the tagline "Life is bitter."
In other words, Denmark quickly found both its traditional and its social media consumed by Trump. And just as when Britain was forced to reexamine its relations following Trump's threat to restrict intelligence sharing over Huawei, or as when Mexico was plunged into a political showdown over paying for a wall, or as when even Australia faced Trump's anger over a Barack Obama–era migration deal, the events led Danes to speculate on Trump's motives, including his apparent discomfort with powerful women.
Trump himself added weight to this interpretation yesterday when, questioned by reporters as he departed the White House, he characterized Frederiksen's rebuff of any potential Greenland deal as "nasty," an epithet he has applied to other prominent women, including Hillary Clinton and Meghan Markle.
For Agner Pedersen, the firmness with which Frederiksen rejected Trump's sally played a role. "I'm not sure he thought he could just buy Greenland outright, but he also didn't expect to have the door closed so absolutely," he said. He also wondered if the controversy might not be another attempt by the White House to deflect attention from more serious concerns. "There are other things going on that perhaps Trump would like to turn the focus away from. Some recent news about the economy, for example," he said, in reference to economists' concerns about a possible U.S. recession.
Danish experts also note that the United States wants other concessions from Denmark—which it may not get. Some members of Frederiksen's coalition government have indicated that they would reject U.S. requests for increased support in the Middle East.
Kristian Søby Kristensen, the deputy director of the Centre for Military Studies at the University of Copenhagen, told me that there is resistance to American requests for increased Danish troops in Syria and naval support in the Strait of Hormuz. "Both questions put the center-left government in a tight spot," he said. "Although, of course, if you want to convince a country of something, a state visit can be a good way."
Still, Søby Kristensen said, though the events might be a diplomatic crisis, they do not herald a wider rift. "The American security guarantee and NATO have kept Denmark safe for close to 70 years, and the bilateral security relationship tying the two countries together is very important," he said. "So I think the prime minister's strategy will be to not be too colorful, to be stoic, and wait to repair things at a multilateral meeting."
Other experts say they expect Denmark to face increased U.S. pressure over the Arctic. As climate change has melted ice there, opening new shipping lanes and rendering the area's valuable natural resources more accessible, China and Russia have both moved in. "If you look at the globe, Greenland is key terrain," Steen Kjærgaard, a senior military analyst at the Royal Danish Defence College, told me. "And control of it is very important to Americans. If they can't buy it, they're going to want other things. I think they're going to demand better surveillance. I think they're going to come with a claim to more access for the U.S. military. And the pressure on Denmark to spend 2 percent [of its budget on defense, a commitment that Trump is demanding NATO allies fulfill] will be even stronger."
Michael Jarlner, the international editor for Politiken, agrees. "What Denmark has learned with the cancellation is that this really is about the Arctic: The U.S. wants full control," he says. "And that puts us in a very difficult situation, trying to balance between the three major players there."
The seriousness of that situation—to say nothing of good statesmanship—helps explain why the prime minister, at a press conference yesterday, stressed that Denmark's door remains open to Trump should he wish to reschedule the visit. That was before the American president characterized her refusal to sell Greenland as "nasty." Although the remark likely won't change anything politically, it ensures that Trump will continue to consume Denmark's attention in the coming days. And that, Jarlner says, is intentional. On Tuesday, in preparation for what was still the scheduled visit, the editor says he reread Trump's The Art of the Deal. "He says it right there," Jarlner says. "If you act provocatively and unpredictably, people will be forced to listen to you."