'You Cannot Forbid Love': A Kremlin Critic's Struggle
Lyubov Sobol has been an anti-corruption activist for years. Now, she is trying to win a seat on Moscow's city council.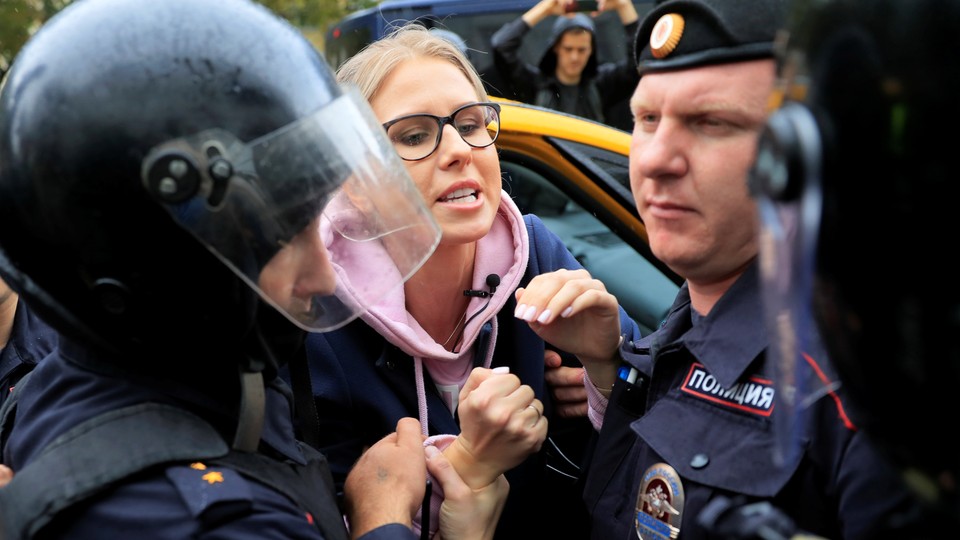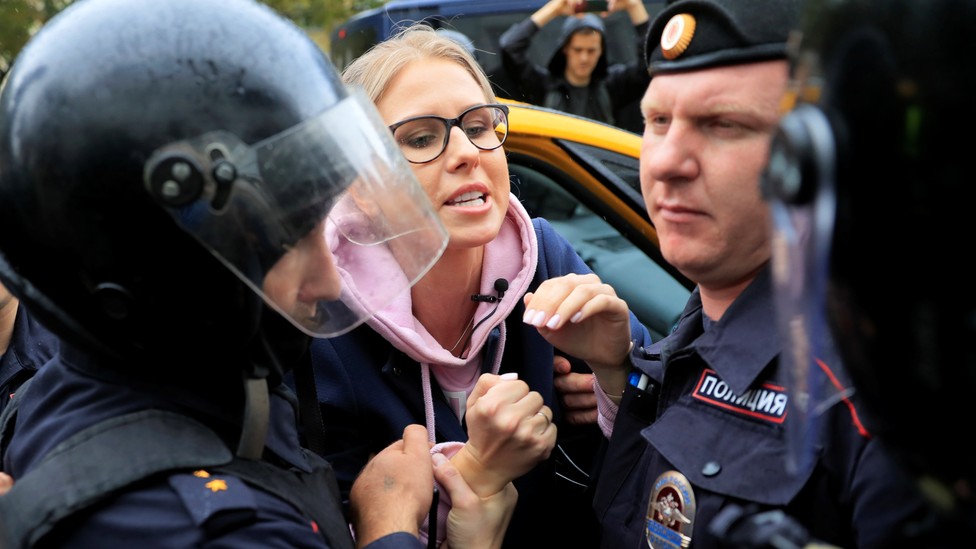 MOSCOW—Shortly before midnight one recent evening, five beefy security officers lifted a small leather couch from an election-commission office here and gently carried it down a flight of stairs, through a beeping metal detector, and finally out into the dark summer night.
On it sat Lyubov Sobol, an opposition activist who had been barred from running in September's elections for Moscow's city council. To protest that decision, Sobol had refused to leave the offices of the electoral authorities until she received an audience with the head of the national election commission.
Carrying her out of the building on the couch she was sitting on seemed to be the only way to stop her.
Elections to the Moscow assembly, a weak and historically inconsequential body, typically attract little attention. But the decision to ban a handful of independent candidates such as Sobol from even making it onto the ballot has spurred Russia's largest anti-government protests in years. Tens of thousands of peaceful demonstrators have taken to the streets in the Russian capital, and the official reaction has been severe: Many were beaten violently; more than 2,000 were detained, though most were eventually released; and more than a dozen opposition activists now face charges of organizing mass riots that carry serious prison terms.
Yet in cracking down so aggressively, the Russian government only galvanized the protest movement further, and Sobol—a fierce, young anti-corruption activist and lawyer—has emerged as one of its key figures. Last month, she launched a hunger strike to pressure officials to put her on the ballot and to draw attention to shrinking freedoms here.
"The fate of our city and perhaps our country is being decided here and now," Sobol told a gathering of supporters several days into her strike. "If they steal our chance at this election, they will steal all other elections; they will steal the city," she said in a quivering voice. "They will steal our future."
How the authorities respond in the coming weeks will illustrate how far Vladimir Putin's government is prepared to go to quell dissent, and what steps it may take in the run-up to the next presidential election, in 2024, when the constitution bars the Russian leader from seeking a fifth term. Will he find a way to stay in power, or exert control behind the scenes? Beyond that more political issue, Sobol's story presents an almost philosophical dilemma. Is it worth it to try, despite all odds? To speak, rather than stay silent? When one can do little in the face of a forbidding system, should one still try? And at what cost?
Sobol and her supporters clearly believe in trying, as manifested by a popular slogan of the recent protests: "You cannot forbid love." In Russian, Sobol's first name, Lyubov, means "love."
---
Opposition activism is a famously risky affair here. But even by Russian standards, Sobol possesses a remarkable resolve.
Working with Alexei Navalny, Russia's leading opposition politician, Sobol has exposed corruption at state companies and contested government tenders worth millions of dollars. She has investigated the business empire of Yevgeny Prigozhin, the feared Kremlin-connected tycoon who was indicted in the United States for his alleged role in interfering with the 2016 election via an army of social-media trolls. And Sobol is representing the parents of dozens of Moscow children who last winter fell ill with dysentery after eating meals at government-run day-care centers catered by companies linked to Prigozhin.
That work has taken a toll on Sobol's family, she told me. In 2016, a man attacked her husband with a syringe near their apartment building and released an unidentified substance into his body, causing him to go into convulsions and faint. More recently, Sobol has been followed by young men who film her with their cellphones as she walks her 5-year-old daughter, Miroslava, to school or takes a trip to the mall. (Sobol has accused Prigozhin of being behind the attack on her husband and the intimidation campaign against her. Prigozhin has denied the charges.)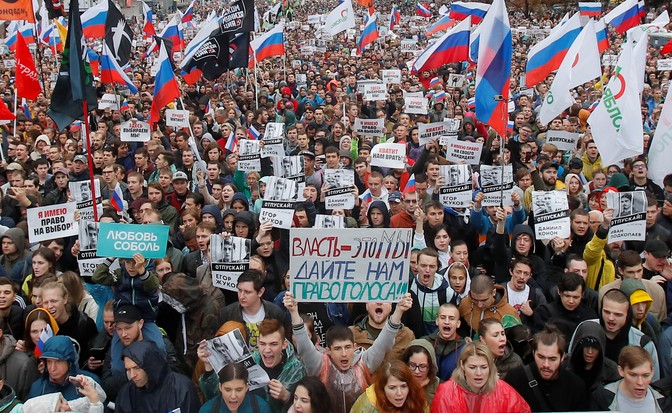 When I visited Sobol on a recent Friday night, the basement office of her election campaign in central Moscow had Russian-alphabet letters taped to the wall, an effort to organize the piles of signatures from supporters backing her campaign. Sobol emerged from a small, windowless room, which she had refashioned into a makeshift bedroom: a mattress on the floor, a hanger stand with some clothes, and a pink toiletry case on a small table.
She looked emaciated and frail, a shadow of the fiery activist I had come to know from rallies and YouTube videos. Dressed in a blue blouse and black leggings that made her thinness even more evident, Sobol leaned on her aide when she walked. "You take five steps and you want to sit down; you take another 10 and you want to lie down," she told me. She spoke in a low voice and sipped water from a cup—her only diet, she said, for several weeks by that point. She had lost more than 20 pounds and felt decades older than her age, she said. In response to the doubters on social media who said that her hunger strike was staged, Sobol had been posting the results of her blood and urine tests online.
Historically, hunger strikes have been the purview of inmates, a measure of last resort when no other means of protest are available to them. In that context, Sobol's decision looks more like a gesture of despair than calculated strategy.
"I am risking my life and the life of my family every day by working at the Anti-Corruption Foundation," Sobol told me, referring to the NGO Navalny founded. "I don't have any other ways of defending my family other than continuing my work, working effectively, and attracting more attention to it."
---
Sobol, 31, was born in Lobnya, a small town outside Moscow, to an aviation specialist and an engineer. She knew from childhood that she wanted to be a lawyer, devouring crime novels and watching the Soviet-television adaption of The Adventures of Sherlock Holmes, before moving on to reading speeches delivered by pioneering 19th-century Russian lawyers at a time when jury trials were first being introduced in the Russian empire.
After clerking in a Moscow court, Sobol studied law at Moscow State University, one of Russia's most prestigious institutions, and graduated with honors. While there, she began following Navalny's work. Navalny was buying stock in state-owned companies and using his shareholder rights to investigate them from the inside. Sharp and brazen, he exposed how millions of dollars disappeared in embezzlement schemes and coined the now-popular term "the Party of Crooks and Thieves" to refer to Putin's United Russia party. Sobol was enthralled and, in 2011, became the first lawyer Navalny hired for what later became his Anti-Corruption Foundation. When introducing Sobol, then 23, to the public, Navalny wrote in a blog post, "You, crooks, should be worried. Soon, Lyuba will come for you."
And come she did. Sobol investigated the construction of a new space launchpad in Russia's Far East, where despite the cosmic sums of money spent, engineers went for months without pay and several satellites failed to launch. There were also more mundane findings, like the time Sobol uncovered that a state-owned aircraft maker was planning to lease a luxury car for about $130,000. The day after she published the report, the bid was canceled.
Eventually, Sobol's charisma spilled beyond her legal work, and she started hosting a morning show on Navalny's YouTube channel. Clad in bright colors and sporting stylish glasses, Sobol discussed the hot topics of the day with an array of guests. Her co-host, Nikolai Lyaskin, described her as hardworking and diligent, recalling to me how when he wanted to take it easy and improvise on the show, she insisted on being prepared and writing a script. Eventually, Sobol became the chief producer of the YouTube channel, which now has more than 1 million subscribers.
---
During Putin's two decades in power (his presidential terms were interrupted by a stint as prime minister, when he was still widely seen as Russia's true leader), the opposition has been shut out of national politics. Russia's national Parliament has no independent figures, and when Navalny tried to run for president in 2018, in between fighting off criminal charges and spending stints in detention, he was not allowed on the ballot.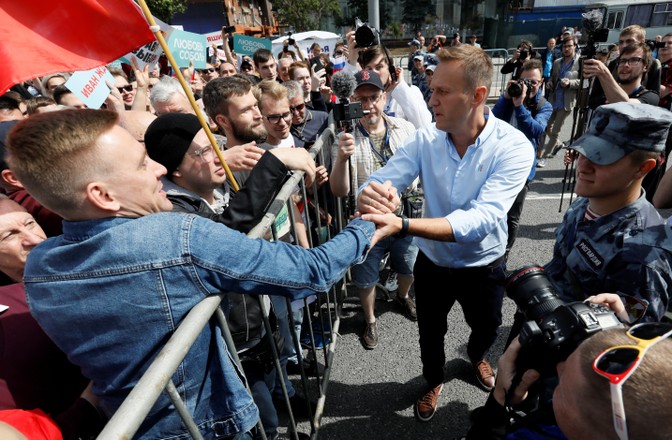 Yet fissures are opening. The Russian economy has been weighed down by Western sanctions, and Russians' disposable incomes have fallen for five years. While 68 percent of Russians still approve of Putin, according to one poll, his popularity has been sliding. (A state-funded pollster had to change its methodology after a recent survey showed trust in the president had fallen to the lowest point in more than a decade.) And last year, pro-government candidates failed to win governor seats in several Russian provinces, despite help from election officials, a result that was a major shock to the Kremlin.
So the authorities have decided not to take any chances with the Moscow city-council election. Though opposition figures would not have any significant impact on decision making—the local assembly has limited powers and pro-government members would still control the majority of seats in the 45-member body—victory would have offered Sobol and others the chance to expose from within how the Russian capital is run and irritate the powers that be to no end.
Barring opposition candidates from running has become the only sure way for authorities to control elections, Ekaterina Schulmann, a prominent political scientist in Moscow, told me. "That is why the system is clinging to it with such an absurd tenacity," Schulmann said. "This is the only thing they have left."
---
Sobol chose a traditionally liberal district in central Moscow, ran an effective and highly vocal campaign, and managed to collect the required 5,000 signatures to run for a seat. About a dozen other independent candidates did the same elsewhere. But election officials declined to register a single one of them, claiming that many of the signatures were fake. Among those deemed illegitimate was a signature by Sobol's own sister. By contrast, pro-government candidates sailed through the process.
Sobol wasn't going to give up easily. She dug up that the long-serving head of the Moscow election commission had an undeclared luxury villa in Croatia. "You are a falsifier, and now the whole country knows about it," Sobol told him during an election-commission meeting. "This is a funeral of your reputation."
"Her spirit is absolutely unbendable; she is a born fighter," Maria Lipman, an independent political analyst in Moscow, told me. "The system does not tolerate this kind of activity, but she wants to try to break through, plow through it with her head."
Sobol finally ended her hunger strike this month, after 32 days of refusing food, when a colleague's mother implored her to stop. The colleague had also been refusing food in solidarity with Sobol, but unlike her, he was in jail and had no access to medical help. (While she has been detained at various points, Sobol has so far escaped a stint in jail because of a provision in Russian law under which women with young children cannot be subjected to administrative arrest.)
Post-Soviet Russia hasn't seen many female politicians, let alone genuine opposition figures, so Sobol stands out. Yet when I asked whether she was advocating a women's agenda, Sobol said that she didn't believe in that concept. All Russians, she told me, have one universal problem they want solved, and that is fighting corruption.
"The agenda is the same for women and men," Sobol said. "I think people just want to live in a normal country."
In the afternoon after our interview, Sobol walked out of her office and climbed into a yellow taxi to head to the leafy boulevards of central Moscow, where demonstrators were amassing. But before she could even close the door of the car, about a dozen police officers, some of them in riot gear, dragged her out of the cab and forced her into a van. "What did I violate? What are you charging me with?" Sobol yelled. "I demand that the reason for my detention be explained to me!"
After being driven around town for several hours—apparently to prevent her from showing up at the rally—Sobol was taken to court, where she was fined about $4,500 for taking part in an unauthorized protest. When the judge pronounced the ruling, Sobol shouted, "Shame!"
Then came another busy week: a day in court representing the parents of the children who had suffered from dysentery; a shouting match at the national election commission; the arrest of fellow would-be candidates who were barely out of jail; a raid at the offices of the Anti-Corruption Foundation (the group's bank accounts were also frozen); more YouTube videos recorded; more pounds lost.
It all felt like one long Groundhog Day—and without much hope in sight. So why go on?
Eighteen days into her hunger strike, Sobol put on a bright-red blazer and makeup, and recorded a video address urging Muscovites to continue protesting to demand that independent candidates be allowed to run in elections. Come, she exhorted them, simply to show that their voices cannot be ignored.
"We are here," she said. "We exist."