The Issue With Meghan Markle's Vogue Issue
The duchess embodies the contradictions of today's protest movements, which often sound more radical than they are.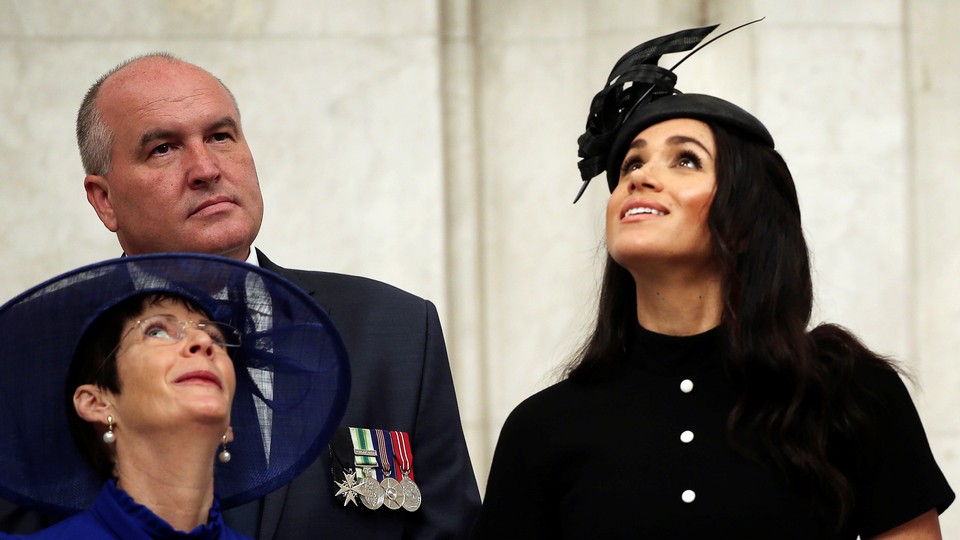 If the past few decades have taught us anything, it's that being a princess sucks. Royal wives are expected to stay quiet, have babies, and submit to endless commentary on their wardrobes. By guest-editing the September issue of British Vogue, Meghan Markle has decided to reject the first rule and embrace the last one—but on her own terms. As for the babies, she has sent her husband, Prince Harry, out to declare that the couple will have only two.
The 37-year-old was always destined to struggle with the vow of silence demanded of royal wives. Before marrying Prince Harry, she championed feminist causes on her blog, said she would vote for Hillary Clinton, and once recommended a Noam Chomsky book on Instagram. If Diana was the People's Princess, Markle wants to be the Woke Duchess. Her determination is not in doubt. But how radical can a member of a hereditary monarchy really be?
The choice of the Duchess of Sussex as a Vogue guest editor makes immediate sense. Over the past two years, under the leadership of Edward Enninful, the magazine has drastically increased the racial diversity of both its models and its interview subjects. Markle—a former actor, an outspoken feminist, and the first mixed-race member of the royal family—represents everything Vogue now wants to be.
For the cover, she chose 15 women—mostly models and actors, but also the author Chimamanda Ngozi Adichie and New Zealand's prime minister, Jacinda Ardern—instead of posing herself. "The line-up is evidence that, in 2019, a new metric for global success is in play," reads the un-bylined piece accompanying the shoot. "First, attract visibility. Then, convert visibility into a platform. Finally, use your platform to effect change." Christy Turlington, one of the original supermodels, now oversees a charity tackling maternal mortality. Laverne Cox, who stars in Orange Is the New Black, is one of the world's highest-profile transgender actors. Adwoa Aboah, who appeared on Enninful's first cover as editor, has spoken about her drug use and suicide attempt as a way to spotlight mental health.
The September issue highlights the different approaches taken by Markle and her sister-in-law, Kate Middleton, the Duchess of Cambridge and future queen, to the global fame that comes from joining the British royal family. When Middleton was featured on British Vogue's centenary-edition cover in 2016, she was styled almost as a parody of an English country aristocrat, wearing a tweed jacket and hat, and leaning on a gatepost in front of a wheat field. That now seems like an image from another era.
The spectacle of Middleton, the silent mother of princes, makes many feminists, including me, extremely uncomfortable. She looks "designed by a committee and built by craftsmen, with a perfect plastic smile and the spindles of her limbs hand-turned and gloss-varnished," as the author Hilary Mantel once put it. Middleton has survived the tabloid storms by retreating into blandness. We get the best glimpse into her private world through the pictures she takes of her children, which regularly make the front pages of the newspapers.
This is a well-trodden path for consorts, both royal and political. Middleton is apparently happy, as Hillary Clinton derisively put it two decades ago when discussing her own ambitions, to "stay at home and bake cookies." Markle is clearly not—and perhaps it was never an option anyway. She came to the royal family with a past: an acting career, an ex-husband, a public record of her opinions. During the 2016 presidential campaign, before she married Prince Harry, she called Donald Trump "divisive" and "misogynistic."
Since joining the royal family, she has thrilled the British tabloids by offering them a new leading actress in the live-action version of The Crown. At the same time, she has confounded them by insisting on privacy when she wants it, a quietly radical notion in a country where the royals are expected to live in a virtual goldfish bowl. She did not appear on the steps of the hospital, hours after giving birth, as her sister-in-law did; her son Archie's christening was a private ceremony; she and Harry moved out of Kensington Palace, walked past every day by tourists in central London, and retreated to Windsor, outside the capital.
Guest-editing Vogue was her idea, according to her editor's letter. It gives her the kind of controlled publicity more familiar to A-list actors: access in exchange for awareness. It is not fame for its own sake, but to boost the causes she supports. It is also calculated to enrage sections of the British press, which loathes the suggestion that celebrities, rather than the media, should set the limits of their privacy. The tabloids see her as Princess Prima Donna: demanding, pushy, and high-handed. She offers a counter-narrative: the Social-Justice Duchess.
The initial announcement that she would be guest-editing inevitably provoked large amounts of tutting, including some spectacularly spiteful opinion columns. As the TV-news anchor Krishnan Guru-Murthy noted, many of these complaints have come from "people who are either just not the target audience so don't get it or much worse: just the usual racist snobs."
These attacks mean it's tempting to declare for #TeamMeghan. And yet, turning her Vogue issue into a cavalry charge in the culture war makes me deeply uncomfortable. The guest edit reveals not only the limits she must grapple with—all British royals are expected to remain studiously apolitical—but also the contradictions of today's social-justice movements, which often preach radical change while being embraced by corporations. It is inevitably jarring to nestle feminist advocacy among ads for $2,800 dresses—such as the Gucci shift Markle wore in publicity photos—designed for women who don't eat carbs.
Markle acknowledges as much. "There is one caveat for you to remember: this is a magazine," she writes. "It's still a business, after all. I share that to manage expectations for you: there will be advertising sections that are requisite for every issue, so while I feel confident that you'll feel my thumbprint on most pages, please know that there are elements that just come with the territory." When she promises a "beauty section that puts its energy toward internal beauty," there is a tacit acknowledgment that ads for expensive face creams still pay the bills.
There are certainly moments of genuine radicalism. In an interview with the primatologist Jane Goodall, Prince Harry says that the couple will have "two [kids] maximum" to limit their environmental impact. However, Markle's much-touted interview with Michelle Obama is better as a gesture—connecting two women of color in extraordinary positions of power and visibility—than as a piece of journalism. "What has motherhood taught you?" asks Markle. And: "If you were sitting down with your 15-year-old self, what do you think she would tell you, seeing who you have become today?" Finally: "What is the most beautiful sound that you've ever heard?" (The answer: listening to Sasha and Malia sleep as newborns.)
This is not to be dismissive of Markle's intentions or the message of the issue: Increasing the visibility of women of color is a social good by itself, and under Enninful, Vogue has consistently challenged the racism of the fashion industry. But there are sharp limits on the activism of royals. Her father-in-law, Prince Charles, has always struggled to replicate the queen's studied political neutrality. In 2005, he sued the Mail on Sunday for publishing private diaries about the handover of Hong Kong nine years earlier, in which he called Chinese officials "appalling old waxworks." In 2015, the "black spider memos"—named for his distinctive handwriting—revealed that he had privately lobbied ministers on everything from architecture to countryside policy. The government fought hard through the courts to keep the letters private.
In light of this experience, the younger royals are wary about anything that could be seen as criticizing individuals or specific political parties. One of their major causes is mental health, where they stay safely away from making policy demands. Prince Harry has bravely spoken about undergoing counseling to deal with the death of his mother, but the charity he and his brother support, Heads Together, focuses on "changing the conversation" and "reducing the stigma." It cannot, say, criticize the lack of government funding for mental-health services.
For her Vogue issue, Markle has included a poem by the mental-health campaigner and author Matt Haig, titled "A Note From the Beach," calling it a "personal favourite." There will be superficial shock at its use of swear words—"I am a beach / I literally don't give a fuck. / I am entirely indifferent to your body mass index"—but again, it focuses on mental health as a personal, rather than political, issue. Prince Harry's interview with Goodall mentions the way "unconscious bias" leads to racism, but cannot address the ways in which racism has been encoded into law and policy, or used by politicians as an electoral tool.
All of this adds up to a form of activism in which there are problems, but no villains. Markle can talk about marginalized women who struggle to find clothes for job interviews—and the charity SmartWorks, which she supports—but she cannot address the causes of poverty. The cookbook she oversaw to help victims of the Grenfell Tower fire in 2017, in which 72 Londoners died, can raise money for those affected. But there is a tacit agreement not to engage with discussions about the inadequate cladding on the apartment building, overseen by the local council, which made the fire so lethal.
As a royal, Markle is particularly constrained in what she can say. Other activists make the same bargain of defanging their criticisms to avoid causing upset for less compelling reasons. Identifying general problems—old-fashioned consciousness-raising—is worthwhile and helpful. But it isn't the same as solving them. That requires politics, which is messy and divisive.
Too often, feminism—even when not championed by a beautiful, wealthy aristocrat—gets stuck in this toothless, villain-free zone. It is easy to champion diversity and urge girls to aim higher, but awkward to bring up the lack of state investment in child care and, well, the small matter of the class system.
So long live Meghan, the Woke Duchess, who is doing her bit—just don't look to her for salvation.