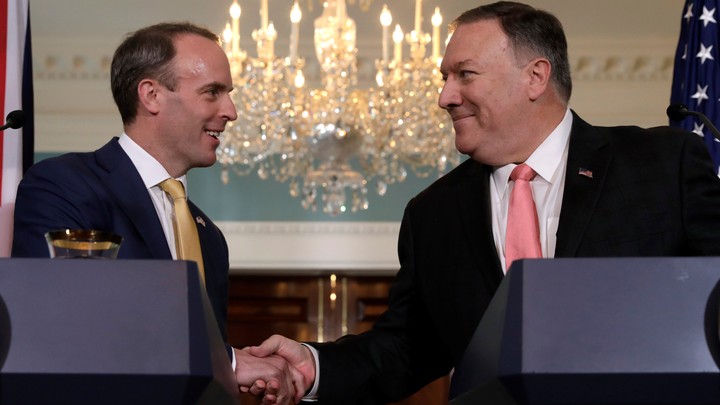 If there is light at the end of the Brexit tunnel, Brexiteers say, it's this: Britain, finally unshackled from the stringent restraints of the European Union, will soon be able to go out and strike its own trade deals, and realize its dream of becoming a "truly global Britain."
Although Brexit hasn't happened yet, global Britain's first test has begun. This week, British Trade Secretary Liz Truss traveled to Washington, D.C., to set out Britain's goals for a free-trade deal with the United States. "Negotiating and signing exciting new free trade agreements is my top priority," Truss said ahead of her trip, "and none are more important than with the United States."
Striking a trade deal—much less a "very substantial" one—isn't easy. But when Britain leaves the EU and finds itself outside the bloc's trading orbit, it will endeavor to do just that with its special ally. It's an accord that Britain is desperate to secure, and one that President Donald Trump has predicted could see as much as a "three to four, five times" increase in trade between the two countries.
An agreement won't be simple: The United States, which has a history of playing hardball with trading partners, will be the more dominant player during negotiations. And despite the budding bromance between Trump and Britain's newly inaugurated prime minister, Boris Johnson, the United States won't have much incentive to make any exceptions. In addition, if Britain leaves the EU without a deal, it will be far more eager to strike potential new trade accords than its would-be trading partners.
Negotiating with the U.S. was always going to be difficult. In addition to being the world's largest economy (Britain is fifth largest), the U.S. boasts a population five times that of Britain. Only two powers come close to negotiating on parity with Washington: the EU and, especially in recent years, China. As an EU member, Britain wields the influence of a 28-member trading bloc, which has a combined economy that rivals the United States. On its own, the U.K. is decidedly less powerful.
"Access to the U.S. market is, blow for blow, worth more than access to almost any other market on Earth," Dmitry Grozoubinski, a former Australian diplomat and trade negotiator at the World Trade Organization, told me. "From that perspective, whenever you're talking to the U.S., the deal almost always means more to you than it does to them."
This doesn't mean that the U.S. lacks the will to strike an agreement with Britain. After all, Trump has repeatedly expressed his enthusiasm for a free-trade accord, even going as far as to advocate a no-deal Brexit—in which the country would leave the EU without an agreement outlining the terms of its withdrawal—just to see one. (Britain can't strike its own trading policy until after it has left the EU.) His enthusiasm was echoed in a letter of support to Johnson last week, in which a group of 45 U.S. senators, out of 100, pledged to back a bilateral trade agreement regardless of how Britain leaves the EU. (In the U.S., all trade deals require congressional approval.) Secretary of State Mike Pompeo reaffirmed this week that the U.S. will be ready "pen in hand … to sign a new free trade agreement at the earliest possible time."
Read: Inside Donald Trump and Boris Johnson's special relationship
Still, the viability of a trade deal will largely depend on what concessions London is willing to make—and Washington is expecting many. Among the negotiating objectives set out by the U.S. trade representative in February is the insistence that Britain "remove expeditiously unwarranted barriers that block the export of U.S. food and agriculture products," such as chlorine-washed chicken and hormone-treated beef. (Both products are banned in Britain for health and safety reasons; The U.S. argues that such concerns are overblown.)
Agriculture isn't the only potential stumbling block: Privacy and data flows (the U.S. has a more liberal approach to data privacy than Britain, which operates under the EU's more stringent GDPR standard); digital taxes (the U.S. opposes a proposed measure that would see a 2 percent tax on American tech firms' U.K. revenue); and drug pricing (the Trump administration has long been critical of how Britain's National Health Service assesses the price of medicines) are all areas of disagreement.
There's also the issue of China. In the trade deal agreed with Mexico and Canada last year, Washington included a clause stipulating that if any of the parties signed a free-trade deal with a country that has a nonmarket economy, in which the government plays a significant role (read: China), the other signatories can take action and even terminate the agreement. Britain's willingness to work with China—particularly on issues such as Huawei, the Chinese tech firm to which Britain had granted some access to parts of its 5G network before reversing itself following U.S. criticism that the company could allow China to spy on sensitive communications and data—is one of several foreign-policy areas where the two countries diverge. It's not inconceivable that the U.S. would demand the same restrictions on Britain that it did with Canada and Mexico. Its negotiating objectives already suggest that it will.
Read: The U.S.-U.K. alliance has seen better days
"I don't think the special relationship means that the U.K. can expect a special deal," Marianne Schneider-Petsinger, a U.S. geoeconomics fellow at the London-based think tank Chatham House, told me, noting that the U.S.'s negotiating objectives largely mirrored those set out for trade negotiations with the EU and Japan. "The U.K. can't expect easy negotiations with the Trump administration that has vowed to put America first."  
Nor does the U.S. have any incentive to treat Britain any differently. From Washington's vantage point, Britain may be a special ally, but it's also a weak one. "Britain has no leverage," Larry Summers, a former U.S. Treasury secretary, told BBC Radio 4 this week. "When you have a desperate partner, that's when you strike the hardest bargain."
The U.S. is a tough negotiating partner—demonstrated most recently by Trump's threat to impose fresh tariffs on Mexico if it didn't comply with his demands to stem the flow of Central American migrants to the United States (a deal was eventually reached). Additionally, potential trading partners have to worry about U.S. congressional approval. "Congress is in there for the commercial benefit of their own district, always," Grozoubinski, the former Australian trade negotiator, said. "The U.S. system isn't designed to do people favors." Indeed, Nancy Pelosi, the leader of the Democrat-controlled House of Representatives, said there will be "no chance" of a trade deal with Britain if its withdrawal from the EU results in the imposition of a hard border between Northern Ireland, which is a part of the U.K., and the Republic of Ireland, an EU member. (The removal of the border on the island of Ireland was a key achievement of the Good Friday Agreement that ended the violence in Northern Ireland.)
Paradoxically, though, "some of the things [the U.S. is] asking for make a hard border between Ireland and Northern Ireland more probable," Sam Lowe, a senior research fellow at the Centre for European Reform in London, told me. He noted that even if Britain were willing to acquiesce to U.S. demands for different standards on agricultural goods, the same cannot be said for the rest of the EU.
But perhaps the greatest challenge facing Britain on trade is time. With its next Brexit deadline just months away, and with no withdrawal agreement in sight, it's likely that Britain will leave the EU at the end of October without a deal. Most of the trading relationships it had as a member of the bloc will end. It will need trading partners—and quickly. But time is precisely what it doesn't have: While some trade negotiations can take as little as one and a half to three years to complete, others span decades. A potential trading partner will almost certainly use this weakness to reap concessions. As Lowe put it: "This always gets portrayed as a sort of pejorative thing about talking down Britain, and it's really not. It's just being realistic about power dynamics in these negotiations. Who needs a deal more?"
We want to hear what you think about this article. Submit a letter to the editor or write to letters@theatlantic.com.