India Is Testing the Bounds of Citizenship
In an eastern state, millions of people, many of whom have lived in India their entire life, are being struck off a register of citizens.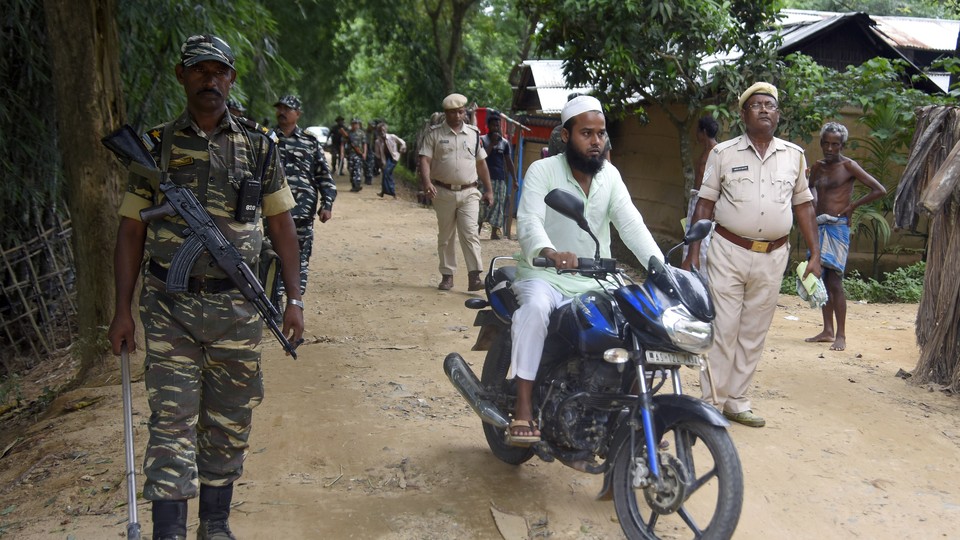 NELLIE, India—On a nippy morning decades ago, a mob approached this town of small water bodies and paddy fields in the hills of the northeastern Indian state of Assam. The Assam Movement, a years-long campaign forged by a student organization, was at its apex, railing against "illegal immigrants" on the electoral rolls. In Nellie and towns nearby, that meant Bengali Muslims. Tensions had simmered for weeks, and a local election was under way. The student group announced a boycott and warned citizens to not vote.
People who had fled a nearby village came here that morning, February 18, 1983. They told Mohammad Nobi Hussain and others of houses burning, shots fired, and many dead. As the mob reached Nellie, Hussain told me, town residents gathered in a paddy field: men, women, children. They were surrounded—and the carnage began. "People were falling," Hussain recalled. "Those who fell were cut. Those running were shot." "Cut," he said several times, scything the air with his hand.
The scene was repeated in 13 other towns the same day. Bodies floated in pools of blood. An eyewitness wrote about the "jerky, rabbit-like movement of a young boy" who was trying to hide from the mob and a "woman in [a] green sari" running across the fields, shrieking in "a continuous, abnormal scream."
The official count of the dead in what came to be called the Nellie massacre is 1,819; the unofficial estimates are more than double that. But to those who were there, such as Hussain, the precise numbers don't matter. They had spent that day hiding under bodies or in ditches while their houses were burned. At night, the events played back in their minds. "Someone was sitting, someone was crying, someone falling," Hussain said, imitating the postures: tilted neck, wild eyes, limbs asunder. "Everyone was dazed. Shocked. Shook."
Hussain is tired of telling this story. "You people come here, listen, leave," he said. Those who survived that day have spoken to judicial and nonjudicial commissions, activists, documentary filmmakers, and other journalists. Without a hint of irritation, he added: "You remind us. We remember."
To this day, not a single person has been apprehended for the massacre. In 1985, the Indian government signed the Assam Accord with the leaders of the student organization, who soon formed a political party and rose to power in the state. Besides economic packages and legislative safeguards to "protect, preserve and promote the culture, social, linguistic identity and heritage of the Assamese people," the accord promised the "detection and deletion of foreigners" living in Assam.
---
For decades—longer, even—there has been a lingering resentment in Assam toward Bengalis, culminating most recently in the state's messy and monstrous update of the National Register of Citizens (NRC), a list of Indian citizens living in Assam. Approximately 30 million people applied with documents to prove their citizenship in 2015, and the final draft of the register, published today, left out 1.9 million mostly Bengali-speaking Hindus and Muslims, who now face the prospect of losing their citizenship. Genocide Watch, an NGO, and the United States Commission on International Religious Freedom have both issued notices about how the exercise could be used to further persecute Bengali Muslims in Assam.
Bengalis were brought en masse to Assam throughout the 19th century, when the British discovered the tea forests here. After Assam became part of the British empire in 1826, human infrastructure was imported: traders, clerks, and peasant laborers from Kolkata, Dhaka, and elsewhere. Bengali was imposed as the official language, and by the end of the century, the state's natives were channelling anxieties about the loss of their culture in Assamese periodicals.
Migration continued in the following decades, leading a British census superintendent to describe it in 1931 as a "movement of a large body of ants … A vast horde of land-hungry immigrants, mostly Muslims," who could change "permanently the whole future of Assam and destroy … the whole structure of Assamese culture and civilization." The carving up of the subcontinent in 1947 did not help, and throughout the 1960s people fled what was then East Pakistan to the Indian states of West Bengal and Assam.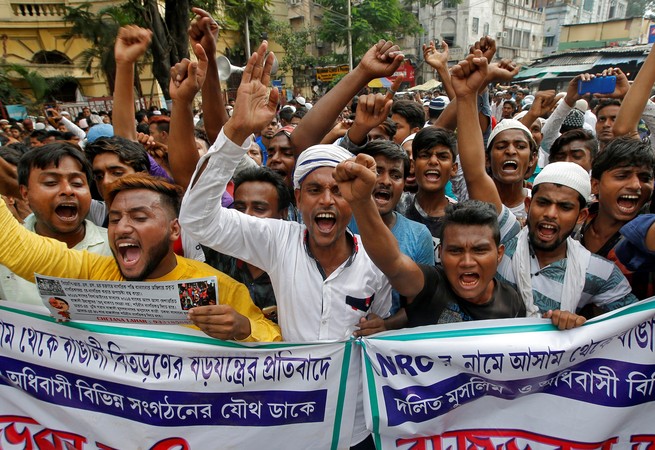 Such quotes and population figures were latched onto by Assamese nationalists, who used them to paint Bengalis, still in the minority, as an active threat to Assamese culture. But if the policies of the Raj supplied the narrative for Assamese chauvinism, the Indian state has been taciturn in imparting a corrective.
In the 1960s, a special police force began operating in the state with the sole purpose of identifying undocumented immigrants; quasi-judicial "foreigners tribunals" started adjudicating on citizenship around the same time, and since 1997 the federal Election Commission has found some voters to be what it describes as "doubtful." These hearings involve travel, sometimes a lawyer, and always, debilitatingly so, money. Hussain, the Nellie resident, has been summoned to more than a dozen such hearings to prove his citizenship. Umar Ali, a septuagenarian in the town, has been summoned even more times than that. Abdul Qadir and Shah Alam have both been to a half-dozen each. They all lost family members in the Nellie massacre.
The weaponizing of paperwork by the state has shades of the Windrush scandal in Britain, or of Donald Trump's policy against asylum seekers in the United States. But the hostility toward Bengali Muslims in Assam—not unlike that toward Muslims in general throughout India—has sustained itself for so long that it appears to be an incurable, societal malaise.
---
Sahimon Bibi and Ayesha Bewa lived two doors down from each other in Chakkar, a slum community in Dhubri, a short distance along the Brahmaputra River from Bangladesh. Bewa, a lifelong resident of Assam, has tried to kill herself four times in the past six months—first she tried hanging herself in her ramshackle house, and then, when parts of the state flooded this year, she stepped into neck-deep water before being rescued.
She has not applied to be on the NRC, meaning she is likely to be left off the list, and worries that the police might show up any day, pick her up, and take her someplace from which she might never return. "Where am I going to get the money to hire a lawyer?" she asks. When those already left out of the NRC are declared foreigners by these tribunals, they will be put into detention centers—six are currently operational in Assam's jails. The government wants to build 10 more. Around the time the government opened applications for the register, she was sick. Her husband had died in 2001, and her son has undiagnosed mental-health issues. Her case should be straightforward: She has bank accounts and government identity documents, and her father's name appears on a 1966 voter list. Yet by the time she had recovered from her illness and become aware of the NRC, all she knew was that people were being snatched away because of it.
Bibi applied but, certain that she would be declared a foreigner, killed herself.
Bewa, along with everyone else left out, will probably now be brought before one of the foreigners tribunals. One hundred such tribunals operate in Assam, and 200 more will be opened soon. The members who preside over these trials are hired on contracts, which aren't renewed if they do not brand enough people as foreigners, the members themselves have said before the state's high court. An analysis of five such tribunals conducted by Vice News showed that 9 out of every 10 cases were against Muslims, who also happened to be more than twice as likely as Hindus to be declared foreigners.
A large portion of those stripped of their citizenship will be Bengali speakers—Hindus and Muslims both—for Assamese nationalism is rooted in ethnicity and language. But mixing with this strain is the Hindu nationalism of India's ruling Bharatiya Janata Party. Amit Shah, the president of the BJP and the national home minister, has made a clear distinction between Hindu "refugees" and Muslim "infiltrators," and the party is dabbling with the idea of introducing the Citizenship Amendment Bill, which would grant citizenship to some minority communities fleeing neighboring countries. Because India is bordered by Muslim-majority Pakistan and Bangladesh, that means Hindus, Sikhs, Buddhists, Jains, Parsis, and Christians will find refuge here, but not Muslims.
---
In 2013, India's Supreme Court ordered that an updated NRC be published in Assam, and in a judgement the following year, it observed: "The culture of an entire people is being eroded in such a way that they will ultimately be swamped by persons who have no right to continue to live in this country." Since then, the court has not only supervised the implementation of the NRC project here, but has laid down the details of the process, even setting the deadline to process the appeals of 4 million people who were left out of the draft NRC last year. (Under the supervision of the Supreme Court, a special category has also been created in the NRC for "original inhabitants" of Assam, which, to quote the court, "contemplates a less strict and vigorous process for deciding claims" compared with Bengali Hindus and Muslims.)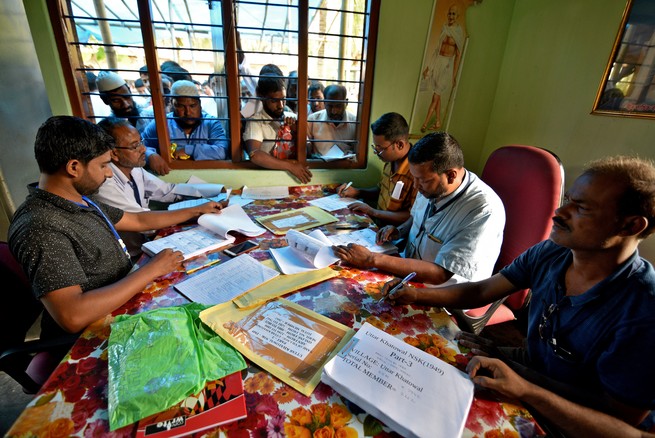 Anyone who was able to prove—through a previous 1951 NRC, electoral rolls, land records, bank accounts, government certificates, or other similar documents—that his or her ancestors lived in India before March 26, 1971, was put on the NRC. But the process is beset with inequities: The people least likely to have the requisite documents are day laborers with no land or money; the 1951 list is widely accepted as cursory; and besides those from the years 1965–66 and 1970–71, no other electoral rolls were ever made public.
In addition, there are the bureaucratic nightmares: people being branded foreigners because their name is misspelled in documents (30 percent of the Assamese population is illiterate), inconsistent birth dates (a matter of guesswork across rural India), and ex parte hearings. In many cases, those listed by the Election Commission as "doubtful voters" or as "foreigners" by the tribunals didn't find out until years later.
Take, for example, a 10-year-old I met in the town of Barpeta who is the only member of his family not on the NRC. He has a birth certificate linking him to his father, who is on the NRC, but officials sent him a notice that the documents provided were not adequate to prove his link to his parents. The NRC features in conversations he has with friends at school.
Also in Barpeta, I met the family of Pradeep Roy Karmakar, who served for 31 years, starting in 1982, in the Border Security Force, part of India's federal security forces. For most of his service, he was deployed to Punjab and Kashmir—rough postings during which militancy was on the rise. When he retired, holding the rank of deputy commander, he found that, back in 1997, he had been listed as a "doubtful voter." His daughter, Bismita, told me that the family had migrated from what is now Bangladesh before 1947 and that her grandfather's name appears in the 1951 NRC, as well as on the 1965 and 1970 electoral rolls. Karmakar was still fighting his case in a foreigners tribunal when he died of a heart attack in 2017. His is nevertheless one of tens of thousands of pending cases, the practical implications of which are that his descendants will not be put on the NRC.
The Bengalis who were on the draft NRC published last year have since been called for another round of screening, just to be sure. They get notices for hearings that are scheduled hundreds of kilometers away at the last minute. Huge numbers are zigzagging the state in a frenzy, burning through their meager savings or falling into debt. This month, a bus carrying people for hearings in another district crashed into a dumper transporting molten bitumen for road repairs. Hospitalized with burns, they asked reporters if the state would grant them another hearing.
Even then, somehow, inexplicably, hope persists. "NRC has brought the promise of relief to Muslims in Assam," Suleiman Quasimi, a resident of Nellie, told me. It wasn't the first time I had heard that here. There is a view in which the NRC is seen as a cure to the border police, to the foreigners tribunals, to the Election Commission, to the daily harassment. "Once the name is on the list, no one will be able to call us Bangladeshi," Quasimi said. Did he really believe that? I pressed him. His shoulders dropped. He sighed and looked away.