Hong Kong Shows the Flaws in China's Zero-Sum Worldview
Beijing's growing power is limited by its narrow decision making and approach to negotiations.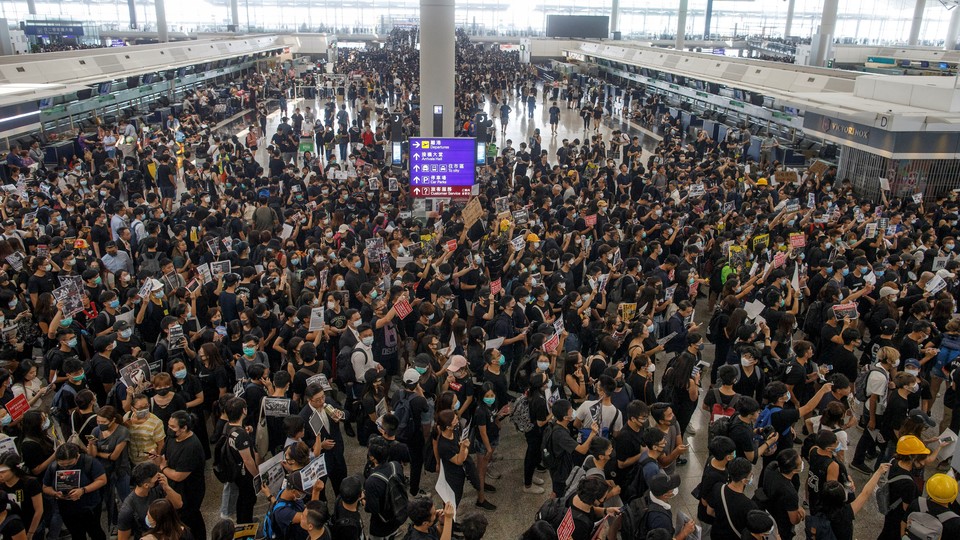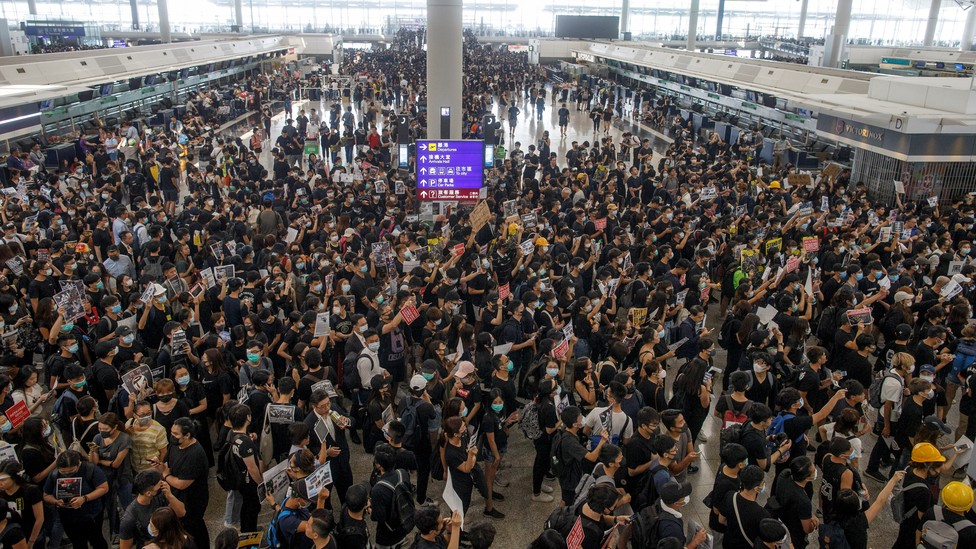 At first glance, the intensifying protests in Hong Kong would appear to have little in common with Beijing's escalating trade war with the United States. The trade dispute is about controversial Chinese economic policies that Washington believes damage both U.S. companies and the international trading system. The confrontation in Hong Kong is between the autocratic Chinese Communist Party and citizens who fear for their much-cherished civil liberties.
Yet both have similar roots, deep within Beijing's view of the world: Fixated on promoting their own power, Chinese leaders struggle to accommodate the interests of others. They often speak of "win-win" cooperation that benefits all parties, but their approach to the world around them is, in the end, zero-sum.
"The Chinese do not look to themselves to explain mistakes or the deteriorating strategic environment," Bonnie Glaser, a senior adviser for Asia at the Center for Strategic and International Studies, told me. "They generally don't have a sense that they need to engage in self-reflection. They tend to blame the outside world."
The consequences of this were all too obvious today. After a weekend of marches and tear gas on the streets of Hong Kong, protesters flooded the city's busy international airport, prompting the authorities to ground all departing flights. How has this financial hub and shopping haven descended into chaos? Tone-deaf Chinese policy. The Communist Party and its local loyalists manage to routinely inflame opposition in the former British colony with what many Hong Kong residents see as persistent attempts to breach the "one country, two systems" formula that ensures their freedoms.
The latest move was a ham-handed attempt by Hong Kong authorities to push through an extradition law many feared Beijing could exploit to crush dissent. Though the bill has been shelved, the protests have persisted, as the disgruntled call for greater democracy. "The Communist Party has increasingly encroached on HK's territory and intervene in internal affairs of Hong Kong," protesters at the airport explained in a pamphlet handed out to passing travelers. "We're fighting to put the broken pieces back together, to preserve what makes this city our home."
The Chinese government, however, remains unmoved. Last week, Hong Kong Chief Executive Carrie Lam made no concessions but demanded an end to the demonstrations. "Hong Kong cannot have large-scale, spontaneous protests that obstruct traffic and daily operations," she said.
Beijing officials have painted the unrest as the handiwork of malevolent foreign intrigue—what they call the "black hand." In recent days, Chinese state media have specifically targeted an American diplomat in Hong Kong as the evil schemer, prompting a State Department spokesperson to label Beijing a "thuggish regime." In June, Chinese Foreign Minister Wang Yi pointed the finger at "some Western forces" for stirring up opposition in Hong Kong: "We want to say this loudly: Pull back the black hand you have shown … Hong Kong isn't a place for you to run amok."
The story is the same in the trade dispute with the United States. Donald Trump bears the brunt of the blame for starting the trade war by imposing tariffs on Chinese imports. But a strong case can be made that the president is merely reacting to Beijing's unwillingness to address long-standing American complaints about its unfair trade policies, from closing markets to U.S. companies to subsidizing favored Chinese champions. Yet throughout the negotiations between the two powers—which have dragged on for well over a year—China's leaders have avoided taking responsibility for their role in the dispute, instead characterizing China as a victim of a Washington gone rogue. This month, a commentary in the People's Daily, the Communist Party's mouthpiece, blasted that "some U.S. officials are maxing out their credibility in the international society and undermining the rule-based international order," adding that "these Americans need to wake up."
All governments, of course, have a habit of insisting they are in the right. But China finds altering course especially difficult, mainly because of how its domestic political system functions. As an authoritarian regime—and one that is more and more centered on a personal cult surrounding Xi Jinping—admitting fault is perceived as a threat to credibility. Nor is it clear how much bad news filters up to top decision makers through a bureaucracy fearful that policy disagreements could be mistaken for disloyalty. Compounding matters is the historical narrative marketed domestically by Beijing, in which the party stars as the defender of the Chinese nation against foreign imperialists who have preyed upon the country for more than a century. "They haven't been treated well; now they have a right to stand up and be a great power," Glaser said of the thinking. "All of this leads the Chinese to believe that their interests are more important than others."
So instead of compromising, Beijing trots out a couple of standard tactics to try to get its way. First, it throws money at the problem. Since the beginning of trade negotiations with the United States, the Chinese have tried, in essence, to buy off the Trump administration with large purchases of American agricultural, energy, and other products. Then, Beijing mixes in coercion. In response to Trump, the Chinese have imposed its own punitive duties on U.S. goods, while threatening more action. None of this has worked. Earlier this month, Trump announced yet more tariffs on Chinese imports. When they come into effect on September 1, nearly everything China exports to the United States will have an extra tax slapped on it.
Ditto in Hong Kong. The Communists have attempted to woo Hong Kongers through their wallets, with promises of even fatter riches created by closer ties to the mainland. Government planners in Beijing have included Hong Kong as a pillar of their grandiose plan to integrate the region around the Pearl River Delta into a supercharged growth engine. A significant share of Hong Kong's population isn't willing to exchange its civil rights for new railway lines, though, so Beijing has cracked down harder on dissent. Protests have become more violent, with some locals accusing the police of unwarranted brutality. In late July, a mob viciously assaulted peaceful protesters. We don't know for sure whether Beijing coordinated the efforts, but such methods of terrorizing dissenters are standard Communist weapons. Over the weekend, footage showed police firing tear gas into an enclosed subway station, using rubber bullets against demonstrators at close range, and manhandling protesters.
Similar flaws have infected much of China's foreign policy. For instance, Beijing tried to bully South Korea into ditching a U.S. missile-defense system by hurling invective at Seoul and denying Korean companies business in China—all to no avail.
Yet Beijing isn't entirely inflexible. When Xi's flagship Belt and Road Initiative, a global infrastructure-building program, came under heavy fire for burdening poor countries with excessive debt while China hoarded the benefits, he promised improved transparency and standards.
That sort of nuance will be crucial to China's future role in the world. All great powers try to impose their will, of course, the United States included. However, Washington realized (at least until recently) that being a superpower entailed costs as well as benefits—whether upholding alliances, opening its markets, or supporting the dollar as a global reserve currency. The narrower, more self-centered outlook of China's leaders is not winning hearts and minds among other nations as they might have hoped. Surveys conducted by the Pew Research Center show that global opinions of China have soured. In 2018, 43 percent of respondents around the world held an unfavorable view of China, an increase from 32 percent in 2014.
If Chinese leaders wish to expand their clout, they'll need to start thinking as much about others as they do themselves.