Emmanuel Macron Expounds as the World Burns
The French president has an answer for every problem, but is anyone listening?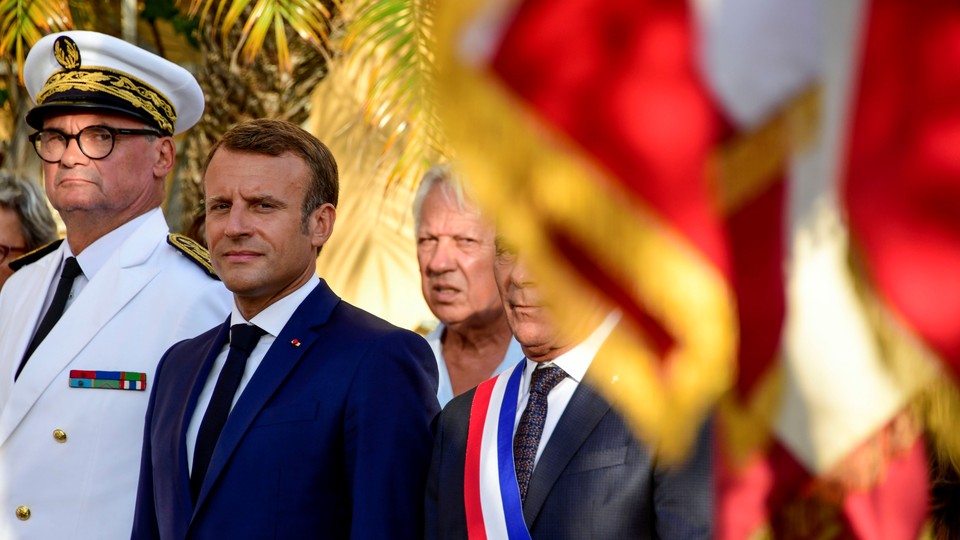 It was a perfect late-summer evening when President Emmanuel Macron—tanned and super-energized in a dark-blue suit and crisp white shirt—held forth before the Elysée press corps on matters of international import. Posh Paris was largely out of town. Nearby, boulangeries, shops, and the French National Assembly were still closed for the August holiday. Tumbleweeds practically blew down the Boulevard Saint-Germain, its cafés filled with tourists and Instagram influencers.
But Macron had a message to deliver: I'm the last man standing, defender of multilateralism, ice-cool head in a hot and ever warming world.
It wasn't a new message from him, but one that he felt bears repeating. On Tuesday, Macron met with Russian President Vladimir Putin. Today, he met with British Prime Minister Boris Johnson—perfidious Albion incarnate—and the two clashed over Brexit; he will also meet separately with the Indian leader Narendra Modi and Greece's Prime Minister Kyriakos Mitsotakis. Then this weekend, Macron will host the G7 summit in Biarritz, at the bend in the Atlantic coast where France meets Spain. A 19th-century seaside resort at the end of the season is a good setting for a relationship in distress. Or many relationships in distress—the European Union, the transatlantic order, the global order.
"We are experiencing an absolutely historic period in our international order," Macron said yesterday. There is, he said, a "very profound crisis of representative democracy" in Europe. There's also a crisis of climate change, biodiversity, technology, and migration, to say nothing of "a crisis of inequality, which is the crisis of contemporary capitalism." The global order is shifting and the world risks a "bipolarization between the United States and China," Macron said. "The risk is a loss of sovereignty" in which other countries would become "vassals" of the two new powers. "I don't want that for Europe or for France," he said.
Macron was just getting warmed up—he followed 30 minutes of remarks with a two-hour question-and-answer session. But the more he spoke, the more he expounded so articulately on every question thrown his way, the more he asserted French and European power, the more it seemed the moment might be passing him by. Macron could look at a burning building and see it as an excellent opportunity to better understand the role of oxygen in combustion. He examines the flames, he describes them well, but is it in his power to put them out?
There were his dealings with Trump, who earlier that day had called off a planned visit to Denmark apparently because it wouldn't entertain the idea of selling Greenland to the United States. It was "very simple," Macron said: Anything Trump pledged as a campaign promise is non-negotiable—the U.S. pulling out of the Iran deal and the Paris climate accords—but it's still possible to "convince him" and "do real things" on other issues, such as Syria. When Trump slowed down a bit after announcing the U.S. would withdraw immediately from Syria, "I think it was our exchanges that let him stay," Macron said.
Then it was on to Russia, and the importance of keeping Russia in the conversation (on Iran, Syria) and closer to Europe, and eventually back in the G8; Russia was kicked out after invading Crimea in 2014, but Macron didn't spell out what the conditions would be for its return. Putin, Macron seemed to suggest, basically needed some back-slapping. After the Cold War, Russia needed to find a new enemy, an external conflict, but really, Macron said, they should lay off on the "cyberaggression." "The Russian people live like a great power and a great European power," Macron said. But Russia's population is "declining and getting old, so it's a country that has to choose a destiny."
Then it was on to why India needs to be involved in fighting climate change, how artificial intelligence is the future, why Iran needs to stay in the nuclear accord, how the French police handled the "yellow vest" protests, the importance of economic development in Africa, how climate change threatens biodiversity—and lots and lots about le numérique, or technology, which seems to be French shorthand for It's Google's world, we just live in it. Macron is keen on Europe taxing Google, Apple, Facebook, and Amazon, which operate out of Europe via structures that largely allow them to avoid paying local taxes.
In all, Macron gave a command performance. All of Macron's performances are command performances. He is nothing if not a gifted orator, with a brilliant command of policy details, an awareness of the historical moment, Europe's dark past, what's at stake. He is right. He is always right. He wants to remind you that he is always right. He seems to be saying: The world may be on fire, but don't worry; I'm here. He's a rational man, but these are irrational times. When world leaders meet in Biarritz this weekend to grapple with a new world order, will they listen to him? Will anyone?