Uighurs Can't Escape Chinese Repression, Even in Europe
Activists are sharing their stories and grief—and Beijing is paying attention.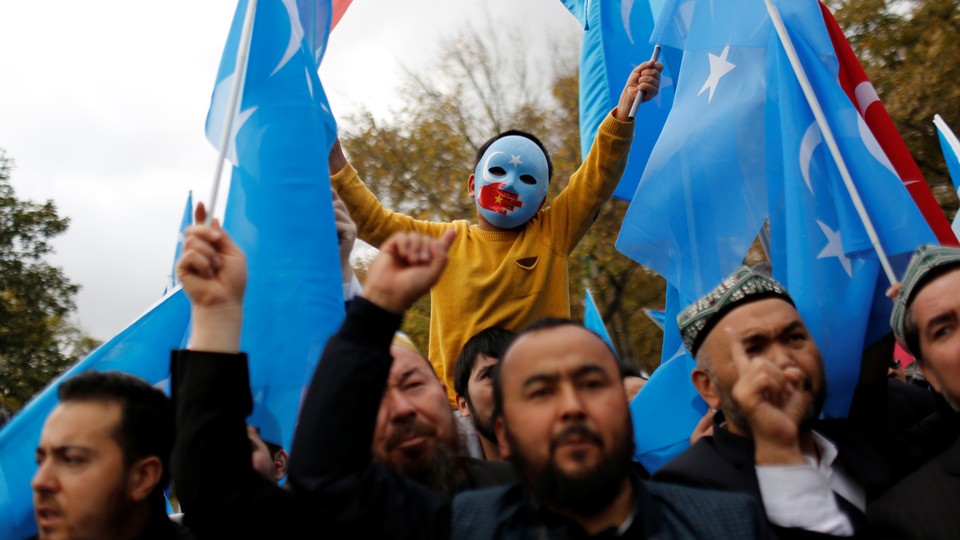 BRUSSELS—In the comfortable living room of a family home near Antwerp, photographs from not so long ago recall the faces of the missing. A business man sits proudly behind the desk of the company he owns. A party of women smile and laugh as they share a cup of tea. Four brothers in sharp suits, with their arms spread across one another's shoulders, grin at the camera.
One of them is Ibrahim Ismael. He and his family fled their home in Hotan, Xinjiang, in 2011. They are ethnic Uighurs, a minority in China but the biggest group in Xinjiang, China's largest and westernmost region, which borders eight countries. They cannot go home, where at least 1 million Uighurs are detained in camps that Beijing says are for "reeducation" (human-rights groups label them "concentration camps"). Nor can they freely campaign for Uighur rights in Europe. Conversations with Uighurs in Belgium, Finland, and the Netherlands reveal a systematic effort by China to silence Uighurs overseas with brazen tactics of surveillance, blackmail, and intimidation. Many of the Uighurs I spoke with did so on condition of anonymity out of concern for their families in China.
Beijing claims that Xinjiang has always been part of China. Some of the province's main cities—Ürümqi, Hotan, and Kashgar—have been strategically important posts on the Silk Road, the legendary trade route that connected China, the Middle East, and Europe for centuries. But the region's history is more complicated. In 1949, separatists briefly declared independence for East Turkestan, the Uighur name for Xinjiang. Although it didn't last long—China took control shortly after the establishment of the communist state in Beijing that same year—the memory of self-governance and invasion lives on.
Most Uighurs, though not all, are Muslim, and speak a Turkic language rather than Chinese. In the 1990s, a major separatist insurrection in the province and the recent collapse of the Soviet Union encouraged China to increase its control in the region. After the attacks of September 11, 2001, Beijing stopped talking about the Uighurs as separatists and started referring to its opponents in the region as terrorists; this discourse, linked to the Islamic faith of most Uighurs, helped China gain international support for its actions. When violence broke out in Ürümqi shortly after the 2008 Beijing Olympics, the government cracked down harder than ever before. The state now monitors the individual trustworthiness of each person. Points are lost for owning a Koran, so-called extremist behavior such as fasting during Ramadan, simply being Uighur, or having a family member living in a foreign country. Those who lose too many points are sent to a camp, often for an indeterminate length of time.
The Uighur diaspora in Europe is relatively small—just a few thousand refugees, in addition to several thousand more in Turkey. Some came on student visas, to France, Hungary, and the Nordic countries, and then stayed. Others, knowing it was a one-way trip, put their safety in the hands of smugglers. Ibrahim and his family paid $40,000 for a journey through Guangzhou, Malaysia, Thailand, and Turkey, before they could start a new life in Belgium. "I arrived with only $100 left in my pocket," he told me.
At first, many Uighurs in Europe were reluctant to speak out. Although Ibrahim and his friends live in European democracies where freedom of speech is promised, they feared that their advocacy would lead to retribution for their families.
One activist told me that when in the past he risked a snatched conversation on WeChat, the widely used Chinese social-media app, the state was listening. "You can hear that there is someone else there," he said . "If we greet our families with 'Salaam Alaikum,' they flinch and tell us to be quiet." The Uighurs I met told me that as surveillance and arrests in Xinjiang increased since 2017, the calls from relatives stopped altogether. "I didn't want to be an activist," says Halmurat Harri, a Uighur campaigner and Finnish citizen, whose parents were detained in Xinjiang in April 2017. "I'm just a son, who wants to speak to his mother." As the silence settled in, many in Europe began to feel they had no other choice but to go public.
Halmurat was one of the first to challenge the Chinese demand for silence. In August 2018, he set off on a "Freedom Tour" of Europe to raise awareness of the detention of Uighurs, including his parents.
Halmurat argued extensively and publicly that his parents' case did not fit with any official Chinese-government excuses for detaining Uighurs. They are retirees, so they don't need vocational training. They are secular, so can't be called religious extremists. His father even speaks fluent Chinese. Halmurat used social media effectively—and in December 2018, his parents were removed from the camp and put under house arrest. He thinks it is "highly possible" that his activism pressured the government to let them go—though they were released just weeks before the Finnish president visited China.
His story has inspired others to follow suit. Activists are now more numerous, more organized, and more energized than ever before. They run workshops, public meetings, and social-media campaigns to hone their strategies and win the attention of politicians. They are eager to share their stories and their grief. But their efforts have not gone unnoticed by Beijing.
China wants to silence its critics, and so it confronts Uighur activists who live beyond its borders.
The EU's border provides little extra protection: Uighurs in Germany, Finland, and Belgium also report being contacted by Chinese authorities. They say they are asked to spy or to reveal sensitive personal details including their home address, workplace, and national ID numbers. The offers, even if refused, breed distrust. Their friends, they are told, have accepted.
Other forms of intimidation are more public. One Uighur man I spoke with reported that he took part in a protest march in Belgium that was followed by a Chinese consular car with blacked-out windows. Halmurat reports that demonstrators in Helsinki have been photographed. According to the World Uyghur Congress, an advocacy group that represents Uighur interests from Munich, Beijing uses such photographs to punish the families of the protesters who remain in China.
Beijing has also sought to silence a network of scholars in Europe, who are working with Uighur activists to help tell their story. Vanessa Frangville, a French scholar at the Université Libre de Bruxelles, has found her work targeted by Chinese authorities. In November 2018, two Chinese officials delivered a letter from the Chinese ambassador in Belgium to the university two weeks after it published an online statement in support of Uighur academics. "The Embassy hopes that the University will be able to avoid being misled by false information, and withdraw from its website the motion and other unfounded articles on Xinjiang, in the general interest of the Belgian-Chinese friendly cooperation," the ambassador wrote.
In February 2019, two individuals dressed as students but identified, Frangville says, by police as Chinese consular staff, disrupted an academic conference in Strasbourg, France, that she organized on the situation in Xinjiang. The individuals distributed propaganda and discredited the panel. "That was kind of a traumatic incident, because they spread doubt about what we were saying," she told me. There have also been reports of similar disruptive incidents in Ireland and in Canada.
The Uighur activists want Western leaders to pressure China over its human-rights record in Xinjiang, in the hope that Beijing may loosen control. The EU has urged Beijing to respect freedom of religious belief, freedom of expression, and the rights of ethnic and religious minorities. On May 3, as the U.S.-China trade war escalated, the Trump administration accused China of running "concentration camps" and subsequently called its actions in Xinjiang the "stain of the century."
But European governments could also do more to safeguard activists living inside their borders. Authorities at times appear ill-prepared to protect Uighur activists. Shortly before he set off on his awareness-raising European tour, Halmurat's car was vandalized. Upon his return, it began to emit white smoke from the engine. When he reported the incidents to the local police, he found that they did not take his concerns seriously.
In July, Halmurat traveled to Turkey to meet diplomats and discuss reported deportations of Uighurs to Tajikistan. Arriving at the Ankara airport after a flight from Istanbul, he noticed that two, then three, then four men were following him, always on their phones, in and out of the airport. They were Uighur, and spoke the Uighur language. When he came closer, he says, they switched to Turkish. Fearing for his safety, he called the Finnish Foreign Ministry and U.S. Embassy in Turkey. While U.S. officials gave information and reassurance, "I do not feel protected by my own country," Halmurat told me.
While European Foreign Ministries are aware of the ways in which Chinese officials intimidate Uighur activists, they can do little to prevent it. In Europe's open, democratic societies, China can legally pressure critics through academia, political lobbying, and the media. The European External Action Service, the EU's foreign-policy arm, has a well-oiled operation tracking Russian influence in Europe, but has only more recently begun to pay more attention to the ways in which China makes use of these spaces to silence critics.
To some extent, Uighur activists are vulnerable because Western societies are not aware of their situation. Many Europeans have never heard the word Uighur, and refugees like Ismael and activists like Halmurat find it hard to generate public support for their cause. "We need people to see us as they see Tibet," Halmurat said.
Only two European countries—Germany and Sweden—guarantee that they will not deport Uighurs claiming asylum. Germany only changed its rules after deporting 22-year-old Dilshat Adil in what authorities called an "administrative error." He has not been heard from since. Rune Steenberg, a researcher at the University of Copenhagen, says that Adil's deportation is evidence of systemic apathy. "Don't believe that Western governments are good, fair, or want your best," he warns Uighur activists. "They're not as bad as others, but they are not as good as you hope."
For Ibrahim and his family, life in Europe is much better than it was in Xinjiang. He is employed as a long-distance truck driver, his three children are in school, and the family can practice their faith at home without retribution. But they are torn in two: between the opportunities of their European future and the pain of knowing that their new life may have contributed to the suffering of their family in Xinjiang.
Whether they are active campaigners or not, Uighurs living far from Xinjiang and farther yet from Beijing cannot escape Xi Jinping's long arm of influence. Small gestures reveal the spirit of independence that will not be cowed. "The strong bully the weak," Ibrahim tells me, as he puts on his shoes and heads out for work. "What China is doing is a test." On the living-room floor, in the doorway of his home, Ibrahim treads on a barely visible photograph that bears the face of Xi. In Belgium, he has merely taken a step. In China, he would have committed a crime. Xi's faded features stare blankly upward, his image worn away by the passing feet of those he tries to silence.