Brexit Got a Lot More Complicated for EU Citizens
The government's bid to end freedom of movement after Britain's withdrawal from the bloc puts Europeans in the country at risk.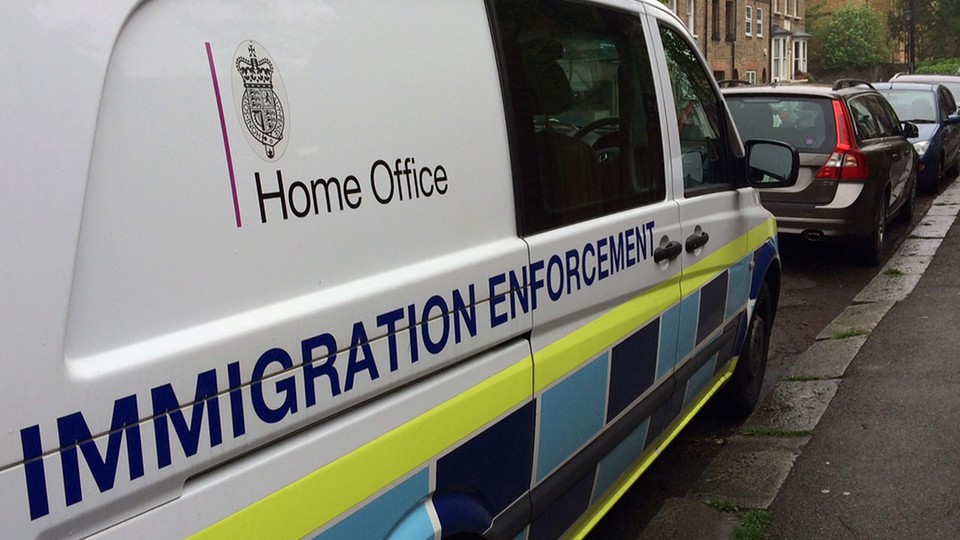 For the past three years, the more than 3 million European Union citizens living in Britain have been in a state of limbo.
At first, it was unclear whether they and their families would be able to continue living and working in the country with the same rights they have now after Britain leaves the EU. Even once the British government unveiled plans last year to impose a new legal status for EU nationals to apply to stay in the country after Brexit, many of those affected feared that the sheer volume of applications could increase the uncertainty of their status.
Then, just two months ahead of Britain's projected exit date, those ambiguities were made worse. Last week, the British government announced it would seek to end the free flow of EU nationals to Britain immediately after it leaves the bloc on October 31.
On its face, this decision is seemingly obvious. Freedom of movement, through which no restrictions are placed on citizens of EU countries who want to live and work across the bloc's member states, is one of the cornerstones of EU citizenship. Britain, which voted to leave the EU over immigration and other issues, was bound to discontinue the policy after Brexit. But this stark shift in Britain's immigration policy wasn't expected overnight: Under plans set out by former Prime Minister Theresa May's government, freedom of movement would be allowed to continue until at least the end of December 2020, the deadline by which EU nationals living in the country would need to apply for their new legal status to remain in the country after a no-deal Brexit (with a deal, that deadline was to be extended until June 2021).
A spokesman for Britain's Home Office, which handles immigration issues, told me the decision to end freedom of movement would have no bearing on this deadline, noting that "EU citizens and their families still have until at least December 2020 to apply to the EU Settlement Scheme," which would grant them legal status in Britain after Brexit.
In practice, however, it's not so simple. Under Britain's current immigration system, EU nationals who live and work in the country don't require any documentation apart from a valid passport. As a result, there is no formal government registry of those who have exercised their free-movement rights to live and work in Britain. The estimated figure of 3.5 million EU nationals in Britain is just that—an estimate.
This means that if freedom of movement were to end tomorrow, or in two months, there would be no way for the British government to distinguish between the EU nationals who are eligible to stay in the country and those who have newly arrived. The only ones they can foreseeably account for are the 1 million EU nationals who have already applied for settled status through the government's EU Settlement Scheme.
"The vast majority of [EU nationals in Britain] have not yet applied to the scheme," Kuba Jablonowski, a research associate at the3million, an advocacy group for EU citizens in Britain, told me, noting that even those who have already been granted their new legal status still lack any physical documentation to prove it. (A copy of a letter confirming an applicant's settled status seen by The Atlantic states, "This letter is not proof of your status in the U.K.")
This poses a problem for EU nationals living in Britain, where virtually every aspect of life—including employment, renting a home, visiting a doctor's office, and opening a bank account—requires proof of legal status in the country. "If somebody gets a job on the first of November and goes to their employer, how do they evidence that they have a right to work?" Jablonowski asked.
According to the British government, just as they do now. In a statement, the Home Office reaffirmed that those who haven't applied for their new legal status "will still have the same entitlements to work, benefits and services and will be able to prove these in the same way as they do now." When asked for examples of how EU nationals would provide proof of their current status, the Home Office said it would not comment further.
Prime Minister Boris Johnson had previously pledged to protect EU citizens, arguing, "It isn't right that people who have spent years of their lives in the U.K. … should worry about their continued presence in the U.K. as a result of our decision to leave." Yet by moving up the deadline by which freedom of movement would end, the government has both introduced the exact uncertainty it had hoped to avoid and created a conundrum for those whose job it is to distinguish between those who came before Brexit and those who arrived after.
"The reality is that you cannot both promise to meaningfully end free movement on the 31st of October and give EU citizens until the end of 2020 to apply," Joe Owen, the program director on Brexit at the Institute for Government, a London-based think tank, told me. Apart from the bureaucratic nightmare this sudden shift would cause, there are legal limitations, he said. Implementing a new immigration system that omits freedom of movement would require legislation. Efforts to implement it through so-called secondary legislation, which would not require parliamentary approval, would almost certainly be subject to legal challenges.
But perhaps the biggest challenge facing the government is time. "You cannot change the migration system … and not have a plan for how you replace it within 10 weeks," he said. "It's really not clear how on earth they plan to get this through."