Boris Johnson's G7 Balancing Act
The summit has forced the British prime minister to navigate divided priorities: Europe and Trump.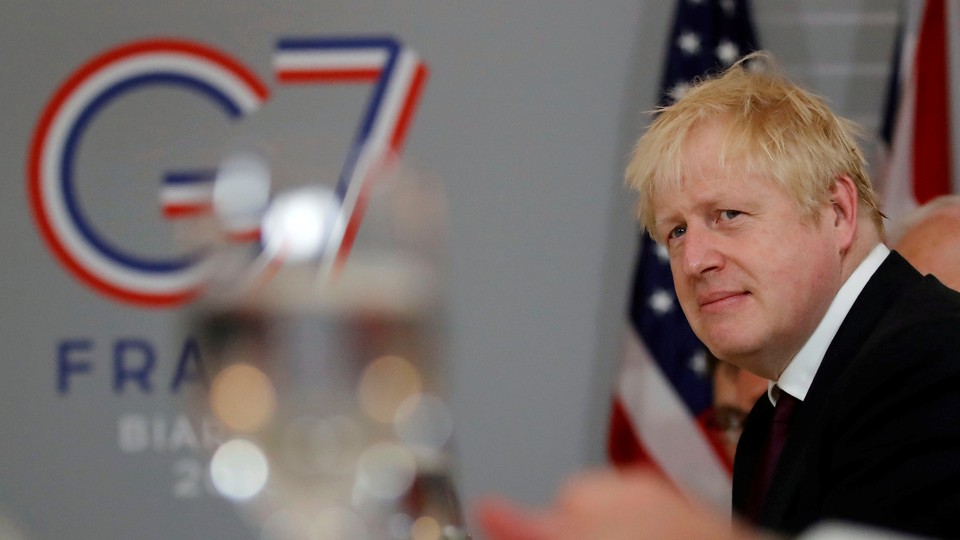 Boris Johnson has spent the first month of his premiership holding bilateral talks with Britain's allies in the European Union and in the United States. But can he appeal to both at once?
At this weekend's Group of Seven summit in the French seaside town of Biarritz, he has endeavored to do just that. The annual gathering, which brings together leaders from Britain, Canada, France, Germany, Italy, Japan, and the United States, marks the British leader's debut at an international summit. For Johnson, it's an opportunity to reaffirm Britain's role as an enduring global player, just months before its potentially chaotic exit from the world's largest trading bloc.
But it also poses a more difficult diplomatic test—one in which Britain will need to undergo the tricky balancing act of maintaining its relationships with its European partners while also cultivating a potentially lucrative relationship with President Donald Trump.
Arriving at the summit yesterday with jokes and smiles, Johnson didn't appear too daunted by the task. But it won't be easy. The U.S. and the EU find themselves on opposing sides of myriad policy issues, ranging from the Iran nuclear deal and NATO to climate change and trade. Strained between both sides of the Atlantic, Britain is left with few options: To maintain close alignment with the EU risks compromising Johnson's burgeoning bromance with Trump and the president's promise for a "very substantial" post-Brexit trade deal; to do the opposite risks sparking further confrontation with the EU amidst the ongoing Brexit deadlock.
Brexit and trade have been the focus of the summit for Johnson, who held bilateral meetings today with both Trump and European Council President Donald Tusk to discuss them. To the former, Johnson called for the removal of "very considerable barriers" barring British goods such as pork pies and U.K. bell peppers from being exported to the U.S. market. To the latter, he warned that the only way to prevent a no-deal Brexit, on which Tusk said he will not cooperate, is to remove the Irish backstop, a provision in the current Brexit deal, negotiated by his predecessor, Theresa May, that would maintain an open border on the island of Ireland by keeping Britain closely tied to EU rules and regulations (Johnson has dismissed the backstop as "antidemocratic").
The transatlantic divisions between European leaders and the Trump administration offer a preview of the balancing act that British foreign policy will need to navigate in a post-Brexit world. On Iran, Britain has remained firmly aligned with Germany and France in defense of the 2014 nuclear deal and in opposition of the Trump administration's efforts to undermine it through the reimposition of crippling sanctions on the Iranian regime. Still, Britain also announced last month that it would join a U.S.-led mission in the Gulf following the seizure of one of its tankers by Iran in the Strait of Hormuz. Though the British government insisted that the move doesn't constitute a shift in its position on Iran, Germany and France notably decided not to follow suit, citing opposition to Washington's strategy of "maximum pressure" on Iran.
On trade, Britain is in a similarly difficult position. With just two months left before it leaves the EU and all the trading relationships that membership to the bloc affords, London is desperate to begin striking its own deals—starting with the United States. But a free-trade deal with the U.S. won't be easy, and Washington is likely to expect any number of concessions from British officials on both the trade and foreign-policy fronts. Without significant leverage at its disposal, Britain is unlikely to be able to negotiate with the U.S. on an equal footing.
Trump has so far taken a shine to Johnson, whom he endorsed to succeed former Prime Minister Theresa May ahead of his state visit to Britain earlier this year. In the days following Johnson's ascendance, Trump boasted about his British counterpart being called "Britain's Trump," and the two have since held several phone calls to discuss issues including Brexit (of which Trump is a vocal supporter) and trade. "He's the right man for the job," Trump said of Johnson in their first meeting since Johnson took over as prime minister.
Still, Johnson has been careful not to be seen as embracing the American president, who remains unpopular in Britain, too closely. In addition to calling for the U.S. to remove trade barriers on British goods, Johnson also distanced himself from Trump's renewed calls for Russia to be readmitted to the G7 without preconditions following its expulsion from the group over its annexation of Crimea in 2014.
"Given what happened in Salisbury in Wiltshire, given the use of chemical weapons on British soil … given Russia's provocations," Johnson said in a press conference alongside German Chancellor Angela Merkel last week, "I must say I am very much with Chancellor Merkel in thinking that the case has yet to be made out for Russia to return to the G7."
But whether Johnson is able to balance Britain's interests with both the U.S. and Europe may ultimately be out of his control. "A lot comes down to what mood Donald Trump is in," Leslie Vinjamuri, the head of the U.S. and Americas program at the London-based Chatham House, told me, noting that the American president has been known to portray himself as a defiant force in these international gatherings. Indeed, last year's gathering ended in Trump departing the summit early and withdrawing his endorsement of the group's joint communiqué following a bitter dispute with the summit's host, Canadian Prime Minister Justin Trudeau, over trade.
"If the last seven to 10 days are anything to go by, this is not a good moment," Vinjamuri said, citing the president's decision to cancel his state visit to Denmark over the country's refusal to discuss selling Greenland.
Some efforts have been taken by this year's host to avoid such confrontation. Ahead of the summit, French President Emmanuel Macron announced that this year's gathering would dispense with the joint communique, noting that they are only used to detect dissent. "I know the points of disagreement with the U.S.," Macron, the summit's host, said, adding: "It's pointless."