China's Investments in Rwanda Raise Familiar Questions About Debt
African nations have welcomed the funds despite concerns that the costs are outweighing the benefits.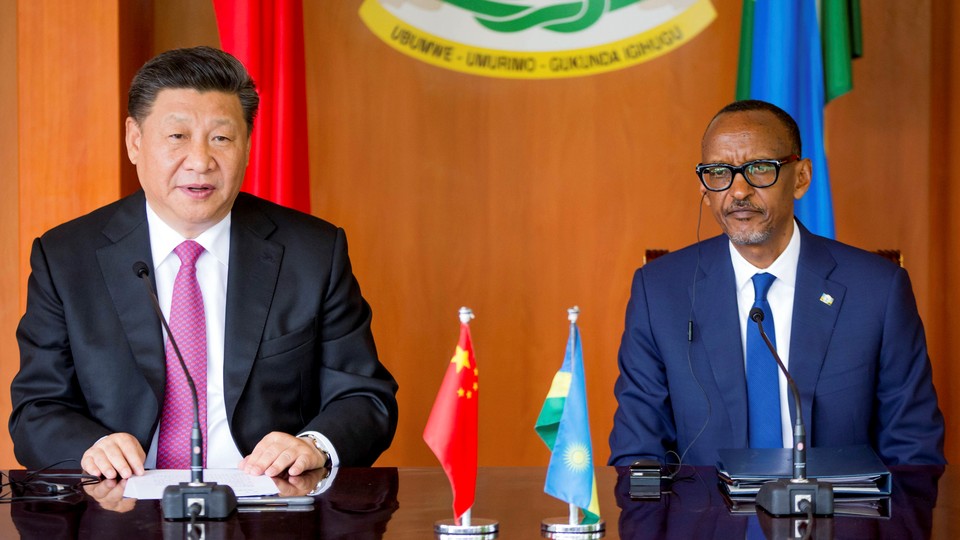 KIGALI, Rwanda—The prime minister's office here is a shiny new complex in the heart of the capital that was inaugurated in April by the incumbent, Édouard Ngirente, who used the occasion to praise his country's relationship with its economic benefactor in recent years: China.
The complex, built at a cost of $27 million, was a gift from the Chinese government to Rwanda—or, as Ngirente put it, "yet another indicator of how ... the relationship between China and Rwanda is always growing stronger."
Indeed, many  testaments to the progress since the end of the Rwandan genocide—the seats of a stable government, the industrial complexes behind a growing economy, the housing for an emerging middle class—have been built by the Chinese. The projects have been marked by red flags, stars, and plaques, which have put in plain sight a rising, and worrying, trend for Rwanda and the region. Even as China invests more attention and resources in Africa's development, it sinks nations on the continent deeper into debt and dependence. Now many in the West—prominent politicians, generals, economists, and more—believe that the costs are outweighing the benefits and that Chinese investments are imperiling African prosperity and sovereignty in the process.
It is a view that is not always shared on the continent. As shown by last year's Forum on China-Africa Cooperation, which drew more African heads of state than the United Nations General Assembly, interest in Chinese investment remains high—and for good reason. With some 750 million people under the age of 25, as well as the world's fastest-growing population, Africa is eager for the jobs that China can bring. In addition, the continent needs more than $100 billion in infrastructure investment each year, according to the African Development Bank, and it wants the roads, ports, and bridges that China is particularly proficient at building. To sweeten this deal, China's largesse also lacks the lectures and strictures of the West, whose dollars have long come with conditions on good governance, balanced budgets, and more.
Here in Kigali, it's easy to understand why many African states are breaking with their Western backers to welcome Chinese lenders. Twenty-five years after the genocide that killed 800,000 people and tore asunder this country of 12 million, Rwanda's success has been remarkable, and China's investments have only seemed to help. This much can be seen in the new office of the Rwandan prime minister, which joined the office of the foreign minister as one of China's generous gifts. There is also the "Prime Economic Zone," an industrial hub partially built by China Star Construction that has become an engine of economic growth in recent years—complete with Chinese script on many buildings, Chinese lanterns in many windows, and one conspicuous Chinese flag. Tens of millions of dollars are also flowing into Rwanda's underdeveloped Eastern Province, where China is financing and building three multi-thousand-person stadiums. On top of all this, an estimated 70 percent of Rwandan roads have been financed and built by the Chinese as well.
China's presence is clear in other areas too. Like China, Rwanda has embraced central economic planning by empowering government-owned investment funds to guide the economy. It has also rejected liberal democracy by scrapping term limits for its long-serving leader, President Paul Kagame. The Chinese-trained, Chinese-speaking Rwandan army brigade that marched in the military parade here last month further reflected just how far the relationship has come.
However, a strong and steady hand that efficiently administers state capitalism and is aided by eager Chinese backers is not as good as it might sound. A World Bank report released last month shed new light on Rwanda's high-growth, high-debt dilemma. While congratulating Rwanda on a "brisk" GDP growth rate of 8.6 percent, the report cautioned the country over its rising debt-to-GDP ratio, which had risen to 53 percent. This means Rwanda will now spend more on making interest payments—and have less to spend on basic services for its people.
And yet Rwanda has plowed on with its participation in Chinese projects. A year after signing deals for China's Belt and Road Initiative, Rwanda announced that it would also be joining China's Asian Infrastructure Investment Bank, a potential rival to the World Bank. Now it seems to be sleepwalking toward a territory that some of its fellow African states, most notably Zambia, Congo, and Djibouti, have perilously entered. This is the "Chinese debt trap," a simple financial phenomenon that is beginning to have some not-so-simple geopolitical ramifications.
When China makes its sizable loans, recipient nations put up equally sizable collateral. In the event that debts rack up and the borrowing nations default, China will get its hands on whatever they can offer. The scenario has played out publicly only once before, three years ago in Sri Lanka, when China was able to seize the strategically and economically critical port of Hambantota in an incident that has raised considerable concerns around the world ever since.
In Africa, these concerns are running as high as ever. Nations have borrowed $143 billion from China since 2000, and debt-to-GDP ratios have risen rapidly over the same period. In Zambia, Chinese loans ($6.4 billion) make up the vast majority of the nation's $8.7 billion in debt. As a result, reports of anti-Chinese unrest, ranging from a #SayNoToChina Twitter campaign to attacks on Chinese shop owners, have begun to surface. For the Republic of the Congo, whose president had to travel to Beijing last year to get clarification on just how much his country owed, the IMF was forced to swoop in last week to deliver a half-billion-dollar bailout to mitigate the mounting Chinese loans. Most disconcerting is Djibouti, a crucial nation for U.S., French, and Chinese military operations, where China holds 77 percent of the debt. There are fears that China will take over one of Djibouti's ports, which General Thomas Waldhauser, who leads the U.S. Africa Command, worries would undermine the U.S. military in the region.
The list of vulnerable nations goes on. Kenya's debt to China has grown tenfold in the past five years, now totaling $5 billion, raising worries about a seizure of a prominent port in Mombasa. Angola, which, by some estimates, owes China $25 billion and which has put up its oil as collateral, has been left with less to sell on the open market. In Ghana, fears of Chinese overreach have surrounded a $2 billion infrastructure deal with the Sinohydro Corporation that will be paid for with the nation's aluminum supply.
However, even as debt to China grows across the continent, it is far from certain that it is following a particular "debt trap" strategy. In truth, there are many reasons China would be interested in reaching large, growing, and untapped markets that are rich in natural resources. The debt might be only a by-product.
"It's always difficult to disentangle interests with China," Judd Devermont, the CIA's former senior Africa analyst and the current Africa director at the Center for Strategic and International Studies, told me. "If you look across all of their projects, some of them would look like fairly good commercial deals. Some of them would have clear political capital. Some of them may serve security or military interests. But I think it's incredibly difficult to look at the debt and make a broad statement." Indeed, the true costs of China's rise on the continent may lie elsewhere: in illegal mining, environmental degradation, increased corruption, or simply bad work.
Even when China's debt-trap diplomacy doesn't manifest itself as clearly and literally as some have described it, such lending can still benefit China politically. Researchers at the College of William & Mary have found that if an African country votes with China in the United Nations an additional 10 percent of the time, it will receive an additional 86 percent in aid. Following Chinese President Xi Jinping's 2018 pledge to deploy $60 billion to Africa, such dividends for Chinese diplomacy will likely only grow.
Worrying though these developments may be in the West, people here aren't worrying—they're celebrating. In China, Africa has found willing and able financiers, engineers, and partners who have come to the continent without the West's strict conditions on democratization, liberalization, and privatization. "[The West] used to hold the stick and the carrot," Gerald Mbanda, an official at the Rwanda Governance Board and the author of the recently released book China and Rwanda, told me. "But now the carrot got smaller, and someone else is offering a full carrot with no stick accompanying. Which one would you prefer?"
Today, as China has come to finance one in five infrastructure projects in Africa and build one in three, it is clear that its stick-less carrot is what is finding favor. According to Afrobarometer, Africa's leading polling firm, not only is China considered to be the most influential country on the continent, but 63 percent of Africans believe that influence to be positive.
Now the United States is hoping to do something about China's rise. Just last month, the Trump administration rolled out a new program, Prosper Africa, to address the issue. But with only $50 million in its budget, earmarked solely for providing technical assistance to U.S. firms setting up shop in Africa, it's unclear how Prosper Africa might help. So far, in fact, it has only seemed to hurt. At the launch ceremony in Mozambique, a former Liberian minister of public works fumed, "The U.S. does not even have the decency, the courtesy, to send a Cabinet-level official to this event." Indeed, the presence of Deputy Commerce Secretary Karen Dunn Kelley stood in stark contrast to how China has treated the continent, which has been visited by President Xi twice and by his foreign minister annually (neither of whom has referred to African nations as "shithole countries," as President Donald Trump has).
Even still, it will not be the worst thing if the U.S. fails to find a way to reverse Chinese fortunes here. In truth, the U.S. has overlooked the many benefits China has brought to the continent: infrastructure in Rwanda, a mass vaccination campaign in Kenya, a 50,000-student scholarship program, and a $50 billion debt renegotiation, to name a few. Nor can the United States seriously expect to compete in the areas China has come to dominate, such as building roads, ports, and bridges. Nor, for that matter, has the United States honestly acknowledged the agency of Africa in all this, the failure of Western development efforts, and the strong suspicion of Western aid, oversight, and intervention that still exists. "The West has that colonial baggage," Mbanda told me.
To be sure, some problems still require addressing. The threat of unsustainable debt is real, as is the prospect of the Chinese government limiting American military mobility through its new control of ports, Devermont told me. Moreover, corruption has a well-researched habit of surging in areas where Chinese investment sites exist. In addition, a comprehensive study published earlier this month has shed light on China's "hidden" lending as 50 percent of Chinese loans are made in secret, which is saddling nations with debt worse than we know.
But few benefits can come from turning Africa into another theater of geopolitical tension with China. As China continues its rise, and as its loans continue to come, there is little doubt that cooperation will fare far better than confrontation. "The Chinese are answering a need for Africans, and the U.S. government should be supportive of that," Devermont told me. "We have been way too zero-sum."