Angering China Can Now Get You Fired
The pressure on Hong Kong executives to suppress dissent could go global.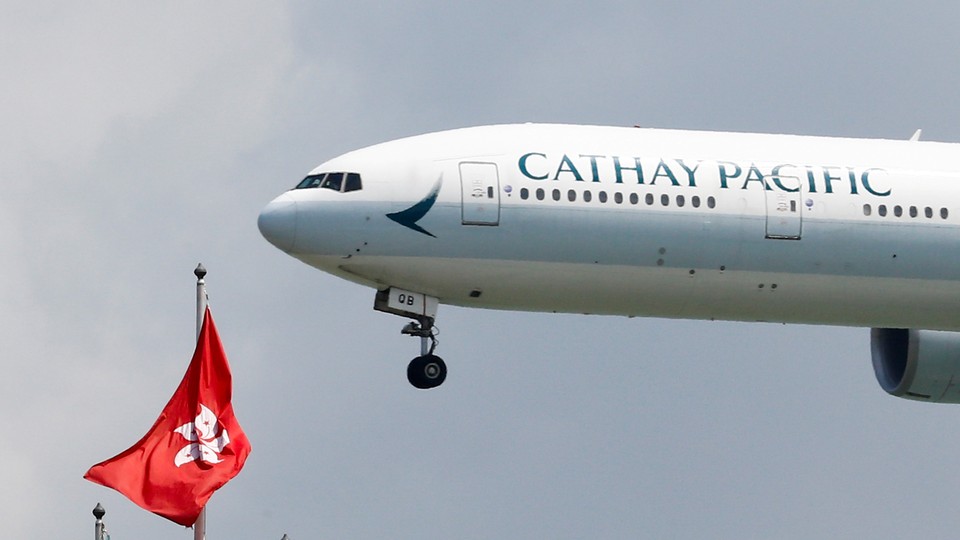 Not too long ago, China "taking your job" meant its wages were far lower than Western alternatives, thus allowing it to "steal" blue-jean and iPhone factories.
But what if it meant getting you fired for what you believe? That's apparently what happened last week to Rebecca Sy, a long-serving flight attendant at a subsidiary of the Hong Kong–based airline Cathay Pacific. Her crime: supporting the pro-democracy protests engulfing Hong Kong on her Facebook page.
Sy's dismissal is just the most glaring example of a new stage in Beijing's clampdown on widespread protests in the former British colony—arm-twisting Hong Kong companies to do the dirty work to ensure that their staff don't take part in the demonstrations that have gripped the city through the summer. By threatening shareholder returns and employees' livelihoods, Chinese Communist Party (CCP) leaders seem to believe that they can finally quell Hong Kong's demands for civil liberties.
The consequences for Hong Kong are potentially dire. The city has thrived as Asia's premier financial center and a favored destination for global companies because of its strong rule of law and trustworthy administration—crucial elements for doing business that are sorely lacking in many other parts of the region, most of all China itself. But Beijing's persistent efforts to bring the territory under its political thumb run the risk of undermining confidence in the "one country, two system" formula that governed London's 1997 handover of the city to China and that ensures Hong Kong a high degree of autonomy. Without it, Hong Kong would not be Hong Kong, and the pillars supporting its economy and society would crumble.
More than that, Beijing's pressure on Hong Kong companies could easily go global. If CCP cadres use their economic leverage over Hong Kong executives to stifle dissent against China, what's stopping them from doing the same to American, European, or Japanese managers worldwide? Here we find what may be the darkest side of the integration of authoritarian China into the global economy. Companies from Starbucks to Apple have become heavily reliant on Chinese consumers to drive revenue growth, and it is not unreasonable to think that Beijing could capitalize on those business interests to impose its political views on the world.
To an extent, Beijing already has. It's become almost routine for Hollywood producers to scrub scripts of anything that might offend thin-skinned Chinese censors and prevent a film from showing in lucrative Chinese theaters. Companies that accidentally tread on Chinese political sensitivities—by, for instance, including Taiwan among countries on their websites (Beijing considers the island part of China)—bring its ire upon them. Amid the Hong Kong scrape, Versace and Coach had to issue groveling apologies after angry Chinese perceived that they were listing the city as independent from China on their products.
But the case of Sy's firing shows that Beijing is turning up the heat further still. The CCP is intervening directly in the staffing decisions of firms, pitting managers against their own employees, and enforcing Beijing's wishes in an area beyond the direct control of China's surveillance state.
No company has come under greater distress than Cathay Pacific. Earlier this month, China's aviation authority ordered the airline to remove any cabin crew involved in Hong Kong's protests from flights to the mainland, claiming that such a step was meant to "improve flight safety and security." Not complying was really not much of an option. Though Cathay Pacific is a major international carrier that flies everywhere from New York to New Delhi, a substantial part of its business is funneling passengers to China, especially on planes operated by its subsidiary Cathay Dragon.
The Chinese edict threw the airline into turmoil. Several days later, Rupert Hogg, Cathay's CEO, warned employees that the company had "a zero-tolerance approach to illegal activities" and threatened that staff participating in demonstrations could face termination. The airline quickly suspended a pilot involved in the protests. Hogg himself became a victim, unexpectedly resigning to "take responsibility" for the airline's woes.
Then came Sy's sudden sacking. She claims that she was fired in a meeting with airline representatives after confirming that screenshots of Facebook posts were from her account, though she said she was given no explanation for her dismissal. (Later, Sy admitted publicly to posting pro-protest material on her Facebook page.) A Hong Kong union group called Sy's firing a "blatant act of suppression." Why Sy was outright fired rather than reassigned to work that would not take her to China remains unclear. When I posed this question to a Cathay spokesman, the company replied in a statement that "we cannot comment on individual cases," but then proceeded to do just that, saying Sy's dismissal had nothing to do with her activities as the chief of a flight attendants' union. More generally, the company added that such personnel decisions are based on "all relevant circumstances including applicable regulatory requirements and the employee's ability to perform his/her job."
Meanwhile, the airline is suffering. Cathay's shares, traded on the Hong Kong exchange, plunged in the days following China's edict (though they have since recouped the losses). Beijing is egging on the slide. China's largest state-owned bank downgraded Cathay's stock to a "strong sell" last week.
Similarly, MTR Corporation, which operates Hong Kong's subway system, faced intense criticism in Chinese state media for what was deemed too soft an attitude toward protesters in its train stations. Wilting in the spotlight, MTR said that it "strongly condemns all acts of violence and illegal activities," and that it would shut stations without notice if necessary to control unrest.
The so-called Big Four international accounting firms have also come under sharp scrutiny. After a group of unnamed employees published an advertisement supporting the protests, the firms quickly tried to distance themselves. "We firmly oppose any action and statement that challenge national sovereignty," said PricewaterhouseCoopers, one of the four. Unsatisfied, a story in the Global Times, a Communist Party–run newspaper, demanded that the companies "fire employees found to have the wrong stance on the current Hong Kong situation."
By harassing these specific firms, Beijing's leaders are clearly sending a wider message to all business in Hong Kong, both local and international: Support the crackdown, or suffer the consequences. A recent commentary in the Global Times made that threat explicit. "Companies should not become accomplices of the rioters. Moreover, they need to see themselves as an important symbol of maintaining a stable and prosperous society," it read. Otherwise, "behavior that hurts Chinese people's feelings are always eventually uncovered by netizens, and the companies guilty of such behavior are criticized or boycotted."
For now, the pressure on these companies to act against democracy advocates has been limited to Hong Kong. Yet the businesses in Beijing's crosshairs are also global, with employees and operations around the world. (Even MTR operates rail services in the United Kingdom, Australia, and Sweden.) It is not such a big leap to fear staff working for these firms outside of Hong Kong could also be vulnerable if they express favor toward the protest movement.
More broadly, CCP officials have influence over many of the world's most prominent companies, which they could use to put management and their employees in a chokehold. Could they order General Motors or Nike—or any other international company with extensive business in China—to fire a staffer who tweets support for the Dalai Lama or an independent Taiwan, with the threat of a canceled license or social-media boycott to force compliance? Of course, that would further alienate foreign companies already frustrated by unfair treatment and barriers to their business in the Chinese market. But as the crackdown in Hong Kong shows, the leadership in Beijing can place political control over economic reason.