Arab Women Are Tired of Talking About Just 'Women's Issues'
More and more female writers, journalists, and artists are offering an alternative to the typically male, often autocratic voice that dominates the Middle East.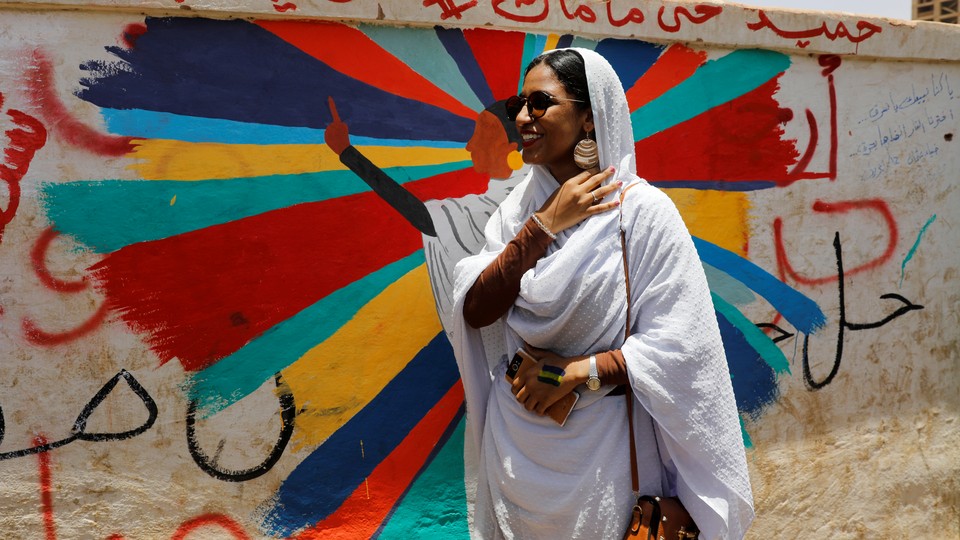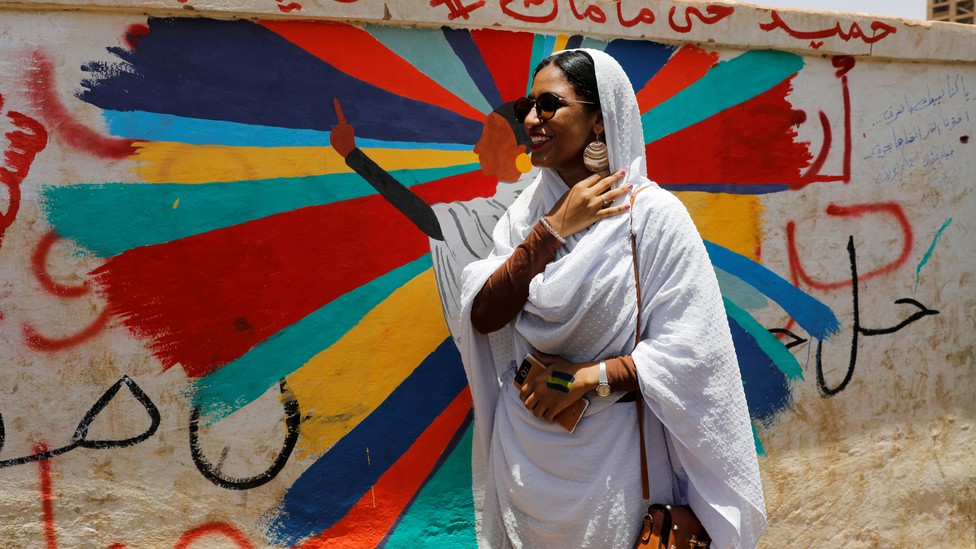 The striking image of a tall woman dressed in white, lightly veiled, wearing large gold earrings, and raising a finger as she led several hundred men and women in chants of protest against Sudanese President Omar al-Bashir went viral in April.
Described as a Nubian queen, 22-year old Alaa Salah quickly became an icon of the movement to bring down Bashir—and of the widespread participation of women in the protests that eventually resulted in his ouster. Her efforts, and those of many other women, were covered extensively by the media as an extraordinary moment, almost an exception.
Yet before Sudan, women were at the forefront of protests in Benghazi, Libya, in 2011; and in Yemen that same year, with one, Tawakkol Karman, going on to win a Nobel Peace Prize. And women were key to the activism that helped sustain the protests and civilian resistance against Syrian President Bashar al-Assad, with hundreds if not thousands of them landing in government jails.
Though many of those protests were crushed, they were not new or fleeting moments of Arab women exerting their power. Women in the Middle East have historically been active in many fields from newspaper publishing in the early 20th century to banking and politics today, but their role has often been overlooked.
Now, however, a growing chorus of Arab women is offering an alternative to the typically male, often autocratic voice that dominates within their own societies (and in Western portrayals of the region). Through a variety of media, from journalism to television to literature, they are undermining the long-held narrative of Arab women as docile and submissive.
This is what emerges clearly from the recently published anthology Our Women on the Ground: Essays by Arab Women Reporting From the Arab World, a book edited by the Lebanese journalist and writer Zahra Hankir that brings together 19 essays by women journalists, all of them Arab or Arab American.
The essays are at turns searing, poignant, and funny, but what shines through in all of them is the sheer strength of the women writing. Whether it's Hannah Allam covering Iraq for McClatchy newspapers in the days after the 2003 invasion, hunkering down in a shrine being bombed by American military jets; Nour Malas reporting for The Wall Street Journal on the descent of Syria, her homeland; or Hwaida Saad, a Lebanese reporter for The New York Times in Beirut who maintained open channels to contacts inside Syria with empathy and social-media ingenuity, their work has greatly enriched Western audiences' understanding of what is unfolding in the region—hence, they are "our" women on the ground, all of us reading their articles.
In the essays, Hankir says, "none of them were striving to dispel stereotypes about who they are. Instead, they were focused on the task at hand, their jobs, and oftentimes survival. There is no one Arab woman; there is no one way to be an Arab woman; and there is no one Arab female experience. By telling their stories, these women, without intending to do so, and without a Western audience in mind, have punctured prevalent narratives rooted in flawed post-colonial discourse."
Some of the authors report for local media, such as Shamael Elnoor, who traveled into the war-ridden province of Darfur in 2015 to interview the feared chief of the Janjaweed militia; or Asmaa al-Ghoul, who stood up to militants from Hamas in Gaza with her pen and her gaze while writing for the Palestinian paper Al-Ayyam. Some have to deal with families who disapprove of their dangerous careers; others can count on fathers to remonstrate militants who dare question the women's choices.
Through the essays, the reader meets yet more women from Libya to Yemen whose resilience and power are humbling, and who can "be devilishly funny" through the worst circumstances, as Allam writes in her essay. These women are journalists, activists, or teachers, yet they are never reduced to the sole status of women or asked to speak specifically about gender.
The notion that Arab women have much more to say than just commenting on their lives as women and on gender issues should be an obvious one, and it's what drove the veteran Lebanese journalist Nada Abdelsamad to conceive her weekly talk show, Dunyana—Arabic for Our World—airing on BBC Arabic TV. (The program has been on air since 2014, when the British broadcaster began a push to give more airtime to women to achieve gender parity across all its output.)
Abdelsamad took the idea further in her show. The program not only features an all-women panel with the occasional male guest; it eschews the discussions of motherhood and child-rearing heard on many women's talk shows, choosing instead to focus hour-long episodes on a specific political or social issue. On Dunyana, female experts discuss everything from youth unemployment to modern Arab literature to counterterrorism strategies. To date, Abdelsamad has had 720 women on the program, from every single Arab country, and has herself been surprised by the seemingly never-ending supply of women experts to sustain the show. She refuses to include politicians on her shows, and while some of the women are prominent in their own country, there are no celebrities.
In a region where debate has been constantly stifled by oppressive rulers, "it wasn't easy at the beginning to convince the guests to interrupt each other to make it a free-flowing discussion," Abdelsamad told me. She said she noticed that the women were particularly averse to interrupting or contradicting male guests. To promote more debate, she began to brief her panel more thoroughly on the format as well as the content.
Some of her favorite episodes include a heated discussion on atheism with a Saudi guest, the television anchor Buthaina Nasr, who chose to appear without her veil, and a show on the future of oil, renewable energy, and water in the region that featured Sara Akbar, a Kuwaiti petroleum engineer, and Shorouk al-Abaiji, an Iraqi water and agriculture expert.
Dunyana launched a new format a couple of months ago with a rotating panel made up of three women of different nationalities who debate one or two topics among themselves and with a guest. Abdelsamad, who anchored the program from its inception, is no longer on screen but remains as the editor. In a recent episode that made waves on social media, the Palestinian actress and art curator Manal Khader confronted a priest about personal liberty and freedom of expression after accusations of blasphemy against a popular Lebanese indie-rock band led to the cancellation of one of their concerts in Lebanon this month.
Abdelsamad's show would be groundbreaking even in the United States or other Western countries, where all-male panels are still a regular occurrence, and where there continues to be a dearth of women experts cited in newspaper articles and academic papers. Male writers and reviewers also dominate book coverage in the United States, according to the nonprofit organization VIDA, even though women writers and readers are the majority. Arab women, therefore, face twin obstacles: the West's own gender biases, and the reductive narrative of the Arab woman.
This is why it was such a victory when the International Booker Prize jury chose an Arab novel—one written by a woman—to receive the award for the first time in the prize's history. The Omani novelist Jokha al-Harthi's breathtaking, layered, multigenerational novel Celestial Bodies, which was beautifully translated into English, follows the lives of three sisters from a small village at a time of rapid social and economic change in Oman. The tale is replete with history, poetry, and philosophy, but also slavery, broken marriages, passion, and not-so-secret lovers.
The chair of judges for the prize, the historian Bettany Hughes, said that the book gave the jury "access to ideas and thoughts and experiences you aren't normally given in English. It avoids every stereotype you might expect in its analysis of gender and race and social distinction and slavery."
That's also why Hankir wanted to compile Our Women on the Ground. Though numerous memoirs have been written by Western foreign correspondents about the region, she writes in the anthology, "a volume like this one, which amplifies local Arab female voices in the literary space, hadn't yet been created and was long overdue."
Hankir told me that while questions from the audience at book events thus far in the United States have been thoughtful, she was surprised by how often journalists asked her about how her anthology would help puncture the narrative of the docile Arab woman, a reflection of how enduring that lens remains. It is still one chosen by some Western reporters in their own stories (as well as the one seen in portrayals from Hollywood and elsewhere), helping to perpetuate the stereotype.
And so, while the chorus of strong Arab women's voices is growing, the question is: Does the West want to hear it?