Britain Is Hoarding a Treasure No One Is Allowed to See
In recent years, requests for the permanent return of items taken during the imperial era without their owners' consent have gathered pace.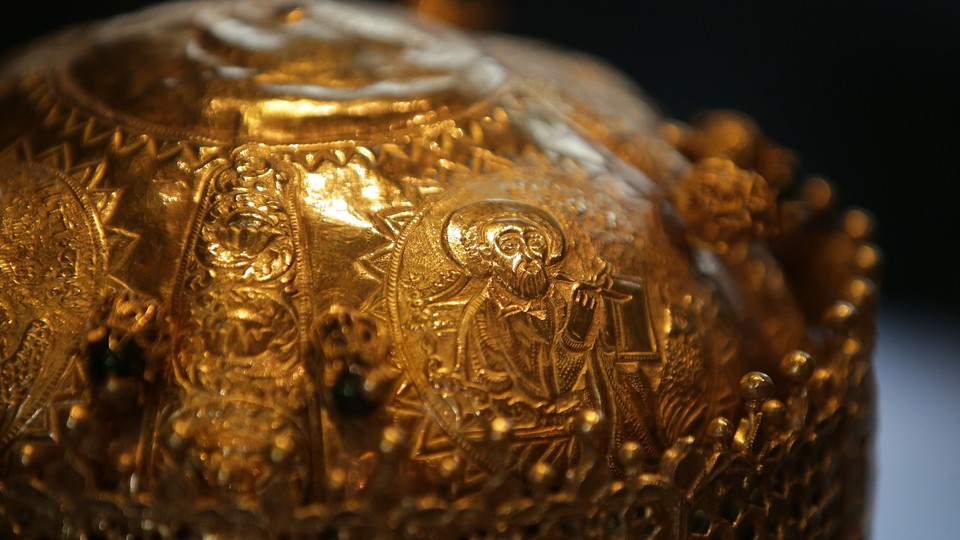 LONDON—In a storeroom of the British Museum here sits a collection of 11 wood and stone tablets that nobody is allowed to see. They are Christian plaques, or tabots, that represent the Ark of the Covenant, and they belong—though belong in this case is a contested term—to the Ethiopian Orthodox Church, which believes only its priests should view them.
The tabots were seized, along with hundreds of other precious items—processional crosses, gold and silver jewelry, illustrated manuscripts—by the British army in 1868, after it defeated Ethiopian Emperor Tewodros II at the battle of Maqdala. There is hardly a clearer case of officially sanctioned plunder: When Tewodros committed suicide, soldiers ransacked his treasury, then auctioned off their finds among their entourage to pay for the expedition. They had even brought along an expert from the British Museum to bid for some of the choicest items. The majority of the artifacts, some of which first passed through the hands of private owners, now sit in the collections of leading U.K. museums and libraries, even though Ethiopia has repeatedly asked for them back over the past century and a half.
Today, Ethiopia is asking once again, yet even in the case of the tabots—which are of limited use to the U.K., since literally nobody is allowed to see them—the answer is no. The British Museum's best offer, made last month, was that it would consider the possibility of a long-term loan.
For many Ethiopians, the items seized at Maqdala are of vital importance—"a fundamental part of the existential fabric of Ethiopia and its people," according to Hirut Kassaw, the country's culture minister, who visited the U.K. in March and requested their return. To Britain, as with many of the objects gathered for its museums during the era of imperial expansion, the tabots mean relatively little by themselves—until, that is, someone asks for them back.
Requests for the permanent return of items taken without their owners' consent, known as restitution, have gathered pace in recent years. A few months before Hirut's visit to the U.K., the governor of Easter Island, the Chilean territory, gave an emotional press conference on the steps of the British Museum asking for the return of a stone moai head taken by a British warship in 1868 and given to Queen Victoria; indigenous islanders believe the head is the reincarnation of their relatives. Nigeria has been asking for the return of the Benin bronzes, sculptures that decorated the royal palace of Benin before it was sacked by the British in 1897 (again, a loan has been offered). In January, the British Museum was forced once again to explain publicly why it would not return the Parthenon Marbles—subject to a high-profile and long-running claim from the Greek state—to Athens. Such requests have sparked a nervous reaction from museum officials and politicians, who raise the prospect of collections being emptied and warn of a threat to liberal, cosmopolitan values. In such a view, restitution is not a matter of putting right historical wrongs, but a symptom of destructive identity politics, which is portrayed by parts of Britain's elite as a growing threat.
This isn't an issue just for Britain. Museums all over western Europe are full of items obtained during the age of empire and colonization. Some, like the Maqdala treasures, were taken by outright force. Others were bought in conditions where the sellers didn't have much choice—and many more artifacts ended up in collections with no clear account of their provenance.
Some European countries have decided it's time to discuss giving items back to the countries and communities that have asked for them. Germany, for instance, recently sent a 15th-century stone cross back to Namibia, as part of a wider effort to make amends for its genocide of the Herero and Nama peoples in the early 1900s, and has issued guidelines to public museums on the restitution of other colonial-era objects. The Netherlands has drawn up similar guidelines, and some of its leading museums are in discussion with Sri Lanka and Indonesia about restitution. In France, President Emmanuel Macron recently endorsed a report that recommended the return of some museum objects to the country's former colonies in Africa.
Museums in the U.K. generally decline to follow suit, claiming that their hands are tied by the law, which forbids them to send valuable objects out of the country. Instead, they point to the benefits of loans and other forms of collaboration. The British Museum, for instance, told me that it was "committed to sharing objects from the collection" and wants to "develop and build long-term equitable relationships" with overseas institutions.
According to Alexander Herman of the Institute of Art and Law, an independent educational organization, institutions such as the British Museum could push for a more generous interpretation of the law, which allows them to dispose of an item if it is considered "unfit" for the collection. This wording was once said to apply to forgeries, but, says Herman, it could also be applied to items such as the Ethiopian tabots, which serve no useful purpose to a museum. "That should be the low-hanging fruit in terms of restitution that should be uncontroversial to even the most conservative [museum] trustees," he told me.
Instead, the preferred route has been to create laws for specific cases, such as art looted by the Nazis from 1933 to 1945, or human remains, that allow museums to dispose of such objects if they so wish. (The one item the Ethiopian delegation was able to take back home after its visit to the U.K. in March was in the latter category: two locks of Tewodros's hair, held by the National Army Museum. But other human remains are still off-limits—the U.K. government will not return the body of Tewodros's son Prince Alemayehu, who died at age 18 after being brought to England and is buried at Windsor Castle.) Herman believes that it's the fear of "a slippery slope" that prevents the British Museum and other institutions from pushing for a broader interpretation of the law. This fear is reflected in the U.K. government's position too: In April, responding to Macron's comments about restitution from French museums, Jeremy Wright, the U.K. culture secretary, told The Times of London that if you "followed the logic of restitution to its logical conclusion," museums as we know them would empty and there would be "no single points where people can see multiple things."
This position is unlikely to satisfy the countries and communities asking for restitution. The Maqdala treasures, for instance, form an important part of Ethiopia's national story. The prominent Ethiopian historian Bahru Zewde told me that Tewodros's suicide is regarded as "a symbol of defiance and dignity" in a country that resisted colonization longer and more successfully than many of its neighbors. (Ethiopia was never colonized by Britain, and repelled an Italian invasion in 1896, only to be occupied—brutally—by Mussolini's forces in the 1930s.) Most people in the U.K., by contrast, don't even know the Maqdala treasures exist. The Ethiopian American novelist Maaza Mengiste, who has written about them, told me, "The fundamental question is, Why doesn't Britain recognize that these items are important to Ethiopia and they truly matter as much as the most holy or historical items in Britain?"
Why is restitution a more prominent and pressing issue now? First, according to Herman, a series of landmark cases in Europe and North America over the past two decades that concern art looted by the Nazis, or stolen archaeological treasures sold privately, have laid the groundwork for claims to be made about other items. Second, the countries asking for restitution are driven not only by emotional or moral concerns, but also by politics. In Ethiopia, according to Bahru, demands for restitution of the Maqdala objects once came mainly from civil society; the current government, which has embarked on a project of liberal reforms, is looking to develop its tourism sector—the Maqdala treasures include royal jewelry as well as religious objects. Nigeria, which is building a major new museum to house the Benin bronzes, is asserting its global cultural influence as the country's economy grows. Third, pressure also comes from below. Indigenous communities in Australia, New Zealand, and the Pacific have all been able to amplify their demands for restitution and gather international support, via social media. In the U.K., these calls sit alongside wider grassroots campaigns for the "decolonization" of public institutions—the acknowledgment that museums, galleries, and universities have been shaped by empire and racism, and that they will readjust their output and working practices accordingly.
Many of the most important treasures from Maqdala are held by the Victoria and Albert Museum, another major London institution, which specializes in art and design. The museum's director, Tristram Hunt, has been particularly vocal on the issue of restitution. Last year, the V&A launched a temporary exhibition of the Maqdala treasures that, unusually for a British museum, highlighted the controversial circumstances under which they were obtained, and invited responses from Ethiopian commentators and representatives of the Orthodox Church. This June, the museum announced it was "working toward" showing them in Ethiopia's capital, Addis Ababa.
But Hunt is wary of calls for permanent restitution. Writing recently in The Observer, a British newspaper, he cast the varied collections of western Europe's museums as a defense against rising nationalism, quoting the philosopher Edward Said to make the case that the "hybrid, heterogenous" cultures that resulted from empire should not be dismantled. In The Art Newspaper last year, he warned that calls for decolonization driven by "a highly emotional focus on gender, sexuality, ethnicity, and nationhood" could eventually lead to the deportation of human beings: "Some fear, first of all, the objects—and then the people."
Gurminder K. Bhambra, a professor of post-colonial and de-colonial relations at the University of Sussex and co-editor of the book Decolonising the University, told me she sees a different danger. In failing to acknowledge the uncomfortable aspects of a country's history, we risk "a purification of the past, which then leads to political purification." She also said claiming that British museums are a cultural resource for all rings hollow, given the U.K. government's harsh immigration policies. For Bhambra, calls for decolonization are an essential step toward having a more honest conversation about history. Maaza agrees: "For Britain to return these looted items, then it's going to have to reimagine itself. Is Britain strong enough to do that?"
In late June, I went to see the V&A's Maqdala display, a few days before it closed. The items were laid out with care, accompanied by a clear—if sometimes euphemistic—story about how they ended up at the museum. The accompanying quotes gave important context to the religious, historical, and political significance of the items. But the display was situated in a lesser-visited gallery, squeezed into a gap behind an antique English silver dish, an unfortunate placement that wasn't lost on Maaza when she visited last year. "That exhibit was very moving for me, but it was also embarrassing to see these items contained like that and then shoved into a corner," she told me. "Stealing them was a gesture of power, and keeping them still is a gesture of power."