Boris Johnson's Two Biggest Problems Are One and the Same
The new British prime minister faces intermingled crises that expose the dilemma at the heart of Brexit.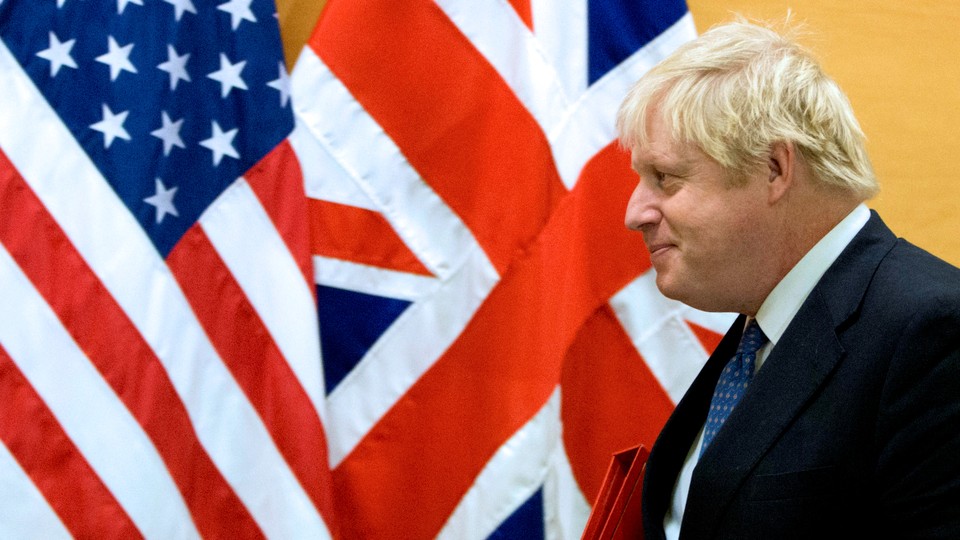 LONDON—British Prime Minister Boris Johnson has been in the job a matter of hours, but he is already short on time to deal with not one, but two full-blown international crises—and they may yet collide into each other.
On September 5, two days after Parliament returns to work following a six-week summer recess, an Iranian-imposed deadline for European powers to relieve an American effort to strangle its economy is set to expire, and no one knows what happens then.
This September pinch point, which could see a rapid escalation in tensions between Tehran and Washington, will come just as Britain enters a two-month race to meet its latest Brexit deadline—the country is set to leave the European Union on October 31, but no agreement setting the terms of its withdrawal has yet been approved by London. Johnson has promised to take the United Kingdom out of the EU by then, deal or no deal.
The two crises pose enormous, intermingled questions for both Johnson and his country, exposing the raw dilemma at the heart of Brexit: Will the U.K. remain principally a European power, aligned with its continental neighbors on trade, foreign policy, and defense, or will it feel compelled to move much closer to the U.S. in the aftermath of an acrimonious breakup? In effect, will Britain be able to quarantine Brexit and the resultant ill will among its European neighbors from other foreign-policy issues?
Britain's choice is a difficult one. It prizes its "special relationship" with Washington, largely centered on intelligence-sharing and defense, but as a member of the EU, it is much more closely intertwined with European economies. Throughout the presidency of Donald Trump, London has also showed itself far more willing to strike out against the U.S. position, aligning itself with Brussels, Paris, and Berlin on a range of foreign-policy questions from climate change to tariffs—and, crucially, the Iranian nuclear deal.
If Britain were to leave the EU without a deal, an event that critics fear could lead to chaos the country is unprepared for, its options then become more limited. Because such a scenario likely means its relations with the Continent have suffered, the U.K. may feel it has little choice but to move quickly toward the U.S. as it seeks to strike a quick trade deal to protect its economy.
There are concerns inside the British government that Washington will in turn use its newfound leverage to pull Britain more firmly into its foreign-policy orbit. The U.S. could push for greater British cooperation in restricting the Chinese telecom giant Huawei, which Washington says is a national-security risk; it could demand favorable terms in any future trade deal; or it could attempt to force London to take a harder line against Iran. This prospect is being taken seriously not only here in London but in other European capitals, according to conversations I have had with three senior U.K. officials at the core of Brexit and Iranian policy making, as well as multiple European diplomats, British politicians, and foreign-policy experts. Many of the officials and diplomats I interviewed requested anonymity to speak candidly about these fears.
Tensions over Iran have already risen sharply following Trump's May 2018 decision to withdraw from a nuclear deal—signed by the United States and Iran, as well as Britain, France, Germany, Russia, and China—that saw international sanctions eased in return for a dramatic scaling back of Iran's nuclear operation. The U.S. decision to reimpose its own sanctions since then has left the three European countries scrambling to find a way to keep the deal alive, but with little success.
In response, the Iranian regime has hit out at the West: first downing a U.S. military drone, then publicly exceeding the agreed-upon limit on uranium enrichment, and finally capturing a British commercial tanker last week traveling in international waters, which it says was in response to the British seizure of an Iranian tanker loaded with crude oil that London says was en route to Syria. These measures—which the U.S. sees as evidence that its policy of maximum pressure is working—mean Johnson has taken over as prime minister with an ongoing foreign-policy crisis to contend with, and few obvious ways to turn down the heat before the Iranian deadline passes in September.
Any further increases in Iran's uranium enrichment would present Johnson and his European counterparts, Angela Merkel and Emmanuel Macron, with a serious diplomatic problem. Pressure would inevitably mount from the U.S. and Israel, which is implacably opposed to Tehran's nuclear program, for additional measures to be taken against Iran to stop it from acquiring weapons-grade material.
The nightmare scenario for the so-called E3 is to be forced to acquiesce to U.S. strategy, risking a military confrontation with Iran, because the regime in Tehran has left them no choice but to withdraw from the agreement. British officials said they were desperately working to salvage the deal, with one saying that even triggering a dispute mechanism built into the agreement in the event of further Iranian rule-breaking would lead to the deal's rapid unwinding.
Given Johnson's razor-thin majority in the House of Commons, the parliamentary recess beginning today gives him much-needed breathing space, free from the inevitable parliamentary battles over Brexit that may soon rob him, like his predecessor, of the ability to govern.
It also gives him a small window of time to reassess Britain's policy on Iran and, should he choose, to continue working with France and Germany to persuade the Iranians not to go beyond the point of no return by drastically exceeding the agreed-upon uranium enrichment levels. However, it gives the U.S. a chance to exert pressure on him as well. How will he balance these myriad factors?
"The truth about foreign policy is, there's no distinction between home and away," Tom Tugendhat, a Conservative member of Parliament and the chair of the House of Commons Foreign Affairs Select Committee, told me. "How we act with our allies has a direct impact on how our enemies and rivals act against us."
Until now, the two issues—that of Brexit, and efforts to save the Iran nuclear deal—have been almost entirely distinct. While Johnson has spoken of the great prize of a rapid-fire U.S. trade deal, he has held the U.K. line opposing the Trump administration's strategy on Iran, maintaining the European alliance hoping to keep the deal intact despite the uptick in Iranian hostility. However, some of the officials I spoke with said fears have been raised that as prime minister, facing an economic crisis caused by his hard-line Brexit policy, Johnson may prove more susceptible to U.S. leverage to break away from France and Germany to secure concessions on trade.
"Is there a possibility the U.S. could try to apply that pressure on the U.K.?" one senior British official, who asked not to be identified, told me. "Absolutely, of course there is. But whether or not the U.K. would be susceptible to that … I would find it unlikely; I would imagine the answer would be, 'No, sod off.'" Still, another senior official from an EU member state told me that the threat of, in essence, losing Britain to the U.S. was causing serious concern in Europe. Charles Grant, who heads the Centre for European Reform, a London-based think tank, told me that based on his own conversations with European officials, this concern was acutely felt in Germany.
So far, Britain has held firm. In a statement to Parliament on Monday addressing Iran's seizure of a U.K.-flagged tanker in international waters, former Foreign Secretary Jeremy Hunt said the U.K. had rejected a U.S. invitation to join a proposed maritime force to protect international shipping lanes. He instead laid out proposals for a new "European-led maritime protection mission" to do the same job. Hunt was clear that in weighing Britain's response, the potential impact on the nuclear deal was particularly heavy, telling lawmakers the European force would "not be part of the US maximum pressure policy on Iran," because the U.K.'s commitment to the nuclear deal remained. (That same day, U.S. Secretary of State Mike Pompeo, when asked on Fox News what the American role should be in getting the British tanker back, replied: "The responsibility in the first instance falls to the United Kingdom to take care of their ships.")
The Trump administration has voiced confidence its strategy is working. The president himself has tweeted that the Iranian regime was lashing out because of the U.S. sanctions. "Their Economy is dead," he said "and will get much worse. Iran is a total mess!" British government officials, however, see scant evidence that U.S. efforts are working. According to the three senior U.K. officials, there remains little motivation for Britain to abandon the European alliance, because London still believes the best way of stopping Iran from acquiring a nuclear weapon is the 2015 nuclear deal, officially known as the Joint Comprehensive Plan of Action, or JCPOA.
The agreement limits how far Tehran can enrich its uranium stockpile, a level set well below weapons grade, and how much uranium it can have at any one time. When the deal was signed, Britain calculated that, had Iran broken away and tried to enrich its uranium to weapons grade, it could have done so in less than three months, a British official told me. Then, Iran had at least three times as many uranium centrifuges as it is currently allowed, and more than 30 times as much uranium.
Two of the officials who spoke at length about Britain's strategic goals said the U.K.'s calculus would, however, change if the Iranians continued to disregard the terms of the agreement, though neither would be drawn out on what "red line" Britain had set internally. The third official said the Iranian capture of the tanker was not sufficient to change the thinking in Downing Street, but noted London was "worried about rising tensions."
Ultimately, despite American assurances that they want to restart negotiations with the Iranians, the U.K. simply sees no viable alternatives to the nuclear deal, for now. With Trump reluctant to pursue military adventures in the Middle East and the Iranians—according to the British assessment—willing to suffer sanctions even at the great cost to their own economy, there are no other options.
Two events may change this calculation: an escalation in Iranian hostility or a breakdown in relations with Europe. The British government has so far sought to separate Brexit from all other questions of strategic national interest. Boris Johnson may soon find that's no longer possible.