The Discord of the U.S. Stance Against China
The 2020 campaign offers a chance to forge a consensus on how Washington can contend with Chinese power. Right now, there is none.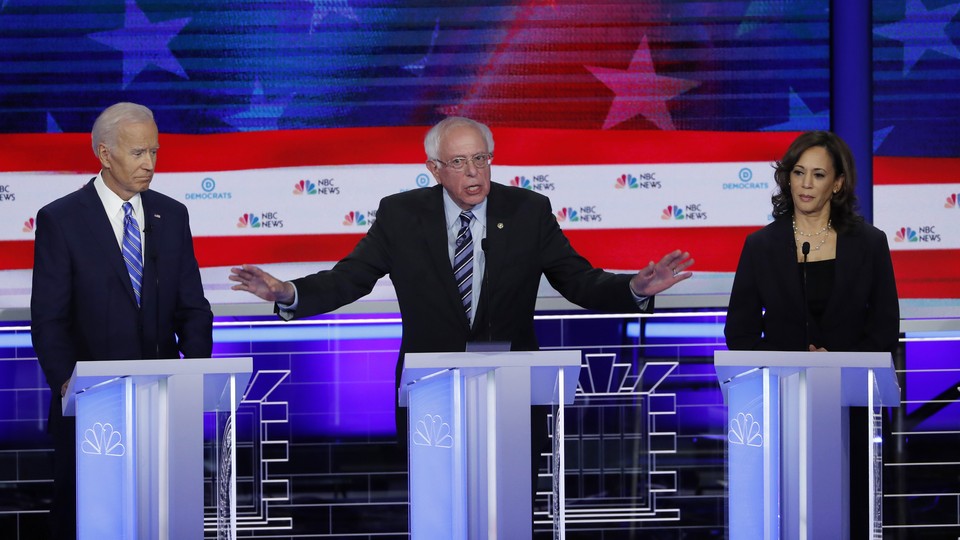 As the many Democratic presidential candidates assemble for another round of debates, hopefully we'll hear a lot more about one topic looming especially large over the United States' future: China.
Washington's widening confrontation with Beijing has so far received scant attention from the 2020 contenders. That's not surprising—foreign policy rarely steals the spotlight from bread-and-butter domestic issues such as jobs and taxes during any election season.
Yet this time should be different. A rising China presents the stiffest challenge to American global supremacy since the fall of the Soviet Union. The unraveling U.S.-China relationship could touch nearly every aspect of American life, from the future of U.S. industry and the global influence of Silicon Valley to our military priorities and diplomatic alliances. The disagreements and discussions of the 2020 campaign offer an opportunity to forge a consensus on how Washington can contend with Chinese power.
Right now, there is none. Though politicians in both major parties have come to perceive China as a threat to American strategic and economic interests, they don't agree on what approach is best to defend those interests. (Leave the halls of Congress and even that bit of accord crumbles. Scores of China specialists from academic, business, and policy circles recently signed an open letter stating that "we do not believe Beijing is an economic enemy or an existential national security threat that must be confronted in every sphere.")
That's a problem. At times, different parts of American society seem to be working at cross-purposes when dealing with China. During the first Democratic debate in June, four candidates mentioned China as being among the biggest geopolitical threats facing the United States. Yet just a day earlier, the American chipmaker Micron Technology announced that it had resumed sales of certain products to Huawei, a Chinese telecom giant that many in Washington consider a national-security risk. Donald Trump's administration had earlier barred U.S. companies from supplying goods to Huawei, though full implementation was then delayed. Micron's management figured out a way to keep sales humming and not violate the ban, helping to boost the company's stock price.
So which is it? Is China a mortal danger? Or a business opportunity? Or both? Americans can't seem to decide.
In that sense, the predicament Washington faces with China is far more complex than its earlier standoff with the Soviet Union. During the Cold War, all segments of U.S. society were generally committed to fighting the Communist menace. But with China, there is no such unity, because there is no such common purpose. While the United States and the Soviet Union topped two opposing blocs, with distinct political and economic systems, the United States and China are intimately intermingled through close bonds of trade, investment, and finance. Not only do major American companies, from Starbucks to Nike, already have significant business interests in China, they also can't afford to lose out on the future sales and profits from the growing Chinese market.
That reality has often left American chief executives at odds with their own government. The U.S. Chamber of Commerce, though supportive of Trump's efforts to open China's market and curtail Beijing's unfair business practices, has steadfastly opposed his use of tariffs to achieve those goals. Myron Brilliant, the chamber's head of international affairs, argued in June that Trump's "weaponization" of tariffs "is going to hurt our country." The president quickly fired back, in effect accusing the business association of treasonous behavior. Other countries "take advantage of us in every way possible, and the U.S. Chamber is right there with them," he said.
"I think China policy will be dysfunctional for a long time," James McGregor, the chairman for greater China at the consulting firm APCO Worldwide, told me. "The Chinese economy is so important to American companies. To take very harsh action, you hit the cream of the crop of American companies." Chinese policy makers are adept at exploiting these divisions to weaken Washington's negotiating position, or, as McGregor put it, "China is very good at letting these companies know where their interests lie."
The leverage this hands China is all too apparent in Trump's attempt at a hard-line policy toward Huawei. The ban, originally announced in May, deals a devastating blow to the Chinese company by denying it access to key American technology and products. But it also hurts U.S. tech companies, including Intel, Qualcomm, and Google, which count Huawei as a major customer. Beijing knows this full well. Chinese officials summoned executives of foreign technology firms to warn them that they could face repercussions if they adhere to the Trump ban, likely an attempt to compel them to lobby against Washington's policy. Then in late June, at the G20 summit in Japan, Trump emerged from a one-on-one with Chinese President Xi Jinping and blurted out that he had agreed to allow American companies to continue supplying goods to Huawei, at least appearing to soften his stance. Apparently, he was bowing to the concerns of U.S. business. "The companies were not exactly happy that they couldn't sell," he said. Beijing now expects Trump to hold to his statement as long-stalled trade talks resume in Shanghai this week.
The Democrats, meanwhile, have been highly critical of Trump's approach, though not always for the same reason. One moment, they're bashing the tariffs he's imposed on Chinese imports as bad for the U.S. economy; the next, they're attacking him for being too soft—for instance, when he lifted restrictions on another Chinese telecom firm, ZTE, last year. It isn't clear, though, if the Democrats have many better ideas.
Senator Kamala Harris, a leading presidential contender, joined her fellow Californian Dianne Feinstein in lambasting Trump's trade strategy, deeming the administration's use of tariffs "counterproductive to its goal of ensuring a level playing field for American companies" and fearing the impact on her state's export sector. But so far, she hasn't offered specific alternatives. The statement merely suggested that Trump "urgently convene negotiations with China." On her campaign website, Harris adds that the United States should confront China in conjunction with allies, rather than unilaterally, and has proposed laws be updated to strengthen the government's ability to go after foreign hackers stealing trade secrets.
Former Vice President Joe Biden has similarly vowed to "get tough" on China through a "united front" with allies. Senator Elizabeth Warren has come out in favor of both continued engagement with China, on issues of common interest like nuclear proliferation, and the use of tariffs to counter Chinese policies that hurt American workers. In an essay in Foreign Affairs outlining her policy, she argued that China has "weaponized its economy," but her suggestions for dealing with that were somewhat vague. "We should encourage our allies to enhance their multilateral cooperation and build alternatives to China's coercive diplomacy," she wrote, adding that "we should also respond to China's efforts to force foreign companies to hand over sensitive technology" and "penalize its theft of U.S. intellectual property." Warren takes something of a "if you can't beat 'em, join 'em" approach, advocating the U.S. government copy Chinese practices of crafting national plans to set economic priorities and more assertively promote and support industry and exports to help the U.S. compete.
Perhaps Warren is most prescient when she quotes John F. Kennedy: "A nation can be no stronger abroad than she is at home." It seems unlikely that Washington can properly contend with China if the U.S.'s political leadership, top executives, and foreign-affairs establishment are not on the same policy page. The complexity of the U.S.-China relationship may never allow a fully united approach to develop. But unless some common ground emerges, Beijing will continue to capitalize on American uncertainty—and gain the upper hand.