Hong Kong's New Reality
What was once extreme, both in action and in discourse, is becoming the norm.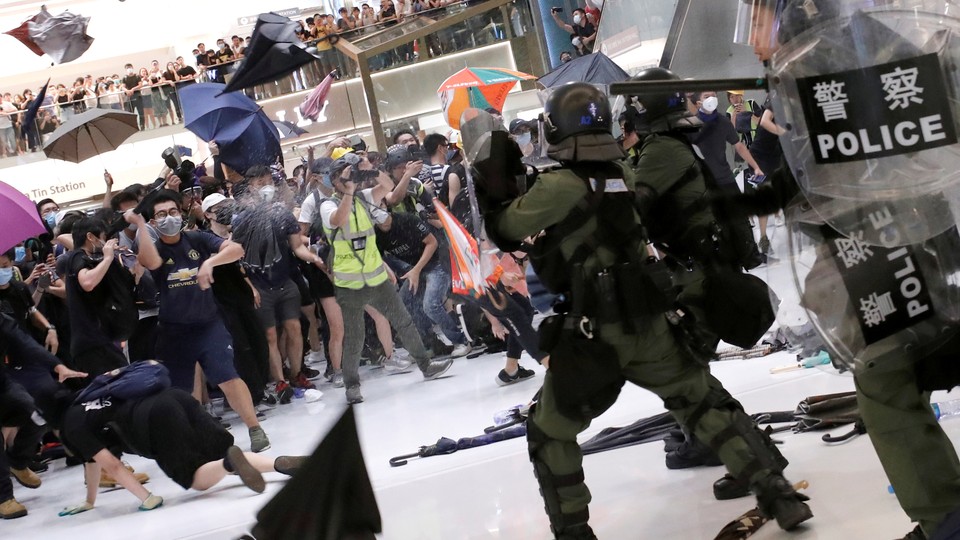 HONG KONG—During a recent meeting in her party's headquarters, the Hong Kong cabinet member Regina Ip admitted that weeks of demonstrations here have put the government on the back foot.
"I never expected mass protests to continue for such a long time," the pro-Beijing stalwart and legislator told me. "Sophisticated" protesters, she added, had "outmaneuvered the government" and were now seizing on a growing list of grievances, wielding them as "a rod to beat the government."
In the days since, the figurative rod has become literal: Police have swung wildly at groups of peaceful demonstrators, and some protesters have struck back. Hong Kong has a high degree of autonomy, with residents enjoying a number of freedoms, as well as separate financial, legal, and political systems from mainland China. As huge numbers of people have called for their city's autonomy to be maintained and expanded in the face of steady encroachment by the mainland-Chinese government, lines are being crossed: Protesters have grown bolder and more extreme, even breaking into the city's most prominent government building, and the authorities more draconian in their response. What was once radical here, both in action and in discourse, is becoming the norm.
One recent such example came this month. Riot police chased a group of protesters, fresh off an incident-free rally, into a popular shopping mall in a residential neighborhood. In front of shuttered Coach and Dior stores, a melee ensued. By the end of the fracas, police struggled to stand on a floor slick with pepper spray. One photo showed a woman in a red dress carrying a black Yves Saint Laurent shopping bag and a purse hopping over blood-smeared tiles as she raced for an exit. Almost two dozen people, police and protesters alike, were hospitalized, officials said. One officer had a small part of his finger bitten off. Nearly 50 people were arrested.
Then, this weekend, huge numbers of protesters—organizers said hundreds of thousands—again marched through downtown Hong Kong, deliberately disobeying the police-mandated end point of the demonstration, and defaced China's main representative office here. The huge turnout came despite police announcing they had arrested a man who had allegedly stashed "extremely powerful" explosives in a warehouse. The 27-year-old was identified as a member of a group advocating for Hong Kong independence.
Hong Kong has been gripped in the past few weeks by a string of demonstrations, triggered in a narrow sense by a widely unpopular extradition bill that would, critics argue, subject the city's independent legal system to mainland China's politically tinged one. (Carrie Lam, Hong Kong's chief executive, has not formally withdrawn the legislation or given in to other demands, including that she resign, but has declared the bill "dead" in the aftermath of these rallies.) Yet protesters and activists have also voiced fear of the seemingly constant push by Beijing to impose its will on Hong Kong, whether through infrastructure, education, or other legislation.
Those twin fears, of the extradition bill and the broader effort by the Chinese government, have ensured that each recent demonstration has been in its own way remarkable, for either its size—organizers claim one drew 2 million people—or its makeup, with one composed of elderly Hong Kongers. Other protests have moved outward from Hong Kong island, the part of the city known internationally for its tightly packed skyscrapers, into more suburban areas such as Sha Tin and Sheung Shui, where residents have for years complained about the unchecked influx of small-scale Chinese traders. The rallies have continued to shock, perhaps most notably this month, when protesters broke into and briefly occupied the city's Legislative Council building. Some feared then that a tipping point had been reached, and that widespread public sympathy for the demonstrations would fizzle: The actions of those who stormed the chamber, the argument went, would turn the broader population against those willing to risk more extreme actions, dividing and crippling the movement.
Those predictions have, however, proved to be largely off-point. A consensus has instead emerged—one that does not necessarily condone actions that include disrupting government work, pelting police headquarters with crates of eggs, and leaving dog food behind for officers, but certainly understands why they are being done.
A surprisingly large swath of people here have been "very forgiving and accepting," says Antony Dapiran, author of City of Protest: A Recent History of Dissent in Hong Kong, who describes the criticism as "pretty muted." It has robbed the authorities, he told me, of the public sympathy they had hoped for following the government-building break-in, after which piles of broken glass surrounded the trashed offices. A survey conducted by Francis L. F. Lee, a journalism professor at the Chinese University of Hong Kong, found that 83.5 percent of 1,100 people polled during a demonstration this month either agreed or strongly agreed with the notion that it was understandable protesters would resort to radical action if they felt the government wasn't listening to their concerns.
Officials have instead had to adjust to the new reality that protesters are readying for what will likely be a summer of revolt, their expectations, reach, and frustrations growing by the week. "I think the government were originally hoping for this [public-relations] victory, and when they saw it wasn't coming, they seem to have backed off rather than digging in," Dapiran said.
Beijing, too, has largely held back from directly intervening. So far, the Chinese government has backed Hong Kong's response and reverted to the tried tactic of claiming much of the unhappiness has been fomented by foreign forces. "Clearly China's authority is being challenged," Ip said, "but they have shown really remarkable restraint."
The anger of the protests has been just one example of the normalization of previously radical positions and efforts here. Calls for all-out independence, rather than simply preserving Hong Kong's autonomy, have grown louder (though remain very much the minority among protesters); demands for universal suffrage, which largely dissipated after the 2014 Umbrella Movement protests, have been revived; support for Taiwan's independence among Hong Kong residents has jumped.
At the same time, issues of democracy have intermingled with more quotidian questions of inequality and affordability. Hong Kong's housing prices regularly top lists of the world's most expensive, with recent government figures putting the average cost of a 646-square-foot apartment on Hong Kong island, relatively small by Western standards but family-size here, at $1.45 million. "A lot of people, young people, do not see hope in their future," says Fernando Cheung, a pro-democracy lawmaker who has been a fixture at protests and who recently joined a hunger strike whose participants have camped out near a busy subway station. "They cannot afford to get married, they cannot afford to have children, they can't afford to sustain themselves."
On the ground, dozens of "Lennon walls," areas papered with Post-it Notes filled with messages of support for protesters, and others lambasting Lam and the police, have mushroomed across the city, turning the sides of escalators and subway stations into technicolor murals of discontent. At least half a dozen more marches and rallies are scheduled for the coming weeks.
"Hong Kong people have changed quite a lot in the past few years," Ventus Lau, who organized a demonstration through an area frequented by visitors from mainland China in early July, told me. Lau, 25, said that while he didn't expect many mainland visitors to connect with protesters, he hoped "the idea of spreading this message to mainlanders will scare the Chinese government."
Like many of the young protesters who have taken part in this summer's movement, Lau learned bitter lessons from the Umbrella Movement, during which protesters occupied Hong Kong roads for 79 days calling for universal suffrage but were ultimately rebuffed. Leaders of the movement were aggressively pursued in court for years and many served jail time—Lau himself was disqualified for running for a legislative seat last year over his previous support for independence, and is now a student-debate coach.
"People, you can see it in their eyes, they have started to understand that if we want the government to listen to us, we need to take more progressive measures," he told me. During the Umbrella Movement, he continued, demonstrators had hoped they could change Hong Kong's electoral system and, by extension, its politics. "But this time we are feeling hopeless," Lau said. "It is hopelessness which drives us to come out, because we are very afraid we won't have another chance in the future."