Hong Kong and Taiwan Are Bonding Over China
Hong Kong and Taiwan long had a relationship built around trade and tourism. But as China clamps down in Hong Kong, ties between the pair are strengthening.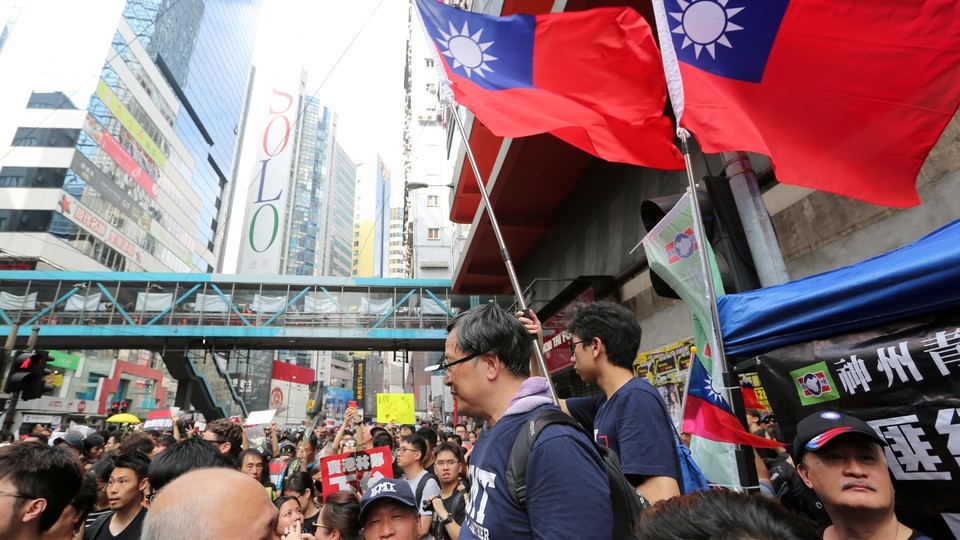 TAIPEI—When Margaret Thatcher and Deng Xiaoping signed the agreement that would hand control of Hong Kong from Britain to China in 1997, East Asia was a vastly different place than it is today.
The year was 1984: China was in the early days of its economic rise and was experiencing one of its most politically free periods under Communist rule; Hong Kong was the booming financial hub and crown jewel of what remained of the British Empire; and then there was Taiwan, which was nearing the end of nearly four decades of brutal martial law. At the time, if you had wagered on which of those places would be the freest 35 years later, Taiwan would have had long odds.
Since then, China has become the world's second-largest economy and a major military power while still spending more on domestic security, including concentration camps that perhaps hold up to 2 million Muslims in Xinjiang. Hong Kong's relevance to China as an entrepôt—useful in the initial years following the handover—has diminished greatly, and the territory has been gripped by protests as Beijing has eroded long-held freedoms. Taiwan, which the Chinese Communist Party has vowed to bring under its control, democratized in the 1990s and has become the focus of China's buildup.
For most of this time, the relationship between Hong Kong and Taiwan was largely limited to trade and tourism (and given that Beijing regards Taiwan as being part of its territory, Hong Kong's local government does not even officially recognize it). That is now changing, and ties between the two are being forged by pro-democracy activists right up to the government level.
China's influence over both Hong Kong and Taiwan has steadily spread from their economies into their political systems, and Beijing has promoted the "one country, two systems" model it uses to administer Hong Kong as its favored system, were Taiwan to submit to peaceful unification. But as Hong Kong's pro-Beijing government ignores the demands of peaceful protesters, and China's continuing encroachment on "one country, two systems" there discredits the notion that it would offer any degree of autonomy for Taiwan, demonstrators in Hong Kong are looking more and more to Taiwan, and a sense of solidarity is growing between the two. That is likely to be a major source of concern for Beijing (and, indeed, Chinese state media have warned the two sides against cooperating).
While top officials in Hong Kong appear to be ignoring the concerns of protesters there, senior leaders in Taiwan are speaking up for the demonstrators. Taiwan's foreign minister, Joseph Wu, told a gathering of politicians, business executives, and journalists at the Copenhagen Democracy Summit last month about Hong Kong's worsening political situation since it was handed over to China. Hong Kongers had been denied full democratic rights, some of its elected legislators had been removed for political reasons, and journalistic freedoms were being eroded, Wu noted. Putting the blame squarely on Beijing, he expressed his support for the vast numbers who have taken to Hong Kong's streets to push back against a controversial extradition bill.
"These two outposts of democracy share the same values, and our paths and destinies are closely linked," Wu said of Hong Kong and Taiwan. "We both stand on the front line against the expansion of authoritarianism."
"Taiwan needs to hold firm and succeed so that people in Hong Kong and beyond can still see the beacon light of hope," he added. "We also know that if we fall, others may soon follow."
Wu's remarks came amid a series of events, rallies, and meetings here in Taipei and in Hong Kong evincing the strengthening bonds between the two. At a grassroots level, Taiwanese Facebook users were switching their avatars to a blackened Hong Kong flag while organizing events around the country to show support and raise awareness of Hong Kong's plight. On June 16, a march in Taipei drew 10,000 participants, according to organizers. At the Golden Melody Awards here—effectively the Grammys for countries that speak Chinese languages—the Hong Kong musician and activist Denise Ho thanked Taiwan for its support, while a group of artists from Hong Kong recently recorded a solidarity anthem, sung in Mandarin and Cantonese, the dominant languages in Taiwan and Hong Kong, respectively.
Even at the highest levels, Taiwan has helped derail the extradition bill, which would enable Hong Kong to extradite criminal suspects to China, Taiwan, or the former Portuguese colony of Macau.
The legislation was initially proposed after the February 2018 murder of a Hong Kong woman, Poon Hiu-wing, by her boyfriend, Chan Tong-kai, also a Hong Kong resident, while the couple were on vacation in Taiwan. Chan fled back to Hong Kong and has not been prosecuted, but Carrie Lam, Hong Kong's chief executive, argued that an extradition bill would enable his transfer to Taiwan so that he would be subject to its courts. Taiwan's government, however, said that it would not prosecute him even if the bill was passed, giving succor to critics who see the bill as a Trojan horse that would facilitate the disappearance of anyone Beijing wished.
Protesters finally won a small, mostly symbolic victory after weeks of rallies, including a march on June 9 that drew, according to organizers, a million peaceful demonstrators. Lam initially said she would not bow to the opposition, but by the following week, after police used tear gas, pepper spray, and rubber bullets on largely peaceful protesters, she announced she would temporarily suspend, but not withdraw, the bill. That wasn't enough for Hong Kongers demanding a complete withdrawal, however, and days later, an even bigger protest march took place, which, according to organizers, involved 2 million participants.
Because of a weighted system that allows half of Hong Kong's 70-member legislature to be selected by pro-China business interests, with the other half elected by residents, legislators in favor of greater democratic freedoms are in the minority. Those in the minority fighting for greater freedoms for Hong Kong see a kindred spirit in Taiwan. "Hong Kongers feel that we are not alone in our fight against this Goliath," Ray Chan, a pro-democracy lawmaker in Hong Kong, told me. "Hong Kong and Taiwan are both at the front line of the global fight to stop Beijing's creeping authoritarianism and control. Our cooperation and mutual support will be key to defending our freedom."
The implications of the relationship between Hong Kong and Taiwan stretch beyond just the extradition bill and the prospects for democracy in Hong Kong. The majority of Taiwanese are already opposed to unification with China, but if Beijing cannot be seen to implement the "one country, two systems" framework in an even-handed manner in Hong Kong, what prospect does it have of being putting in place here, argue Taiwanese critics of China. "We are an example for Taiwan that if they accept 'one country, two systems' from China, this will probably happen to them," Ho, the musician, said in an interview.
Tsai Ing-wen, Taiwan's president, opposes unification with China, but troublingly for the Communist Party, events in Hong Kong have even forced prominent members of the Beijing-friendly opposition party, the Kuomintang, to distance themselves from their giant neighbor. Han Kuo-yu, China's favored candidate in this month's primary to become the Kuomintang challenger to Tsai in elections next year, said that if he's elected, the Hong Kong model would come to Taiwan "over my dead body." "The political elite in Taiwan are watching the events in Hong Kong closely," said Lauren Dickey, a China analyst at CNA, an Arlington, Virginia–based research firm.
At a lower level, activists here are beginning to see in Hong Kong a dangerous future for Taiwan. Leaders of Taiwan's Sunflower Movement in 2014 have ties to members of the Umbrella Revolution in Hong Kong of the same year—both protest movements were effectively attempts by youth to push back against growing Chinese influence—and an array of grassroots events have been organized across Taiwan in recent weeks as demonstrations in Hong Kong have ramped up.
Monique Wu, a Taiwanese drama therapist living in Taipei, has participated in two solidarity events since mid-June that involve Hong Kongers living in Taiwan telling their stories, Taiwanese youth sharing their feelings, and even some theatrical performances.
"The chilling effect of tyranny is capable of crossing the seas and infecting the world," she told me. "If today we don't stand up for Hong Kong, there won't be anyone to stand up for Taiwan."