Prosecuting Syrian War-Crimes Suspects From Berlin
German officials are using the concept of universal jurisdiction to argue they can try anyone for war crimes committed anywhere, against any nation's people.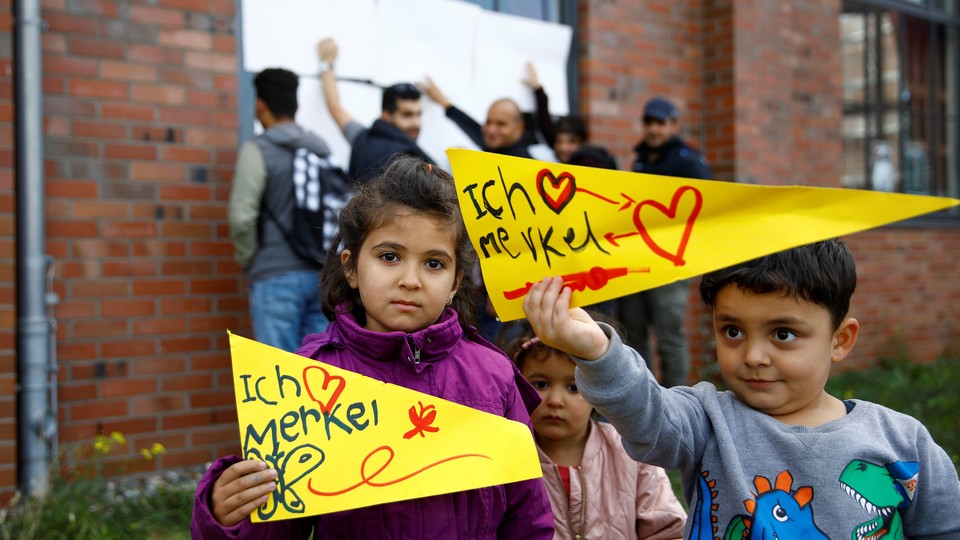 BERLIN—Among the Syrians living here in the German capital, Anwar Raslan had long been notorious. Soon he may be known farther afield—not just as the first senior Syrian official to be held accountable for acts carried out during that country's conflict, but perhaps more importantly as the defendant in a case that changed the way the world prosecutes war crimes.
In Damascus, Raslan had been a colonel in Syria's military-intelligence agency, overseeing investigations at an outpost known as Branch 251. In the same building, some 600 people were crammed into cells built for a third as many. Those who were held there were starved, tortured, sexually assaulted, and offered no medical care, rights groups say; most days, six or seven people died as a result.
Then Raslan defected from Bashar al-Assad's regime, joining an early wave of Syrian migrants in 2012 who were fleeing what would turn into an all-out civil war. He eventually made his way to Germany—alone at first, but joined later by his family—and applied for asylum. Here, he lived in some measure of freedom, alongside others who had themselves been held in Branch 251.
That all changed this year.
Raslan was arrested in February—German prosecutors said at the time he was "strongly suspected" of complicity in crimes against humanity—and is currently being held in prison. When he eventually takes the stand, most likely early next year, he will be the first high-ranking Syrian official to be tried over the Syrian war.
Yet his case is remarkable for another reason, one that has consequences far beyond Syria's conflict. Raslan is being prosecuted in Germany, but not for any crimes committed in the country, nor against its nationals. Instead, he is being subject to a principle in international law known as universal jurisdiction. Germany and a small handful of other European countries have decided that when it comes to certain crimes, the notion of jurisdiction—that a government or authority can prosecute only crimes committed within its own borders—does not always apply.
In effect, Berlin is saying its prosecutors can bring charges against anyone alleged to have committed crimes against humanity, genocide, or war crimes anywhere in the world, against any other nation's people.
"It is a surprise for everyone," Anwar al-Bunni, a Syrian lawyer living in Berlin and a witness in the case against Raslan, said. Bunni, who recalls ending up at the same refugee center in Berlin as Raslan, continued: "Nobody could imagine that universal jurisdiction could work."
The Raslan case is one of several that German authorities—led by a combination of the federal prosecutor's office, with 11 dedicated staff members, and a specialized police war-crimes unit, with 17 people—are pursuing that extend beyond their borders. Because Germany doesn't normally announce whom it has warrants out for until an arrest is made, it is unclear precisely how many such efforts are under way. In a December 2018 report for a German trade journal, the federal prosecutor Christian Ritscher, who heads the office responsible for war crimes, said there were 80 open inquiries related to international criminal law, of which about half had to do with Iraq and Syria, with 10 arrest warrants outstanding. Ritscher said his office had also received hundreds more referrals for potential cases that year alone. (Both the federal prosecutor's office and the police war-crimes unit declined requests for comment.)
Previous attempts have foundered on political sensitivities, unwilling prosecutors, and a lack of evidence, witnesses, or resources. But that has been changing: The number of so-called named suspects in cases that rely on some facet of universal jurisdiction increased by 18 percent last year compared with 2017, according to Trial International, and cases similar to Raslan's are under way in Austria, France, and Sweden.
The overall impact of such efforts is significant—what prosecutors are doing here in Europe may eventually change the way war criminals the world over are prosecuted. It is, according to the international criminal-law expert and Stanford professor Beth Van Schaack, "a sign of the development of a new system of international justice that is more integrated and coordinated than ever before."
Universal jurisdiction is not a new concept: Because their crimes were borderless, the notion was first used to bring pirates and slave traders to justice in the early and mid-20th century. But the modern version of the law has been ensconced in German law only since 2002, the same year the International Criminal Court was created. Around that time, smaller countries such as Spain and Belgium were taking the lead, notably with a Spanish indictment against the Chilean dictator Augusto Pinochet. But efforts were largely restricted to a "no safe haven" approach, meaning countries simply saw universal jurisdiction as a way of keeping war criminals out, rather than a means to actively pursue them.
Its more recent use in Germany has been driven, in large part, by a confluence of factors. For one, while a German court could theoretically prosecute any wrongdoer anywhere in the world, that is clearly impractical. Judges and prosecutors have focused on cases that have some connection to the domestic environment, with witnesses, perpetrators, or evidence here.
That has made the Syrian example more justifiable. Syrian refugees began arriving in Germany shortly after that country's uprising began in 2011, and eventually immigration authorities began asking them questions. Had they seen or been victim to war crimes, crimes against humanity, torture, or sexual assault? The replies were collated and categorized, with the highest priority given to information about suspects reported to be in Europe. Actionable complaints were passed on for further investigation. From 2011 to 2013, a police war-crimes unit received a total of 17 complaints from Syrian asylum seekers. Over the next three years, they got 2,590.
The effort has been aided by organizations such as the European Center for Constitutional and Human Rights (ECCHR), a legal nonprofit based in Berlin, and their contacts—people such as Bunni, the Syrian lawyer. He and dozens of other volunteers, most of whom were also Syrian lawyers based on the Continent, helped gather evidence.
Cases involving Syrian rights violations are also more politically straightforward. In Germany, the ECCHR twice, in 2004 and 2006, tried to bring universal-jurisdiction cases against then–U.S. Defense Secretary Donald Rumsfeld, arguing that he had been complicit in the torture of Iraqis, but its efforts went nowhere because German federal prosecutors balked. The Rumsfeld cases were "not politically welcome," Florian Jessberger, a Hamburg University law professor, said in an interview. This time, however, the German officials taking on the Syrian prosecutions "are engaged," Jessberger said. "In this case, there is a global consensus about who is the good guy and who is the bad guy."
Germany has little interest in being the world's policeman and has expressed no desire to have its courts replace the International Criminal Court. The country is working on what it calls Strukturverfahren, or "structural investigations." In effect, this means Germany has been conducting an ongoing background inquiry, waiting for the moment when the evidence it has collected on war crimes can be used, whether here or in a court elsewhere. When prosecutors began gathering information in 2011, they were not seeking a single individual. Instead, they had a suspicion that crimes against humanity were being committed, and so they prepared for the day an alleged war criminal could be caught.
In the case of Raslan, that day was February 12, 2019, when he was arrested in Berlin. In other instances, they have sought out alleged criminals abroad: German media have reported that prosecutors here have issued an arrest warrant and extradition request for Jamil Hassan, the Syrian general who heads the country's air-force intelligence agency, for crimes against humanity. Hassan was reported to have crossed into Lebanon. Germany has confirmed only that a warrant is out for his arrest, but not that it has filed an extradition request, even though the U.S. State Department has published a letter supporting it.
"We want to show that the Syrian regime's atrocities can be prosecuted internationally," Katarina Barley, until recently Germany's justice minister, said in a statement to The Atlantic. "Proving a crime was committed from a distance is difficult and costly. But … German justice will continue to work hard on this. Because it is an important signal to show there can be no impunity for these terrible crimes."
Bunni, for his part, says he does not care whether Hassan is ever arrested, or whether Raslan spends any time in a German jail. (The German authorities told me that if someone like Raslan were found guilty in such a case, they would reexamine his refugee status, but as they do not send refugees back to conflict zones such as Syria, there is little prospect of him being deported.) Instead, Bunni said he hoped that if some justice were eventually served, there might be a ripple effect that extends further and longer than any possible military intervention in his home country. Patrick Kroker, who manages the Syrian investigations at the ECCHR, agreed, arguing that the moment cases such as Raslan's became public, they had an impact. "For the first time," Kroker said, "people in Syria see a little crack in this wall of impunity."
"The role Germany is playing will be more effective than all the guns in America," Bunni told me, sitting in his sunny central-Berlin office. Another country could argue that Raslan or Hassan—or, indeed, another official tied to Assad's regime who was being sought by German authorities—should be a part of Syria's future. "Then Germany will say, 'No, he cannot. He is wanted by the law.'"